Coaches Post
It's hard to do today justice in a social media post, to say I'm proud of our club is an understatement.
From a performance standpoint it was amazing to see the purple and gold flying around with many positive results on the day. Being able to see the joy when you made the finish line and share that with family, friends and team mates was special. What was even more exciting was hearing the feedback from non SRC people about how encouraging you were to all other runners out on course. I'm proud of our club culture we have, it doesn't matter the ability you possess to run, we care about being good people and today that really stood out.
Just as impressive was the willingness to volunteer and help each other get things done. To see the group come together throughout 2019 and seek out things that you could do to help out shows we have come a long way. It really stood out and the positive energy was really infectious, thank you for being involved.
Feel free to share your highlights of today below, whether it was your race or somebody else's or someone who did something nice for another, share it below so we can all reflect.
Tuesday night we go again, a good chance for everyone to come down and enjoy a gentle night of training for those that have raced or a session for those on fresh legs.
Chris
💜💛
Thank you Liz & Sean, the event wouldn't be possible without the dedication and expertise shown by you two. We are proud to stand alongside you both and very thankful for all your hard work in what we believe is the best Shepparton Running Festival that we've ever had.
It's a real credit to the club and the members within it that such a outstanding professional event can be offered to over 1000 runners and it has really become one of regional Victoria's premier running events.
From the official photographers The EVENTures
Well the wraps up the Shepparton Running Festival experience …we had just the best time. To Alice, our assistant photographer on the day, we say a big thank you. Expect to see her at more events. To all those participated , we are in awe. No matter the distance run ,each and everyone has a story to tell….and we applaud you all.
check out your photos at :
https://geosnapshot.com/e/shepparton-running-festival — with Shepparton Running Festival.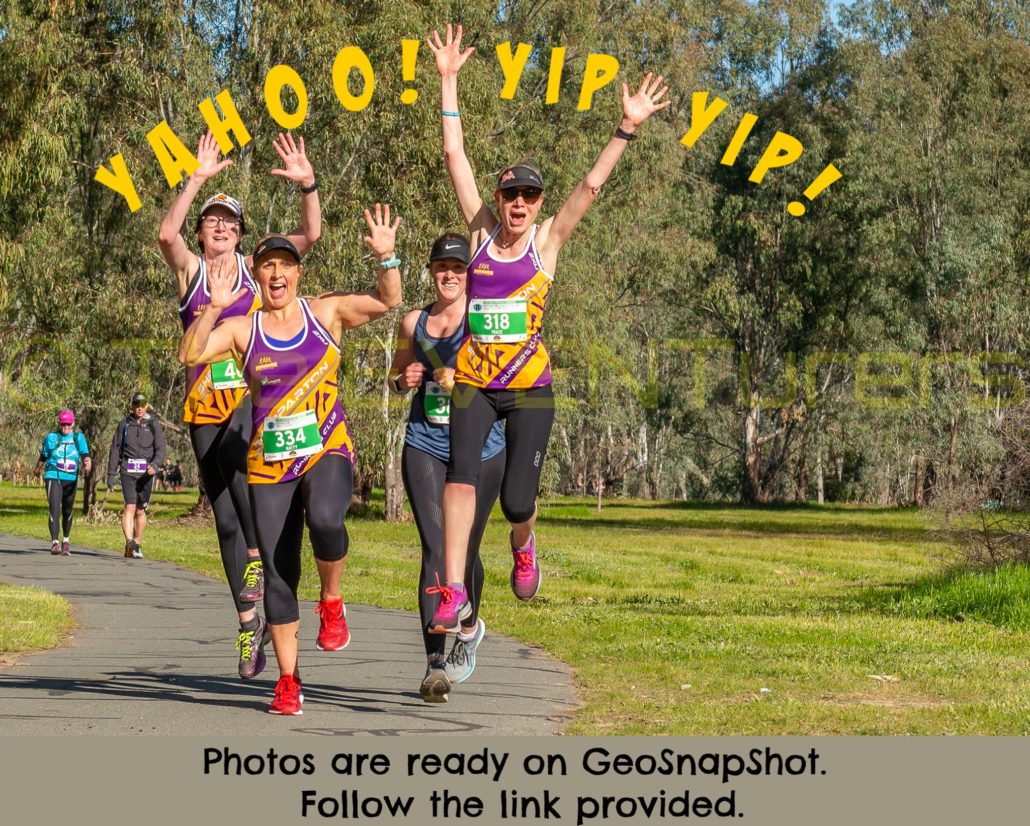 Race reports from SRC members. I will add more next week.
By Sam Daniel
For my first full marathon, I didn't want to put too much pressure on myself, but that's not how things work out most of the time. I tried my best to stick with my 16 week running plan, but some knee niggles and a long lasting man-flu threw a few spanners in. With a desired finish time of just under 4 hours, I realised at 37 or 38 km that I was going to get pretty close. This helped me push as hard as I could when I least wanted to. I crossed in 4 hours, 2 mins and 49 seconds, pretty happy, fatigued, and with no injuries. I would like to thank my training partners from the last few months, my friends Chris and Kate, without their encouragement and counsel I would not have completed my first full marathon.
By Tara Daniel
My Five Km Finish Line Legends!
A throw away line of "I wish I could run 5km" at the beginning of the year, resulted in a short six week running program aimed to help anyone who wanted to finish the 5km run at the Shepparton Running Festival. We ended up with a group of ten people (nine plus Steven) who went from running sceptics to running legends! Over the six weeks watching each person achieve and seeing the enjoyment they were getting from running was incredibly rewarding. The sessions were set up channelling Coach Chris and mimicking the SRC training sessions with Tuesdays focussing on quality and Thursdays focussing on active recovery and socialising. Everyone was encouraged to either parkrun or get out for a walk on the weekend and the combination of the above resulted in the participants realising that running is actually not that bad! I felt like a proud parent on Sunday watching everyone finish and seeing them out on course was so uplifting. I will also admit to letting out a few sneaky tears!! I think the best part of the whole thing is now being able to train with Jacqui, Taren, Alice and Katherine as part of the SRC! Welcome to the Cult and I look forward to continuing on your running journey with you!
By Sharlene Batchelor
Going to bed Saturday night I had fully planned on getting a solid 8 hours of sleep so I could be fully rested and give myself the best chance of making it through the run without wanting to stop for a nap halfway, so dragging myself out of bed at 4am after an hour and a half of terrible sleep was not optimal. But on the upside it gave me plenty of time to have my protein shake, NingXia Red and some trial mix before having a shower to wake up properly and start the process of becoming more K tape than person.
I had laid all of my clothes out and packed my bag the night before but considering I had ample time I figured I could get dressed and repack my bag again just to make sure I had everything I needed.
Kirsten picked me up at 7am so we could head down to the lake, do our warm up and stretch with plenty of time to not feel rushed, but I managed to forget my headphones when I repacked my bag so had to go home for them. I hadn't spent a week working on a motivational playlist to not be able to listen to it.
We got to the lake, dropped our bags and started our warm up, my legs weren't feeling too terrible which surprised me a whole lot considering the last run I had done was the club 10km handicap and had almost crippled myself doing it.
Happy with the warm up I started stretching, then 20 minutes to the start was announced and I realised that I hadn't been to the bathroom for my 600th nervous wee for the morning and still hadn't pinned on my number or put on my drinks belt. Nothing like a little last minute panic to really get in the right headspace.
The first five kms seemed to be going really well, it was easy to sit at the 6 minute km pace from my race plan, I was making sure I was on track with my first bottle of hydration and just enjoying the atmosphere and beautiful scenery, my legs felt great even if my stride was a little off. The next 5km were all about settling into the rhythm and keeping up with hydration and really making sure my pace was consistent.
Coming back along the river trail before the wooden foot bridges the ten km runners started coming past and the high fives and mutual cheers of encouragement were a great way to get that much needed boost of energy.
We headed out behind aquamoves towards Princess Park and I could feel that my right leg had started to twinge a bit more than I had wanted it to be at such an early stage but I turned up my music and kept going, I started to struggle with holding pace and my whole right leg just wouldn't stay activated so my stride became really uneven and it felt as though I was just dragging my leg forward with every step, I knew I still had another 10km to finish and there was no way I was giving up so I had a moment of very real honesty with myself and reevaluated my expectations of the run, I had said that I was coming into this knowing I was as injured as one could be and still have the hope of finishing so that is what I wanted but at that moment I knew I had still been holding onto the hope that I could do this run in a decent time, having that realisation I knew I had to just let it go completely and enjoy this run for the victory it was regardless of how woeful I thought my time was going to end up being. I came back on to the lake path and had my Mum, brother and Godmother cheering me on, a little further on Kirsten gave me some more encouragement and reminded me that I had to dig deep mentally to get through this pain.
The last 7kms started with me telling myself that this was just a parkrun with a warm up and cool down and I've done plenty of those tired, in pain or unwell so suck it up and just get it done, there was a whole lot of walking and very slow jogging, groaning and most of my known workout words were used with a few extras made up in between, I had written Never Ever Give Up on my hand because that has been something I tell myself, when you don't want to, you are tired and or are just not feeling it Get Up, Dress Up, Show Up and Never Ever Give Up no matter what, so looking at that I summoned every last ounce of energy I had left and gave one last effort to get through the finish line.
Once I crossed it the sheer relief, the joy and the overwhelming sense of accomplishment was enormous, my time wasn't what I wanted it to be and the run certainly didn't go to plan, after months and months of putting in the hard work sometimes just getting the job done is where the victory is and now I have a pb I can absolutely obliterate next year.
Thank you to every single one of you amazing beautiful humans who have supported me, encouraged me and had the faith that I could do this.
By Norah Armstrong.
Race week was busy with a lighter training then a work awards on Friday night in Melbourne. Home by 2am then up at 6am Saturday to volunteer for bump in at the lake and registrations. (Note to self- don't do this next year).
Race day was an early start but I was looking forward to see how everyone would go. I warmed up and watched the half marathon start. Quick toilet stop then time to go.
This was my third 10km race for the year and I hoped to go under 50 mins. I just tried to hold the pace the whole way. Apologies to anyone I didn't give hi fives. It was great to see such a strong field wearing the purple and gold. I got to half way and saw everyone in front of me. I caught up to Aj and Peter Frizzell by 8km and felt the burn. I had to hang on and get to the finish. The course opened up back onto Tom Collins Drive and I pushed to the final turn past Aquamoves. Sprint for home and crossed the finish line 50.11.
Congratulations to everyone who ran, volunteered and made the weekend such a success. I'm so proud to see you do so well.
The end and beyond.
If you want to know how good the Shepparton Runners Club is, just ask a former member that's moved away if they have got anything that matches the SRC yet. The awesomeness of the SRC stood out with the human finish line created for our last few runners. You would go a long way to match that.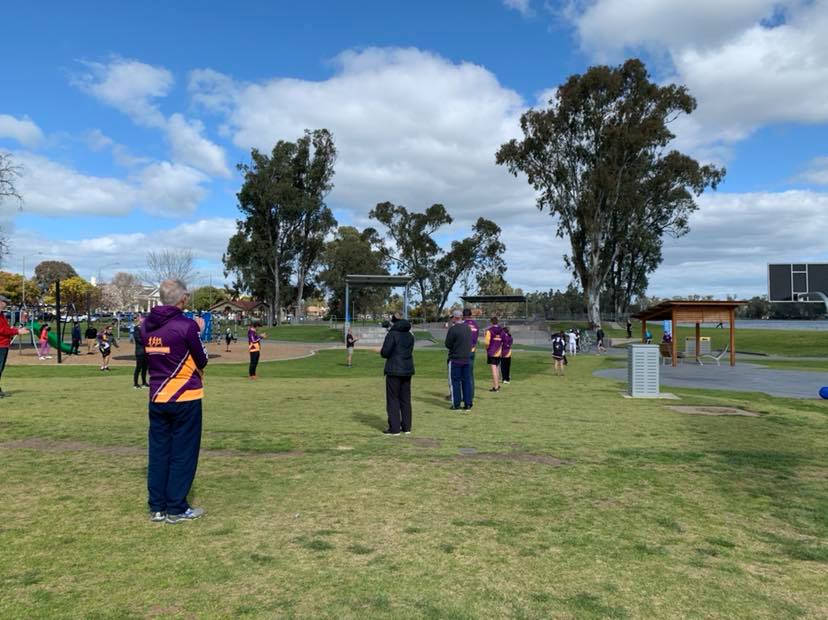 And to top the day off we had an evening of great food and great company (and beer) at the Aussie. A rough count showed about 40 SRC members turning up for after event meal and drinks.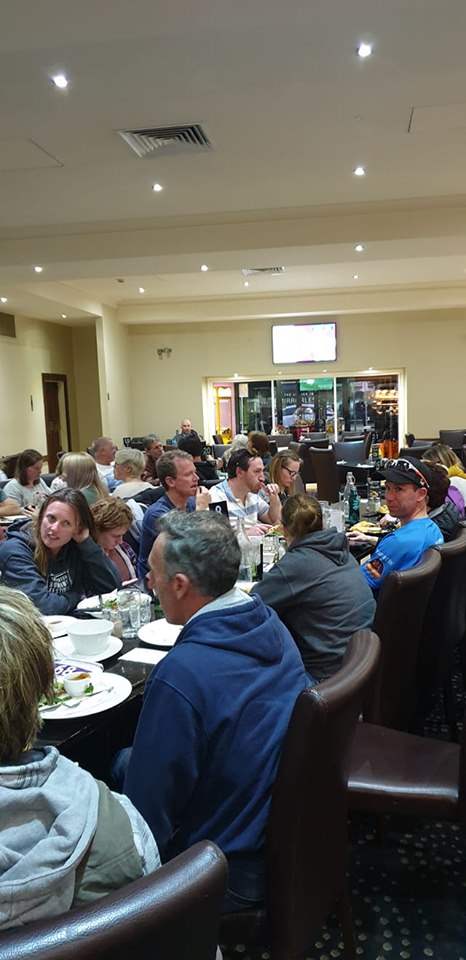 It's new and it's by Tara.
The Road to Nagoya
Part One – Buyer's Remorse (Introduction)
Three years ago, when I started my running journey, I heard about this marathon that you get men in tuxedos handing out Tiffany's necklaces; and there was a smile station at the end you can adjust how you look before finishing; and you get beauty products in your entry kit; so I was like, yep that is the marathon for me! I then promptly forgot about it and put it in the never running a marathon category. Then at the SRC Bunnings BBQ earlier this year we were discussing Ellie Pashley running at the Nagoya Marathon and my brain started ticking over; I googled it and I realised that it was going to be run on International Women's Day. I don't believe in signs, but I do believe in women's rights and gender equality, so I decided if I was ever going to run a women's marathon it really should be on International Women's Day. The entry for overseas participants is limited each year to about 15 % and I was hopeful I would not get a spot so I wouldn't have to train. But as luck would have it, I did! My emotions at this point have gone from sick to excited to shock to "can I return my entry?" (I can't, I checked!!) particularly watching some of the marathoners finish on Sunday. As I don't really think my normal training plan of "winging it" will cut it for a marathon, I figure to keep myself and my training accountable I would do a weekly(ish) post on how my marathon training, and my getting fit to start marathon training is going once I start, which will probably be, definitely maybe next week!
Recipe of the week
1. In a blender or food processor, purée frozen berries, frozen banana and coconut milk until smooth.
2. Pour into a breakfast bowl. Arrange fresh banana, fresh berries, coconut flakes, walnuts and chia seeds on surface of smoothie bowl and serve.
https://sheppartonrunnersclub.com.au/wp-content/uploads/2017/06/SRC-Logo-300x221.png
0
0
admin
https://sheppartonrunnersclub.com.au/wp-content/uploads/2017/06/SRC-Logo-300x221.png
admin
2019-08-29 12:23:17
2019-08-29 12:23:19
SRC E-news Shepparton Running Festival part 1.