SRC Training and racing at the Shepparton Athletics track
30/10/18 – 6 pm 800 mtr Handicap
20/11/18 – 6 pm Graded 3 km races
8/12/18 – 4 pm Various Distances
18/12/18 – 6 pm Graded 3 km races
Every Tuesday and Thursday just before training Chris goes over all our upcoming races and events. This is a chance for a reminder, corrections, or questions.
Other races
Four Vines Running Festival can add SRC as a team and also a discount if they enter the Promo code of VRN18.
4/11/18 Bendigo bank Fun Run Facebook event page
10/11/18 SRC

Presentation and Awards Dinner 5 pm – 9 pm W.B Huter Pavillion Tickets $ 25.00 Children $ 15.00 Drinks at bar prices For more information

– Facebook events page or Melanie McAuliffe
For an updated list of all SRC events and races, you may be interested in please check the Shepparton Runners Club Facebook events page. Always check official sites before travelling.
Princess Park upgrade
As you may be aware, the Princess Park Future Directions Plan and Landscape Masterplan went to last week's Council meeting to release it for public comment.
Can you please distribute the below link amongst your networks and encourage them to provide feedback, good, bad or otherwise.
http://greatershepparton.com.au/council/consultation/princess-park-future-directions
OFFICIAL RESULTS!
October 21 800s
A big thank you to everyone who assisted in today's handicap! The conditions were perfect and it was great to see so many smiling faces.
Well done to our prize winners Mason Sleeth, Jarrod Popplestone, Chris Banning and Abbey Monk. A huge thank you to Intersport Shepparton for the prizes and for Nipper himself coming down to present the awards today!

16 weeks preparation, 1 week writing and 1 extra week waiting and here it is.
Melbourne Marathon – By Kate Dainton
Getting to the start line with Anna, Hamish and the Armstrongs I felt pretty calm. All the nerves had gone!!
I had a race plan,  but just like a birth plan it can all go out the window! Here how it went : )
1- 10km :  I went out slow and controlled and tried to be tolerant of all the people in my way! " stick to the left and patience" was in my head. Legs felt heavy as they warmed up.
13-30km ..It was all about protecting myself from the wind and conserve. This was tricky either the groupies were going to fast or too slow. Oh well, just keep on doing what your doing i thought.. at 21km I leaped over the marker. Got a text from family "your halfway, so proud of you !! This made me laugh I bet there are a few trackers out there. I tucked in with the 3:50 blind pacer- "Ive got this"  i thought. Feeling comfy. Ran with Anna for a bit which was great. Narelle, Kathy Hamish give me shout out. I barely see them.. my focus is in front! Im actually pretty unaware of any of my surroundings.
Chris prepared me 32-35 incline.. what tha! Felt like I was going backwards.. "up, up, up" i told myself. Legs ouch, achilles, knee arrhhh CRAMPS.. yep any turn or change in road.. my toes and legs would cramp. I slowed down, my engine wanted to go faster, bugger.
Saw Chris A at 36km  so happy.. but I think i mutter "hurt?" one more 1km until just a park run. Half marathoners merge here it's hard to get past.., how can I be passing them? Mario stars I'm collecting them!'
The 3:50 pacer started pulling away at 3km to go .. My legs continued to cramp, the 3:50 pacer started getting faster….  I thought if i go faster i could totally seize up..  It seemed if i looked left or right people carnage was everywhere.. i dug deep "keep looking forward Kate!"  I saw Norah, Tom & Mat. MCG! MCG! so close, feels so far.
I could see my family!! My Dad jumped the fence and ran a bit with me and said " you look fantastic.. wow!!"  When I entered the MCG my idol Sinead Diver was on the big screen, she had won!! 41 year old Mum of 2. I had the biggest smile. I sat in the MCG, teary and absorbed the moment. A random guy hugged me and gave me magnesium spray.
I looked at my watch for the first 5km to go out slow.. and that was it. This was liberating, all I had to do was concentrate on the km markers and getting to water stations.  I stopped at every single drink station. It was hard to jog through the stations with the amount of people, but with the hot weather hydration was top priority.
I dreamed of sub 4 hours and smashed it. I am still in shock and over the moon. Chris Armstrong's guidance over the last 2 years had totally paid off.  P. S no Kate words were used in the 42km I was well behaved.
Happy dance,  Kate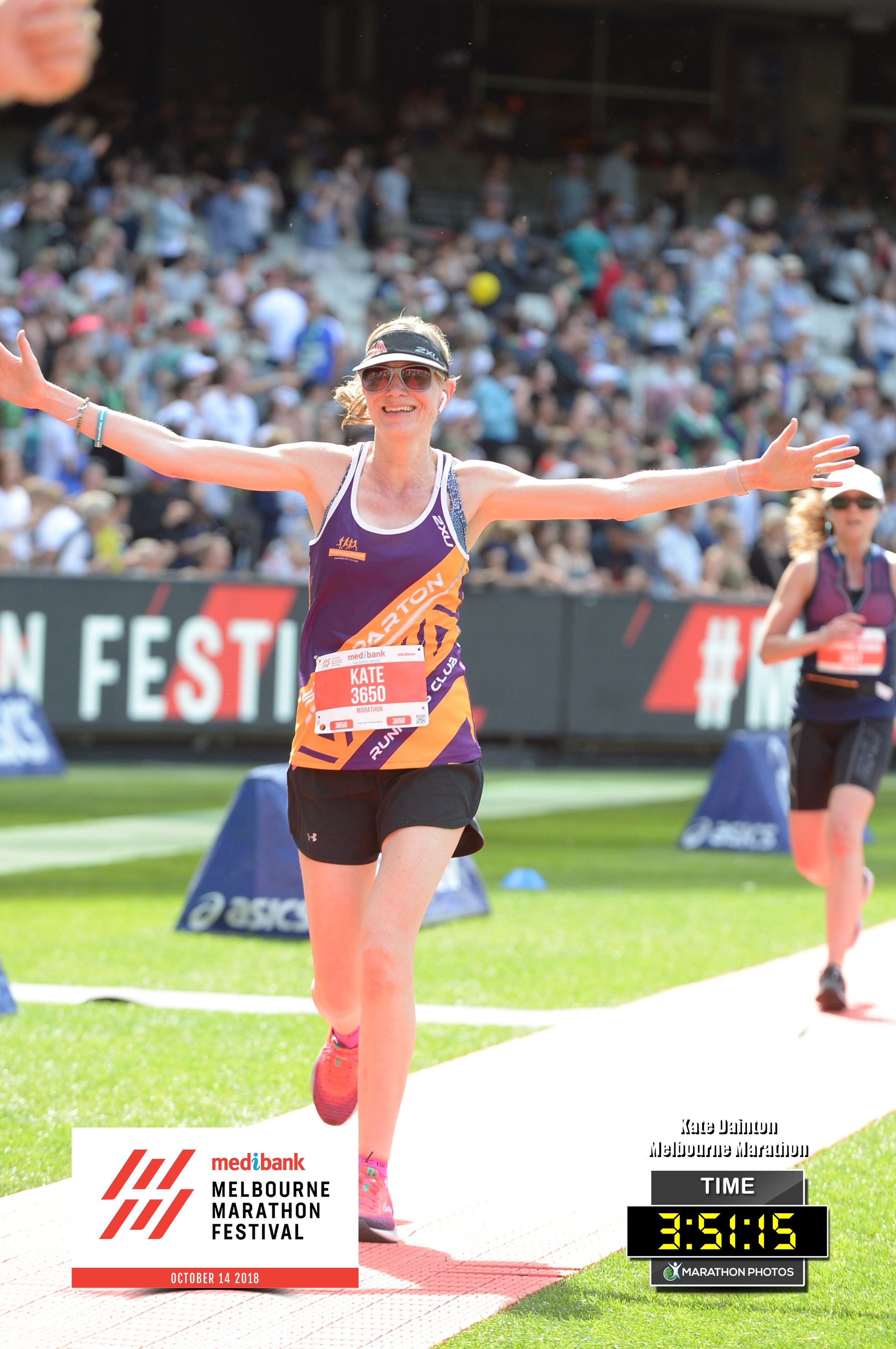 With no Parkrun in Shepparton on November 10th, we are organising a bus trip to Lancefield Parkrun. Last year's trip to Mt Beauty was a huge success and lots of fun. We will have a 24 seater bus which Chris Harvey has kindly offered to drive again. Cost will be kept to a minimum but the more 'glutes' on seats the lest cost for everyone. This is an open invitation and we have 14 people so far. Bus will leave the Library Carpark at 6am. We will stop for breakfast on the way home and be back around midday (ish). Anyone interested, please let me know. Please pass on to anyone you think might be interested. Thanks, Rose 🌹
12 MARATHONS, 12 MONTHS, 12 LOCATIONS
#voice4kidz – Protecting kidz is everyone's business
Marathon No 12 will be held at the woolshed Emerald bank.
16/12/18
6:00 am final marathon starts 6 x 7km loops
11:00 – 11:30 am Estimated time Kathy and Narelle will finish
Business have the opportunity to sponsor a km for $500 per km. Kathy and Narelle aim was to raise $100,000 this year for GVCASA. With $21,000 anticipated on the final marathon, they are well placed to hit their fundraising goal.
Unofficially several SRC members were engaging in an online discussion about being involved in the 12th marathon. Several ideas were discussed and we will put these to Kathy and Narelle before going ahead with them. I'm sure we can help in some way… drinks, running support or something.
But before that then they have to run the Queenstown marathon on 18/11/18. Joining them for this marathon will be Louise Secomb. We wish all 3 marathoners a successful run.
Goast Hunter – Tuesday 23/10/18 – Steven Trevaskis
Location – University of Melbourne Grahan St Shepparton Lecture theatre
I watched this doco on a survivor of trauma, he seeks to reconcile his fractured memories and piece together his past. It was amazing that he spent 2 decades trying to piece together his life. This film contains themes of child abuse and family violence. It will screen on SBS in 2019 if you want to check it out.
The part-time spirit chaser is an eager subject, willing to dive deep into his own difficult past and uncover a  wide-ranging story that only grows in complexity over time. Shot across seven years, the fascinating if not completely satisfying Ghosthunter starts out with King's fondness for the supernatural and ends up dealing with violence, abuse, repressed traumas, fractured memories, police proceedings, family secrets, estranged relatives and tussles with depression.
We were very fortunate to have Jacki Tunure, the impact producer of the "Ghosthunter" documentary attended our screening and was available for answer Q&A to the audience.
This event was one of the fundraisers for GVCASA. With Kate Dainton, and Kathy Fuller, and Narelle Pell #voice4kidz
If you want to support GVCASA you can do a direct deposit BSB 633000 Ac No 143 139 863
From the last 800 handicaps.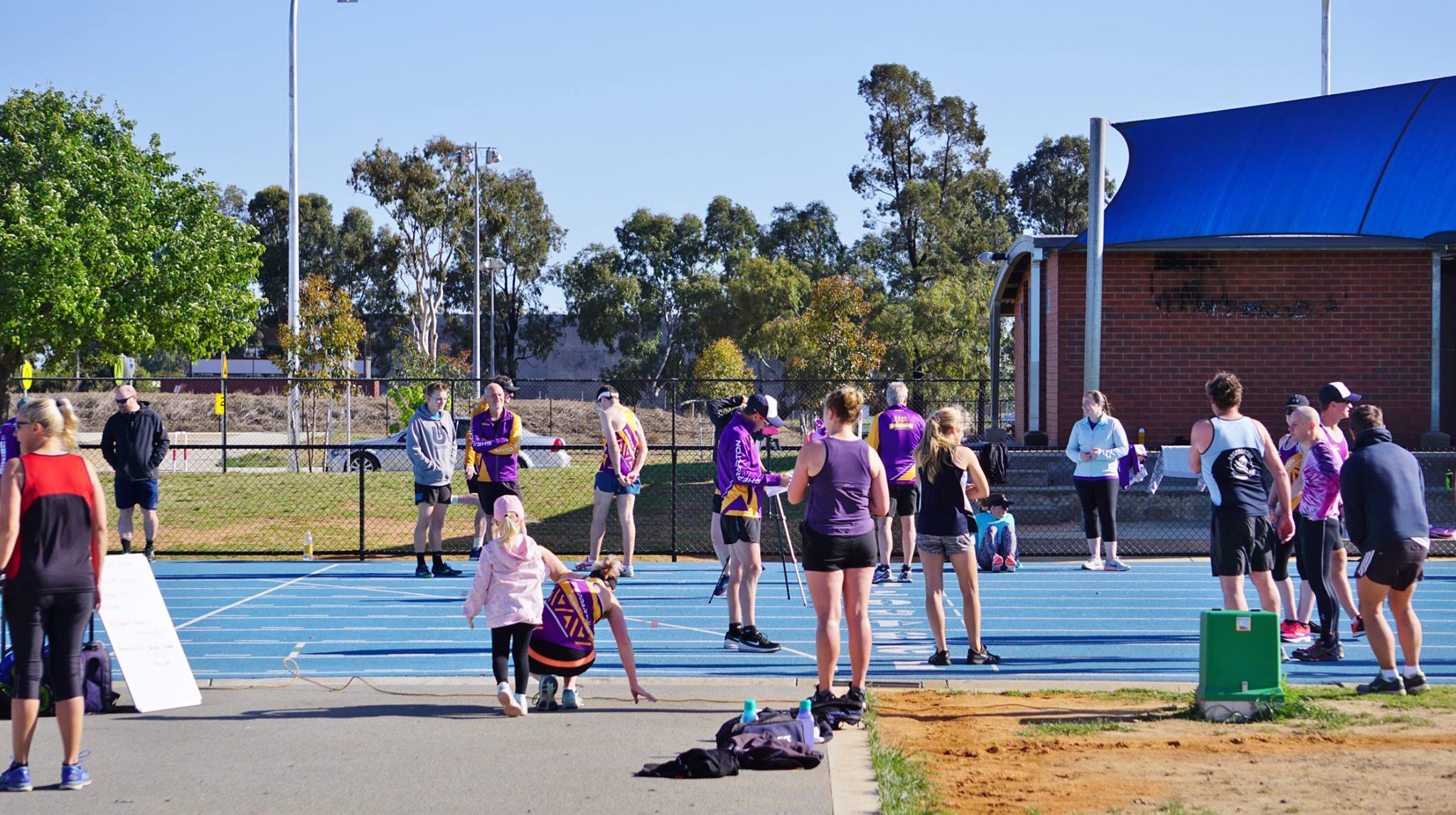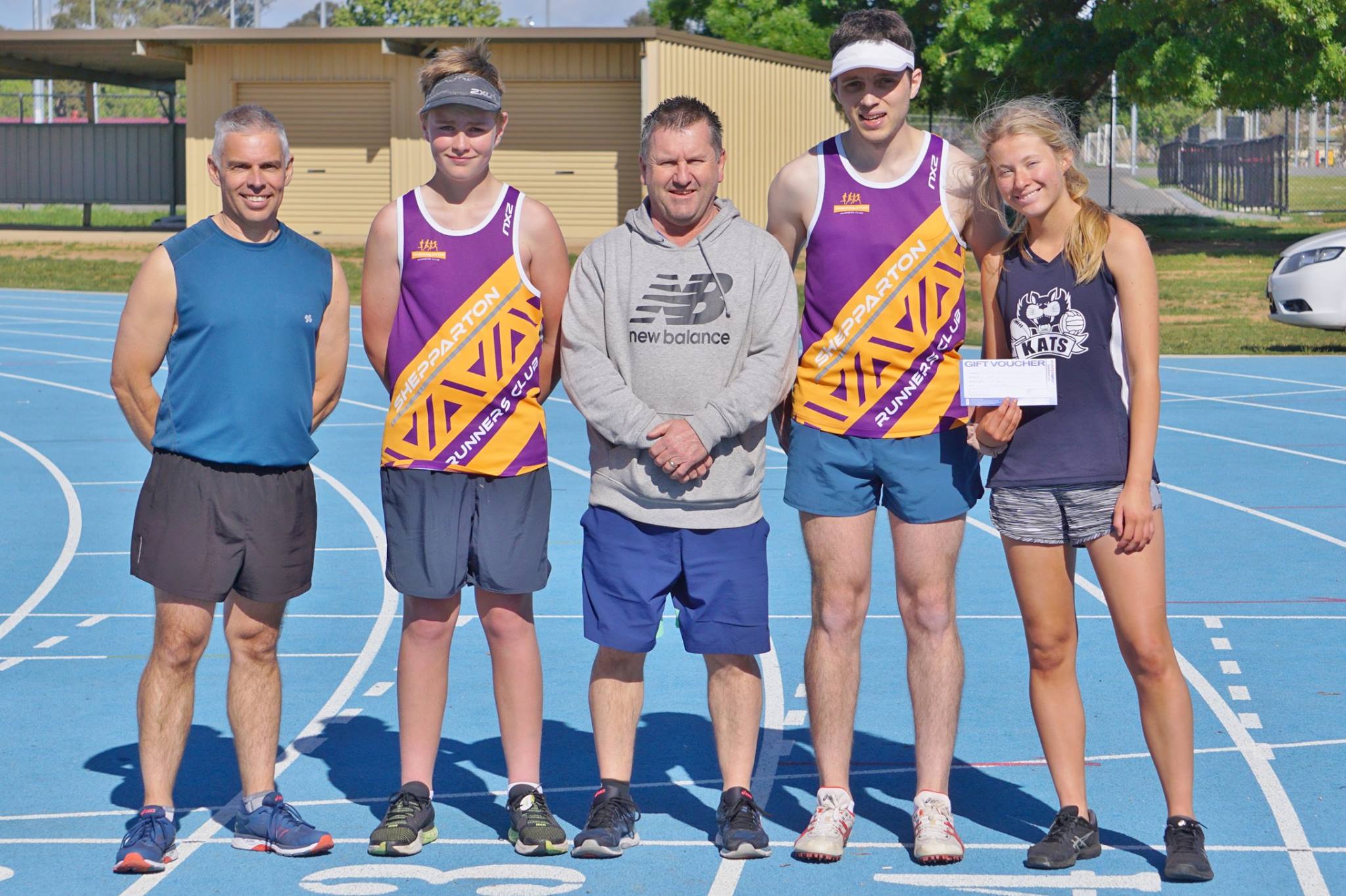 https://sheppartonrunnersclub.com.au/wp-content/uploads/2018/10/MMAH6387-rt20x30-3650-1.jpeg
3549
2357
admin
https://sheppartonrunnersclub.com.au/wp-content/uploads/2017/06/SRC-Logo-300x221.png
admin
2018-10-25 11:20:39
2018-10-25 11:20:39
SRC E-news Oct 26 Melbourne marathon part 2 & SRC news