---
Tara taking on the challenges at The O'Keefe rail trail fun run.
Race report By Tara Callingham 
Their was a Pb, heat, hills, and Melanie, and I beat all 4 of them.  I am going to dedicate a wall at home for photos of all the people I beat over the coming years. Watch out for me at the Shepparton Running Festival where I will take on and beat Steven Trevaskis in the Half marathon.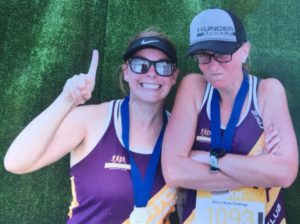 ---
---
Club News
Our weekly Tuesday sessions at the Athletics track have concluded. Our Tuesday sessions will now be down at the lake. The Shepparton Runners Club will discuss with council our plan of hiring the track once per month. When we know the outcome of these discussions we will let you know.
The Shepparton Runners Club would like to wish Sue and Andrew a safe trip overseas. Sue will be doing some Parkrun tourisum starting in Germany. And if she gets time between shopping and parkrun she may catch up with her son while they are there.
Calendar of races and events
GOLDCOAST MARATHON TIMELINE
9 weeks to go until the 40th Goldcoast marathon
Early Bird finishes

– Sunday, April 29
Entries close Sunday, June 29
Reasons to enter 
You will be a part of the 40th running of the event and it should be bigger and better than past events.
Top temp 23 deg in the middle of winter
Celebrate with Kathy and Narelle as they complete Marathon No 7 of 12 #voice4kidz 
Fast & flat course
Enter here Website 
April 29 Bright Fun Run Website
April 29 Tatura Hospital 8am Rego 9am start
April 28 Ocean Grove Parkrun launch
May 13 Mothers Day Classic
May 19 Euroa Parkrun launch.
July 1 Gold Coast Marathon Entries close Friday 29 June 2018 (5pm AEST) Website  
August 26 Shepparton Running Festival  Facebook   Website  
October 14 Melbourne Marathon Website 
October 28 Ned Kelly Chase Website
 Nail Can Hill Run course.
Course: The Full Can course is run mainly along the ridge of the Nail Can Range that borders Albury on the west side.
The distance of the run is 11.3km. The route consists mainly of fire access tracks with short sections of gravel and bitumen roads. The course is marked with kilometre markers and directional arrows and lines. Walkers can expect to take up to 3 hours to complete the course.
Please make a note of the hydration and first aid stations.
When: Sunday 6th May 2018
Start: Centaur Road, Lavington (front of Panthers)
Finish: Bonnie Doon Park, West Albury
Course info & registration: https://nailcanhillrun.com.au/event-info/full-can/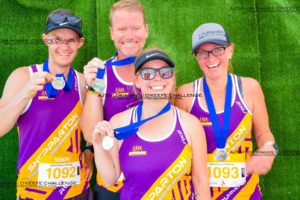 Race reports from The O'Keefe rail trail fun run
Chris Nicholson
The O'Keefe Challenge Half Marathon
This is the third time I have ran the half at the O'Keefe Challenge and unfortunately experience has not made the long climb from Lake Eppalock into Heathcote any easier. After cramping in both hamstrings at the 23 km mark of last year's 26 km event I went into this year's run armed with energy gels, salt tablets and some weird muscle relieving veterinary cream recommended only for use on horses and dogs but high regarded by the Coach.  So as long as I wasn't drug tested I was confident I would be fine.
We arrived at first light in Heathcote with a slight chill still in the air, perfect running weather for someone like me who is known to perspire in a heavy frost. If only it would stay this cool.  Unfortunately the forecast was for a sunny 28 degrees and I could already sense that it was going to warm up quickly.  A quick farewell to the support crew who were running in the shorter events later in the morning, and I boarded the bus along with Kate Dainton and Steve Trevaskis for a short trip out to the start line at Knowsley, a trip where the bus's heater seemed to be stuck on a temperature equivalent to the North Queensland Wet Season, great I'm sweating on the bus ride!  A quick warm up run to shake out some nerves, a prerace gel, a salt tablet, one last gulp of water and then it was time to line up.
Bang! We were off and within 2 kms the field had thinned out and I found myself running with a group of four other runners and then there was seemingly a huge gap back to the next group.  A quick glance at my watch, I'm running about 10 seconds a km quicker than I had initially planned but on the upside I felt really comfortable and I was determined not to drop off this group otherwise it would make for a very long lonely run.   To the newbie, the first 5 kms of the O'Keefe half lulls you into a false sense of security as it is relatively flat or slightly downhill as you run into the basin surrounding Lake Eppalock, but it bites you back with a vengeance over the next 11 kms as the rail trail changes to a constant climb all the way to Heathcote.  It was during this climb that my group of five spread out with about 50 m between each runner.
Gels at 7 & 14 kms and another salt tablet and water at every drink station and I felt comfortable, sweaty but comfortable.   Finally the climb flattened out as I entered Heathcote but then I had the mental torture of running past the finishing line knowing I still had 5 kms to go.  Despite having to do this, I was 16 km in to a 21.1km race and I felt surprisingly good so I decided, ok there's only an equivalent of a parkrun to go, time to pick up the pace. I put the foot down and my legs responded, for a short time anyway!
16.5 kms,  how quickly a race plan can change!  Bang! As I ran down an incline from a  footbridge my left hamstring spasmed, contorted and turned into the equivalent of piano wire. "No not again!", I mentally cried out, whilst at the same time verbalising some other choice words, words that I had not heard since running with Kate Dainton at the conclusion of the Wangaratta Half.    After apologising for the language and then reassuring a marshal that it was just a cramp and I hadn't torn my hamstring I broke back into a trot and then a jog then back into a slightly slower restricted run. Race Plan A was now scrapped and Race Plan B was now in place, just get home.  The last 5 kms were a battle, every little incline or decline triggered a hamstring spasm.  The tail runner out of the group of five I had been running with caught me with 1 km to go and told me to lock on and follow him home, somehow I managed to do this and we crossed the line within a couple of seconds of one another.
In summary I finished the 21.1 kms in 1:42:16, in lucky 13th place, and 5 minutes quicker than what I managed the equivalent half at last year's event.  I now have 12 months to plan a new strategy to beat mother nature and get through this event unscathed!
Half Marathon
By Steven Trevaskia 
Okeefe trail half marathon.
With very little training I fronted up to my 3rd half marathon in 3 months.
At Wangaratta my 5 km splits were all consistent between 32 and 33 mins each.
Today was on a rail trail, with undulations longer than Albury and it felt hotter. My past 2 halves were between 2:22 and 2:23 mins. 
Today was tough, my 5 km splits were 32:33, 33:55. 36:27, & 36:41. I knew I was walking too much after 10 km to get a time close to the previous 2 halves.
The arm didn't cause an issue at all. The knee only hurt when I changed from walk to run. All other times their was very little pain.
So I am content with 2:26:29 as a finishing time.
After the run, we did a few calculations to predict what time Kathy and Narelle would come in. We knew their times were getting slower and this was a fairly tough course. It was great to see SRC members waiting around to cheer Kathy and Narelle to the finish line.
10km
Let's just start this off by saying that I made the decision to enter the O'keefe Saturday night. My nutrition the night consisted of Steak, Vegetables, Potato Mash, followed by ice cream and a glass of Port. There was no specific training in the lead up, but was confident I could do the 10km without any issues… hopefully.
It felt weird catching a lift Sam, Tara and Mel at 7:30am… I should be running… This feels un-natural…
I registered, got everything set (batman was safely secured), had a drink of water and then waited with everyone else.
The field wasn't large, I figured I would sit behind Sam and let him do the pacing, if it didn't feel right, I would just slow down. About 4km everything was feeling really good, so I passed Sam and figured I would catch the next person. Not long and I managed to sneak past the next person on an incline. I think having fresh legs really helped here.
In the end I was very happy with how everything went. I should maybe adopt this principal in other races. Easy start, go comfortable and then pick people off along the way. But better nutrition and a bit more specific training in the lead up.
10 km 
By Sam Daniel 
Leaving Shepparton at an easy 7.30 last Sunday, we picked up Mat and Mel and headed to Heathcote for the O'Keefe 10km Trail run. After catching up with all the other SRC runners, we took off at 9.30, a relaxed time to set off. Starting off with trails after the footy feilds, a few road crossings, and into the hills. Nothing too extreme, it followed the O'Keefe Rail Trail, as we passed the half marathoners, hey Steve, keep going. Sam pulled in under 52 mins, and Tara got a 1 and a half minute PB, breaking the hour mark for the first time. We all hung around to support the marathoners Kath and Narelle and Grant cross the line, then went in search of much needed lunch.
Sam and Tara.
5km 
By Cadel Nicholson
Last Sunday Mum & I ran in the O'Keefe Challenge 5km Fun Run at Heathcote.  We got to Heathcote 3 hours before our start time as Dad had to get there early to catch the bus for the 1/2 marathon.  To fill in some of the time before the start Mum & I went to the bakery where I fueled up for the run by having 3 meat pies and sucked dry the sauce container.
Before the start of the race the organisers said we were going to do a warm up which I thought would be a warm up jog with some strides and perhaps some swing throughs but instead it was someone in a owl suit trying to get us to do aerobics!  I said to Mum "How am I going to record that warmup on Strava!"
After the person in the owl suit had finally got out of the way we were told to line up.  I lined up on the front row.
There was a loud bang and we were off.  The course started on the oval but then went onto a gravel track that ran through some parkland and a pine plantation and then a bitumen road before we entered the oval again to finish.  It was not flat and had lots of climbs and falls.  I took off a bit quick and was in the lead for the first 3 kms along with a teenage girl, Charlie.  Charlie passed me at 3.5 kms then at 4 kms, Peter, the man who came first, passed me.  I locked onto Peter for half a km before he got away. I entered the oval again and I could hear Dad, Mathieu, Trevor and Sam yelling my name as I crossed the line.  I had enough time to recover before mum came onto the oval and sprinted home.
I had a fun day and came 3rd overall, 2nd male and 1st under 18 male. It was also good to see all the other Shepparton runners finish their races.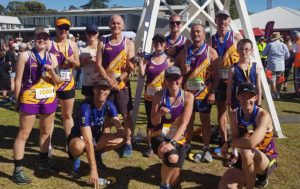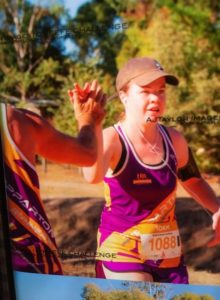 Kathy Fuller & Narelle Pell's 12in12 marathon progress. #voice4kidz GVCASA
| Date | Marathon | Kathy Fuller's time | Narelle Pell's time |
| --- | --- | --- | --- |
| January 14 | Hobart | 3:59:21 | 4:06:11 |
| February 25 | Wangaratta | 4:01:07 | 4:09:36 |
| March 25 | Albury | 4:08:28 | 4:12:30 |
| April 22 | Okeefe trail Bendigo to Heathcote | 4:15:37 | 4:20:58 |
| May 27 | Adelaide | 3:58:26 | 4:00:46 |
| June 4 | Traralgon | 3:58:15 | 4:05:10 |
| July 1 | Gold Coast | 4:18:39 | 4:08:42 |
| August 26 | Shepparton | 3:55:43 | 4:0054 |
| September 16 | Sydney | 3:55:08 | 3:55:07 |
| October 16 | Melbourne | | |
| November 18 | Queenstown NZ | | |
| December | TBC | | |
https://sheppartonrunnersclub.com.au/wp-content/uploads/2018/04/31073339_996797160478420_8885630368636469248_o-1.jpg
908
1440
admin
https://sheppartonrunnersclub.com.au/wp-content/uploads/2017/06/SRC-Logo-300x221.png
admin
2018-04-26 11:30:31
2018-04-26 11:30:31
SRC E-news O'Keeffe rail trail funrun