Wangaratta Marathon & Fun runs
Shepparton Runners Club team
Marathon
Kathy Fuller, Narrelle Pell, Trevor Dainton
Half – marathon
Chris Nicholson, Steven Trevaskis, Mathieu Ryan, Kate Dainton, Louise Secomb, Jarrod Minogue, Grant Hicks,
10 km
Tara Callingham, Sam Daniel, Chelsea Nicholson, Cadel Nicholson, Natalie Hicks, Lydia Monk, Steve Monk
5 km
Justine Ryan
This is marathon No 2 of 12 for Kathy and Narell. Remeber you can support them this weekend and follow them on Facebook Also Trevor is doing his first marathon this weekend. My advice for Trevor is just to finish it. Don't worry about the time. But last year Trevor ran Melbourne Half marathon in 1:28:46. Using an online race predictor which you shouldn't take any notice of, I came up with a predicted finish time of 3:05:00
Similar advice for the first time half marathoners is aim to finish and enjoy the event. Don't worry about your time.
The following advice is from our sponsor FIX muscle performance. The Shepparton Runners club thanks Cher for her advice and offer.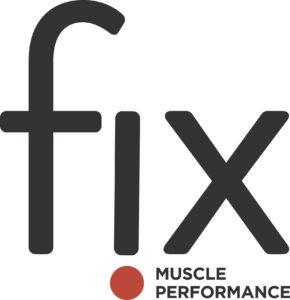 Address: 116-124 Corio St, Shepparton VIC 3630
Website http://fixmp.com.au/
Ph: 03 5831 5400
Hi All,
Just a little Fix Tip. Stretching we all do it but why?
When you stretch, the muscle fiber is pulled out to its full-length sarcomere by sarcomere, and then the connective tissue takes up the remaining slack. When this occurs, it helps to realign any disorganized fibers in the direction of the tension.
I am a big Fan of Stretching very gently and in a form of Range Of Motion rather than holding a stretch for 15 seconds. Range of motion so stretching your quads do it gently move into a stretch position for 3 seconds and move out of it then go again and hold for 5 seconds and do it 8 to 10 times holding for longer each time. Benefits of stretching this way is that you will not aggrevate your nervous system which if you do it reacts by making muscles shorten to protect the region that has been aggravated.
Also Love Yoga after comps its a great way to stretch out your entire body. To all Shepp Runners Club Members Fix will shout you a free Yoga class this Tuesday morning at 6.15am. Class will go for an hour and all you have to do is call the clinic on 58315400 and book in. 10 Spots available so first in !!!!
All the best to everyone competing !!!!
Cheers Cher
Thursday's training
For those that were at training, last Thursday Chris put us through some strength training. He mentioned that we could do them at home. If you want to look at a bigger range of strength training you can get more information from Expressions of Pye blog. Sarah Pye is a former SRC member now based in 1QLD continuing on with her triathlons. You can subscribe to her blog here Expressions of Pye.
Racing last weekend
City2City in Albury. Danny Selva clocked 40:00 for 10 km . Congrats on a PB..
Parkrun PBs
A cooler morning and 192 people enjoyed the views around the lake as they smashed out 5kms. It must have been a good morning for it with 39 PB's recorded and lots of smiling faces. Thanks to all our Vollies this week for without you parkrun would not be what it is. Special thanks to Cadel Nicholson who volunteered at the last minute to be today's fabulous photographer.
Great work  Chelsea Nicholson, Louise Secomb, Kate Dainton and Lydia Monk on a well deserved Parkrun PBs Feb 17.
Kate Dainton 22:49
Louise Secomb 24:57
Lydia Monk 25:35
Chelsea Nicholson 29:53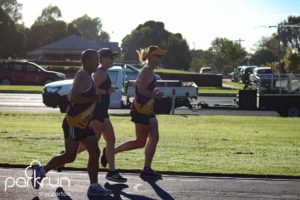 Woohoo…. this has been a goal for a while and have been working hard to get to this point…. snuck in under 30mins and am stoked. Thanks to all that have helped on this journey, those that encouraged me, those that ran with me, and those that yell at me for walking 3 steps when I wanted to stop……..I'm actually enjoying it. (Scary I know) – Chelsea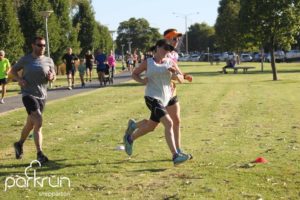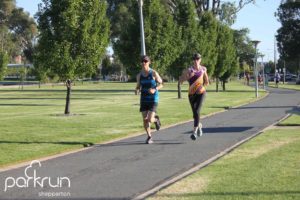 Yippety do dah!!! Sub 23- Park Run PB – Kate Dainton
Runner Profile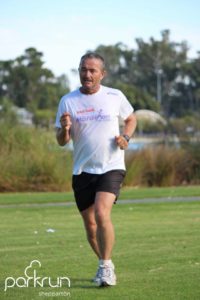 (I thought I'd give it a go)
Name – Steven Trevaskis
Age – 2 score & 14
Current Pbs
Marathon 4:50:00 Half 2:09:00 10km 56:00 5km 26:00
What inspired you to start running 
In about 1983 a former work colleague and I did Melbourne Marathon (Frankston to Melb art centre) 3:38:00 Yep I was fitter back then. I did take a few years break possibly to get over the marath0on, but then came back to running and the SRC in about 1990. I find running an easy sport for someone with not the greatest eye-hand coordination. I could do it at a level and I enjoyed it.
How many years have you been running?
35 years with a few years off.
What is a typical training week look like for you?
Depends on what I am training for and the time of year due to work commitments.  My heavy training is in the 3 months leading up to Melbourne marathon in October. I am for a long run on Sunday up to 30 km. Saturday is Parkrun plus 5 km During the week I like 1 morning session of 10 – 15 km and 2 speed sessions similar to what our Tuesday sessions are like.
What are your running goals for the next 6 months?
Wangaratta Half, Albury marathon (and that's going to hurt). I would like to add Gold Coast and Melbourne marathon is locked in. I will also click over 200th Parkrun in March.
What is your biggest challenge and what do you do to manage it. 
My biggest challenge is getting out of bed at 5:30 am to go for a run. It doesn't matter if it's hot or cold. I find running by myself harder in the morning. What do I do to manage this?  I focus on motivation words and podcast that I have heard in the past.
Where is your most enjoyable place to run?
Parkrun helping others get Pbs. Running onto the MCG after Melbourne Marathon.
Who inspires you (to run)? 
It's more of a type of person that inspires me rather than an individual person so here are 4 inspirational athletes as an example.
1.Sue Olley, she has won her age group at the Canberra Marathon. She won the Mansfield to Buller 50 km untra marathon (women). As someone now on the other side of 60 she smashes out Parkrun times that 20 y.o. are envious of. She can also keep up with the pack in a 21 km training run. Also 2.Trevor Dainton with his I don't care if it hurts attitude I'm still running. I can relate to that. It would be hard to find someone more mentally tougher than Trevor.
Anyone that comes back from a major trauma to compete again inspires me. Albury based triathlete and friend, 3.Ange Ednie was knocked off her bike by a kangaroo. She was airlifted to The Royal Talbot Rehabilitation Centre in Kew where she spent 2 months to have spinal surgery along with facial surgery. She also needed to learn to walk again after not being able to move her arms or legs for the first week. . Given 9 months for a full recovery, it is now four months on and still with a long way to go Ange is back home cycling and swimming. Also on a famous level, you have 4.Turia Pitt who was caught in a fire while running a marathon. She received 65% burns to her body. Years later and scores of operations later Turia is competing in triathlons and road races while helping others through her business (SOC) School Of Champions. I know neither Ange or Turia needed their tragedy to be as motivated as they are.Their natural motivation is what got them through their own trauma.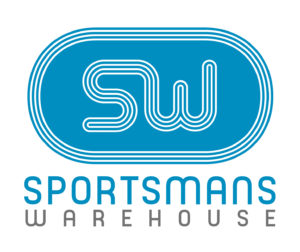 SRC would like to welcome Sportsman's Warehouse (SW) as a sponsor of the club. SW has always donated prizes for the handicaps, but this year they are offering SRC members 10% off full-priced clothing and footwear. For us to make this happen, we are asking 2018 members to email their full name, email, phone number, postcode and if you are already a SW member to sheppartonrunnersclub@gmail.com so we can add you to the SW database.
If you're not already a member, you can still sign up. Download and return the form on the SRC website. www.sheppartonrunnersclub.com.au
YOGA & Wellness Festival- Albury/Wodonga
Saturday, April 7 at 9 AM – 1:30 PM
Albury/Wodonga's first Yoga and Wellness festival is here.
It is our very own version of Wanderlust with ALL proceeds going to the Cancer Council.
Sarah Rogers is taking part in the 2018 Stars of the Border, as part of her fundraising efforts she dreamt to bring this great event to life, and with the support of our amazing community that dream has become possible.
We are very excited to invite you to a day filled with yoga, meditation, wellness events, hands on workshops, and local musicians to entertain us. The speakers and events we have lined up are incredible.
Buy tickets here  – Yoga and Wellness festival.
Next
Murray Marathon Running Festival
March 25
http://www.riverinatrails.org/murray-marathon
Podophobia
The word Podophobia originates from Greek 'Podos' meaning feet. People with Podophobia tend to get upset at the sight of feet. Different people experience Podophobiadifferently: some do not like it when others look at their feet or touch them. Still others are anxious or afraid of their own feet.
Do you know someone afraid of feet?
Luckily our Podiatrists aren't!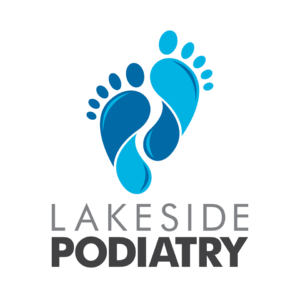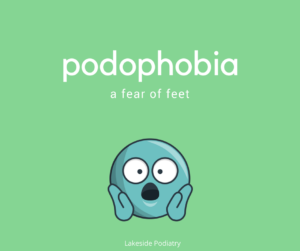 https://sheppartonrunnersclub.com.au/wp-content/uploads/2018/02/27912992_766878586838484_5444887214623958512_o.jpg
792
1188
admin
https://sheppartonrunnersclub.com.au/wp-content/uploads/2017/06/SRC-Logo-300x221.png
admin
2018-02-22 10:44:31
2018-02-22 10:44:31
Shepparton Runners Club E-newsletter , Feb 23