Kathy Fuller and Allan Connelly.
Two of Shepparton's Queens batonbearers.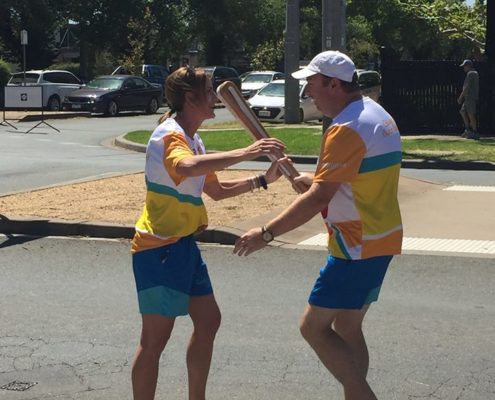 Runner Profile – Louise Secomb
Name louise
Age 29 + 7
Current PBs
5km – 25:25
10km – ?
21km – 2:01:24
42.2km – 4:55min
What inspired you to start running?
I really like to eat so with running I could eat without too much guilt!! …..
I had a work colleague complete the GC marathon and was talking about at work drinks when she said to me "you wouldn't be able to do it"…..challenge accepted!!
How many years have you been running?
I started training for the GC marathon shortly after and that was at the end of 2011….prior to that I had only ever ran when being chased
What does a typical training week look like for you?
I really enjoy at Sunday long run…first thing in the morning…I love Parkrun in Saturday and am starting to enjoy interval training on Tuesdays…otherwise I just fit it in as I can!
What are your running goals for the next 6 months?
I would really love to do the half in under 2hours….
GC marathon is on my list
Queenstown marathon is on the wish list
What is your biggest challenge and what do you do to manage that challenge?
Finding time is always challenging….I just do the best I can
Have you had a breakthrough in your running, if so, what was it?
At the Echuca race against the paddle steamer a couple of years ago I discovered I could maintain a sub 6min pace! I was stoked!! Up until then I didn't think I could do that!
Where is your most enjoyable place to run?
I really enjoy checking out new places to run
If you could run in any event in the world, which event would it be?
Most definitely the New York marathon…come on ballot pick me!!! 🤞
Who inspires you to run?
People who run because they are supporting others and my mum ❤
What was the best advice you were ever given?
Just get out there and do your best…some days will be fantastic and some not but you are still out there giving it a go
Louise
Sam and Tara in Singapore for Parkrun.
On a quick trip to Singapore, Tara and I followed in the footsteps of Allan and Kerry, and ran the West Coast Park Parkrun. Blessed with a relative cool 24 degrees, the humidity still took its toll. Out of around 60 parkrunners, about 10 we're international visitors. They were welcoming and friendly, as most parkruns are, and it was great to mark off our first international Parkrun.
Wangaratta Marathon and Fun Runs
When entering make sure you enter under the team name of Shepparton Runners Club.
February 25
Sunday, March 11.
32 km – King Island Imperial 20 – Coast to Coast Footrace
---
Over the second weekend in March, on an island midway between Victoria and mainland Tasmania, you will find one of the most unique running events in the country, the King Island Imperial 20. The event is now in its 25th year. The King Island Imperial 20 has an event for everyone. The main feature is a challenging 32 kilometre footrace which is the only coast to coast race in Australia. Support events include a 32 kilometre walking race as well as team walking and running races.
This is not just another run… be prepared to indulge in the truly unique King Island lifestyle, generous hospitality and incredible food.
Numurkah Fun Run
Entries are now open for the Numurkah Fun Run to held on Sunday 18th March. As part of this event there is a 5 km teams event which consists of 4 or more runners. It had been discussed that the Shepparton Runners Club should enter a 5 km team given the numbers that attended last year, so who's keen?
Entry forms can be found at the attached link.
http://www.sjnumurkah.catholic.edu.au/…/2018%20Fun%20Run%20…
Need a running destination in 2018? Albury Wodonga could be the place.
We're happy to endorse Parklands Albury Wodonga's portfolio of runs in Albury Wodonga this year- road, trail, flat, hilly, social, serious, there's something for everyone.
Here's a list of what's on the Albury Wodonga running scene in 2018:
March 2 (Friday): Lightning Trail Run
March 25: Murray Running Festival
May 28: Huon Hill Trail Run (part of the Riverina Endurance Trail Running Series)
June 24: McFarlane's Hill Trail Run (part of the Riverina Endurance Trail Running Series)
July 29: Albury Range Trail Run (part of the Riverina Endurance Trail Running Series)
September 2: Fed Hill Challenge (part of the Riverina Endurance Trail Running Series)
September 16: Border Barkfest
Sri Chinmoy Yarra Trail Run, Sunday 25 Feb
Three race distances — half marathon, 14km & 7km
Our first run for the year, the Yarra Trail Run with distances of half marathon, 14km and 7km is coming up soon on Sunday 25 February. The race starts and finishes at Loys Paddock, Burnley on the Main Yarra Trail and follows the north and south sides of the river to create an amazing circuit of the river.
The full circuit is 7km and could be described as "flat to undulating" with some short inclines and pontoon ramps that follow the contours of the riverbanks as they rise and fall.
There are three race distances this year — 7km for runners and walkers, 14km and an added half marathon. There is a time cut-off to allow Parks Victoria access to the pontoon bridge at the Burnley Depot — runners must start their last lap by 10:00am. All three races start together at 8:00am.
Access to the venue is via the Gibdon Street extension over the freeway bridge onto the Main Yarra Trail. Please do not attempt to drive into the venue — you will end up on the freeway! Parking is available a short walk away in the surrounding streets of Burnley and the venue is also accessible by train (Burnley Station), trams along Swan Street and by bicycle along the trail. Plenty of bike parking is available in the venue.
Online entry closes 4:00pm Friday 23 February. Full details and earlybird online entry are available at this link. On the day entry is also available from 7:00am to 7:50am.
Sri Chinmoy Williamstown Foreshore Run, Monday 2 April
The Williamstown Foreshore 5km, 10km and 15km run will be staged again in Newport Park adjacent to the athletics track . . . this year on Easter Monday 2 April. Williamstown is a wonderful part of Melbourne that is almost hidden away behind the West Gate Bridge.
The views across the bay to the city skyline are just amazing — the run is staged on a 5km circuit in the linear park that follows the shoreline and The Strand. The race venue is located in Newport Park adjacent to the athletics track right at the mouth of the Yarra River.
Races will have split starts, starting at 8:00am and there is plenty of parking in the designated parking bays adjacent to the athletics track and at the northern end of the Strand. Newport train station is about a 10-minute walk if you are using public transport.
Full details and earlybird online entry are available here.
We hope to see you soon at one of our up-coming races . . .
SRI CHINMOY RACES CREW
https://sheppartonrunnersclub.com.au/wp-content/uploads/2017/06/SRC-Logo-300x221.png
0
0
admin
https://sheppartonrunnersclub.com.au/wp-content/uploads/2017/06/SRC-Logo-300x221.png
admin
2018-02-15 11:36:02
2018-02-15 11:36:02
Shepparton Runners Club E-news Feb 16