Club news
December is busy month at SRC with 4 events on the calendar, here is what is coming up and what you need to do to be a part of it.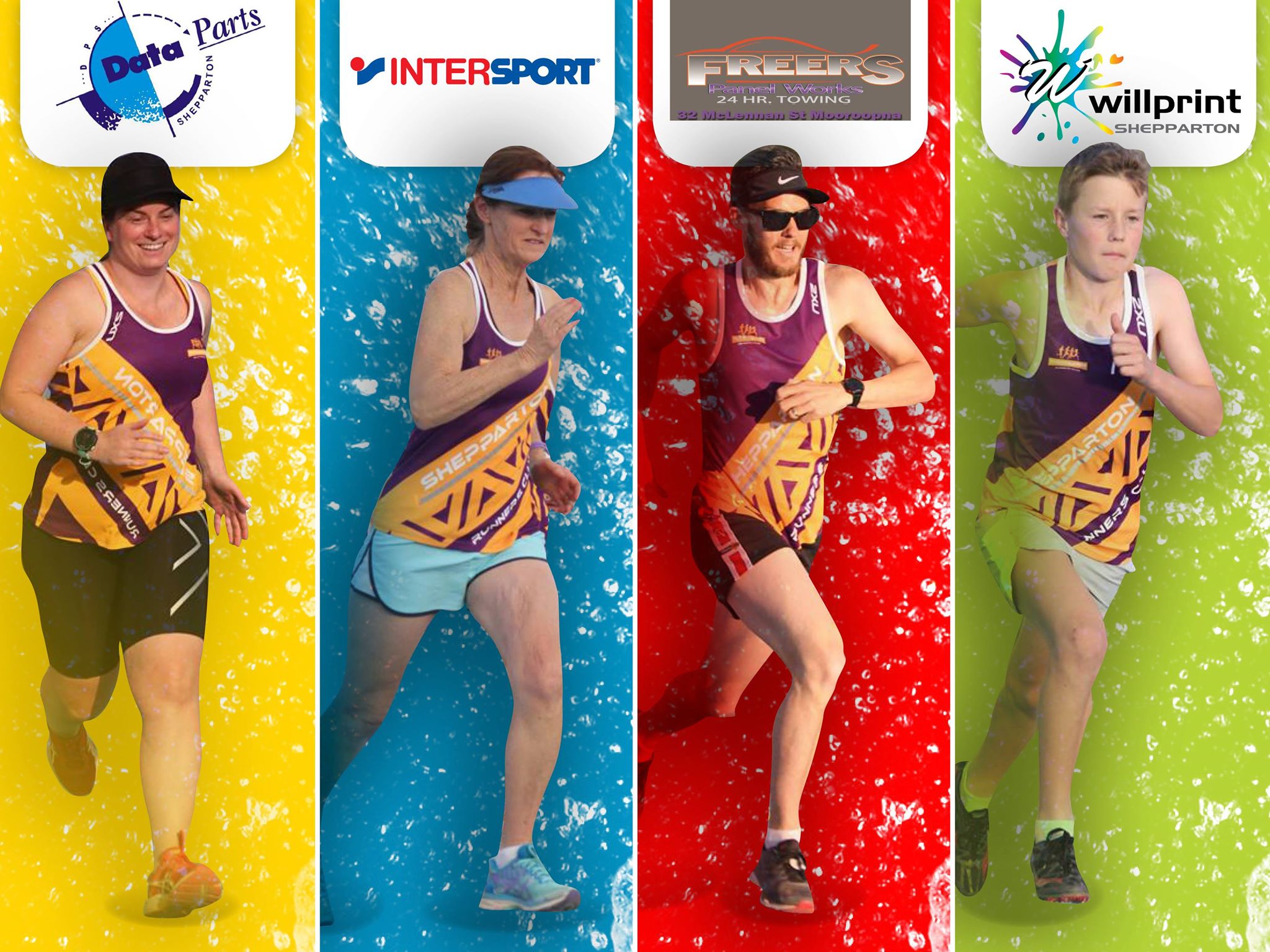 Saturday December 8th from 4pm at Shepparton Athletics track will be our teams event where we say thank you to our sponsors who have helped put funds towards our uniform this year. We will be running events for 100m, 200m, 400m, 800m and 1600m and then at the end of the night we will take requests for anything else you'd like to have a go at. A schedule of events will be posted this weekend on the facebook page so please keep an eye out for that. If you could also wear something on the night that is either yellow, blue, red or green that would be great as we would like to take some photos in our sponsor colours, and hopefully our latest uniform order will be ready to show off on the night.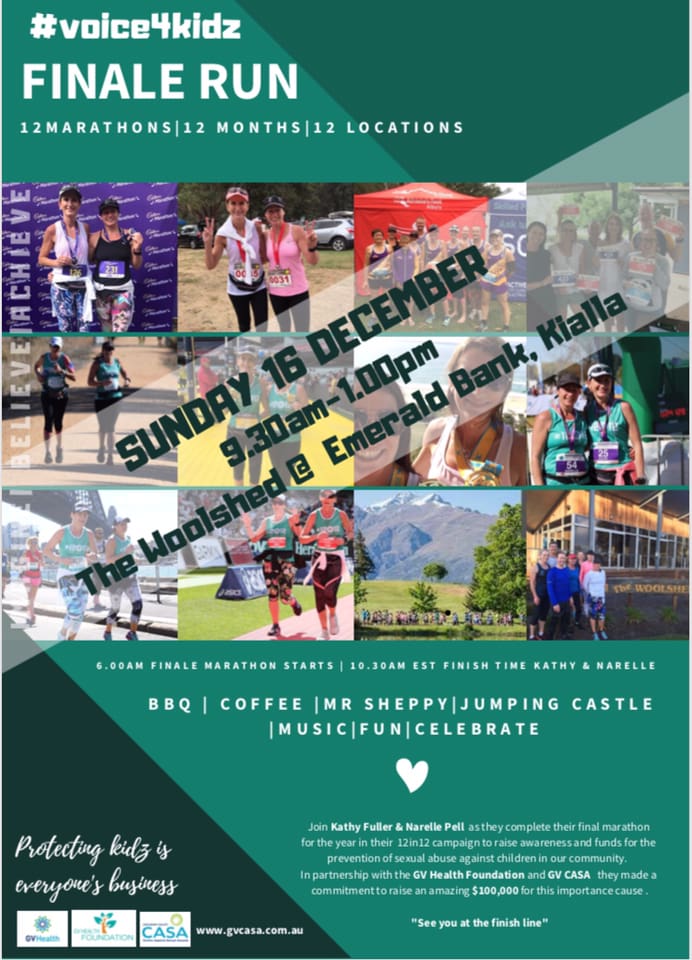 Sunday December 16th from 6am at The Woolshed at Emerald Bank, Kialla Kathy Fuller and Narelle Pell will be running their 12th marathon for the year for their #voice4kidz campaign, here is an opportunity to run with and support these amazing women for such a worthy cause. There will be a stack of other things on to celebrate as well with a BBQ, coffee, Mr Sheppy, a jumping castle and music there on the day as well so should be an awesome atmosphere. Even if you can't run, it'd be great to cheer Kathy and Narelle as they cross the finish line which should be between 10am and 10:30am.
Tuesday December 18th from 6pm at Shepparton Athletics Track will be our next 3000m graded races. It was a huge success last time with 75 registrations and 58 competing on the night. Please register ASAP to assist Chris with being able to put the grading together so start lists can be published as early as possible. We currently have 17 registered, once we have at least 40 then start lists can be created and put up. The link to register is here and takes 30 seconds to do – https://docs.google.com/forms/d/e/1FAIpQLSf59ytKU7oL_iWa7KEak33boxhmEiy13xZwlYAA8bnpHHkT-w/viewform?vc=0&c=0&w=1&fbclid=IwAR2wSe65XBrNrmuDXapfST8ss_zheA0vvNk4Tfzw6iyL_B7_d6e40a869hI
"The Michigan" A workout so nice they only named it once!
Sunday December 23rd from 8am at Princess Park – experience "The Michigan" What is "The Michigan" you ask, have a read of this – https://lopemagazine.com/2018/11/16/the-michigan-workout-ron-warhurst-nick-willis-kevin-sullivan/?fbclid=IwAR3WVFbRNZtFhYvxvaX5ogfw0YZOj8u6nYwd0iSNTr35viYJDAY8s_gDp6Y We will be giving our own version of "The Michigan" a go and will follow it up with a social bbq afterwards – come along to watch, participate if you're brave enough or just enjoy each others company before Christmas and have a cheeky sausage or 7. You can even decide if onions go on top or beneath your sausage!
Training over Christmas and New Year – There will be no SRC training on Christmas Day or New Years Day as they fall on a Tuesday, however normal training will be on Thursday December 27th and Thursday January 3rd.
Parkrun
Hi parkrunners,
Just a reminder to make sure that we obey the local parking laws when attending parkrun on a saturday morning. There is usually ample parking in the Pizza Hut carpark across the road, and in other designated parking areas. We need to make sure that we maintain safe conditions for all users of the area, and this includes road users.
Just a reminder that 16 days of activism is on next week in conjunction with parkrun. parkrun is free, but please remember that if you aren't already registered as a parkrun participant you need to register on the website so that you can get a result.
https://www.parkrun.com.au/register/form/
January 5
Mansfield Botanic parkrun -Official Launch
Facebook event page here .
---
Upcoming events and races

Facebook page here ,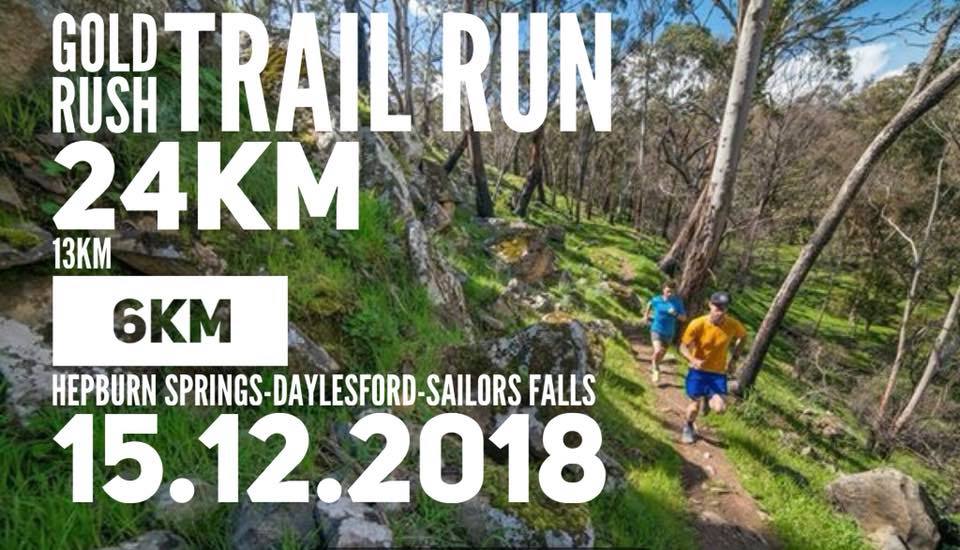 Facebook event page here,

Wangaratta Marathon Facebook page here
Melbourne marathon 2019
Early bird entries open NOW.
"Australia's largest marathon" and best running festival is back!
The 2019 Melbourne Marathon Festival is being held on Sunday the 13th of October. More than 30,000 competitors will participate in this awesome event, finishing with a lap of the MCG's hallowed turf after passing many of Melbourne's famous landmarks en-route.
The festival features distances for all ages and abilities making it a great family friendly event. Events include the Melbourne Marathon (42.195km), Airlines Half Marathon (21.1km), ASICS 10km Run, 5km Run and 3km Walk.
Participants will make their way through the vibrant streets of Melbourne, passing some of the city's most iconic landmarks. The longer runs will take in sights such as the Arts Centre, Flinders Street Station & the picturesque St Kilda foreshore with all participants finishing with a lap of the hallowed turf of the MCG.
Tickets are now on sale via:
https://bit.ly/2AvAwD0

https://sheppartonrunnersclub.com.au/wp-content/uploads/2018/11/46503995_945889762270698_1152667427226517504_o.jpg
1296
1944
admin
https://sheppartonrunnersclub.com.au/wp-content/uploads/2017/06/SRC-Logo-300x221.png
admin
2018-11-29 10:52:51
2018-11-29 10:52:51
SRC E-news Nov 29