Shepparton Running Festival update
The Shepparton Runners Club have been faced with one of the most difficult decisions in the history of our event. It is with deep sadness that due to COVID-19, we announce the cancellation of the Shepparton Running Festival, scheduled to be held on 22 & 23 August 2020.
We know that this news is an enormous disappointment, not only to our participants, but also to our stakeholders, partners and our volunteers. We know many of you have grown to know and love this event, because many of you return year after year and we thank you for your support.
The process we went through to make this decision meant that we looked at several scenarios. We examined the information from the Victorian State Government that we have now and together with Greater Shepparton City Council we tried to predict what Covid-19 restrictions would look like in late August and then there's the scenario of a second wave and restrictions staying tight.
We considered control measures such as a reshaped start, finish line and course. Spreading races over two days and even what our aid stations would look like. What we do know is information and predictions will keep changing as there are still so many unknowns until we are clearly on the other side of this pandemic.
We had to consider our financial situation and that of our sponsors. The risk to our local community and if they are ready to receive visitors and the liability of a COVID-19 outbreak. We know we have a responsibility to reactivate our economy, however August was approaching fast.
We would like to thank all those who messaged us and got in touch to tell us how keen you were for our event to go ahead. We know this news is disappointing. We now look towards 2021 when we will have a new AIMS certified course and we make sure there is enough room for everyone.
Your sincerely,
Mathieu Ryan
Committee President
Shepparton Runners Club
Runner Profile
Kate Dainton
Kate Dainton, 40 years old.
5km- 20:56 secs
10: 46:14
Half: 1:41:44
Marathon: 3:42
What initially got you into running?
I got into running to get out of the house! It was a challenging time in my life a few
years ago, and I shuffled out of my driveway for 1km. I had never run before I even got laughs when I told my friends. I then got up the courage to try park run after a cocktail commitment with a friend and worked hard for weeks to get a 30min PB.
What other sporty activities do you participate in?
I do yoga & some strength work at home. I've been bouncing on 'bluey 'the big gym ball while working from home. His kind of turned into Wilson from castaway during iso. We do lots of family rides and I feel mum taxi is an activity right? I seem to be quite invested and it's consistent!
What good running and training tips have you discovered that may help others?
Turn your watch on clock mode and just run on feel. Numbers, time, pace are not
always reflective of where you are at. More stress then probably a higher heart rate! Tune into the WHY of your running do it easy and happy. Also, I have been practicing mindfulness running where I run on my own and nothing in the ears. I think this helps with sitting with discomfort of the body and mind and builds confidence
When your backyard pizza oven is up and running, what will be your mainstay pizza?
Tough question! These are on my list for this week's long run reward *Roast pumpkin, pine nuts, buffalo cheese, rocket, and parmesan
* Pork and Fennel sausage, spinach, chilli, caramelised onion, and mozzarella cheese
Tatura it's a great place to live for Dainton pizza and Strava segments!
Which events are you most looking forward to restarting?
I did my first trail run in January and loved it. It makes you feel like a kid at heart as you leap & dodge with no pace to catch. The vibe is different to road running. Look up Lucy Bartholomew she is a legend. I'm looking forward to hitting the trails that is out of my comfort zone whilst trying to not face plant.
Come join me!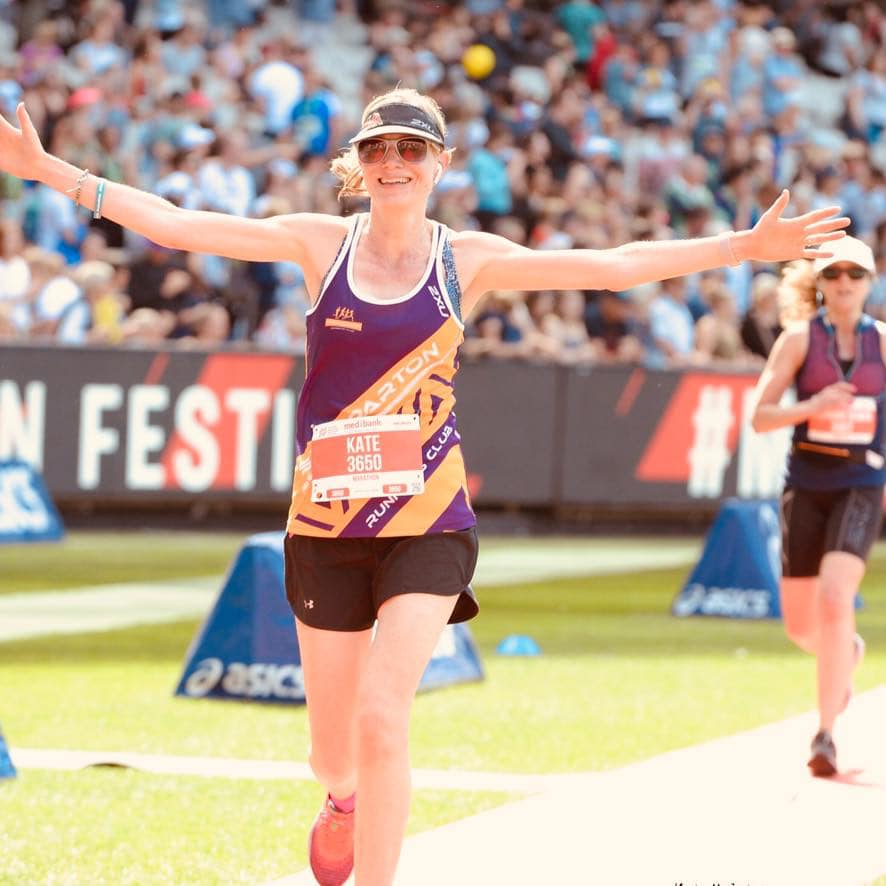 Interval training builds speed and endurance
Interval training has been used by athletes for years to build fitness. Interval training combines short, high-intensity bursts of speed, with slow, recovery phases, repeated during one exercise session. An early form of interval training, fartlek (a Swedish term meaning "speed play") was casual and unstructured. A runner would simply increase and decrease pace at will.
Today, athletes use more structured interval training workouts and high-intensity interval training (HIIT) to build speed and endurance. This variation of interval training and speed work can be a simple or sophisticated routine, but the basics are still the same as the original fartlek training.
Here are some sessions I have been doing outside Tuesday's club sessions.
4 x 4 mins 1 min Standing recovery (SR)
6 x 500 mtrs 1 min SR
4 X 1KM 1:30 SR
2 km x 2 with ample recovery. ( Last Thursday Taren and I did this one. We allowed 1 min recovery. Afterwards we agreed that 2 mins recovery would have been better.
Every 3 weeks or so during my training plan I will add in the following session.
50 mins with the last 10 mins solid pace. Ideally you will start your last 10 mins from the same spot each time. Hopefully over time you will finish further down the path clocking a bigger distance.
Confessions of a podiatrist with heel pain and her tips for runners with heel pain
Running Mums Australia has a three part post where a podiatrist talks about heel pain and how to deal with it; read Part 1, Part 2 and Part 3.
Race Calendar
| Name of Event | Date of Event | Location of Event | Event Website | Facebook Page |
| --- | --- | --- | --- | --- |
| Make it Your Own | Wednesday, 1 January 2020 to Thursday, 31 December 2020 | Anywhere in Australia | Event Website | Facebook Page |
| Pop! Challenge | Wednesday, 1 January 2020 to Thursday, 31 December 2020 | Anywhere in Australia | Event Website | Facebook Page |
| I Survived 2020 5km Virtual Run | Thursday, 1 October 2020 to Sunday, 31 January 2021 | Anywhere | Event Website | Facebook Page |
| Legacy Remembrance Walk | 6th November to 11th November | Anywhere | Event Website | |
https://sheppartonrunnersclub.com.au/wp-content/uploads/2017/06/SRC-Logo-300x221.png
0
0
admin
https://sheppartonrunnersclub.com.au/wp-content/uploads/2017/06/SRC-Logo-300x221.png
admin
2020-06-18 11:11:24
2020-06-18 11:11:25
SRC E-News June 19