SRC Update
Hi SRC members,
It has been a while since we have given an update regarding the clubs plans and training. The safety of our members has, and will always be our first priority. The committee have been discussing what is our road back to training with COVID restrictions now beginning to ease.
With Victoria beginning to ease coronavirus restrictions, the SRC Committee advises that all organised training sessions will remain suspended for the time being.
The Victorian State Government has stated that under the changes, it means that there will be five reasons to leave your home:
• shopping for food and supplies that you need • care and caregiving • exercise and outdoor recreation (groups of 10) • work and education – if you can't do it from home • visiting friends and family – if you really need to
While there is no official club training, members can still train together in small groups of no more than ten, and there will be obviously physical distancing and hygiene arrangements as well as common sense. If you can, download the COVID-SAFE app, and remember who you run with.
Be safe, cautious, appropriate and stay home unless you need to leave as per one of the approved 5 reasons to leave your home.
The SRC Committee will reassess the situation as changes arise and make announcements as required.
Thank you,
Mathieu Ryan
President
SRC UNIFORM
Our SRC uniforms have arrived. If you have pre-purchased an item and wish to collect it, or wish to purchase a new items, please send us a message via Facebook, or email us and we work out a collection point.
Runner Profile
Taren Kirby
Taren Kirby
Age 38
5km PB- 29mins
10km PB – 1hr 2mins
21km- yet to complete doing a virtual in a couple of weeks
42km- this will never happen, unless u count the 42kmin42hours then I'll take that.
I'd been running on and off for a while nothing too serious though mainly on the treadmill. Last June I stumbled across Tara's 5km Finish Line program and decided to sign up. AMAZING!! Is all I can say… We trained with Tara and Sam for 6 weeks then completed the 5km at last year's Shepparton Running Festival. At the end of the program Tara and Sam talked us into joining the Runners Club and since doing that it has completely changed my life! Running has quickly become my most favourite thing and I also love the friendships I have made. I'm so grateful for Tara's program (I think it should become a yearly thing for runners starting out).
From then on I signed up for a couple of events. I trained with Jacqui and Steve to do 10km at the Four Vines event. Come event day it was humid and sticky and the worst I've ever felt running. I hated every second of it!! Haha! Steve yelled (literally) words of encouragement to get me across the finish line! Thank God he and Jacqui were there otherwise I would've given up. Finally finished to achieve the 10km and felt proud because I'd never thought I'd ever run that far. So bring that event on next year!!
My favourite spot to run is anywhere really as long as there's no hills! Bloody hate hills. I'm pretty flexible when deciding where we run. And as long as I #beatsteve I'm happy haha!!
I think dessert pizza is legit! Dessert and pizza of course they go together!!
Coming up I'm just planning a couple of virtual events. I'm bummed that my first 21k will probably be achieved doing a virtual. I was planning on doing it at Shep Running Festival so excited to see if that still goes ahead.
SRC Fartlek competition
Create your own Fartlek session – Best 3 as voted by you will be done at SRC Training
Ever thought…. Not this session again, I could make a better session than this!
Well now is your chance!
You get to decide the name, reps, time or distance on or off, plus you get to run it. Post your new session to strava once you've run it, and share to the SRC social page. Members will vote on their top 3 and we will do these at training once we get back. The session with the most votes will win a voucher from one of our valued sponsors.
Rules:
Open from Saturday May 23rd, entries close Sunday May 31st at 6pm
You must run and post your session to strava and share on the SRC Social Facebook Page
Try and be original, we all know what Mona Fartlek looks like, so don't just add an extra 15 second rep and call it something else…
Try and make it something we can all do on a Tuesday night
You can enter as many times as you like, just remember you must have run the session yourself on strava
SRC Trivia night
SRC Trivia Night
– by Sharleen
On the 8th of May at 7pm SRC Members had the opportunity to test themselves with our very first virtual trivia event.
This saw Tara, Sam, Mel, Norah, Laura, Stuart, Matt, Justine, The Reynolds family, Steve, Sue. Kylee & Katherine compete for the coveted prize of SRC Bath Salts (may or may not improve performance) and the title of Trivia Champion.
The competition was fierce with tensions high in a battle of wits and brains but after 9 brutal rounds of multiple choice questions with some bonus rounds thrown in Sam Daniel came out on top (with much protest from some not so graceful non podium finishers).
Thank you to everyone who took the time to attend, to Debbie and Chris for helping me out so much with the organisation and running of the night, I couldn't have done it without you both.
In a time where we are facing such uncertainty and change it is reassuring to know that the spirit of family, support and togetherness that makes our club so unique and such an amazing thing to be a part of and to contribute to still remains so strong.
Gold Coast Marathon 2020
Statement from Events Management Queensland
20 May 2020
The 2020 Village Roadshow Theme Parks Gold Coast Marathon has been cancelled.
Today we confirm that the most difficult decision in the 41-year-history of the annual Gold Coast Marathon has been made.
When we issued a notification of suspended planning almost two months ago, we held genuine hopes that the opportunity to deliver an event as scheduled in July would present itself.
The Queensland Government's strong approach to addressing the COVID-19 threat which includes restricted gatherings, reduced travel opportunities and a declaration that the Queensland Public Health Emergency has been extended to 17 August 2020 makes it impossible to deliver this year's Village Roadshow Theme Parks Gold Coast Marathon on the weekend of July 4 and 5.
The team at Events Management Queensland are custodians of an event which has a global following. We are passionate about delivering a world class marathon event, just as you are passionate about experiencing a world class marathon event. We share the disappointment that there will be no Village Roadshow Theme Parks Gold Coast Marathon this year.
Our focus is now to the future. We have started the work already with our valued government and strategic partners, sponsors, and stakeholders to make sure the 2021 edition scheduled for 3 and 4 July will be a very special and memorable event.
Work has also been undertaken in developing an exciting free virtual running event this July and we will release details very soon.
To those runners who have already registered for the 2020 Village Roadshow Theme Parks Gold Coast Marathon, we will contact you directly regarding the processing of registration fee refunds.
Feature run of the week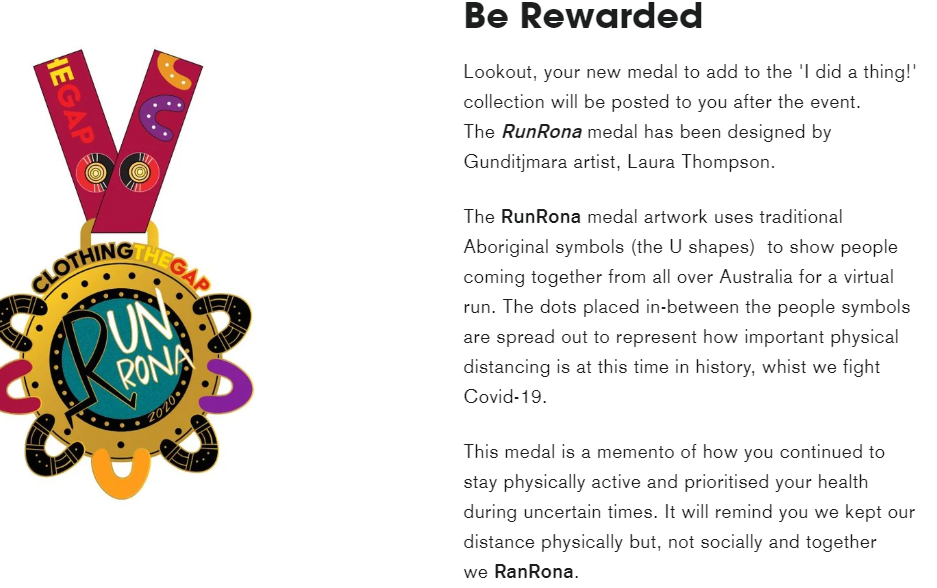 WEBSITE TO THE ABOVE VIRTUAL RUN
Race Calendar
I've just updated the running calendar, I've only done until the 30th of August purely for the fact that everything is still so up in the air and even though some events later than that are saying they are still running, even some in June and July are making no mention of changes I just feel that it would be irresponsible to encourage our members to be travelling to other towns for events when we just don't know what is going to be happening next week, let alone next month. So the one's I've included are still all virtual events, and more of the one's that I feel our members would want to support or get a challenge from, or the bling is cool.
And as always please check the official race website before traveling
| Name of Event | Date of Event | Location of Event | Event Website | Facebook Page |
| --- | --- | --- | --- | --- |
| Make it Your Own | Wednesday, 1 January 2020 to Thursday, 31 December 2020 | Anywhere in Australia | Event Website | Facebook Page |
| Pop! Challenge | Wednesday, 1 January 2020 to Thursday, 31 December 2020 | Anywhere in Australia | Event Website | Facebook Page |
| I Survived 2020 5km Virtual Run | Thursday, 1 October 2020 to Sunday, 31 January 2021 | Anywhere | Event Website | Facebook Page |
| Legacy Remembrance Walk | 6th November to 11th November | Anywhere | Event Website | |
Until next week
Keep safe, healthy, and happy. Don't forget to breathe.
https://sheppartonrunnersclub.com.au/wp-content/uploads/2017/06/SRC-Logo-300x221.png
0
0
admin
https://sheppartonrunnersclub.com.au/wp-content/uploads/2017/06/SRC-Logo-300x221.png
admin
2020-05-21 13:14:31
2020-05-21 13:14:32
SRC E-News May 22, 2020