Sam & Tara take on You Yangs
– By Tara
Signing up for a trail run, 2.5 hours from home, less than a week after getting home from Japan, seemed like a really good idea following a few drinks celebrating Steve's birthday (for the 25th time this year). Anyway, the reality was that a) preparation was poor ( a trait that is become the norm) and b) the over tired body meant that the post run nap was well needed.
We left home at 530am arriving into the You Yangs just after 8. Neither Sam nor I had been to the You Yangs, so driving in we were excited to see what new fresh hell awaited us on the trails. We were pleasantly surprised to see mere pimples on the horizon! After a solid 10 minute HIKE to the start line, we picked up bibs, had a coffee, caught up with people we knew from facebook and parkrun, then did some nervous toileting, etc etc… Sam lined up ready to start the 30 km run. He set off and I HIKED back to the car to organise myself, then HIKED back to the start to do more chatting, fire standing by, nervous toileting before we lined up for the start.
The trail itself started really quite pleasantly, all fire trail, wide and easy undulating running. Then the first hill hit, it was tough but manageable, I happened to reach the top just as Sam hit the same point on the return of his run, we had a quick chat
Me: "Well that was [not a very nice]* a hill;
Sam: " Wait until you get to that [not very nice]* hill"
*insert Kate words
I then descended into some stunning single track and felt like the world was at my feet….then the uphill began…It was gradual, stunning, and steeper than the canoe shed hill at parkrun. Then the hill Sam was talking about hit, this was also the point where my poor intake of calories and water hit me…I was ready for a full-blown toddler tanty. I must have looked spent as this lovely lady, talked me up the hill. I will forever be grateful to her for this, I swear she was a midwife as I am sure I have seen similar techniques on TV!! I made it up the hill and I made it to the end in under 2 hours. Sam finished the 30 km in 3:23. The run itself was well organised, well-staffed, fun, beautiful, and equal parts challenging and achievable. Its definitely a run I would love to do again!
Everyday hero Kate will Run Melbourne
2 sleeps to go and I'm on taper week (for non-runners this means running less) Love my outfit and feel very proud to be raising funds and awareness to help find a cure for brain cancer. You can come on board and help too by making a donation if you can. Thanks for your support in the fight against cancer. Together we can make a difference
Check out below to get on board
https://runmelbourne2019.everydayhero.com/…/run-for-a-cure-5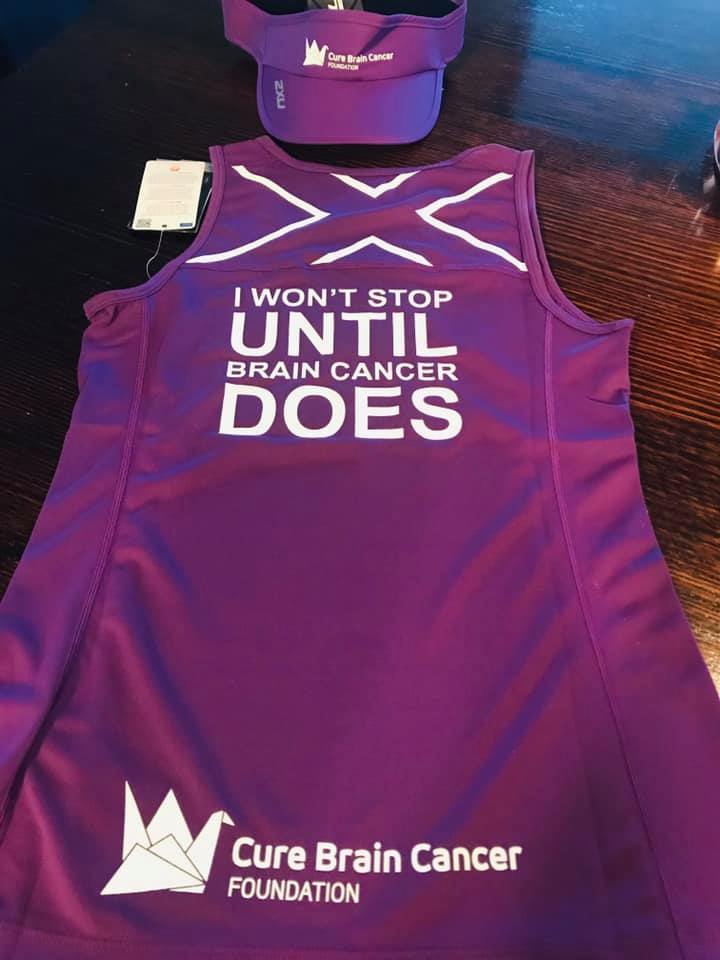 A special thank you to the team at Dataparts for donating a headset and speaker to ensure we all hear the park run briefing
Shepparton parkrunners were spotted at the following locations: Reynolds family at Ponań parkrun, Nadine Edwards at Cairns parkrun, the Montgomery family at Bright parkrun.
People to watch
Rory URQUHART smashed out a new Pb this week at parkrun 19:30. Rory keeps impressing and chipping away at his 5 km times.
Kate Dainton with a bubbly personality impresses over many distances and clocks up another Pb at last weeks parkrun 20:56
Norah Armstrong In 2014 Norah's parkrun time was 30:08 and she has knocked minutes off it every year. Still, in 2019 her Pb is 23:30
Steve Monk ready to go sub 20:00 minutes with a 5 km Pb of 20:23
Race day tips
Don't try new things on race day – like running gear, shoes, or what you eat or drink. You don't want chaffing, blisters or a funny tummy.
Prepare your gear the night before so you don't forget anything you need in the morning –most runs start early.
Plan your trip to the race. Make sure you arrive with enough time to park the car, jog to the start line if you have to, and make that last minute toilet stop or bag. You don't want to be panicking and late for your run.
Pick a playlist with music that inspires you and motivates you to run. Or, decide to ditch the tunes and really listen to the crowd and the atmosphere
Get your family and friends to come along and support you. Often seeing your friends and family on course gives you that second wind, especially towards the end of your run when you are really working hard.
Run for charity – you won't give up when you know all that pounding into the pavement is helping out a great cause.
When is the best time of the day to train?
Our bodies are designed to move – to stretch, challenge our muscles and get our blood pumping. Exercise nourishes us, giving us vital energy for each day. And it helps keep our body's many patterns and processes humming along as they should.
"Exercise helps your body do what it does naturally," says Accredited Exercise Physiologist Carly Ryan, a spokesperson for Exercise and Sports Science Australia. "For example, it can help improve sleep, boost energy levels and help mood and mental health."
Our circadian rhythms, or biological clock, influence so much of what happens in our body. Our sleep and wake cycles, blood pressure, body temperature, hormones, hunger, digestion and other bodily functions all move to a daily beat. Getting our heart racing and breaking a sweat regularly plays a role in keeping these cycles flowing smoothly.
So what's the best time of day to exercise? It's one of the most common fitness questions, and gym junkies obsessed with 'hacks' and 'maximising' workouts can debate it endlessly.
But the answer is brilliant news – essentially, it's whatever feels best for you. There may be some differences in how the body performs and responds at different times of day, but in the end, the optimum time for you will be a more individual decision.
"The best time of the day to exercise is easy – the time you'll actually do it," Carly says. "Think about what's going to be the best time that suits your life and what's going on that day, and plan around that.
"There is some research that has suggested exercising first thing in the morning is the most optimal time of the day for exercise in terms of things like boosting metabolism. However, realistically the jury is still out on whether this is significantly better than any other time of the day."
SRC 10km Handicap Results net and handicap results below.
Thanks to everyone who came and participated, we hope you enjoyed the run around the lake as you prepare for the Shepparton Running Festival. Also special mention to our volunteers Sharleen Bachelor, Lydia Monk and Steven Trevaskis for your assistance to make the event happen.
Well done to Aidan Ross, Cate Aitken, Kylie Monk and Phillip Healeywho were our handicap award winners today, you will take home a $30 voucher from our good friends at Intersport Shepparton
Next Handicap is likely to be in 2 weeks on Sunday August 4th for another go at 10km around Victoria Park Lake
Net Times
Glenn McMillan 37:47
Andrew Sait 38:47
Jackson Neville 40:37
Stacey Barrot 40:52
Trevor Dainton 41:19
Rory Urquhart 45:39
Steve Monk 45:39
Al Parish 46:07
Mathieu Ryan 46:55
Christopher Nicholson 47:25
Tony Sait 47:57
Aidan Ross 48:37
Adrian Jones 49:00
Peter Frizzell 49:08
Shelley Bennett 51:05
Tim Bennett 52:14
Phillip Healey 52:32
Glenys Frizzell 53:09
Vince Gagliardi 55:28
Matt McDonald 56:01
Norah Armstrong 56:14
Sebastian Mangiameli 56:30
Chris Harvey 56:49
Narelle Maxted 57:27
Natalie Hicks 57:30
Sue Olley 57:32
Lee-Anne Kirschner 57:35
Debbie Harvey 58:13
Kylie Monk 59:30
Libby Hadfield 59:58
Peter Urquhart 60:30
Lila Urquhart 60:30
Lydia Stephanus 63:34
Cate Aitken 64:58
Cadel Nicholson 65:06
Jason Hunter 72:43
Chelsea Nicholson 76:20
Justine Ryan 76:34
Handicap Scores
Name
Aidan Ross -9:23 – 1st Male
Cate Aitken -7:02 – 1st Female
Kylie Monk -5:30 – 2nd Female
Glenys Frizzell -5:06
LeeAnne Kirschner -4:55
Lila Urquhart -3:30
Phil Healey -3:28 – 2nd Male
Cadel Nicholson -2:54
Narelle Maxted -2:33
Peter Urquhart -2:30
Sue Olley -2:28
Peter Frizzell -2:22
Andrew Sait -2:13
Tony Sait -2:03
Chris Harvey -1:41
Seb Mangiamelli -1:30
Lydia Stephanus -1:26
Justine Ryan -1:26
Jackson Neville -1:23
Vince Gagliardi -1:02
Adrian Jones -1:00
Matt McDonald -0:59
Glenn McMillan -0:58
Trevor Dainton -0:41
Mathieu Ryan -0:35
Natalie Hicks -0:30
Deb Harvey -0:17
Tim Bennett -0:16
Al Parish +0:37
Steve Monk +0:39
Stacey Barrot +0:52
Shelley Bennett +1:05
Chris Nicholson +1:55
Libby Hadfield +1:58
Rory Urquhart +2:09
Chelsea Nicholson +4:20
Norah Armstrong +5:44
Jason Hunter +9:43
Man Walk support group goes viral
A walking group for men, founded by a physiotherapist in Kiama 12 months ago, looks set to expand thanks to the power of social media. The Man Walk is much more than an exercise group, it is providing social connection and informal support for blokes doing it tough and it's been inundated with requests to start new groups after a Facebook post went viral.
Kiama physiotherapist Mark Burns launched The Man Walk after his regular morning stroll around Kiama Harbour expanded to include friends and strangers. Mark's friend, school teacher Dave Hoole, decided to try out The Man Walk concept in Wollongong and then took the idea to another level after a post about the group was shared 7000 times and liked by 12,000 people.
SHEPPARTON Walking Schedule and Location This location currently walks Monday mornings at 6am and Wednesdays evenings at 6pm. The walk departs from the Skate Park, Victoria Park Lake, Shepparton VIC.
For more information about the Shepparton Man walk see Steve Ayton. or like the Facebook page https://www.facebook.com/groups/1192506150929289/

https://sheppartonrunnersclub.com.au/wp-content/uploads/2017/06/SRC-Logo-300x221.png
0
0
admin
https://sheppartonrunnersclub.com.au/wp-content/uploads/2017/06/SRC-Logo-300x221.png
admin
2019-07-25 12:16:24
2019-07-25 12:16:27
SRC E-News July 26