Coaches Post
It's been a big weekend for the club. Saturday evening saw a committed group of volunteers assist the Shepparton Triathlon Club with their sprint event, many of those same volunteers were up at 4:30am the next morning to make the trek to Wangaratta for the Wangaratta Marathon and Fun Run
At last count we had 31 SRC members compete at Wangaratta, we also had a sprinkling compete in Melbourne, Western Australia, and also in the triathlon over the weekend and between that there was a large SRC contingent at parkrun where many members of the club assist in the volunteer side of parkrun as well as the running, something to be proud of.
As a club we are starting to build a really positive environment, running might be the common bond we share, but it's the support, mate ship and genuine joy for others success that makes SRC a really enjoyable place to be. Seeing the smiles on everyone's faces today at Wangaratta and the sense of pride in their own and each other's achievements is why I love coaching, thank you to you all for the parts you play in making the club feel like a big family.
Chris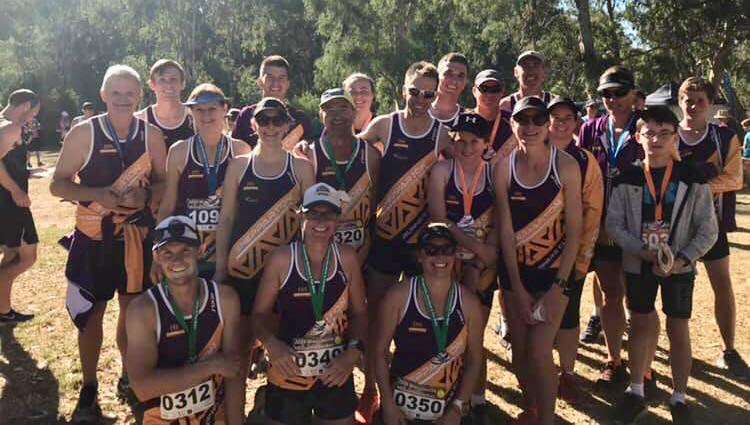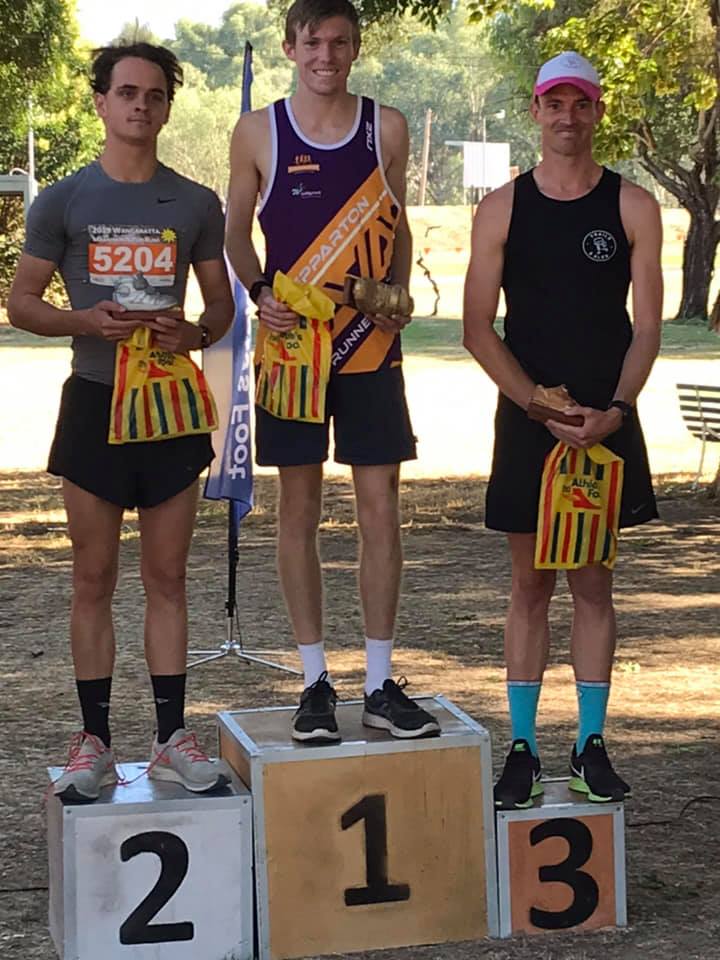 ---
Below
Kate Dainton
Staring as Anna Turnbull who was absent at presentation.

Wangaratta Haf by Anna Turnbull.
On Sunday afternoon I ran the half marathon for the 4th consecutive year at Wang. I went in with a firm plan: to run 4.45 min kms. I managed 4.46 min kms. I looked back at my first, half marathon time in Melbourne about four years ago when my youngest was 2 years old. Since then, I've run 10 half road races and feel happy to have shaved 16 minutes off my time. On Sunday, I ran in a new age category and am now running against people 9 years older instead of 9 years younger – so I got first place for the 40 plus!! Woohoo
---
Wangaratta 5 km race report by Julz
As I am currently on my slow fitness comeback trail and missing the company of running with all you lovely people in the runners club, I somewhat hesitantly decided to enter the 5km event. I have fond memories of running in Wangaratta during parkrun last year and the beautiful course along the river, so that helped tip me somewhat in my decision.
Having not run many 5kms this year and with the weather the way it has been, I figured if worse came to worse I could just walk it! So with that in mind I headed off for a weekend of good company and crazy running!
On the day I was lucky enough to have the opportunity to run with Kate and Miriam who helped encourage me to keep going and clock up my fastest time this year! It is still a long way off my pb and where I want to be, but it's progress so I'll happily take it! Huge thanks to Matt and Juz for the lift, company and accommodation and to everyone there on the day for all the encouragement and support our club has come to be well known for! Definitely helps to make running enjoyable (even if you're dying at the time ;-p)
Thanks,
Julie
---
10 km Pb at Wang by Norah.
So many good memories out of today, I love spending time with our group and seeing everyone do well. The hard work is worth it when you see teammates proud of the effort they put in and their smiles. Very happy with my run of 50:04 for the 10k and a new PB, maybe under 50 next time.
Regards
Norah Armstrong
---
Wangaratta half-marathon
by Mathieu Ryan
My training for this race was non existent. I knew if I went out race pace I would hurt myself. So I did the next best thing. I ran with Tara and Melanie to get them a PB. It was great to go and not push myself to exhaustion and run to enjoy the company and have a laugh… and a few selfies along the way. The result speaks for itself. Both Tara and Melanie got a PB, and for once I finished Wangaratta without any injuries.
By Tara Daniel
415 am, the screeching of the alarm startled me from my slumber and I arose to the promise of coffee, apricot jam on muffin and a shiny new PB. Having actually done something resembling training for this run, I felt confident that I would a) get a PB and b) beat Steven. I picked up Jackson and away we wen.t We arrived into Wangaratta with a little time to warm up and go to the toilet! Mat, Mel and I discussed our race plan (finish…and take a selfie every km) and then the starting gun went….as usual I don't think I was listening and was all a fluster to get started. We set off and chattered and selfied away for many km. I wasn't really paying too much attention and was having a lot of fun, vaguely keep an eye on the pace….at about 14 km the hips started to tell me I was running a half marathon, and at 18 km my body was really starting to hate me…but it held up to get me a 9 minute PB!! I had so much fun running with Mat and Mel, it didn't really feel horrible at all…I haven't seen the selfies yet so that may show another side of the run!!
It was such a great day, and it was so nice to see so many purple and gold shirts out sheppresenting, we had a great turnout and a hugely successful day!
By Steven Trevaskis
My aim was just to finish in a reasonable condition (and time) despite whatever plan Tara and Mel had. The first km I ran with Matt, Tara, and Mel at 6:34 min/km and I knew it was faster than I wanted to run. The aim was to run closer to 7:00 min/km , so I pulled the pace back letting the others pull away.
The first 7 km were all under 7 mins and I was happy with that so I scheduled a 2:00 min walk break to bring the heart rate down. The second 7 km were all just over 7:00 min/km and that was ok. With 7 km to go I tried to pick up the pace. The legs were tiring and I didn't have enough left despite a second walk break. With 1 km to go Debbie Kirne caught up with me as she was doing a warm down after her 5 km run. She helped me push towards the finish line with the last km being 6:51 min/km. Encouraged by the cheers of the SRC crowd in the last 300 mtrs, I dug deep to clock 5:53 min/km.
My final time was only 7 mins slower than last year on minimal training. I was happy with the time considering my niggling limp that people keep commenting on. My only disappointment is that I couldn't run with the other 3 helping Mel and Tara get a Pb.
---
Shepparton Triathon Club's event
Thanks to the 12 SRC members who volunteered to help out at the Shepparton Triathon Club's event as marshals. Below are some of the SRC members who were helping.
Saturday evening hangouts with this crazy crew aka Shepparton Runners Club. Well done to our club for volunteering at last night's Shepparton Triathon Club's event as marshals. I had the turn around point for the run leg and found it most enjoyable watching other runners run under duress, made a nice change instead of me. Last night reiterates what a wonderful sporting community Shepparton has with clubs sharing resources and supporting each other's events. Well done Shepparton Triathon Club for a great evening.#sheppresent
---
Strength Training to Run Faster
source: peak sports physio Wangaratta
Whether the goal is injury prevention or simply wanting to run faster, adding a strength program to your routine could be one of the most effective training strategies you could employ. Even in highly trained and elite distance runners, those who supplement their running with strength training will notice improvements in running economy, and aerobic threshold.
---
Wodonga's Lightning Trail
The quickest 5 and 10K on trails is on Sunday morning at Wodonga's Lightning Trail. The action will be fast and furious- entries and info here: http://www.riverinatrails.com.au/lightning-trail-run/
---

https://sheppartonrunnersclub.com.au/wp-content/uploads/2019/02/52596330_10216379106047847_1727227592076951552_n.jpg
720
960
admin
https://sheppartonrunnersclub.com.au/wp-content/uploads/2017/06/SRC-Logo-300x221.png
admin
2019-02-28 11:31:41
2019-02-28 11:31:41
SRC E-news Wangaratta results