From the president's desk.
Mathieu Ryan
What a fortnight it has been. So many things that have happened.
To start with we have a new member, who is also the youngest. Justine and I welcomed Acacia Dorothy into the world on Thursday 13th August. Justine and I would like to thank the club for organising a very special gift from our sponsors at Intersport.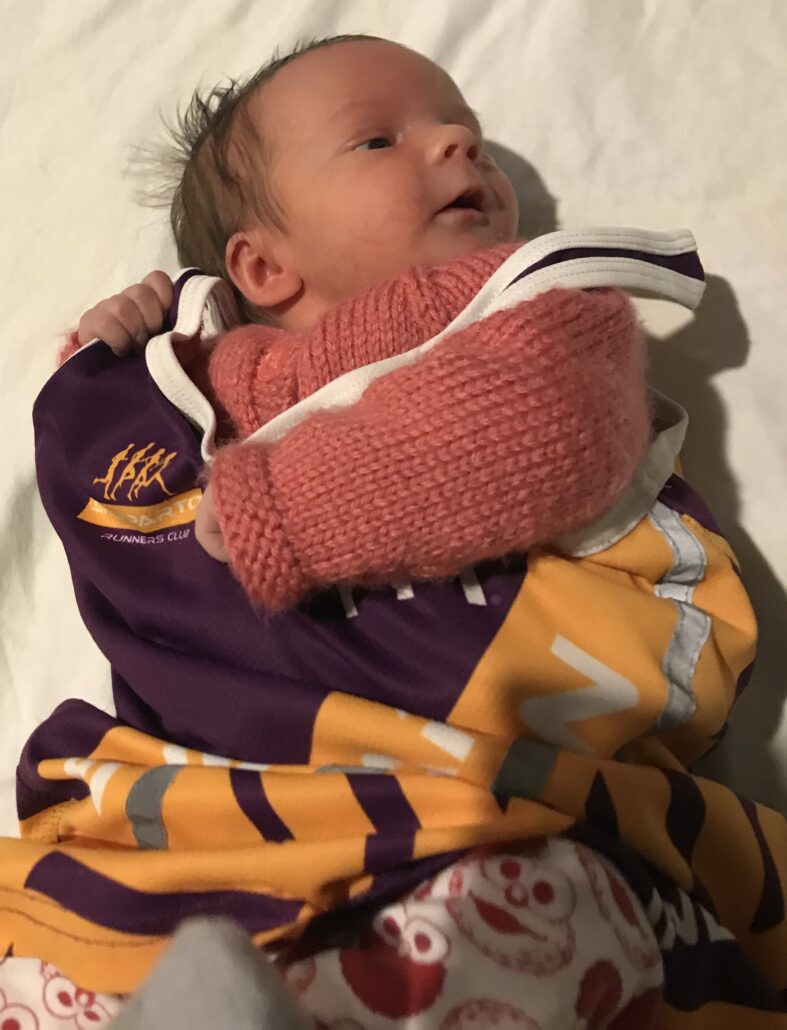 We also heard the passing of former committee member Helen Reynolds mother passing away. Our thoughts are with you and your family during this time. The club had organised flowers to the Reynolds family.
While we are still in Stage 3 restrictions, we will continue to post the Tuesday training sessions via our closed 2020 members group. If you are a 2020 member and are not part of this group, please let us know and we will add you straight away. We are also including a BINGO card for those who want a challenge during the latest stage 3 restrictions. Can you complete a row? or the entire set? We would like to see your updates via facebook. You can print off a copy, or save it to your phone and edit it. Good luck!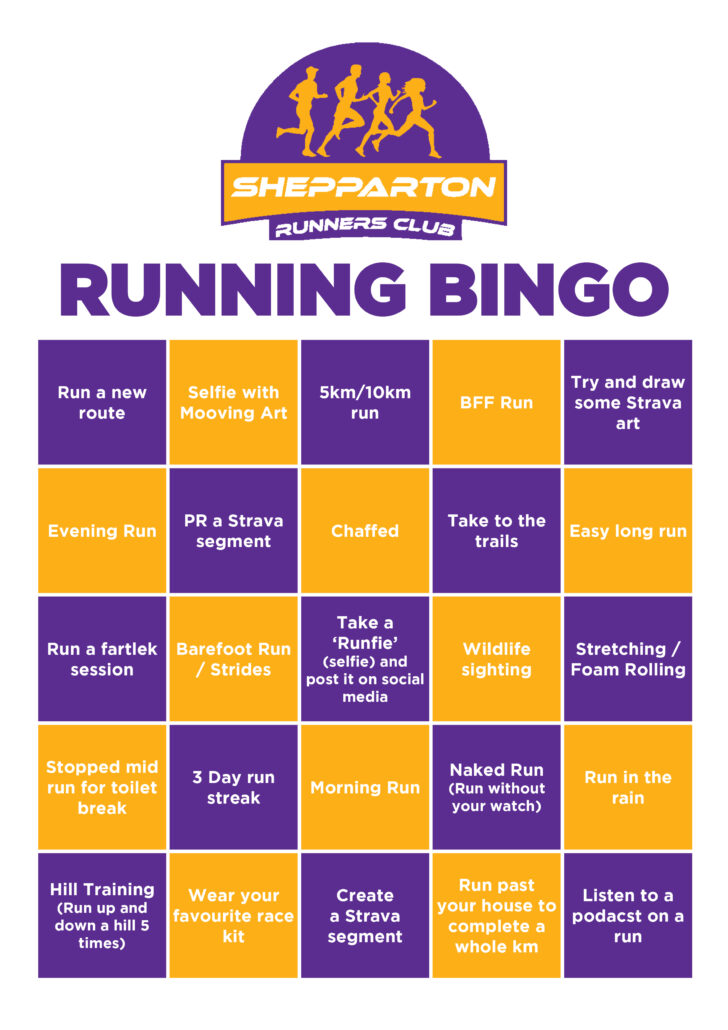 Last weekend was meant to be the weekend of the Shepparton Running Festival, however, it was cancelled in June. The committee wanted to acknowledge that we miss our event this year and all the runners that travel to Shepparton, as well as our sponsors and supporters. We are excited for 2021.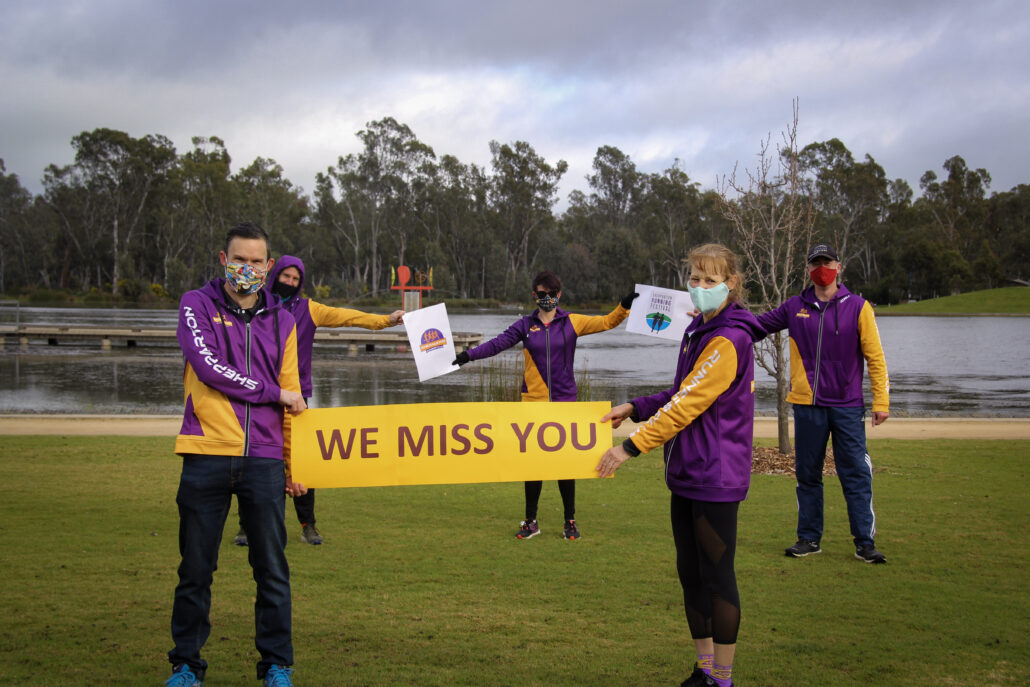 For those who do not know, Coach Chris Armstrong has joined the Run2PB family and is now offering professional training plans. One SRC member, Kirsten Arthur, had been coached by Chris and recently ran a half marathon personal best of 1hr 41mins, smashing 5 minutes of her old PB. "She believed she could so she did" Great work Kirsten. If you wish to reach out to Chris via Run2PB for a personalised weekly plan, he can be contacted at https://www.run2pb.co/coach-chris
Princess Park will see the addition of a dog park due to be completed in December. This is part of a long term master plan for investment and revitalisation of Princess Park of which the Club through the committee is actively providing feedback on.
Stay safe and keep running.
Mathieu Ryan
SRC Committee President
Runner Profile – Grant Hicks
Age and your PBs.
I'm 42 years old.
5km PB: 17:30 at Parkrun Shepparton
10km PB: 37:48 at Bendigo Athletics Track
Half Mara: 1:22:34 at Challenge Shepparton
Mara: 3:06:29 at Shepparton Running Festival
Longest run: 56km at Two Bays Trail Run
How long have you had running as a big part of your life, and how did it come to be?
I have been running most of my life and have an athletics background that turned into longer and longer runs. Officially a trail runner now after a few years of road marathons and half marathons. It has been a huge part of my adult life. Particularly in the last 10-12 years where I've become quite goal driven in work, leisure and family pursuits. Running has been a wonderful constant that has helped me deal with some depression issues and allowed me to take time out to focus on my own physical and emotional wellbeing. I've also been able to make some amazing connections with people and achieved some things that I'm really proud of.
What are some of your favourite events and distances?
Surf Coast Century, Two Bays, Shepparton Running Festival and Challenge Shepparton are always pencilled in first on the calendar. Brilliantly run events that are well spaced apart throughout the year so that I can be constantly working toward the next event/goal. I also really enjoy the chance to get away to that beautiful Victorian coast with a group of friends and support each other in some tough terrain.
The Shepparton events are always great too. I get to sleep in my own bed and you can bank on having a huge amount of support from the locals.
Which events were you planning but missed this year due to Covid-19?
See above… When the uncertainty of Covid kicks in and events are being cancelled/postponed, the motivation certainly takes a huge hit. I've been so used to having that next goal to look forward to that when it's not there I'm often at a loss as to reason to push myself in training. I love running no matter what, but purposeful always feel s better. I'm really missing our Parkrun too. I have still been down there every week and running the course, but the regular social interaction was (and will be again) so important to me and something that I looked forward to every week.
What other activities do you get up to?
I love music. I'm actually the worlds okayest guitar player! And I really enjoy having a sing song and listening to a variety of music, particularly live music and going to concerts. Obviously our current circumstances have put all of that on hold too. I have a keen interest in sports too. I follow football, basketball, cricket and netball fairly closely. And the ocean. The calming, soothing ocean. Any time I can get to the ocean I am revitalised.
What do you think of anchovies on pizza?
Those salty little fur sticks are a must I reckon! Love them.
What are your future goals with both events and possible PBs.
My main goal this year is to run further than I have ever run before. 100km seemed like far enough! Surf Coast Century has been postponed and is scheduled to be in early December. It's one of my absolute favourite events/weekends away with friends. I have run the entire course in parts (50km twice and single legs 3 times) and am really excited about trying to do the whole thing in under the 12 hour mark and get that BIG stein of beer!
Hicksy.
Why interval training
A common question in the running world. If you are looking to improve your running performance and efficiency then interval training is what is required!
This is supported by research for running. Even people looking to run a marathon should be implementing at least 1 interval session into their workload.
Why? Interval training specifically targets the energy systems you need for running whereas running continuously does not. It also offers a lot of variety which can keep it interesting for you.
If you are after more sessions here is what I have done in the last 2 weeks. Some of these are club sessions and some are what I have on my list.
Recently I watched a webinar by Coach Parry who is a top 10 place-getter at Comrades in South Africa.
My takeaways from the talk an=bout increasing pace after 50 y.o. were …….
The 5 pillars. 1. Recovery 2.Pacing 3.Schedual walk breaks 4 Strenght training 5 Consistency.
3 reasons why we get slower as we age. 1. Loss of strength 2. More time needed for recovery 3. Because of that you have an increased risk of injury
Why is recovery so important – Adaption to training comes during recovery. If you don't give your body time to recover you don't give your body a chance to adapt. Showing up fresh to training allows you to train better
Is the way you structure your training important? You shouldn't be training the same way as you did when you were 30. Your training is not whats just in the plan. What you leave out is just as important. Recovery is not just important it is critical.
Why are walk breaks important? Walking reduces the eccentric stress. It allows your muscles to rest. It drops your heart rate and reduces perception of fatigue.
Why is strength training important? Strength training not only reduces the loss of strength it actually reverses it. Because of that it increases your capacity to do work.
The thread that ties this all together is consistency. It's what we do day after day week after week and month after month that adds up to success. It's the consistency that allows you to build layers on layers.
There are plenty of speed/interval sessions around if you want to copy any of these. The following is what I have done on Tuesday and Thursday over the last 2 weeks. It also shows the weekend long runs. SR = Standing Recovery. JR = Jog Recovery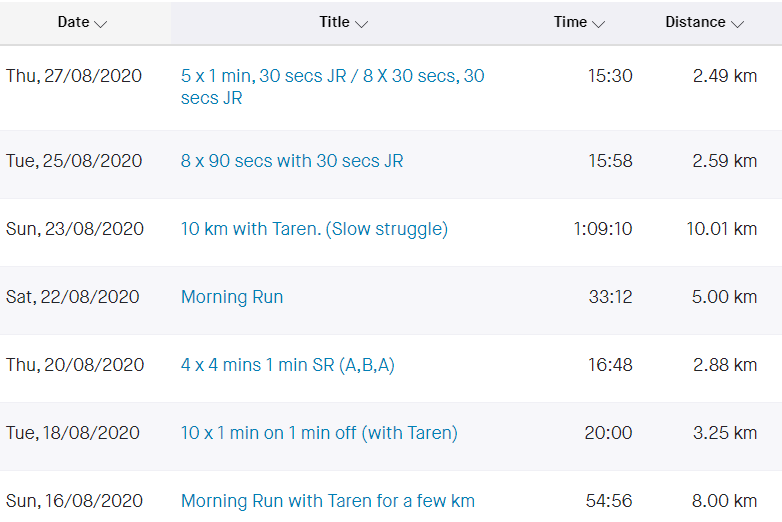 And we will finish off with this workout.
Until next time, have a great running week, and stay connected and let us play Bingo.
Mental Health and Wellbeing
This is an anxious and uncertain time for everyone and support is vital and available. For more information about managing stress and support options, call the Coronavirus Mental Wellbeing Support Services on 1800 512 348 or visit the DHHS website here.
Lifeline Australia 13 11 14 A crisis support service offering short term support at any time for people who are having difficulty coping or staying safe. www.lifeline.org.au
Beyond Blue 1800 512 348 Coronavirus Mental Wellbeing Support Service. https://coronavirus.beyondblue.org.au/
Headspace – Call 1800 650 890 or online at www.headspace.org.au

https://sheppartonrunnersclub.com.au/wp-content/uploads/2017/06/SRC-Logo-300x221.png
0
0
admin
https://sheppartonrunnersclub.com.au/wp-content/uploads/2017/06/SRC-Logo-300x221.png
admin
2020-08-27 12:28:51
2020-08-27 21:09:26
SRC E-News Aug 28