From the president's desk – Matt Ryan
A lot has changed in the space of one newsletter. We have re-entered back into stage 3 in regional Victoria, with the addition of this time having to wear/carry a face mask. Training has been placed back on hold, but that hasn't stopped us from still going out and running. Coach Chris will be placing our Tuesday session activity on the 2020 closed members page. If you are a 2020 member and not already on the page, here is a link. https://www.facebook.com/groups/213896859821732/?ref=share
It has been great to see so many club members adapt to the 'new norm'. It is a reminder of the strength within the running community of how well we can adapt. It is also important to stay in contact with one another during these times.
The committee are still in the process of working around improving security at the princess park club rooms. This year we have seen the addition of an improved roller door and new bars on the windows. If you see anything suspicious around the rooms, please call the Shepparton police.
Chris Nicholson and I were invited to an open discussion with Athletics Victoria where we discussed what Athletics Victoria offered to Recreational runners. Currently, as a member we have access to benefits including; personal accident insurance coverage through Athletics Victoria*, discounted entry to AV's XCR'20 (winter cross country) series, discounted entry to various coaching and educational seminars. *Recreational Runner insurance is only related to incidents that occur in the course of training or competing in running events, or when traveling to or from either activity. In the past, we have had guest speakers travel to Shepparton to talk to the club which have been organised through Athletics Victoria. We are now looking for any ideas that athletics Victoria can offer to recreational runners. If you have something to share, please email us at sheppartonrunnersclib@gmail.com.
Please remember to stay safe and well during the stage three lockdowns and practise social distancing and #DFYM (don't for get your Mask)
if you feel like you have any symptoms, please get tested.
Runner Profile
Chris Armstrong
Age 37
Mile – 4:55
3k – 9:50
5k – 16:34
10 – 35:46
Half – 1:16:50
Mara – 2:48:50
What was it that got you into running in the first place? As a kid it was my mode of transportation as once my bike tyres went flat they didn't really get fixed… had a break until my mid 20s when one of my good friends who I played football with in Finley committed suicide in 2010. We had always wanted to run a marathon together but sadly that never eventuated. So from then I decided to put my time and energy in learning how to be a better runner.
Has your role as coach taken away time for running, or contributed to it – I think it's added to it. With anything I guess you make time for the things you love regardless of what else is going on. Coaching has allowed me to enjoy running on so many more levels. Some of my favourite memories have come from pacing others or watching them stack weeks and months together and then achieve a big PB at an event.
Is there a mantra or commitment you go back to during difficult times or during injury – There's probably a few but they have similar concepts – "it's about the journey, not the destination", "don't compare yourself to others", "stack the weeks, then the months"
What running event is closest to your heart? – I love our winter trips to Gold Coast, otherwise I'm actually really fond of what we have created with the SRC handicaps. It's nice to try and create that 'event' feel on a small scale for our members.
Tell us your favourite pizza – Hawaiian pizza – lots of pineapple!
Once our Covid-19 restrictions are fully lifted, what event are you looking forward to – a trip to Gold Coast would be great, otherwise I actually really want to get down to Melbourne and compete on the track over 3000m and 5000m in some Athletics Victoria and Vic Milers Club runs, maybe even a 1500m or Mile, I'd be running in E grade or something like that, I just miss competing – something to look forward to in the future.
Somethings missing in my life, maybe it's trail-running.
Tara and I visit Malaysia every year, we love the food, the cities, the beaches and mountains. This year we aimed for a couple of weeks in June, visit Melaka for the first time, and do some diving off Tioman Is. Also, we'd signed up for a trail run we wanted to complete for years, the Run Asia Kemensah trail run. But guess what? Covid-19 put a stop to all that. But, we got our medals and t-shirts in the mail. Our trail running is now restricted to the local parks in Tat.
Sam Daniel.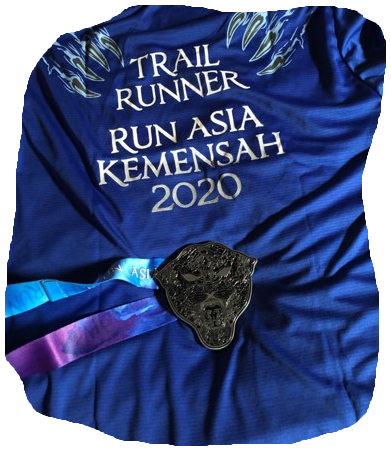 Are you looking to add another session during the week?
Here are a few I have got planned over the next few weeks.
6 X 2 min/on 30sec/off JR + 3min I've added the 3 mins as a 90 sec out and back. This is to help practice even pace running.
4 X 4 min/on, 1min/off SR Again the 4 mins can be done as an A B A Run out for 2 mins and then run back for 2 mins = 4 mins aiming to get back to the start at the 4 min mark. Then 1 min Standing Recovery between 4 min sets.
Remembering you can run with one other person under the Covid rules. Just remember to have your mask on hand for your walking.
Are you fuelling your body enough?
Dietitian Georgie Buckely has written a guest post of the Run Rabbit Coaching Blog about the importance of food and running, especially for beginners. Read it here.
How to start your hydration plan
And on a similar theme, Training Peaks takes a look at how the key to a good hydration plan is to start off (and stay) hydrated. Read their article here.
How does running with a mask impact your performance?
Runners World takes a look at how running with a mask impacts performance, whether it counts as hypoxic training, and how you can make running in a mask easier.
https://sheppartonrunnersclub.com.au/wp-content/uploads/2017/06/SRC-Logo-300x221.png
0
0
admin
https://sheppartonrunnersclub.com.au/wp-content/uploads/2017/06/SRC-Logo-300x221.png
admin
2020-08-13 12:06:20
2020-08-13 12:06:21
SRC E-News Aug 14