SRC News
Last Saturday about 25 SRC members attended a working bee at the clubrooms.
The Shepparton Runners Club committee would like to say thank you to all that helped out. Thanks to Norah for arranging the shelving and cupboards from your work for us to use in our rooms for storage.
We had a 3 mtr skip full of rubbish. Also a van and trailer made it easy to cart the shelving. Thanks to those who supplied tools so we could cut things to fit and drill and screw things together. Thanks to those who cleaned and cooked on the BBQ.
Message from Steve Ayton
Giving a huge shout-out to SRC and the awesome donation to my recent Charity ride from Torquay to Adelaide.
Your donation will go towards the overall tally (still being finalised) however what we do know is that we have now raised over $500k since the ride started 7 years ago.
Thank you, thank you, thank you for the awesome support. Greatly appreciated!!
This Sunday
Several people are running from Lake Victoria on Sunday. Sam and I will run 15 km plus at 6:30 – 6:40 min/km starting at 6:30 am from where parkrun starts. Sam will continue running until he clocks 20 km. Tara will have her 30 km long run on most likely starting at 5:30 am, so if you want to keep her company contact her to work out a meeting point. Others who may tag a long with Tara for a few km are Jacqui Noonan, Natalie Hicks, & Taren Kirby.
So if you want a hit out before Wang, their will be someone to run with this Sunday. Those who are aiming for Wang will be tapering in a few weeks. Tara the lucky chick doesn't have to taper until the end of February.
Runner Profile
Sharleen Bachelor
Age:In years 32, in maturity about 7 to 19 on any given day 🤣
PBs 3000m -16.02, 5km – 25.39, 10km – 54.45, 21.2km – 2.26.03
How did you come about joining the SRC?
I joined the SRC as a means to an end that resulted in being something I found I really loved and couldn't live without.
Brenton made me start doing parkrun when I was learning to walk again, having so many SRC members encouraging me around every single week, remembering how I went the week before and congratulating me on doing better made me feel like a part of such a wonderful community. A few years, 79kg weight loss and a much improved health prognosis later, I wanted to improve my fitness to join the CFA so I saw joining the SRC as a way to support that. So naively I thought I'd join, get fit enough to actually run all of parkrun and that would be the end of it. Instead I found a massive dysfunctional family I actually want to be a part of who also enjoy causing themselves physical discomfort on purpose and then spending every conversation analysing every aspect of that physical discomfort.
You've volunteered in many roles at the SRC, do you enjoy the social aspect of the club?
I love that in the SRC I have found my people, people who are genuinely excited by the achievements of each other, who enjoy each other's company and who support, guide and encourage each other to do better.
What key aspects have you learnt about improving your running?
I've learnt the hard way that the 10% rule is an actual thing, neglecting to pay attention to the niggles is a terrible idea, strength work, stretching, warming up and cooling down all matter, they are not optional extras you can pick and choose from.
Above all if you aren't consistent you can't expect the results.
Is pizza best for pre-run or post-run?
Gluten free pizza is a rubbish idea at any time 🤣
Eating anything less than three hours before a run is not a thing I can even entertain the idea of doing, however a post run breakfast of any description is something I will always get behind, especially if it includes bacon.
Are there any running devices or techniques you'd recommend that you've found have helped you?
Mr Foamy the foam roller and Frank the spikey ball are my greatest loves and biggest hates but by far the most useful devices I have found.
I am currently using the Garmin Forerunner 620, it is trying to die on me but it has to wait because I can't decide on what to get for it's replacement. I don't buy into the idea that a watch will make or break you as a runner which is probably why I'm struggling to choose, but Strava data is always nice to have for reflection.
Get fitted for the right shoes for you, by the right people BEFORE you need them.
Don't ignore the need for training your whole body, spending time stengthening and conditioning with weight training, yoga, pilates and swimming.
What's in your future this year, including events and goals
2020 for me is going to see me make all the sensible adult choices that are going to mean I don't end up a ragey, injured mess.
Ideally I would like to run sub 20 for parkrun by December, run sub 2 hours for the Shepparton Running Festival half marathon, but really I want to do stadium stomp, a night run, a trial run and Run Melbourne for the pure joy of being able to enter and complete a running event.
parkrun
For those who don't know the history of parkrun it goes like this.
Parkrun (stylised as parkrun) is a collection of 5-kilometre (3.1 mi) running events that take place every Saturday morning at over 1,400 locations in twenty-two countries across five continents. Parkrun events are free to enter and are run by volunteers, supported by a small group of staff at its headquarters.
Parkrun was founded by Paul Sinton-Hewitt on 2 October 2004 at Bushy Park in London, England. The event was originally called the Bushy Park Time Trial. It grew into a network of similar events called the UK Time Trials, before adopting the name Parkrun in 2008 and expanding into other countries. The first event outside of the United Kingdom was launched in Zimbabwe in 2007, followed by Denmark in 2009, South Africa and Australia in 2011 and the USA in 2012. Sinton-Hewitt received a CBE in 2014 for his services to grassroots sport. By October 2018 over 5 million runners were registered worldwide. Parkrun is funded mainly through sponsorship, with local organisers only needing to raise money when they launch an event.
Bushy Park Pilgrims
By Chris and Debbie Harvey
Chris and I travelled to UK for a trip which was filled with family fun and parkruns. We arrived in London on Friday night and were up and in an Uber the next morning on our way to Bushy Park parkrun. Thankfully parkrun starts at 9am in London! As we approached Bushy Park we saw parkrunners converging from all directions. Some friendly locals pointed us in the direction of the start and warned us that it had been very wet and muddy the previous week and it would be worse this week.
Necessarily, the start is in a large clear area of the park. A volunteer walked through the crowd of parkrunners holding aloft a sign that said, 'First timers and Visitors.' We followed him. A group of 128 visitors and unknown quantity of first timers assembled and listened to the briefing. We were warmly welcomed and shown a large map of the course. Although the course is irregular in shape with a number of direction changes there was never a chance to get lost – there was a continual flow of runners to follow. The main briefing then followed and although we could hear the Run Director who was using a megaphone I assumed, we certainly could not see him. The course certainly was very wet and muddy with lots of decisions to make i.e. will I run to the left or right of the puddle, try to hurdle it or just run straight through. I ran with my daughter Christie and we kept losing each other among the crowds of parkrunners. Chris, having 10 days earlier seriously injured his hand, walked and always had fellow parkrunners to chat to.
The 'double funnel' at the end of the run is a mystery to me but somehow it worked. Your time was clocked and then you were directed to one or another funnel. Tokens were given out towards the end of the 30 to 40-metre-long funnels, before you moved off to find scanners dotted around. It all worked very smoothly with 1244 parkrunners on a cold London Winter morning.
The Uber driver on the return trip admitted that when he saw that the booking was for Bushy Park he almost cancelled because he knew we would be very muddy parkrunners. He was impressed when he drove up and we were busy wiping our shoes on the grass to clean them as best we could.
I noted online afterwards that Bushy Park have 51 volunteers each week with 12 marshals and 11 Funnel Managers – how incredible is that!
So pleased to have run Bushy Park parkrun – it was awesome. Hope you get the chance to do it too.
Debbie and Chris Harvey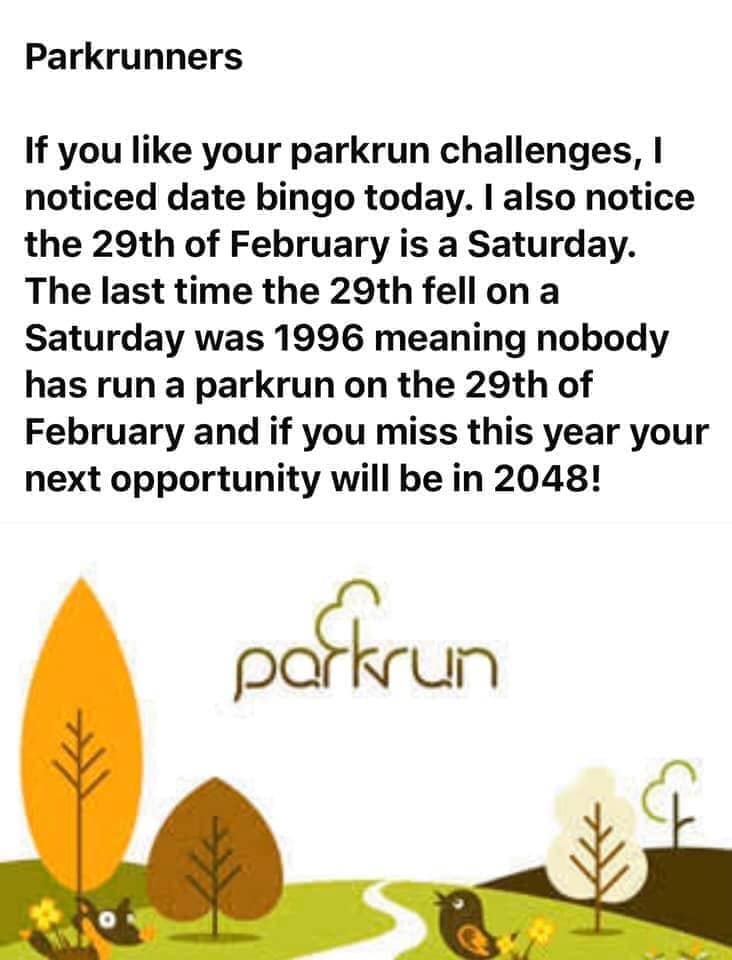 House Keeping
Sharleen will be updating the running calendar that will be added to the newsletter in future. We will be using the TablePress format that comes with the SRC website. If you know of any races within the up coming 2 months that is not in the table please let Sharleen know. Also this is a new system for us so we may need a bit of time to play with it to learn the best ways to display races.
Name of Event
Date of Event
Location of Event
Event Website
Facebook Site
Baw Baw Trail Run Festival

Saturday, 29 February 2020 to Sunday, 1 March 2020

Baw Baw Alpine Resort, VIC

website
Facebook page
Zaidee's Mad Cow Mud Run

Saturday, 29 February 2020

SPC Kidstown, Shepparton/Mooroopna, VIC

Event Website
Facebook page
Baw Baw Trail Run Festival
Saturday, 29 February 2020 to Sunday, 1 March 2020
Baw Baw Alpine Resort, VIC
Event Website
Facebook Page
Explore Gippsland Adventure Race
Saturday, 29 February 2020 to Sunday, 1 March 2020
Erica, VIC
Event Website
Facebook Page
Cohuna Bridge to Bridge
Sunday, 1 March 2020
Cohuna, VIC
Event Website
Facebook Page
Katunga Colour Blast for CJD
Sunday, 1 March 2020
Katunga Recreation Reserve, Katunga, VIC
Event Website
Maffra Teams Triathlon
Sunday, 1 March 2020
Maffra Pool/Maffra Lawn Tennis Club, Maffra, VIC
Event Website
Facebook Page
Sunset Series: The Tan
Wednesday, 4 March 2020
The Tan, Melbourne, VIC
Event Website
Facebook Page
Elloura Colour Splash
Saturday, 7 March 2020
Jacobson's Outlook, Nagambie, VIC
Event Website
Facebook Page
Warburton Trail Run Festival
Saturday, 7 March 2020 to Monday, 9 March 2020
Warburton, VIC
Event Website
Facebook Page
Nagoya Women's Marathon 2020
Sunday, 8 March
Nagoya Japan
SRC member Tara Daniel will run in this race.
Event Website
Facebook Page
Run the Course
Monday, 9 March 2020
Seymour Golf Club, Seymour, VIC
Event Website
Facebook Page
65km for Cystic Fibrosis
Saturday, 14 March 2020
Princes Park, Melbourne, VIC
Event Website
Facebook Page
Kangaroobie Klassic
Saturday, 14 March 2020
Kangaroobie, Princetown, VIC
Event Website
Facebook Page
Razorback Run
Saturday, 14 March 2020
Alpine National Park, VIC
Event Website
Facebook Page
Sharpy's Beer Run


Saturday, 14 March 2020
Pig and Whistle, Main Ridge / Arthurs Seat, VIC

Event Website

Facebook Page
Melanoma March: Bendigo

Sunday, 15 March 2020

Lake Weeroona Park, Bendigo, VIC

Event Wesbite

Facebook Page
Memory Walk and Jog: Ballarat

Sunday, 15 March 2020

Lake Wendouree, Ballarat, VIC


Event Website
Facebook Page

Numurkah Fun Run


Sunday, 15 March 2020
St Joseph's Primary School, Numurkah, VIC


Event Wesbite

Facebook Page
BioAutism Walk for Autism

Sunday, 22 March 2020

Princes Park, Carlton North, VIC

Event Website
Facebook Page

Cupid's Undie Run: Shepparton

Sunday, 22 March 2020

Victoria Park Lake, Shepparton, VIC


Event Website
Facebook Page
Edithvale Fire Brigade All Fired Up Fun Run


Sunday, 22 March 2020
Edithvale Common, Edithvale, VIC

Event Website

Facebook Page
MS Half Marathon

Sunday, 22 March 2020
Flemington Racecourse, Melbourne, VIC

Event Website

Facebook Page
St Patrick's Wangaratta Colour Blast Run


Sunday, 22 March 2020
Wangaratta, VIC


Event Website

Facebook Page
Rokeby Twilight Trail Run

Saturday, 28 March 2020

Crossover Regional Park, Rokeby VIC

Event Website

Facebook Page
Surf Coast Trek

Saturday, 28 March 2020

Aireys Inlet to Torquay, Victoria

Event Website

Facebook Page
Murray Marathon Festival

Sunday, 29 March 2020

Norieul Park, Albury, NSW

Event Website


Facebook Page
Race The Rubeena

Sunday, 29 March 2020

Port of Sale, Sale, VIC


Event Website

Facebook Page
Run for the Kids

Sunday, 29 March 2020

Docklands Park, Melbourne, VIC


Event Website

Facebook Page
[STRETCHING vs STRENGTHENING]
From the running Physio
👉🏻I'm often asked by distance runners if they need to stretch-my response is typically 'no-I'd rather you spend any time you have to work on your body doing some form of strength & conditioning'🗣
_
👉🏻A systematic review on the effectiveness of exercise interventions to prevent sports injuries found:
_
1️⃣ consistently favourable estimates were obtained for all injury prevention measures (strength training, proprioception, and combined) EXCEPT for stretching
_
2️⃣ strength training reduced sports injuries to less than 1/3 and overuse injuries could be almost halved
.
📌25 trials, including 26 610 participants with 3464 injuries, were analysed (Lauersen, et al, 2014)
The road to Nagoya by Tara Daniel.
Last Sunday after a late start I joined Tara and Taren for the weekly long run. Norah and Natalie pulled away to finish at their own pace as I joined Tara and Taren. I think it was good for Tara to have running company doing different distances at different times. It added to the conversations.
My weekly words of wisdom to you Tara are, if you were able to get one of your friends off the couch by your running or fitness post, then it was worth annoying all the other ones with them.
Stay hydrated in the heat and have a good weekend.

https://sheppartonrunnersclub.com.au/wp-content/uploads/2017/06/SRC-Logo-300x221.png
0
0
admin
https://sheppartonrunnersclub.com.au/wp-content/uploads/2017/06/SRC-Logo-300x221.png
admin
2020-01-30 10:33:26
2020-01-30 10:33:29
SRC E-News Jan 31