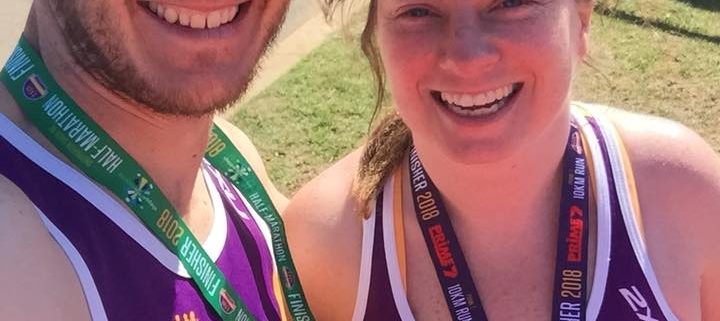 This weekend
As always if traveling to parkrun or a race somewhere #sheppresenting please check facebook or the relevant website to see if it's been canceled due to smoke.
SRC January handicap
Sunday – 1600m Handicap at Shepparton Aths Track – first race starts at 8:30am, race start lists posted later in the week – keep the registrations coming in. 46 Entries in so far, can we crack the 50? We will have 4 races on Sunday, Friday night we will list the groups and start times. First race will be at 8:30am
Cost – SRC members $0, Non-Members $5
Register here – https://docs.google.com/…/1FAIpQLSdYzBHew6WglUpkL…/viewform…
Runner Profile
Matt Ryan.
So I have ran many races from 5km to full marathon and most years I have been able to get my times down. My current PBs are 1mile – 5:57, 5km – 20:17, 10km – 44:29, Half Marathon 1:42:02, Marathon – 4:13:16. I do have a goal this year of running a sub 20 minute 5km. I like the ring of "sub 20 in 2020". Other than that I don't have any major goals in mind. Just keep running and staying active and healthy.
My running/training calendar is hit and miss. My expectation is to run 5 days a week, doing various sessions from fartlek with the club, social runs and long runs. Reality is I am a father and a husband too. So my runs revolve around what time I have available. Also, if the kids don't sleep I do find it very hard to get up early and run. I am also lucky enough to have an hour lunch break, so when the weather is not as hot, I tend to run in my lunch break.
I have been a member of SRC since 2015. I joined the club after attending some handicaps and the Festival. I was just beginning my running journey, having only beginning running in 2014. Since then I have had roles such as handicap organiser, committee member, treasurer, secretary and now president. I have also been there volunteering with activities such as the festival, handicaps, and another other job that needs help.
My biggest tip is also a quote that I heard several years ago, and was a driver behind joining a club. "An eagle will never learn to soar, when surrounded by turkeys". Solo runs are good, and when you increase your training load and train smarter then you will get faster/further, however training with others with the same goals and mindset is what makes those runs more interesting and helps push to go further/faster, and will keep you running after you have achieved your own goals. Don't surround yourself by those who say you can't do something. Also have fun when you run. Not every run is a race.
Aside from running, my life revolves around work to help pay for race entries. I work at the Shepparton Adviser as the Studio Manager, I have been there for 12 years and absolutely love being creative and reading the community news. I am a father to William (6) and Charlotte (3) who are my pride and joy. These two are always bringing a smile to my face. I am also a lucky husband, having been married to Justine for 9 years. She is very accepting of my unique behaviour. Although some days I do walk the line.
Pre-race diet… I have been asked if Pizza is a great pre-race meal, and unfortunately the answer is no. However, post race most definitely! And the key to the perfect pizza is pineapple… and if you can not finish the pizza in one sitting, it is always great the next day cold from the fridge.
Two bays
With a picturesque course that crosses from one side of the Mornington Peninsula to the other, there is a 28km single crossing or the 56km double crossing for the hardy ultrarunners to participate in.
Race reports by the following people
Trevor, Natalie, Sam and Kate
Congratulations to Sam, Kate, Nat, Grant and Mark on their efforts with Two Bays.
In particular a fantastic achievement by Mark Beddell who ran 56km in 6 hrs 16 mins.
The first 6 of the 28km event is very tough.
What I like so much about the event is that it is so different to road races and has fantastic views.
The support you get along the way is also great.
I was delighted to beat last year's time by 12 minutes and enjoyed skulling two cans of coke at the end of it, my body was craving for sugar.
I would thoroughly recommend this event to any SRC members.
By Trevor Dainton time 2:37:14
—————————–
So I started training pretty soon after Melbourne Marathon and I must admit I was a bit tired of training at this point. I was sick of those 20 plus km runs. BUT I really wanted to do Two Bays and I couldn't do it underprepared. So long runs and Botanical Gardens training started on Wed mornings and it waa great to have Kate Dainton come out amd join me. I actually really enjoyed those Wed morn sessions, it was just the long weekend ones I was dreading.
Thankfully I had some help with friends (Tara Lennie, Tara Daniel's, Kate Dainton) joining me on these and it made the time pass quicker.
So I was seriously wondering why I'd decided to do this again. The morning of and I felt like I hadn't done enough hill training and I was freaking out a bit.
I love getting to these events though and running somewhere I would never run alone and also seeing the range of people that run them. Big, small, young, old you've got them all and it's inspiring. The vibe for this event is fantastic. Lots if Hawaiian themed outfits and colourful attire (I was too busy checking out everyones shoes though for some future shopping inspiration).
The run started and I thought I got toileting right, but No. Quick stop off into some bushes on the side of the road, then we hit the ascent up Arthur's Seat.
I was really back in the pack at this loint5 and it was slow going which was prob good for me. Views at the top Amazing, then my favourite down hill part.
At no stage did I feel like I was labouring, stopped to take photos for people and came in at a much faster time than expected. Not a PB but pretty close.
Such and enjoyable run and loved every minute of it. Grant came and ran the last 500m with me and I finished strong.
So good to see some Sheppresent cheering me on at the finish line, Sam and Tara Daniel and Kate Dainton.
Off to celebrate the run and Grant Hicks 42nd birthday at the Brewery.
I bloody loved it. I will be back next year hopefully for a PB.
By Natalie Hicks Time 3:25:42
————————–
A couple of weeks ago the coach asked around if anyone wanted his entry into this year's Two Bays 28km trail run. Having never completed this wholly iconic run, I put my hand up. We popped down to the Mornington Peninsular Saturday afternoon with fellow runner Kate, and went straight to a brew pub for dinner, Dainton Brewery, highly recommended the night before a race. In the morning we met up with the other SRC runners Sheppresenting, Grant, Nat, and Trev. Unfortunately we got stuck in traffic at the start line, and crossed very close to the rear of the pack. At least I had plenty of people to overtake. The weather was a pleasant 14 degrees, with cloud cover keeping the conditions perfect. I kept conservative going up the hills, and had more energy to race the flats and downhills. At the 20 k marker I was feeling great, and decided to push ahead, and aim to pass 100 tiring runners. I lost count around the 80's, but I guessed the figure ending up around 120. I finished in 3 hrs 5 mins, very close to the coach's prediction, and headed off to another brew pub for lunch, Jetty Road Brewery, also recommended.
By Sam Daniel Time 3:07:12
————————
I went in with the following first trail run goals; Don't face plant, don't do a hammy, don't swear too much BUT definitely see everything.
SOOO the trail Starts with Up, did I mention up?? I instantly regretted positioning myself right at the back. All I could hear was a battle in my head between 'Its not a walkathon people vs patience. Nat passed me with a bum slap.. I nearly fell over the cliff (ok not really slight exaggeration) We took a selfie im scared of heights so I hugged a tree.
I nanny shuffled down on the steep gravel.it was very clear I was a newbie at this trail thing as everyone else fled down. I checked in with myself 'Yessus Im a survivor'
From there is started to thin out and I could run. Imagine green ferns, wineries, farmlands as you weave through the forest whilst it drizzled rain… perfection.
At 21km I was feeling like a strong trail warrior and i was dodging, weaving, leaping and no face planting! But people around me were falling like dominos. I could not stop smiling . I felt like a young mountain goat soaring through the hills and I wanted to sing the hills are alive with the sound of music tra la dah.. adrenaline and hill mental madness was setting in. I was passing people! Me the nanny trail runner!
Then there were stairs (Side note: more shepp tower climbs) I could feel my quads burning
I hit the tunnel of trees to hear the ocean. Blue water as far as you can see and a white shiny light house. I nearly cried. Breathtaking. I picked up pace feeling strong. There was Grant! Big high five.
I could hear Tara and Sam "GOOOOOO KATE!" cold beers were being handed out on the left and to the right coke. I received my medal like I was queen KATE mountain WARRIOR being awarded her crown. Sam and I sipped our sugary drinks as high as kite as we watched Nat come in strong with Grant.
IMPORTANT FOOT NOTE. I took on the Daniels recommendation of salt and vinegar chips to prevent cramps, who would have thought? The missing link was in a chip packet- lol. My advice is get on the trails peeps there may be cold beer/coke and great food waiting at the end that you can share with great buddies.
By Kate Dainton Time 3:15:26
——————————–
The road to Nagoya – Part 20 by Tara Daniel.
I've been reading Tara's blog every week and have thoroughly enjoyed them. As she comes to the pointy end of her training I feel they are becoming more interesting. Part of me wishes I was on the journey with her. But all I can do is help her on her long runs with Jacqui as we train for Wangaratta half.
Membership. 2020
We have a wide range of runs to suit your needs – Training twice a week with fartlek, tempo and easy runs organised by our coach, Chris Armstrong. Otherwise catch up at Parkrun or a Sunday long run.
Come on, it'll be fun, join up by clicking on the link https://sheppartonrunnersclub.com.au/join-us/

https://sheppartonrunnersclub.com.au/wp-content/uploads/2019/10/40138564_10156049266160432_6197152494003421184_n.jpg
960
720
admin
https://sheppartonrunnersclub.com.au/wp-content/uploads/2017/06/SRC-Logo-300x221.png
admin
2020-01-16 10:31:43
2020-03-10 05:46:51
SRC E-News Jan 17, 2020