Club news
Track 3000 graded
I just wanted to say thank you for all your efforts last Tuesday night in assisting to make sure everything went smoothly and created an environment that allowed everyone to participate and have fun.
It's a credit to SRC as a team and to the community that we have built,that we can essentially put on a training night at the track that has some 3000m races that people are willing to travel to take part in,  we donated a stack of time and energy in having a night that punched far above it's weight in terms of quality and fun.
We had runners come across from Blighty, Echuca, Wangaratta, Cobram, Yarrawonga and obviously our core group which is closer to home and it wasn't in search of prize money or anything like that,  last Tuesday night I think is something we should all be proud of. If you look at it, we were able to provide a timer clock for all athletes to see what splits they were running if they wanted, professional quality photos, live stream video of the last 2-3 laps of each race and official results put together and easily able to be posted the same night for the 55+ people who ran on the night, not to mention how good the crowd atmosphere was a runner, it was great to see all our members chatting to those new faces from out of town and instantly making them all feel welcome, awesome stuff!
Thanks for all that you do,
Chris
---
The first 3000m event was a big success and the good news is it's all happening again in December on Tuesday the 18th. Everyone is welcome to come along and participate. Please complete the google docs form – https://docs.google.com/forms/d/e/1FAIpQLSf59ytKU7oL_iWa7KEak33boxhmEiy13xZwlYAA8bnpHHkT-w/viewform?vc=0&c=0&w=1
and we will be able to seed you into a race with runners of comparable ability. If numbers are large we will have an E grade and shuffle the times slightly to accommodate.
D Grade @ 6:15pm
C Grade @ 6:35pm
B Grade @ 6:55pm
A Grade @ 7:15pm
Cost :
SRC Members – free
Non-Members – gold coin
---
---

Photo of the night, above. AJ steaming home as Laura is impressed by the challenge to her lead.
Results
D Grade
Name Time
Isla Shaw 16:04
Chelsea Nicholson 16:58
Debbie Harvey 16:59
Steven Trevaskis 17:12
Cate Aitken 18:11
Lee Reynolds 18:15
Justine Ryan 19:55
Kasey Scoble 20:04
C Grade
Name Time
Ryan Dealy 13:14
Angus Reddrop-Miller 13:27
Robert Hearn 13:31
Justin Reynolds 14:04
Nadine Edwards 14:06
Norah Armstrong 14:17
Cadel Nicholson 14:25
Wes Barrot 14:29
Jarrod Popplestone 14:52
Sue Olley 14:59
Laura Smithers-Shaw 15:04
Adrian Jones 15:05
Lee-Anne Kirschner 15:06
Mason Sleeth 15:07
Kate Flynn 15:21
Chris Harvey 15:24
Peter Urquhart 15:35
Bailey White 16:04
Melanie McAuliffe 16:07
Helen Reynolds 16:35
Shane Colbert 17:34
B Grade
Name Time
Dylan Scoble 11:24
Noah Vivona 11:54
Trevor Dainton 11:55
Penny Townshend 11:58
Steve Monk 12:12
Anna Turnbull 12:41
Mathieu Ryan 12:42
Hayden Reynolds 12:45
Craig Reynolds 12:58
Max Carroll 13:06
Kate Dainton 13:14
Debbie Kirne 13:15
Rory Urquhart 13:21
David Barker 13:54
Jason Hunter 14:58
A Grade
Name Time
Archie Reid 8:48
Nathan Stoate 9:20
Joshua Sait 9:38
Jack Popplestone 9:41
Charlie White 9:52
Chris Armstrong 10:14
Tarli Bird 10:32
Danny Selva 10:54
Gerard Montgomery 11:01
Jarrod Minogue 11:03
Tom Avram 11:08
Below, the pointy end of A grade early on.

Below – Tarli Bird fighting it out with Chris Armstrong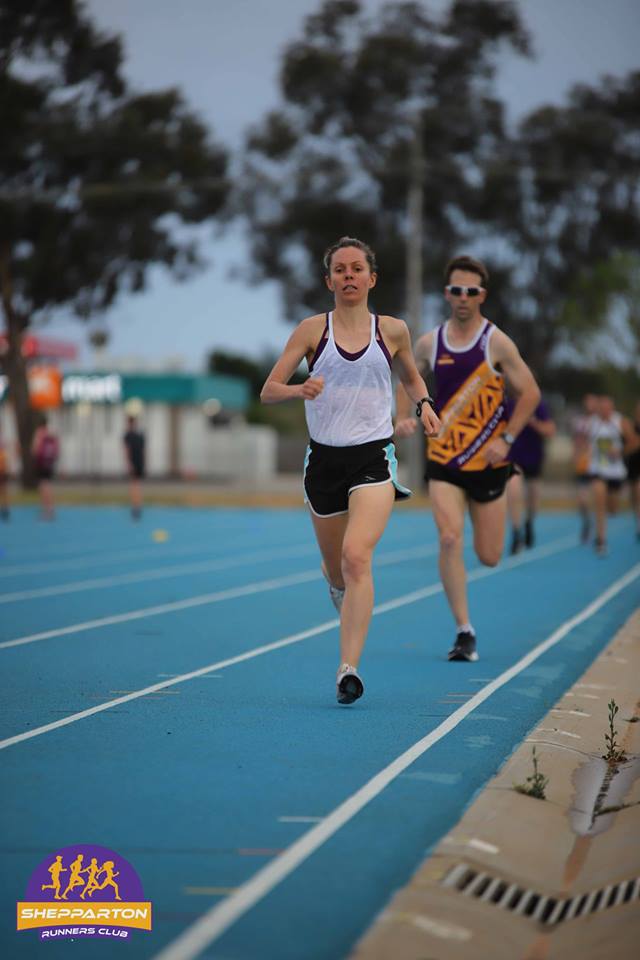 Thanks to Chelsea Nicholson for taking the photos after running in D grade. All photos can be found on SRC FB page.
Much more than a barcode
As most of you know, I believe parkrun is the best thing ever invented. Over 14 years it has grown and spread into 20 countries. You can even find it in some jails and some Dr are even starting to recommend it to help some of their patients. The first Parkrun event to launch was the Bushy Parkrun, which was founded by Paul Sinton-Hewitt in 2004. It grew into a network of similar events called the UK Time Trials, before adopting the name Parkrun in 2008 and expanding into other countries.
Their are many articles online about the benefits of participating in parkrun.  One such article is here.  Shepparton parkrun was started by Allan Connelly in January 2014. In that time we have had 248 events in Shepparton. We are averaging 120 runners per week. The average time for someone to complete Shepparton parkrun is 30:18. Total hours run: 1Years 264Days 5Hrs 13Min 26Secs.
As you know Sue Olley clocked up her 250th parkrun a few weeks ago. In typical benevolent Sue Olley style, she didn't know what all the fuss was about and decided to share the milestone with Alan Connelly.
Allan Connelly stats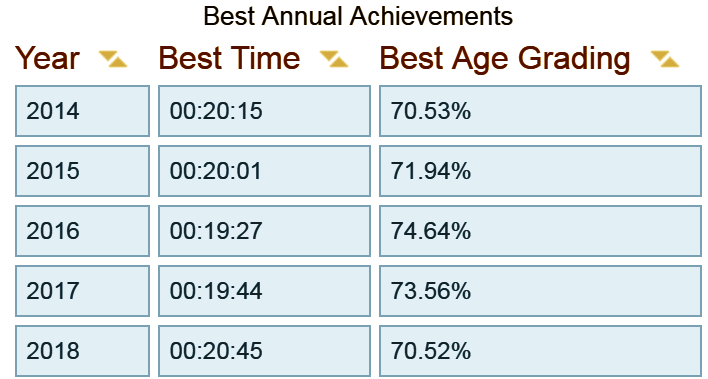 Sue Olley's stats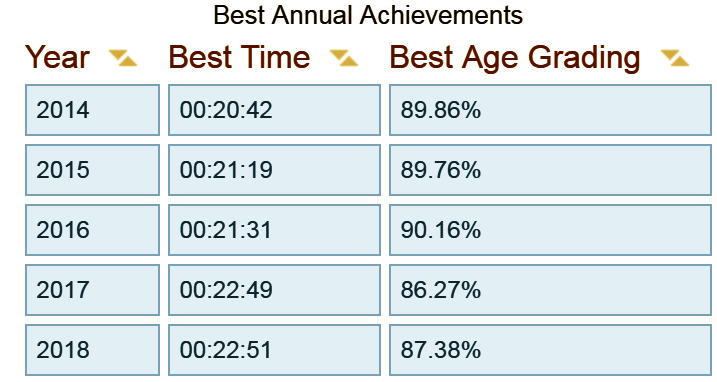 Interesting stat, Shepparton parkrun had 7 Peel Club members present including 5 regular Shepparton parkrunners. How awesome is that? A peel club member is someone who has ran a parkrun in every state and territory in Australia. Named after Brendan Peel.
Cathedrals Challenge – a true trail running experience.
A visit to the Cathedral Ranges State Park led Race Director, Sean Greenhill on what he considered a fantastic trail running adventure. Subsequently, maps were poured over and soon enough a race course was developed that would provide trail runners with an adventure on the trails they would not forget…
With a half marathon and a 10km event, this is a great day out for everyone in a very unique and beautiful part of Victoria! The Jawbone Peak Half Marathon at the Cathedrals Challenge offers competitors the opportunity to explore some spectacular and unique terrain in the Cathedral Range State Park.
REGISTER NOW!
9th December 2018.
www.cathedralschallenge.com.au
Shepparton Christmas Track Carnival
Cycling
As you may be aware we welcome back the Shepparton Christmas Track Carnival coming up on Wednesday 28th December after not running the event last year. Shepparton will host one of four days of the State Track Christmas Carnivals with the events starting at Wangaratta 27th December, Shepparton 28th December and two days in Bendigo on the 29th and 30th December. Riders will come from across Australia to contest this prestigious carnival. We are looking for locals to assist with the running of the event either in the afternoon or evening on a 2-hour rotation. The main areas needing manning will be the gate and canteen. As you can appreciate these events cannot run on their own hence we are asking for assistance through our locals. If you are interested in helping out, please let me know which 2-hour block best suits you. As part of helping you will be supplied free entry and a meal and maybe able to rustle up a cold alcoholic beverage too for your services. Any help is appreciated. Please let me know if you have any queries. Cheers Nadine Edwards Public Relations Officer Shepparton Cycling Club

https://sheppartonrunnersclub.com.au/wp-content/uploads/2018/11/46451683_941775856015422_1234469498900185088_o.jpg
1296
1944
admin
https://sheppartonrunnersclub.com.au/wp-content/uploads/2017/06/SRC-Logo-300x221.png
admin
2018-11-22 10:55:35
2018-11-22 10:55:35
SRC E-News Nov 23