Club news 
SRC 2018 Presentation and Awards Dinner
Saturday, November 10, 2018 at 5 PM – 9 PM
W.B.Hunter Pavilion
Tickets $25.00 & $15 per child | Drinks at bar prices | Kids Entertainment
R.S.V.P. November 3 (that's tomorrow)
Pay by November 7
 (that's next Wednesday) 
MORE INFO PLEASE CONTACT MELANIE on 0448 120 277
Facebook event page here .
CLUB PERSON OF THE YEAR NOMINEE
Do you know a club member who has gone above and beyond to provide value and / or input into the betterment of the Shepparton Runners Club?  Someone who has gone potentially over and above normal roles of the committee.
Please send your nominations to stephen.ayton@nab.com.au before Wednesday 7th November.
Melbourne Cup day
With the Melbourne Cup holiday next Tuesday,
After an online poll training will be at 8 am at the lake.
Shepparton Runners Club and the Shepparton Running Festival donate to GVCASA
Thank you to the Shepparton Running Festival and SRC for supporting our fundraiser campaign for 2018 #voice4kidz. Kathy are I were very honoured to be aligned with the kids 2km run at the Shepparton Running Festival. Thank you to everyone who donated to #voice4kidz, all our proceeds go to our local GVCASA ❤️ – Kathy & Narrelle 
Shepparton Runners Club and the Shepparton Running Festival donate to the Pink Ribbon Foundation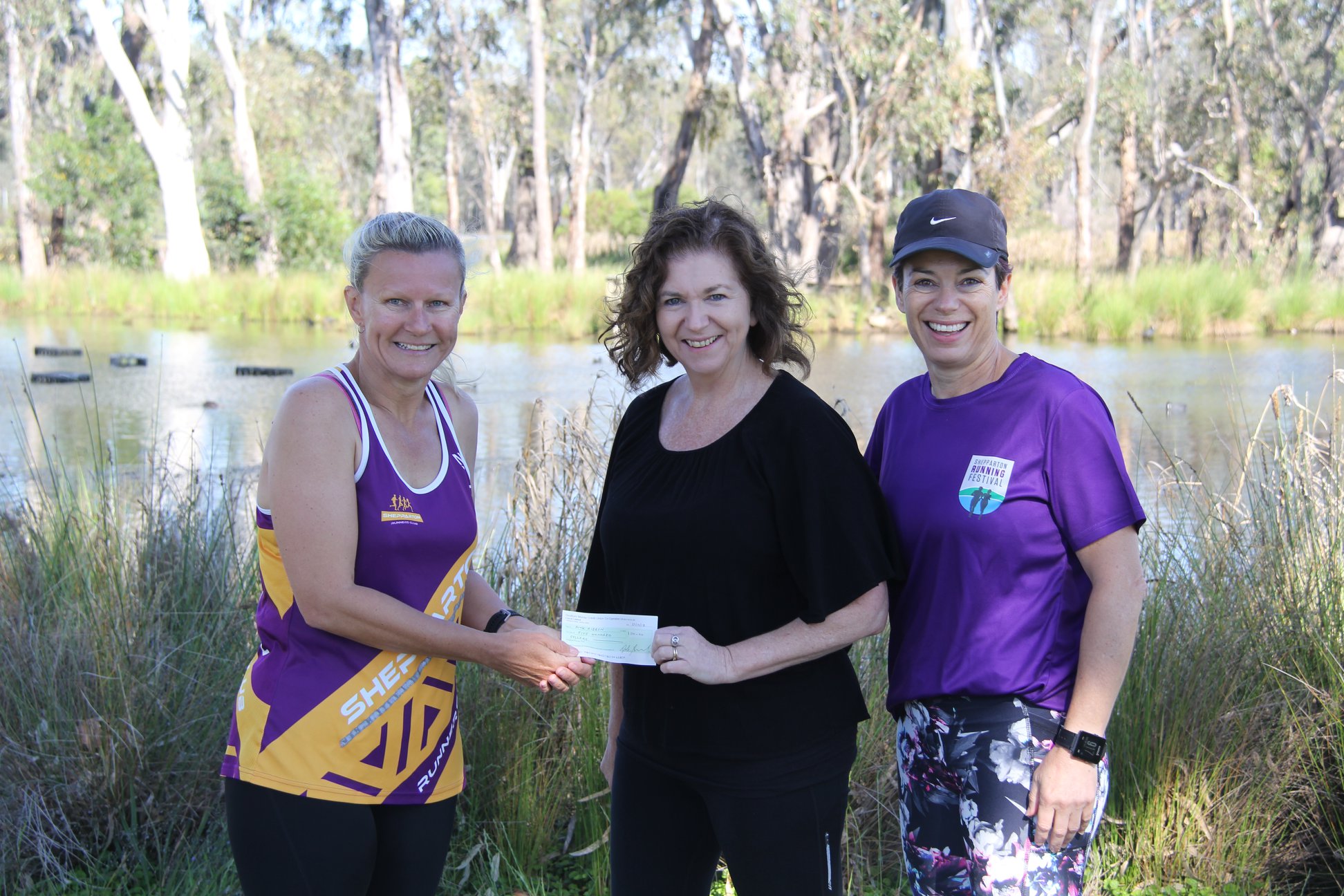 Princess Park upgrade
As you may be aware, the Princess Park Future Directions Plan and Landscape Masterplan went to last week's Council meeting to release it for public comment.
Can you please distribute the below link amongst your networks and encourage them to provide feedback, good, bad or otherwise.
http://greatershepparton.com.au/council/consultation/princess-park-future-directions
SRC HANDICAP
Tuesday, October 30 –  800 mtrs – Shepparton Athletics Track
Congratulations to tonight's winners Jaiden Heinzmann, Ryan Dealy, Karisha Scoble and Georgia Comline…. great to see such a wonderful turn out to the twilight 800m event. Special thank you to Intersport Shepparton for the $30 vouchers to each of our winners, for great service, advice on sports clothing and equipment, go in and see Nipper and he will help you out!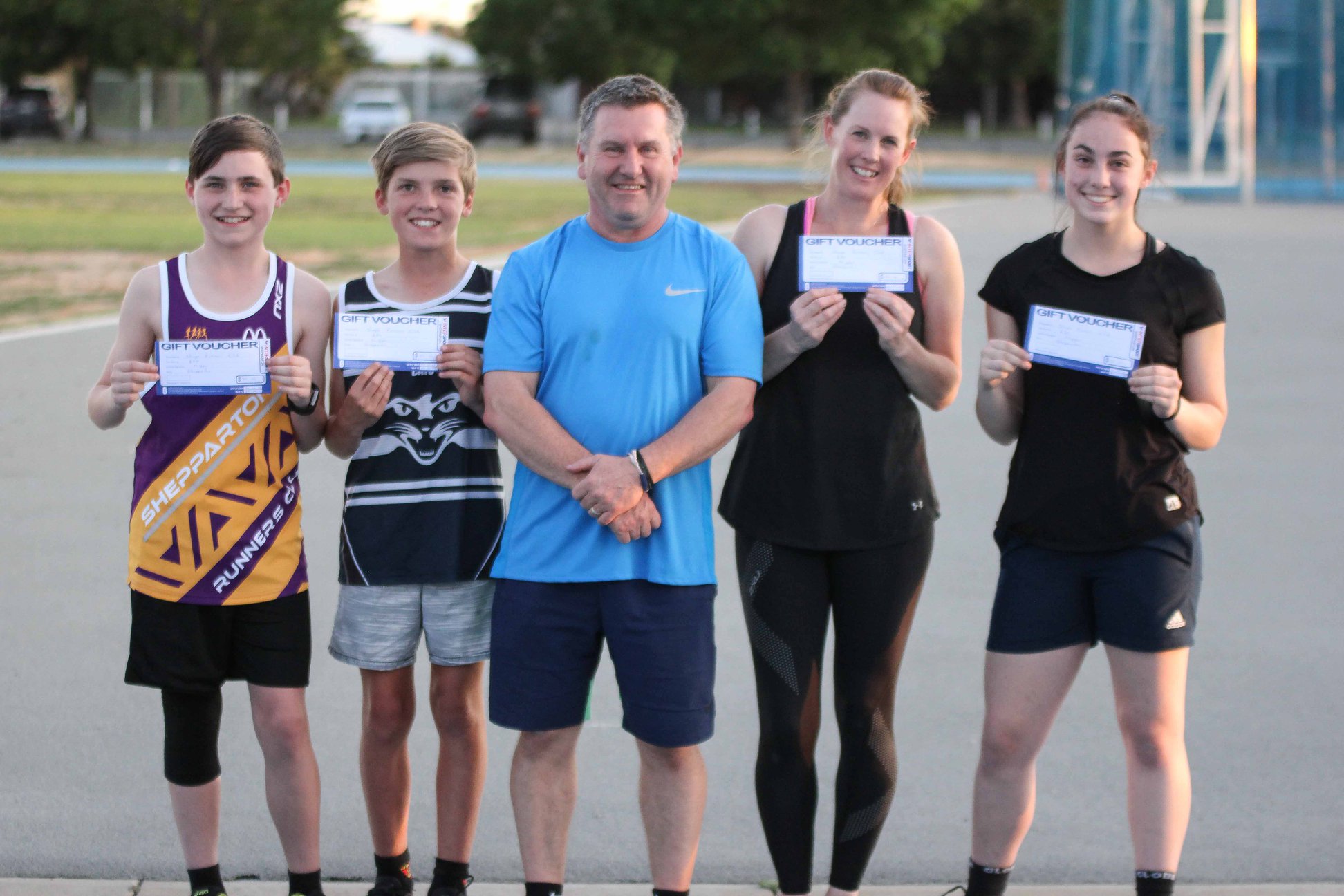 Coaches Post
Well done to the 52 runners who participated in tonight's 800m handicap. It was fantastic to see you out there having some fun and gaining an appreciation for how challenging the 800m can be. Thanks also to everyone who helped volunteer on the night, we couldn't have nights like this without your help. Thanks for supporting the night, it was great viewing for all spectators as well as participants.
Official results have been sent through to make all look fancy, but here is a snapshot of the top 10 times for the night.
Male
Jack Popplestone – 2:06
Nathan Stoate – 2:09
Gerard Montgomery – 2:29
Dylan Scoble – 2:33
Mathieu Ryan – 2:41
Christopher Nicholson – 2:41
Max Carroll – 2:44
Steve Monk – 2:44
Rory Urquhart – 2:44
Tom Avram – 2:45
Female
Kate Dainton – 3:03
Debbie Kirne – 3:04
Samantha Comline – 3:11
Laura Smithers-Shaw – 3:12
Norah Armstrong – 3:18
Isla Shaw – 3:21
Nadine Edwards – 3:23
Melanie McAuliffe – 3:24
Kate Flynn – 3:27
Debbie Harvey – 3:32

🔥

 IMPROVE YOUR RUNNING IN 2 MINUTES! 

🔥
The 5 Questions You've Always Wanted to Ask a Professional Running Coach…
We have the answers right here! 👇
https://sheppartonrunnersclub.com.au/wp-content/uploads/2018/10/45217058_1142489472575854_3573993564339699712_o.jpg
1296
1944
admin
https://sheppartonrunnersclub.com.au/wp-content/uploads/2017/06/SRC-Logo-300x221.png
admin
2018-11-01 11:10:32
2018-11-01 11:10:32
SRC E-News Nov 2