SRC Club news – AGM
Thursday, October 11th, after our weekly training run we held a potluck dinner where about 20 members turned up. Following the potluck we had our AGM.
All new Office Bearers accepted and declared elected.
Position                 Nominee                             Nominated/Seconded
President                 Steve Ayton                        Chris Armstrong/Sebastian Mangiameli
Vice President         Sebastian Mangiameli       Trevor Dainton/Sue Olley
Secretary                 Matthieu Ryan                    Danny Selva/Rosalie Smith
Treasurer                  Danny Selva                      Matt Ryan/Nadine Edwards
Committee Members
Norah Armstrong               Matt Ryan/Mel McAuliffe
Adrian Jones                      Rosalie Smith/Sebastian Mangiameli
Sue Olley                           Chris Armstrong/Trevor Dainton
Steve Trevaskis                 Chris Armstrong/Mel McAuliffe
Mel McAuliffe was nominated by Sue Olley, seconded by Chris Armstrong and volunteered to stand down prior to a vote due to her workload with the 40th Anniversary Committee duties.
The positions of Publicity Officer and Handicapper were deemed not required to be nominated at the AGM as were the roles of committee members for Running Festival and Running Festival Race Director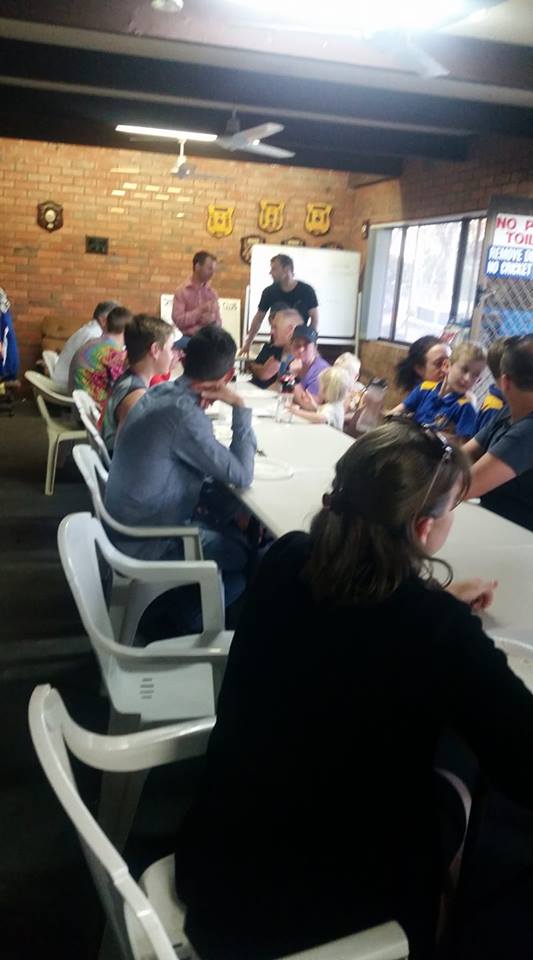 Parkrun
So, you know Steve Monks ran his
parkrun today? He got a PB which puts him in the Flashman club – a PB at a parkrun milestone. Very exclusive – he is only the fifth member, joining his daughter, Lydia (making it a family thing), Lionel, Norah and Steve Hicks (founder).
Melbourne marathon
Good luck to all SRC members running in Melbourne on Sunday, October 14.  Remember if you are not there and you want to see how we are going. You can download the Melb Marathon app or I am sure you can do a live track on the website.
By Anna Turnbull – I'm sitting on qalito island in Fiji willing myself to resist another pina colada; an ill timed family holiday in paradise two weeks before my first full marathon. I've carefully followed a training plan written by Chris. I feel fitter than I've ever felt and I can't wait to get to the start line. With no pressure to beat a PB, my goal is to avoid "the wall". For me it's a challenge to run 42.2km before I turn 40. And with only a couple of months up my sleeve, I had better make it this time around!
Anna
By Hamish Reid – Training has been going ok as I started pretty early and worked up to 34km at about 10% a week from 10km.  It's my first full marathon and I hope to scrape in under 4 hours. Always hard to know where I am at with long runs focusing on HR under 140 bpm  and distance rather than speed.  Chris did get me running 4 x 6km blocks at HR 150 last week which went ok and my speed was about 5.25 during these.  Only one more long run of about 20km as I write this and two more Tuesday speed sessions. Looking forward to the big day and a little excited/nervous already.
Hamish
Most of our runners will have their race number up on Facebook prior to Sunday so that others can track them. For tracking a Spartan please use their race Number not their Spartan Number. 
Racing in Melbourne
Marathon –  Kathy Fuller, Narelle Pell, Trevor Dainton, Kate Dainton, Anna Turnbull, Steven Trevaskis and Hamish Reid.
Half Marathon –  Norah Armstrong, Kate Flynn & Laura Smithers-Shaw
Hume and Hovel – Sam and Tara

My No1 rule for a marathon is, don't try anything new. And by that, I include diet, Gels, drinks, clothing, anti-inflammatories, and strategy. Rule No 2 – Remember to get a good night sleep the night before the night before. I don't go to bed any earlier than normal on the night before as I want to avoid or reduce broken sleep. I will request reception give me a wake-up and reminder phone call as well as setting my alarm.
It's during your campaign and preparation that you bank thoughts as to how much you will apply yourself come race day. Visualise yourself running strong through various stages in your 42.2k
challenge. You'll be able to call on these thoughts (as well as remind yourself of a challenging training run) when the going gets tough.
DIET PRIOR: Obviously you will stock up on more carbs the last 2-3 days but we are not talking humongous amounts of food. Same quantity but more carbs. Same intake of gels and fluid during Marathon – hopefully you have been involving such. Only take water with gels. Your Gel intake (at what time intervals you take them) will be identical to what you have trialed in training. Nothing changes come race day!!! If it was me – I would take a gel 45min prior and another every 45 min or so – once the gun is fired that is.
Don't feel like you have to bank too much time early on. A trap that some runners get into is they believe they need to put in as much effort as possible initially to allow for slowing over the final 5k or so. Rely more on your preparation and ability for this will allow you to maintain a constant/realistic pace all the way.
Once the gun is fired everything will fall into place. You do have to respect the distance though and every step that you take is to be one where you are trying to use up as little energy as possible whilst still maintaining your goal pace. Throughout the entire race you should focus on relaxing and conserving your energy because you want to be well prepared for the business end of the race – the last 5k or so.
Rushworth to Whroo and back training run.
Last Sunday Tara, Sam and Steven ran from Rushworth towards Whroo. We ran for 45 mins south on the Rushworth Whroo road before turning back. Total distance clocked up in the undulating road was 12.75km at a pace of just over 7:00 min/km. We didn't see any kangaroos or snakes, but what we saw was skid marks and the remains of some coolant.
Afterwards, we went to the Rushworth Criterion pub for a meal and some refreshments.  The burgers are bigger at the Criterion. And the chips are bloody nice too.
We will do this again so stay tuned.


About Four Vines Running Festival
The Four Vines Running Festival is a running festival with a difference based in the Goulburn River Valley in Central Victoria, just over one hour from Melbourne. The difference is not only that we are running through vineyards, the difference is the cause in which we are running.
The Shepparton Travel & Cruise Four Vines Running Festival was set up to be a fundraiser for the Children First Foundation. The Children First Foundation do amazing work in providing life saving and life changing medical care for children who need it most. A portion of your race entry fee is donated directly to Children First Foundation.
The event is based at Tahbilk Winery in Nagambie on the banks of the Goulburn River Valley. The running side of things see athletes challenge themselves in one of six races ranging in distance from 2km for kids through to marathons for adults. Actually the shortest races is the Tahbilk Vineyard Scramble – a $500 dash for cash!
The finish line is where the party starts with live bands, food and wine on offer, kids entertainment and more.
We hope you can join us at the inaugural Four Vines Running Festival.
Please support our sponsors

https://sheppartonrunnersclub.com.au/wp-content/uploads/2018/07/37705647_1772788802800820_3035533020518940672_n.jpg
744
575
admin
https://sheppartonrunnersclub.com.au/wp-content/uploads/2017/06/SRC-Logo-300x221.png
admin
2018-10-11 11:11:41
2018-10-11 11:11:41
SRC E-News. The road to Melbourne part 2