Shepparton Running Festival news.
The Shepparton Runners Club are coming to the pointy and busy end for planning the Shepparton Running Festival. Entries are up by about 20% on last year.
If you are able to help out on race weekend and give us a few hours of your time please contact Rosalie Smith A.S.A.P. so she can fill in the volunteer spot. Speaking from experience over the last few years come midday on Sunday the SRF committee are exhausted, please consider helping pack up as it will be greatly appreciated.
This years event will be bigger and better than previous years. We have Tara Daniel 5k finish line group that she has been training for the last 6 weeks. Nine runners are setting out to run either their first 5 km run or to run a 5k Pb. Well done Tara with Sam assisting. Look out for the runners in their 5k tops. Also you will get the opportunity to meet and greet them at Tuesday training session. Chris will be doing the Mona Fartlek session and the 5k finish line runners will join in with the SRC runners.
Continuing on with the bigger and better theme. Narelle and Kathy will be at the SRF with Ditto. Saving one child at a time raising awareness about sexual assault.
Bit of fun at the lake in readiness for the McDonalds Shepparton 2km Kids Dash. How cute are our superheroes!. Make sure you jump on line and register your young superheroes! Narelle Pell and Kathy Fuller are both super proud to be associated with the Shepparton Running Festival with#voice4kidz being a nominated charity partner. Our little superheroes deserve the right to be able to run free, dress up and have fun in a safe and protected environment. 💛💜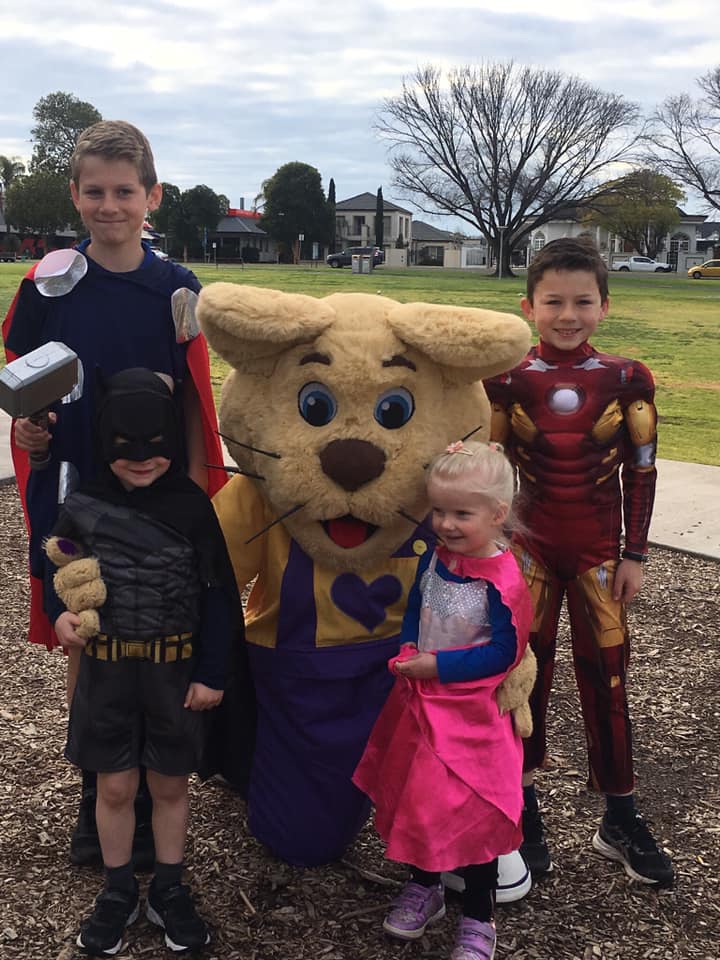 Directory
Shepparton Running Festival Website
Shepparton Running Festival Facebook page
Shepparton Running Festival Instagram
Shepparton Runners Club Website where you can see all the past newsletters. And our Facebook pages here and our more formal Facebook page here
Time for some #sheppresent in the gold fields.
join us for some of the most scenic and challenging trail running in the heart of Victoria's 'Gold Rush' country.
The Goldfields Trail Run Festival is hosted in conjunction with the TreX Cross Triathlon Series which together make up an action packed weekend of off road events for the entire family.
Taking in some of the most spectacular bushland trails this trail run festival is set to delight, challenge and inspire trail runners of all ages and abilities.
Based in the heart of Victoria's Gold Rush Country at Crusoe Reservoir in Bendigo the courses challenge runners with a diverse array of terrain and scenery, from the natural beauty of Crusoe Reservoir and No 7 Park, to the challenge of Big Hill within Bendigo Regional Park.
So whether your a hardcore trail runner, a weekend warrior, someone who just loves getting in 2 the outdoors, or a family and kids, there's something for everyone at Trail Run Australia Goldfields.
Event details are here
From '16 beers' a day to City2Surf winner
Just 20 months after he reached rock bottom from struggles with depression and heavy drinking, Harry Summers went within two seconds of breaking Steve Moneghetti's long-standing record at Sunday's City2Surf. Find out more at The Age.
Thoughts on running versus hiking
Running is usually faster than hiking, but sometimes (especially when going uphill) hiking can be far more efficient and even faster than running. Trail Runner takes a look at running vs walking economy here.
Power hiking techniques
And continuing on the theme of the above article, Ultra168 has some tips for techniques to use when power hiking.
Runnovation
It's the moment you've all been waiting virtually forever for …. RUNNOVATION IS LAUNCHING A VIRTUAL RUN!!! We are just a little bit excited as you can tell.
The virtual run is a murder mystery who dunnit themed run. The challenge is to run/walk 40kms throughout September. All finishers will receive an AWESOME medal.
We will post the initial story and list of suspects on 1 September. Each week in September there will be additional challenges posted for participants to earn new clues. At the end of the month you tell us who you think the murderer is. If you are correct, you go into a draw to win some AWESOME Runnovation medal display products.
We have early bird pricing until 17 August 2019 where you can enter this fun September challenge for $30.
So what are you waiting for?!?!?! Register now on the below link, join the event page Runnovation Murder Mystery Virtual Run and put your best detective cap on.
https://www.registernow.com.au/secure/Register.aspx?E=35408
https://sheppartonrunnersclub.com.au/wp-content/uploads/2017/06/SRC-Logo-300x221.png
0
0
admin
https://sheppartonrunnersclub.com.au/wp-content/uploads/2017/06/SRC-Logo-300x221.png
admin
2019-08-15 12:30:56
2019-08-15 12:30:58
SRC E-news Aug 16