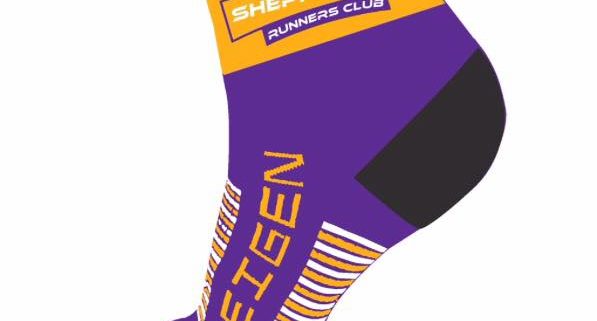 Take Care and be aware of your surroundings.
Late afternoon last Tuesday just before dusk Sam was out running around Victoria Park Lake. He ran past the skate park and was confronted by 2 youths on scooters. They asked him for smokes and money (I assume they know that's what runners carry LOL.). They followed him half way around the lake hassling him and invading his space. Sam decided to remove the youth from his scooter and this prevented the potential threat from escalating. Sam did report the incident to the police.
If this can happen to Sam in a public place in daylight, it can happen to others, and next time things could end worse. Take care of yourself and look out for others.
Bright Parkrun
E V E N T C A N C E L L E D // Please note this coming Saturday there is no Bright parkrun. Please help share this information with those parkrunners who are not on Facebook. There are very few times per year that this occurs, in this instance with no Run Directors available and a empty volunteer roster we have no choice this week. As a side note if you are interested in hearing more about the role of RD and would love to get involved please drop us a message.
Listen and Learn
One of the favourite parts of my day lately is walking the 1.3km to work and home again, even fitting in a walk at lunchtime, always with my phone and earplugs and a listening to a good podcast. How lucky are we to have so many talented people sharing their knowledge with their listeners? Walking to work rather than driving gives me an extra 10 minutes of podcast listening and it's my time and I love it!!
The choices of podcasts to listen to are endless and I like to mix them up a bit, some health and wellbeing along with some crime mystery. Although I could never aspire to be a 100 km trail runner, the 'Trail Running Nation' is one of my faves and I can't help but be inspired by some of the amazing athletes they interview. Another running based podcast I like to listen to are Brady Threlfall's 'Tell Me Your Tale'. Both of these extend further than the running world and cover a wide range of information on all sorts of topics associated with health and wellbeing and lifestyle choices.
Its not hard to get into some binge listening with the real life stories retold such as 'The Teacher's Pet' and more recently 'In the Dark' Season 2 – the story of Curtis Flower, a black American who has been tried for the same murders 6 times. (Not one to hide my reactions with facial expressions, I'm sure people would wonder what I am listening to when one day I'd be cringing with disgust and the next day laughing along to a comedian.)
Recently I stumbled upon 'Wellness Women's Radio' and 'Real Food Reel'. Both are Australian podcasts and cover a huge range of topics and interview some very interesting people. It was from listening to these types of podcasts that I realised I would benefit from visiting a Naturopath and I was fortunate to get the winning bid at the SRC Gala Dinner and have since visited Phillip Chua at FIX. Within a few weeks I'm already feeling better within myself from that initial visit. I mentioned to Phillip that I like to listen to podcasts, only to be told by Phillip that he has one. Its on PODBEAN, search for 'Phillip Chua – Naturopath'. Needless to say I'm currently listening to Phillip's podcast and enjoying it.
There wouldn't be enough hours in the day to listen to all the wonderful podcasts that are available. They certainly help the time fly by when you're doing a long trip in the car. If you've got any good recommendations I'd love to hear of them.
Cheers,
Rosalie Smith
My 5k Finish Line
Tara & Sam's training sessions for their 5km Finish line is seeing lots of improvement, motivation and fun from the entrants. The 5k finish line concludes with the 5k at the Shepparton Running Festival. This week entrants received their My5k t-shirt. Any surplus monies after expenses will be donated to the GVCASA. They have several entrants that are considering joining the SRC after My 5k has concluded. Tara is doing the My 5k project as part of her Fairley leadership program. Well done Sam and Tara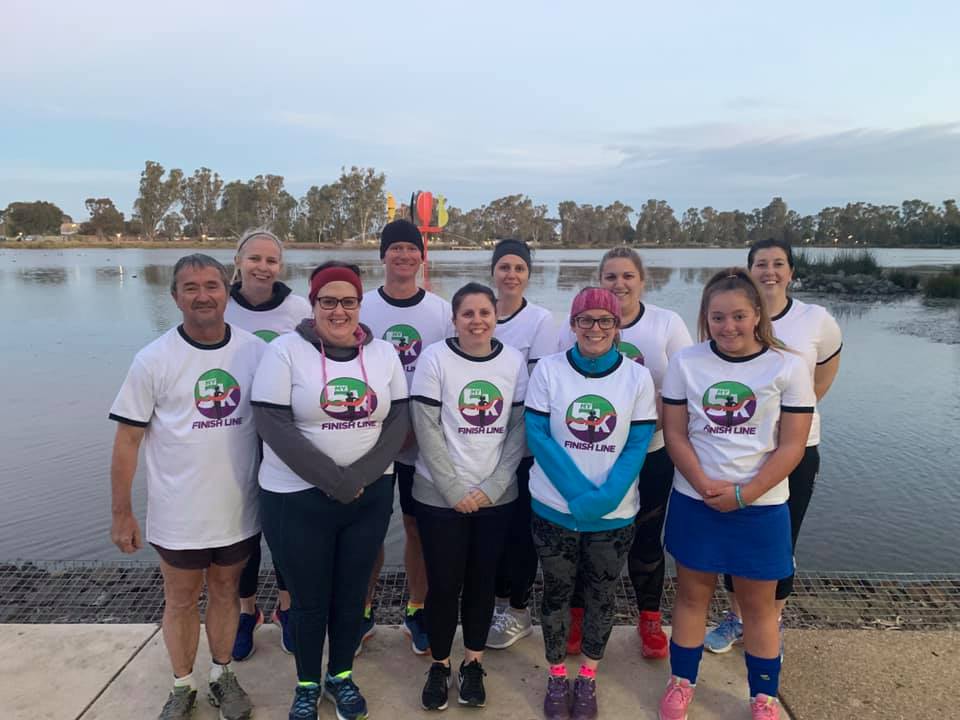 Indigenous Marathon Foundation
Vote for Rob.
Marathon great and director of the Indigenous Marathon Foundation, Rob de Castella, is proud of his sporting feats but says his greatest achievement has been helping Indigenous Australians. Through the Indigenous Marathon Project and Deadly Running Groups, which include over 5,000 runners, the foundation promotes running for a healthy lifestyle.
Nominated for a Westfield Local Hero award of $10,000, if Rob is successful the foundation will host a three-day coaching workshop for IMP graduates and Deadly Run Leaders to upskill.
Please vote for Rob and IMF here: https://www.westfield.com.au/…/1RLmqAnyed…/local-heroes-2019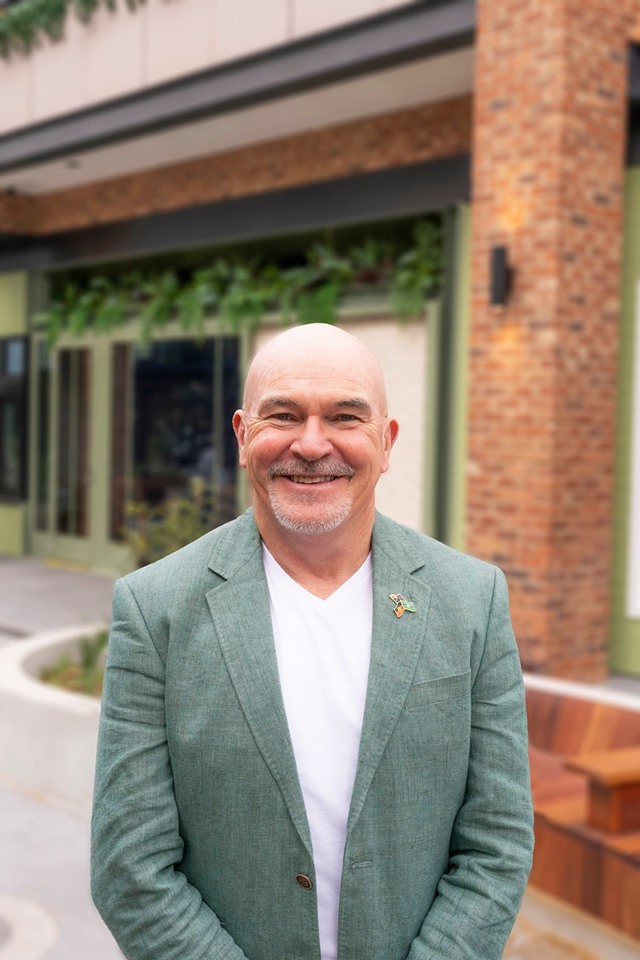 Conquer NF
Details of #conquerNF Trivia has now been finalised! Please contact Allan or Kerry on the numbers in the post, or feel free to message us on this page.
We are so excited to have you at our trivia night once again!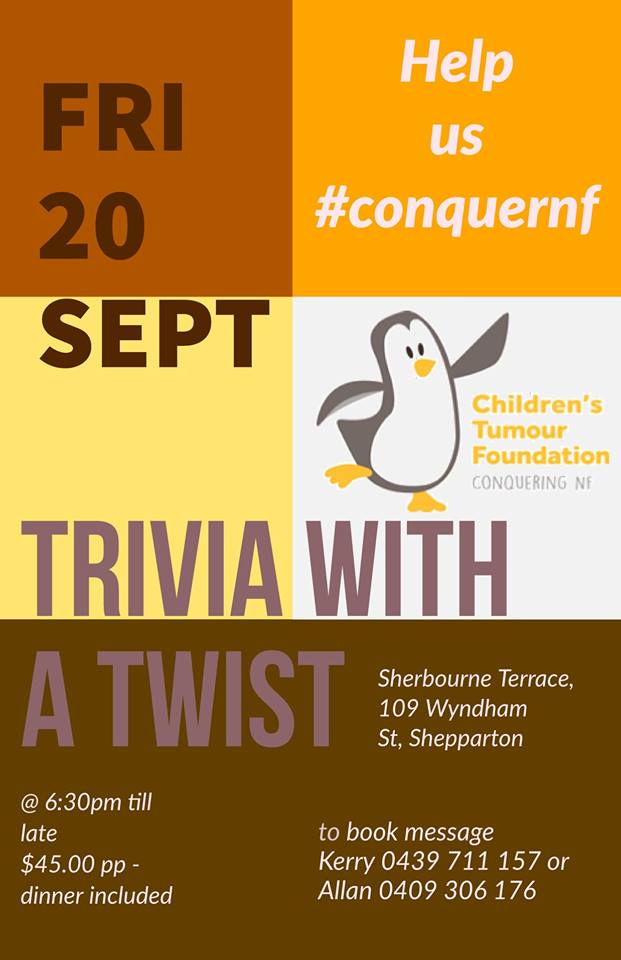 https://sheppartonrunnersclub.com.au/wp-content/uploads/2019/08/67321123_1333262230165243_5458271226914930688_n.jpg
755
597
admin
https://sheppartonrunnersclub.com.au/wp-content/uploads/2017/06/SRC-Logo-300x221.png
admin
2019-08-08 13:18:12
2019-08-08 13:18:14
SRC E-News Aug 10