SRC NEWS
Our final handicap for 2019 is next Sunday 17th November at Princess Park over 5km. First runner starts at 8:15am, details below.
Register here – https://docs.google.com/…/1FAIpQLSdJ0QpStzYAl80eqf…/viewform
When – Sunday November 17th
Where – Princess Park, Shepparton
Distance – 5km
Cost – SRC Members $0, Non-Members $Gold Coin
Time – First runner starts at 8:15am
BBQ afterwards, prizes for top 3 male and female provided by the legends at Intersport Shepparton and SRC
SRC Bunnings BBQ November 23, 8 – 4 pm
Presentation Night Saturday, December 7, 2019 at 5 PM – 11:30 PM – W.B. Hunter Pavilion Princess Park – Link to Tickets Here
Safe on the run and the latest apps.
Many of us run before the sun comes up or goes down when the natural light is not the greatest. While this can be picturesque, it also pays to exercises cation. Runner and self-defence instructor Julie Morrill (juliebarronmorrll.com) suggests 4 things we can do to make us less vulnerable.
Be prepared and aware – Have a plan for a uncomfortable interaction or attack. Think about how you would respond to aggression ahead of time. Keep your head up and shoulders back.
Run Away – If something does happen the best advice is to get out of there. We're runners so run away from a situation you feel uncomfortable with.
Use your voice – If you are concerned and can't run, scream and yell. Yell something unambiguous like 'Back the F**k off. Or yell something odd like where is the peanut butter. Forcing the attacker to think harder.
Fight Back – This is the last resort. Hit them with your elbow, knee to the groin or even a hard slap to the face.
Words of wisdom app – What3words is an app that could save your life. The developers have divided the world into 57 trillion 3m by 3m squares, each with a unique 3 word address. The sequence pin points your location and can be used by emergency services if you are lost. It is free to download.
Still on the subject of apps
If you want to get a bit more out of your parkrun stats, the 5k app may be what you are looking for. Download the app and scan your barcode into it. You can also type in your barcode but don't add the capital letter at the start of it.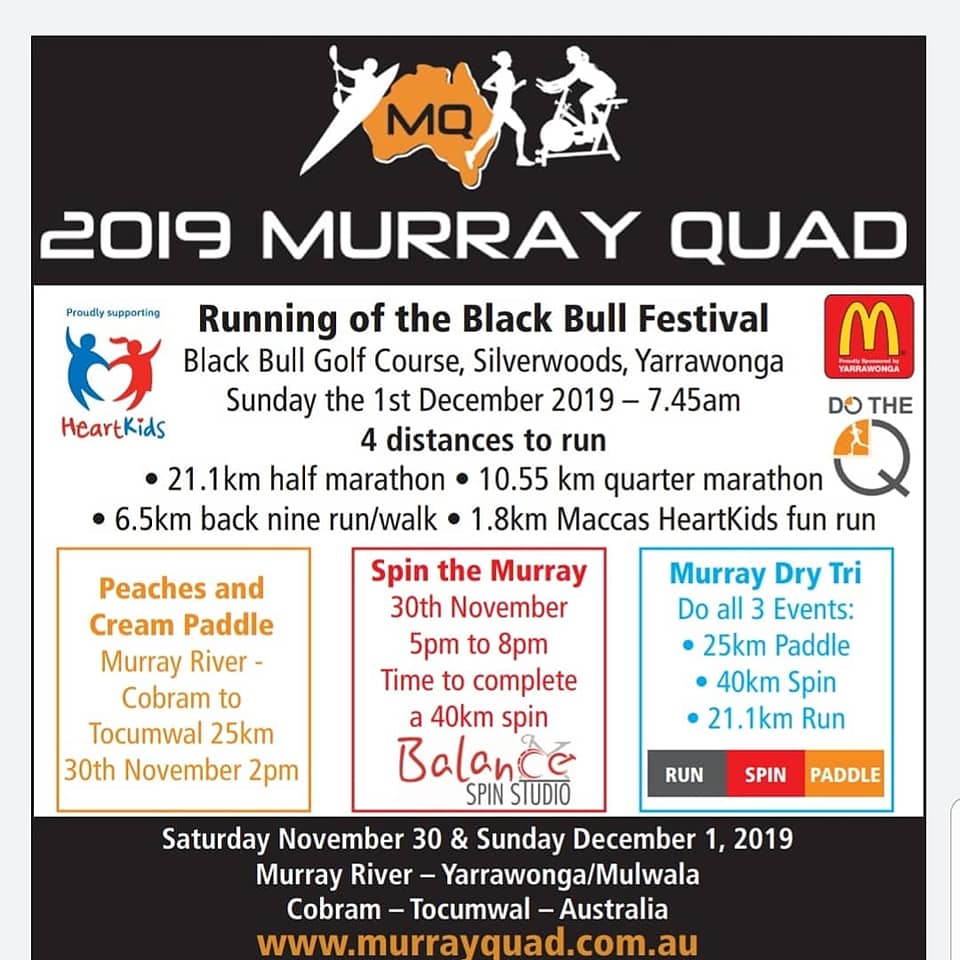 Numbers are low for the Murray Quad and if entries don't pick up it will be at risk of cancelation. At the moment we have about 10 SRC members participating in the Quarter marathon with Jacqui Noonan having an eye on the 25 km paddle on Saturday as well.
2 weeks until online entries close for the 2019 Murray Quad – Paddle – Spin – Run, there is cash on the day option but it will cost more and you may not get a bib or event keepsake.
So make sure you register via the website www.murrayquad.com.au.
Strength Training and Injury Prevention
Anecdotally, a lot of athletes will tell you that strength training helps them feel more durable. Now I cannot speak to the scientific community's thoughts on defining durability, but there is research suggesting that traditional strength training can reduce sports injuries by an average of 66% (10). This is done by increasing your tissue's ability to manage load (by progressively increasing the load via strength training) while modifying endurance-training volume and frequency.
For example, one study that replaced 30% of an athlete's weekly running volume with strength training found that athletes remained injury free while improving their five-kilometer performances (1). Additionally, hard strength training has positive effects on circulating levels of testosterone and human growth hormone which can help the body repair muscular damage at faster rates post-hard-endurance and post-hard-strength-training efforts (18).
For many people, some form of maintenance strength training done diligently and frequently, administered by your physical therapist, might be enough to keep niggles at bay. However, what the research suggests is that the workload needed to statistically reduce rates of sports injury is more consistent with doing more significant strength work.
Maybe that's what durability feels like? That is, creating enough physical change to more than manage your niggles and instead create more significant physiological adaptations that keep fatigue at bay longer and hold your form together longer because you increased your running economy. That is, you became physically stronger. I'm not certain we will ever have a perfect metric to measure durability, but if being stronger keeps you on the trail more consistently, that might be as close as we get to an answer.
Reference irunfar
Other stuff – The amasing Julie Thomas from Broadford has signed up 20 runners including 6 SRC runners to run a virtual run from Broken Hill to Sydney. The run starts on Nov 22 and finishes Dec 10. The runners mission is to raise awareness about domestic violence and get people talking about the steps they can take to make the violence stop.
parkrun – Getting all geared up for parkrun this week, and have found that we are missing 4 tokens from last week. Please check your pockets, and if you have accidentally taken one home, that's ok, we would just like it back this week if we could. The numbers we are missing are 116, 142, 182 and 183. Please help them find their way back
Quiz time – What is the name of the audio book Tara recommends and how does Tara describe her drinking session in Tasmania? The answers are in her blog The road to NAGOYA WOMENS MARATHON 2020 Part Twelve – I would like some time for some consistent training please. 17 weeks to go.
Have a great weekend and don't forget buy your ticket for SRC presentation night TICKETS HERE

https://sheppartonrunnersclub.com.au/wp-content/uploads/2017/06/SRC-Logo-300x221.png
0
0
admin
https://sheppartonrunnersclub.com.au/wp-content/uploads/2017/06/SRC-Logo-300x221.png
admin
2019-11-14 09:53:55
2019-11-14 11:21:26
SRC E-News Oct 15