SRC NEWS
SRC 2019 Presentation and Awards Dinner
Shepparton Runners Club presents the 2019 Presentation and Awards Dinner.
Saturday 7th December at the WB Hunter Pavillion, Princess park from 5pm
PRICE: $20 per adult & $10 per child | Drinks at bar prices | Jumping Castle, Lucky Door Prizes.
All welcome (kids, grandkids, parents, partners)
RSVP by 3rd November and to be paid by 7th November to Melanie McAuliffe
FOUR VINES RUNNING FESTIVAL
The Shepparton Runners Club had a strong turn out at the Four Vines Running Festival last Sunday. With full results here. Stars of the day was Nadine Edwards (5km) & Josh Sait (Half Mara).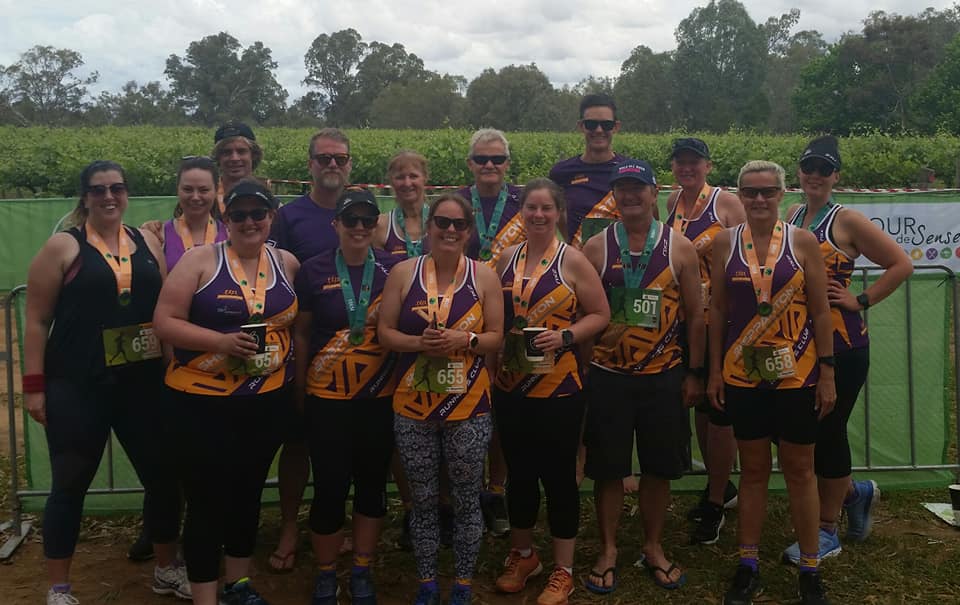 Feeling super stoked after claiming first place overall female and becoming the new female 5km record holder in today's 5km event at the Four Vines Running Festival. Thank you to my Shepparton Runners Club buddies and my family for all your support, especially after the last two weeks….today's result most certainly softens the blows. ♡♡♡ – Nadine.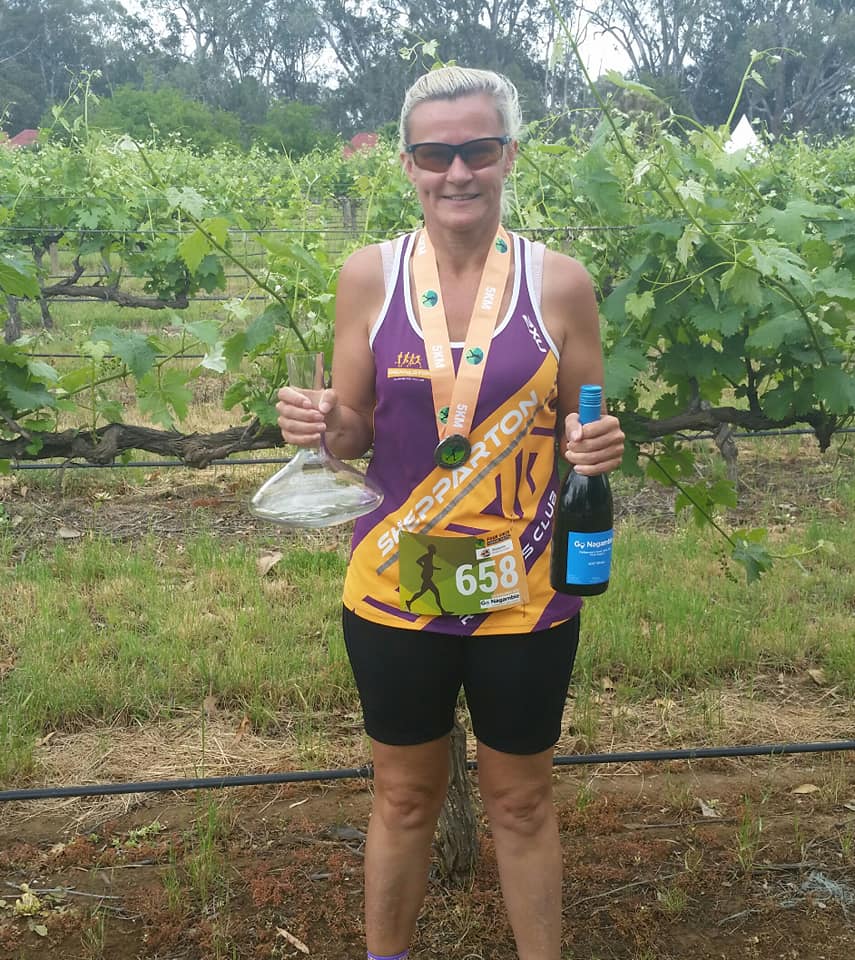 Race report – By Steven Trevaskis
In humid conditions I lined up for my 3rd time at running 10 km in the last 6 months. So I wasn't sure how I would go on this semi-trail run. Could my knee handle it, would the humidity knock me.
I ran the first 3 km before taking my first walk break as I was averaging about 6:30 min/km and feeling the heat. I saw Jacqui and Taren 50 mtrs behind me. I let them pass me on this walk break. I had a second and third walk break before 4.5 km. Jacqui and Taren were pulling away from me, but they were still in reach if I pulled my finger out. I tried not to let my pace slip below 6:40 min/km with 5 km to go.
Somewhere around 7 km mark I caught them and I decide to lock my pace in with their pace. With the official km marks out by 200 mtrs I was checking my Garmin often to see how far I had to go. Also knowing last year the 10 km course was about 10.2 km with a 200 mtr strong climb at the end made everything a guess.
With about 1.5 km to go we slowly increased the pace agreeing to cross the line together. Taren informed us a few times she was struggling and we could go on without her. But we weren't leaving anyone behind, that was the rule. I felt Jacqui could have pulled away from me as she had some spirts passing people that I didn't have.
And according to Garmin we crossed the line together 9.74 km in a time of 1:07:28 at a pace of 6:56 min/km.
RUNNER PROFILE
Sam Daniel
PBs: 5 k – 21:57
10k – 46:31
21.1- 1:45.13
42.2- 4:03. 42
Tara and I got into running to get fit and lose a little weight. After coming home from a trip to Mt Everest in Nepal, we sat around and expanded for a couple of months. We started going to parkrun which then lead to Wangaratta fun run where we spoke to Coach Chris about joining the Runners Club. We have gotten a bit fitter and bit faster since then. We try and go to as many road and trail events that we can, meeting cool people and collecting bling. It's even better when we join up with running friends from SRC. We try and incorporate parkruns in our travels here and overseas, it becomes a real collection. We try and do other active stuff other than running, we like to hike, bike, climb, if there's an iconic mountain in the mix, all the better. I believe all pineapple on pizza is horrendous, the anchovy is clearly king in the world of pizza toppings. Over the next few months I have just the usual summer runs booked in, Goldrush Trail, Wang, Albury, as well as Christmas and NYE parkruns. Then I'll give Tara some close attention as she prepares for her first marathon in March.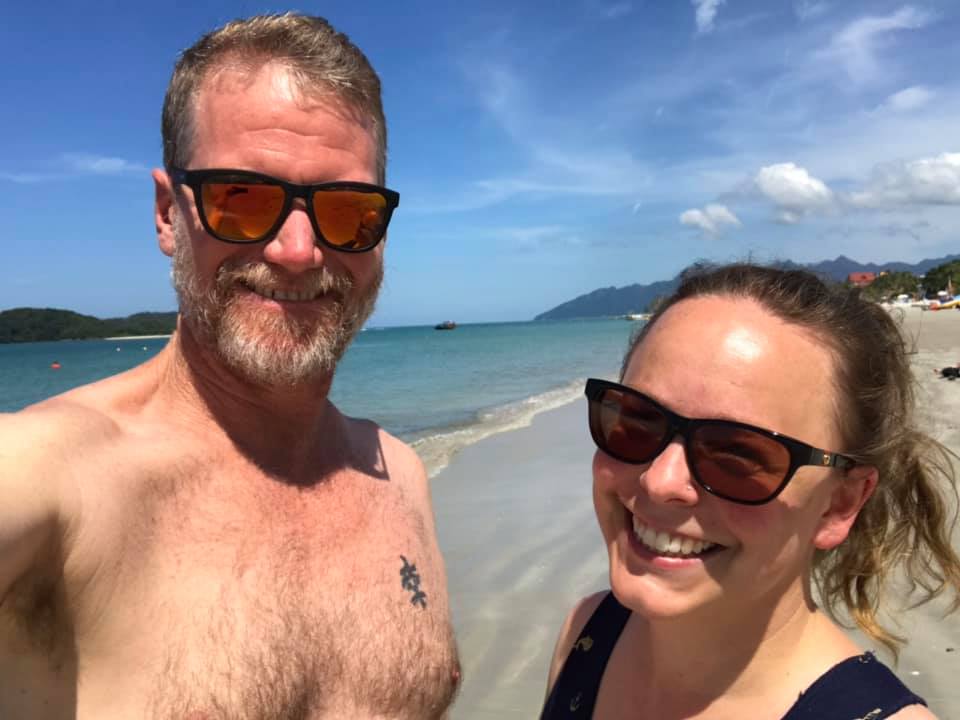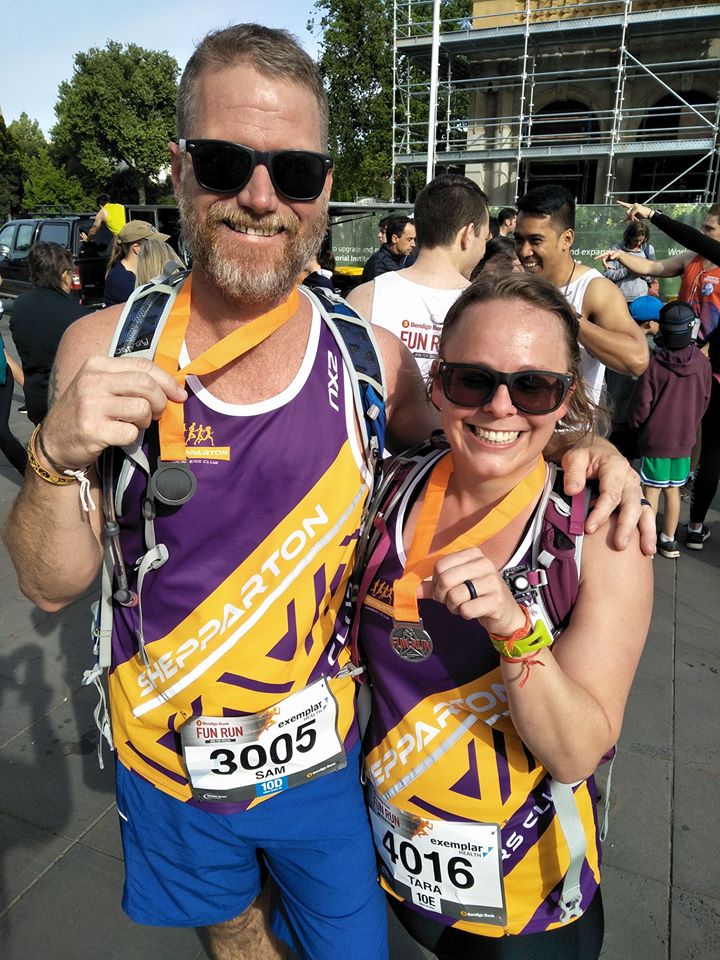 Calender
11th Annual Marysville MarathonDate: Sunday 10th Nov 2019 Location: Marysville www.marysvillemarathon.com.au VERY LATE / ON DAY (1/11-10/11) 4km Child (u16) $40 4km Adult $45 10km Run/Walk $80 Half Marathon $110 Neil McKern Marathon$120 Ultra Marathon $130
Shepparton Running Club 5km Handicap Date: Sunday 17th November Location: Princess Park Time: 8am
Goldfields Trail Run Location: Bendigo Date: 24th November www.trailrunaustralia.com.au HALF MARATHON $130 10-12km $90 5-6km $50
Shepparton Runners Club Bunnings BBQ
Location: Bunnings Shepparton
Date: Saturday 23rd November
PLEASE SEE MELANIE TO PUT YOUR NAME ON THE ROSTER
Murray QuadDates: SAT 30TH NOV + SUN DEC 1 2019 Location: Yarrawonga/Mulwala – Cobram – Tocumwal
RUN The Murray Quad 3 weeks away!
This event, that is close to home, is running on December 1st. The event offers a 21.1km half marathon, 10.55 km quarter marathon, 6.5km back nine run/walk, 2km Maccas HeartKids fun run at Silverwoods, Lake Mulwala, Yarrawonga. Entries are via www.murrayquad.com.au
PEACHES AND CREAM PADDLE Full Distance $50.00 PEACHES AND CREAM PADDLE Half Distance $40.00 SPIN THE MURRAY 40KM SPIN $40.00 RUNNING OF THE BLACK BULL Half Marathon $70.00 RUNNING OF THE BLACK BULL Quarter Marathon $45.00 RUNNING OF THE BLACK BULL Back Nine $40.00 MACCA'S HEARTKIDS FUN RUN (all proceeds go to HeartKids) $5.00
Carman's Women's Fun Run wwwwcarmanswomensfunrun.com.au Date: Sunday 1 December 2019 Location: Catani Gardens, St Kilda
Shepparton Runners Club Presentation Night
Location: WB Hunter Pavillion Princess Park
Date: Saturday 7th December 5pm
MORE INFORMATION – SEE MELANIE
Gold Rush Trail Run Location: Hepburn Springs Daylesford Date: Saturday 14th December wwwwgoldrushrun.net
New Years Eve Rock around the Clock Location: You Yangs regional park Date: Tuesday 31st Dec 2019 www.trailsplus.com.au
RECIPE OF THE WEEK
Ingredients
1 cup fresh or frozen blueberries
1 cup fresh or frozen blackberries
1½ cups Inner Goodness Coconut Milk (or you can use Inner Goodness Rice Milk or Almond Milk)
1 frozen banana
Optional – 1 tbsp açaí powder
Suggested Toppings Ingredients
1 passionfruit, cut in half
Handful of fresh blueberries
Handful of fresh cherries (seeds removed)
Handful of fresh blackberries
Handful of Oh So Natural Almonds, roughly chopped
1 tbsp Oh So Natural Chia Seeds
1 tbsp Just Organic Toasted Coconut Flakes
1 tbsp Just Organic Shredded Coconut
Several fresh mint leaves
Blueberry Smoothie Bowl
Method
Add all of the smoothie ingredients, including almond milk, into a high powered blender.
Blend all ingredients in a high-powered blender until smooth.
Pour into 2 bowls and garnish each bowl with desired toppings.
TIP: Smoothie bowls are slightly thicker smoothies that are served with a variety of toppings, in a bowl. Smoothie Bowls are more satisfying than your regular smoothie. Combinations of Smoothie Bowls are unlimited. We've developed a few for you to try. Enjoy!
Road to Nagoya – by Tara Daniel
Week 11 – 18 weeks to go. Selfies, wine and the SRC make running great!

https://sheppartonrunnersclub.com.au/wp-content/uploads/2017/06/SRC-Logo-300x221.png
0
0
admin
https://sheppartonrunnersclub.com.au/wp-content/uploads/2017/06/SRC-Logo-300x221.png
admin
2019-11-07 11:36:29
2019-11-10 11:52:07
SRC E-News. Nov 8