The 2019 Shepparton Runners Club AGM is on Thursday 10th October 2019 at the Clubrooms, following training. Everyone welcome.
Attached are nominee form and proxy forms.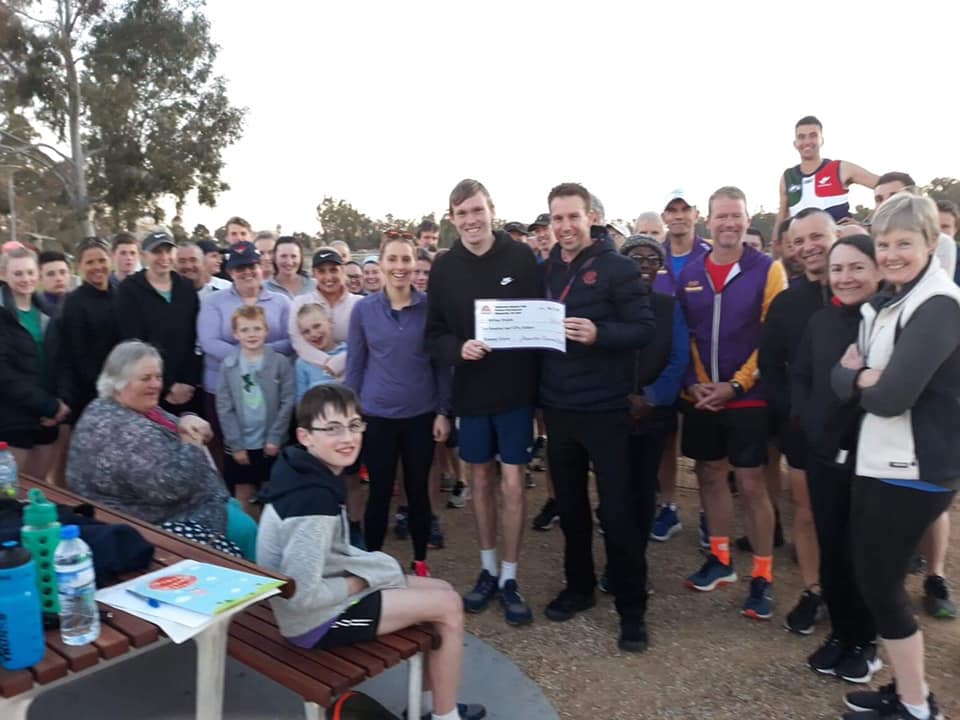 SRC says goodbye to Nathan.
Tonight we did our final Tuesday quality session with Nathan Stoate as he makes the move down to Geelong to take the next step in his running journey. We feel very fortunate to have had you as a member, as phenomenally talented as you are, you're also a wonderful young man and we will miss your presence at training and parkrun on Saturdays. From all your friends at SRC we wish you the very best with the next chapters in your journey. You'll always be welcome anytime at SRC, the purple and gold army will be following you every step of the way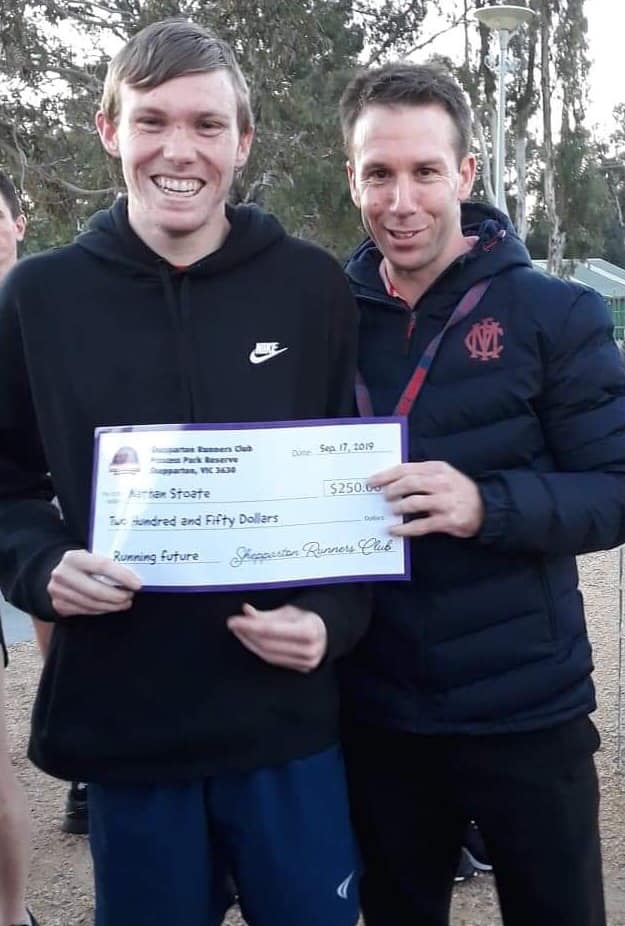 My 5 km finish line participants donate to GVCASA.
Today we are very humbled to receive a donation for $172. 65 from our beautiful running friends who created My 5km finish line run. Tara & Sam Daniels and the Crew from the Shepparton Runners Club ❤️ We are very fortunate to live in a great community that actively get behind and support activism on child sexual abuse. #voice4kidz actively raise awareness and funds for our local GVCASA to protect kids in our community. ❤️ Thank you 🙏🏻 🏃🏽‍♀️🏃🏽‍♀️
Kathy Fuller
Up coming races
Sunday October 20 249 Allan St Kyabram
The Curves Wellness Fun Run/Walk in Kyabram, Victoria on Sunday, 20 October 2019 is being held in support of the dialysis unit at Kyabram District Health Service.
2km, 6km & 10km More info here
Saturday Sept 21 – Harvest run – Yarra Valley Racing Club, Yarra Glen, VIC Website here
Saturday, 21 September 2019 Surf Coast Century Website here
Sunday, 6 October 2019 Sweat vs Steam Website here
Sunday, 13 October 2019 Great Strides: Bendigo – Website here
Sunday, 13 October. Melbourne Marathon festival. WATCH THIS SPACE for a special SRC report. It will be over 1 to 2 weeks just before Melb Marathon.
SRC September 4.9 km handicap
Today's net results from the handicap. Forgive the less than stellar excel skills! Well done again to everyone who participated, we hope to see you again soon.
Massive congratulations to team Armstrong who have put on another successful handicap. The handicapping was great for a field of 50+ runners of all abilities. The course was well marked. The food was cooked to perfection (thanks team Bachelor/Hallam). It was great to see so many stick around and chat.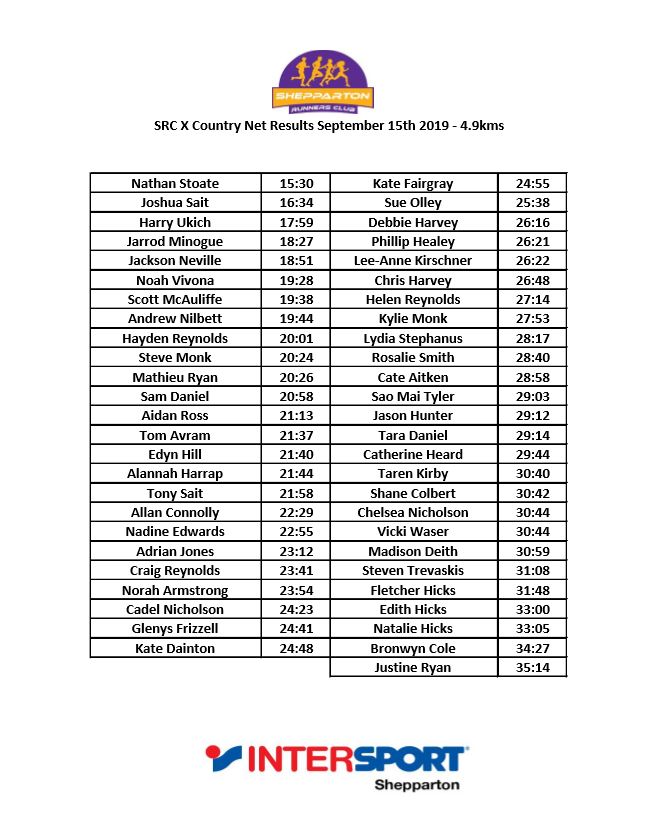 Interesting articles
New half marathon world record
Geoffrey Kamworor set a new half marathon world record at Copenhagen on Sunday, knocking 17 seconds off for a new record of 58 minutes, 1 second! Find out more at Runners World.
Doubling for mortals
The typical professional runner runs twice a day almost every day. The typical recreational runner never runs twice a day. Training Peaks takes a look why not, and how doubling up can help.
Mountain running workouts
Coach David Roche has a list of workouts for mountain running, and treadmill variants for people who can't easily get to the mountains but need to train for them.
The ultimate guide to foot and lower-leg pain
Outside Online has compiled a list of types of foot and lower leg pain, looking at what each is, why you get it and how to fix it. These include plantar fasciitis, achilles tendonitis, shin splints, blisters and black toenails, and more.
Soon, Now and Now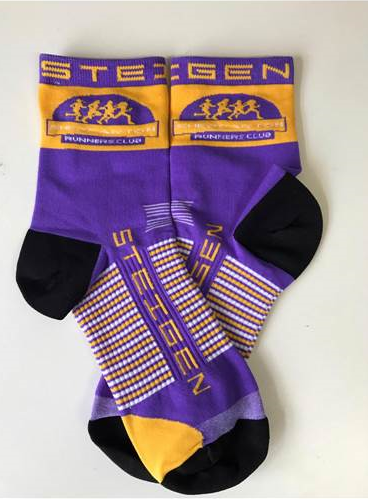 Now –
If you live in an area with snakes, please remember:
● When left alone, snakes present little or no danger to people.
● If you see a snake, keep calm and move yourself and anyone with you (including pets) away from the area.
● Do not attempt to capture or harm snakes. Instead call DELWP on 136 186 for further advice, or call a licensed snake catcher.
● Maintain lawns and clean up around your house, as snakes are attracted to shelter such as piles of rocks and timber, sheets of metal, and building materials.
● Undertake first aid training and ensure your first aid kit contains several compression bandages. If someone is bitten, call 000 immediately.
and now
Top ten tips to protect yourself against swooping birds
The Department of Environment, Land, Water and Planning offer 10 tips for dealing with swooping birds:
Know your local swooping hotspots
Avoid the area
Move quickly
Cover your head
Place fake eyes at the back of your head
Do not harass wildlife
Do not destroy nests
Do not feed swooping birds
Travel in a group
Notify others
Have a great running week.

https://sheppartonrunnersclub.com.au/wp-content/uploads/2017/06/SRC-Logo-300x221.png
0
0
admin
https://sheppartonrunnersclub.com.au/wp-content/uploads/2017/06/SRC-Logo-300x221.png
admin
2019-09-19 12:19:08
2019-09-19 12:19:10
SRC E-News Sept 20.