Club News
March Handicap – March 8, Athletics track, 8 am to 10 am. Three 1600 mtrs races.
Event will be created on Facebook shortly. For more information please see Chris Armstrong.
After the handicap we will head back to the clubrooms for a working bee in the garden. Hopefully we will get enough number to make this a fun and quick activity.
Julz Mulcahy
Within the next few weeks, Julz Mulcahy will be leaving the Goulburn Vally for Bendigo. We would all like to wish her well in her new adventure.
Shepparton Runners Club Facebook.
If you go over to the official closed SRC FB page, and click on the events tab, you will see a list of upcoming local races. Also, any races out of town that are of interest will be here as well.  HERE 
By the way, we have just clocked over 400 followers on this page. With 390 on the social page and over 150 newsletter subscribers. Well done us.
Numurkah Fun Run
Numurkah Fun Run – Sunday 18th March 2018
Run For The Kids
March 18
Runner Profile
Tom Avram
Not everyone will know Tom. Tom has been on the running scene and recently the triathlon scene for about 20 years. Tom has always been a very tidy runner before moving over to triathlons and now focusing a bit more on running with parkrun and the SRC sessions Chris has developed with in the club. One of Tom's most active years of late when he was in his late 40s he completed the following in 2013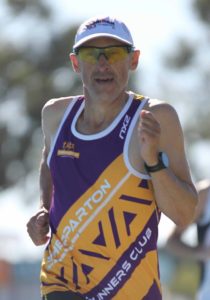 Ironman 70.3 – Shepparton 4:42:28
IRONMAN Western Australia 10:47:24
Shepparton Running Festival (HALF)  1:25:38
From 2014 – 17 Tom has run un 19 minutes every year at Parkrun.
Age 54
PB's
5km 17.40
10km 36.15
Half Marathon  81.15
Marathon  3.14
What are your best Triathlons that you have done?
Triathlons,
2013 Shepp 70.3 Ironman
time 4.41,  2nd in age category world championship qualifier.
2014 Melbourne Ironman
time 10.41,  (with limited training)
What inspired you to start running?
A healthier lifestyle change
How many years have you been running?
22 years
What does a typical training week look like for you?
Weekly training
20-25km run
50- 60km bike
500m-1km swim.
for now,
subject to change soon,
What are your running goals for the next 6 months?
knock some time off the parkrun pb
couple of half marathons, and possibly the Shepp Marathon
Have you had a breakthrough in your running, if so, what was it?
Train Hard, race easy.
(An Old Cliche)
Where is your most enjoyable place to run?
The Tan
Melbourne
If you could run in any event in the world, which event would it be?
New York Marathon
Who inspires you to run?
Every runner out there having a crack provides plenty of inspiration.
Runners to watch –
Chelsea Nicholson & Kate Dainton
Kate with only 74 parkruns over 3 years improves 1 -2 minutes every year. Kate has 18 PBs . Not to be outdone Chelsea has only 78 parkruns over 3 years and is smashing it year after year. Chelsea has 13 PBs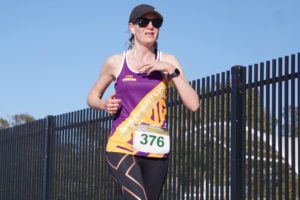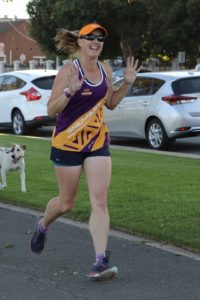 | | |
| --- | --- |
| Year (Kate) | Best time |
| 2015 | 27:34 |
| 2016 | 25:17 |
| 2017 | 23:22 |
| 2018 March | 22:22 |
| | |
| --- | --- |
| Year (Chelsea) | Best time |
| 2015 | 33:04 |
| 2016 | 32:41 |
| 2017 | 30:43 |
| 2018 March | 28:54 |
From Facebook
https://sheppartonrunnersclub.com.au/wp-content/uploads/2017/06/SRC-Logo-300x221.png
0
0
admin
https://sheppartonrunnersclub.com.au/wp-content/uploads/2017/06/SRC-Logo-300x221.png
admin
2018-03-15 11:19:56
2018-03-15 11:19:56
SRC E-News March 16