Club News
On Wednesday, March 7, Melanie and the committee discussed plans for the SRC 40-year celebration. Planning is in the real early stages. The committee is kicking around ideas on creating a pictorial book with interviews in it. We are also looking for a venue to hold a celebration.
We are also looking at a physical promotion the 40th year in the clubrooms, and also a promotion on social media.
If anyone has got any ideas, please contact Melanie.
Sunday training 
Mt Major

8 am start

Coffee afterwards

Those running for 2 hours, Sam, Tara, Steven

7:30 am leave car park near the library

All welcome
Runner Profile – Chris Armstrong
Name – Chris Armstrong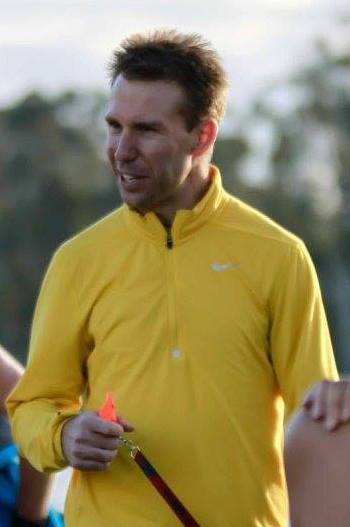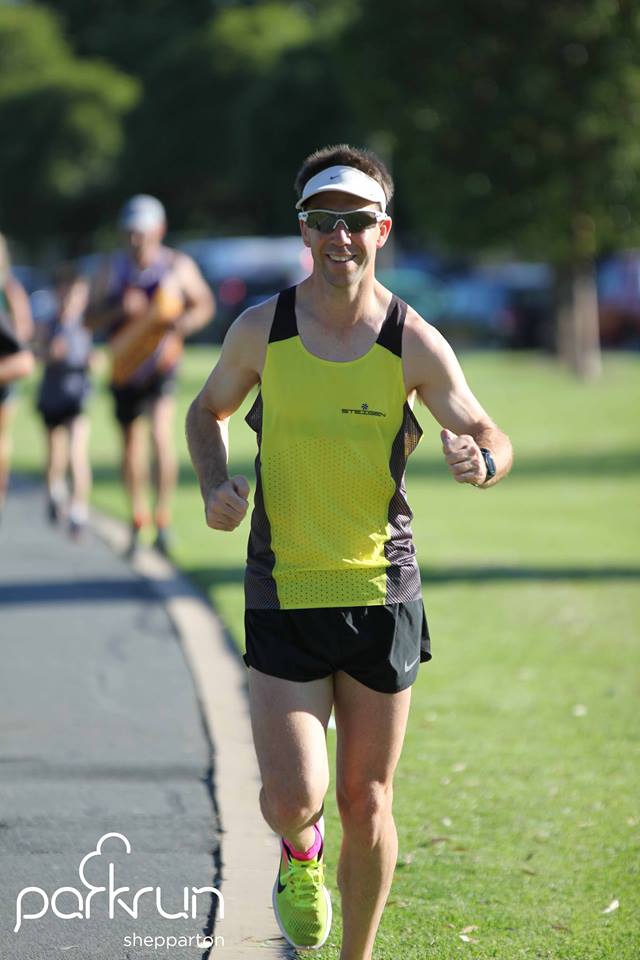 Age – 35
Current PBs – 5km – 16:33
10km – 35:46
15km – 54:47
Half Marathon – 1:16:45
Marathon – 2:48:54
What inspired you to start running? – I used to do cross country in primary school and really enjoyed it, running to my friends places on weekends was the fastest way to get there because i didn't have a bike.
How many years have you been running? – I played AFL and Cricket into my late 20s, but started to get serious about running again in 2010 – this is an excerpt from a blog i wrote about "exercise and mental health" in 2014 which will give you a bit more understanding
In 2010 one of my best friends who I played AFL (Aussie Rules Football) with in my local town Finley growing up committed suicide. I was devastated, sad and angry. I had fallen out of contact with Nathan as we had both moved away some 12 months earlier, but we kept in contact enough for me to know that he was sad and not his normal happy self. I didn't have the courage to say…. "Hey Nath, are you ok mate? Did you want to have a chat?" Nathan and I had made a pact that we would run a marathon together, we did all our summer running together for pre season, and felt this would be a great thing to do, something we could achieve together. We kept saying we would do it next year, and then next year and then….. he was gone.
I was devastated to lose a friend, I was sad that there would be no marathon, I was really angry at myself because I was complacent and thought…. "He'll be OK, Nath is always happy!" I'll never know if I could have made the difference, but shit I wished I tried. When Nathan passed I vowed that I would run a marathon that year and try to live life to the full, and not to take anything for granted.
blog link here if you want to read the full article – https://chrisruns4fun.wordpress.com/2014/07/28/exercise-mental-health/
What does a typical training week look like for you? – at the moment not much as i'm rehabbing injuries, but a "normal week" when things are going well looks a bit like this:
Monday – rest day
Tuesday – 50 minutes at heart rate – 135 bpm or below
Wednesday – Quality Session – 4km warm up, 7 x 1km reps at 10km effort, 1 minute recovery, 4km cool down
Thursday – 50 minutes at heart rate – 135bpm or below
Friday – rest day
Saturday – 5km warm up – 8 x 400m hard with 200m float recovery (during parkrun) 4km cool down
Sunday – 25km at heart rate – 135-140 bpm
What are your running goals for the next 6 months? – I just want to run pain free, i don't care how far or how long, i just want the pain gone from my hip, back and hamstring.
What is your biggest challenge and what do you do to manage that challenge? Getting out of bed at 4:45am on a Wednesday in the middle of winter to start prepping the body to go out and do a quality session before work. I set my gear out the night before, and i try and embrace the challenge. It's not easy, but nothing worthwhile ever is, plus i know Brady will be checking strava, so no hiding.
Have you had a breakthrough in your running, if so, what was it? – I think 2017 was huge for my confidence, I'd wanted to break 17:00 for 5k and 2:50 for a marathon for years and last year I finally did both.
Where is your most enjoyable place to run? – The Gold Coast in the middle of winter. You run for weeks on end at home in multiple layers in the dark and freezing cold and see virtually nobody. Then you get up there, it's shorts and t shirt weather, everyone is happy, at 6:30 the sun is up and people are exercising everywhere, i love it.
If you could run in any event in the world, which event would it be? – The Boston Marathon, I love the history behind the event, and two people i find inspiring also have a rich tradition at the Boston Marathon – Dick and Rick Hoyt – I'd love to get a photo with their statue at the start line and show as much determination as they do.
Who inspires you to run? – I run because I love it, it makes me happy and i love being able to help others achieve their goals. Seeing someone else smile and be proud of their own efforts is a powerful motivator and also serves a reminder of how rewarding running can be.
If i feel down or need a reminder I watch these two videos about Dick and Rick Hoyt, and if you have a spare 10 minutes I encourage you to do so.
https://www.youtube.com/watch?v=dDnrLv6z-mM – Rick and Dick Hoyt complete the Hawaiian Ironman – 3.9km swim, 180km cycle, 42.2km run
https://www.youtube.com/watch?v=xBXy1EH4nYc&t=23s – The Story of Rick and Dick Hoyt
What was the best advice you were ever given? – "Don't waste your time comparing yourself to others, put that energy into being the best version of yourself you can be and you'll never have any regrets", and "Tomorrow isn't promised, don't take today for granted"
Any funny or awkward moments running? – Just before the Gold Coast marathon one year, i entered the portaloo truck, sat down did what i had to do and tried to flush the toilet… it was blocked and steaming turds started flowing out the bottom of the toilet… i left the cubicle, there was a massive line and the next guy went to use it, i just looked him in the eye and said "it was like that when i went in" and he screamed, i was trying not to laugh out loud and got out of there as fast as i could.
Parkrun
Welcome to another edition of parkrun weekly news
https://www.parkrun.com.au/shepparton/?p=1075
Park Run Australia
On International Women's Day, we are putting the spotlight on our amazing volunteers.
Did you know? Women make up 58% of registered parkrunners in Australia 
💚
🏃‍♀️
Murray running festical – Albury
March 25
SRC MEMBERS GOING – Tara Callingham, Sam Daniel, Steven Trevaskis, Melanie McAuliffe, Kathy Fuller, Narelle Pell.
Gold Coast
We look forward to seeing everyone again this Saturday for event 213. Don't forget your barcode!
Did you miss out on entering before the Early Bird price increase?
Check this out….until midnight Sunday 11th March when entering any event at this years 7 News Gold Coast Running Festival you will save 10% off all entries (early bird price).
HOW QUICKLY DO YOU LOSE FITNESS WHEN YOU STOP RUNNING?
Written By: Scott Douglas
Tour-de-sponsor with Melanie
Can anyone do better than Melanie? This week she ran to and took a selfie at 5 of our sponsors. The sponsors she visited were Freers, McDonalds, Lakeside Podiatry, Sportsmans Warehouse, and Fix. Can you do better? Remember if it's not on Strava it did not happen.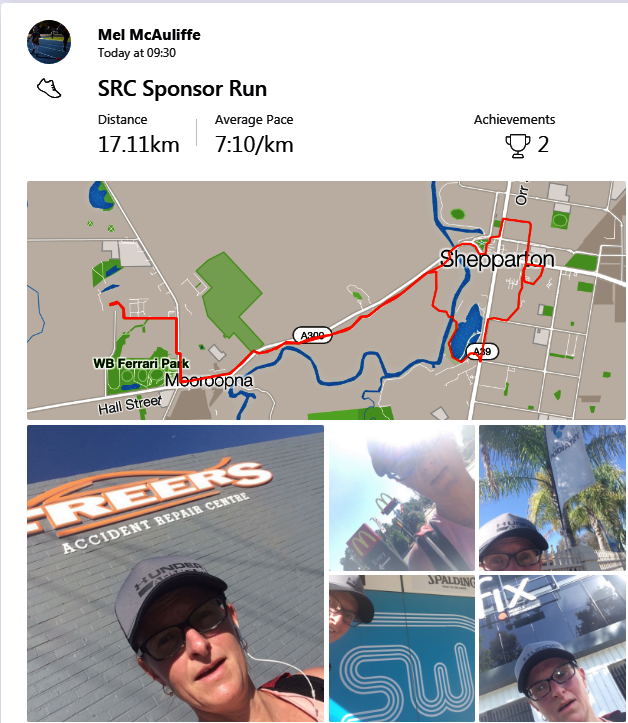 https://sheppartonrunnersclub.com.au/wp-content/uploads/2018/03/28829197_10216786303314400_1103452343_n.jpg
200
200
admin
https://sheppartonrunnersclub.com.au/wp-content/uploads/2017/06/SRC-Logo-300x221.png
admin
2018-03-08 11:07:33
2018-03-08 11:07:33
SRC E-NEWS Chris Armstrong runner profile and races