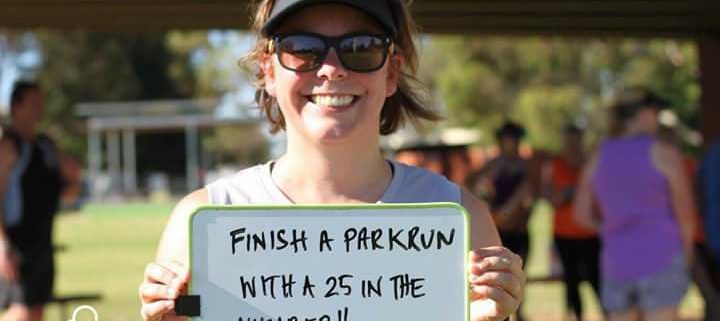 25 runners turned up to the January 5 km handicap. The results are as follows.
| Name | Finish time | Actual time |
| --- | --- | --- |
| Sao Tyler | 0:31:15 | 0:28:15 |
| Rosalie Smith | 0:32:45 | 0:31:45 |
| Louise Secombe | 0:32:49 | 0:26:49 |
| Cadel Nicholson | 0:32:59 | 0:22:59 |
| Kate Dainton | 0:33:31 | 0:24:01 |
| Mairead McDougall | 0:33:36 | 0:29:36 |
| Norah Armstrong | 0:33:45 | 0:27:45 |
| Sarah Clack | 0:33:45 | 0:26:45 |
| Mathieu Ryan | 0:34:12 | 0:22:12 |
| Chris Armstrong | 0:34:14 | - |
| Chelsea Nicholson | 0:34:22 | 0:32:22 |
| Tara Callingham | 0:34:22 | 0:28:22 |
| Jason Hunter | 0:34:27 | 0:23:57 |
| Lee-Anne Krischner | 0:34:34 | 0:25:34 |
| Allan Connolly | 0:34:41 | 0:21:11 |
| Robert Ryan | 0:34:47 | 0:23:47 |
| Melanie McAuliffe | 0:34:49 | 0:27:19 |
| Sue Olley | 0:34:50 | 0:24:20 |
| Tom Avram | 0:34:59 | 0:19:59 |
| Steve Hicks | 0:35:07 | 0:28:07 |
| Kaitlyn Scoble | 0:35:26 | 0:35:26 |
| Kasey Scoble | 0:35:26 | 0:35:26 |
| Lesley Ryan | 0:35:26 | 0:35:26 |
| Steve Travaskis | 0:38:08 | 0:32:08 |
| Dylan Scoble | 0:39:37 | 0:26:07 |
Congratulations to the winners of our raffle on Sunday.
1st prize of a 2018 family membership was won by Rosalie Smith
2nd prize of entry to the 2018 SRF was Mathieu Ryan
3rd prize mystery box was Louise Secomb.
40 years of the Shepparton Runners Club
In 2019 the Shepparton Runners Club will be celebrating its 40 year anniversary.In preparation for this event, we are looking at documenting the history of the club and its members.
We are after volunteers for the following:
Interviewing past/founding members
Scanning, researching and sorting photos, newspaper clippings and other printed past memorabilia
Helping update the website with the approved history etc
Workshopping ideas on how to celebrate (Presentation night?? Book?? 40 year merchandise??? – all just ideas)
Feedback – Have you done this sort of thig before and can offer feedback on timelines, what to do and not to do??
Do you have any contacts or recommendations in the media, print, merchandise etc etc field that we may not have utilised before??
If you are able help in anyway please email Melanie at melmason@live.com.au with your name, email and phone number and we will be in touch in the coming weeks.
Kind regards
Melanie McAuliffe
Wangaratta Marathon
http://www.wangarattamarathon.com.au/
When entering the Wangaratta Marathon and

funruns

please enter under the team name – Shepparton Runners Club. You do not have to be a member of SRC to be

on

our team. 
Tell Me Your Tales
By Brady Threlfall on Tim Oberg & Parkrun Australia
The man who started parkrun in Australia in April 2011. Then the second in Brisbane in September 2011. Australia now has 264 events and 5000,000 registrations.
Saturday January 13, 2018, Shepparton celabrates 4 years of parkrun thanks to Allan Connelly.
The latest ep of TMYT is now out with the CEO of parkrun Australia, Tim Oberg. Tim was super easy to talk to and I really enjoyed this one. https://itunes.apple.com/…/podcast/tell-me-yo…/id1116511977…
Allow 1 hr 11 mins to listen to Brady's podcast.
Shepparton Parkrun turns 4 y.o.
Come join in the celebrations of 4 years of Shepparton parkrun.
Our theme for the day is dress up as your favourite character or superhero .
If you know of someone that has been to parkrun in the past but hasn't been for a while invite them along. If you haven't been to parkrun for a while come along and help celebrate. Bring along your family and friends. If they are not registered https://www.parkrun.com.au/register/ and print out your barcode.
Let's get 300 parkrunners and make it a BIG day. Don' forget your barcode.
Mirinda Carfrae Running Technique:
Learn How to Run Faster
5 Mistakes runners make.
As runners, I think it's pretty much a testament when we say, we can get carried away. We try everything possible in order to hit that personal best, because it feels good. But, we may be making mistakes that we would have to pay the price for later on. Here are 5 common training mistakes runners make.
#1 Running Only At A Feel Good Pace
If you're running the same distance at the same pace every day, there will come a time where your performance will plateau. You need to push yourself once in awhile in order to see improvement. Diversify your workout – include tempo runs, hill repeats, fartlek workouts and speed intervals.
#2 Too Much Too Soon
More does not necessarily mean better. We can get a tad bit overexcited and increase our mileage too much, too soon. However, we need to remind ourselves that this increases the risk of injury. Our muscles may not be strong enough to sustain that kind of mileage just yet. The golden rule is to always increase your mileage by not more than 10 percent every week. Take it slow and increase your mileage gradually.
#3 Neglect Tapering
You shouldn't be doing too much in the final week of your race. Instead you should allow your muscles some rest and time to recover and become stronger. This is highly effective. If you're still doing hard workouts during the week of your race, you risk exhausting yourself and not running a good race.
#4 No Warm Up
Warming up is often neglected. The warmup is very important. It prepares our muscles for the hard workout ahead. Although it is very tempting to save time and skip the warmup, but in actual fact, you are putting yourself at risk of injury. You may easily pull something if you aren't warmed up and you'll be out for months. It's going to be a whole lot of time wasted instead of saving time!
#5 No Cross Training
We should always do some form of cross training to strengthen other muscles of our body. Constantly running puts a lot of stress on our knees! Do some strength training for instance – planks, squats, burpees and lunges. Or some aqua-running or even cycling! It is a good way to maintain cardiovascular fitness.
Tara Callingham
One year ago I got dragged to park run. I shuffled my way around the 5km course plotting the downfall of those that forced me there….today I reflect on this and am so proud of my journey! In the 12 months I've made friends, joined our local running club. Lost 8ish kg, had 10 pbs, dropped my time by over 6 minutes, fallen in love with trail running, I enjoy going to training (especially intervals… They are the best!!!) and have a number of awesome 2018 running goals including my first half, and most importantly, changed my life so much for the better! So…in short… Parkrun is awesome!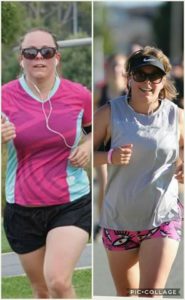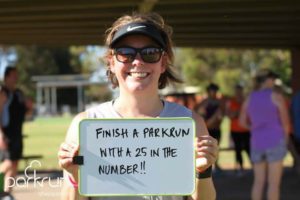 Runner Profile
Name: Tara Callingham 
Age: 36
Current PB's 5km 27:19 10km 63:00 
What inspired you to start running? I wasn't being very active and feeling it. I was also in a high stress period of life finishing off a Master's degree, running seemed a good alternative to chocolate and wine.
What does a typical training week look like for you? Tuesday's and Thursday's SRC, Wednesday's group personal/cross training. Saturday is parkrun day and Sundays something…for the next few months this will be a slow and longish run. 
What are your running goals for the next 6 months? To do a half marathon and manage a sub 60 -10km. I also want to do a lot more trails.
What is your biggest challenge and what do you do to manage that challenge? Getting out of bed for park run. Sam is an early riser and not very subtle about it, so I don't really get a choice!!!
Have you had a breakthrough in your running, if so, what was it? I worked out that going flat out for the first 2km isn't very helpful or enjoyable. Also joining the SRC made running a whole lot more enjoyable. I also discovered the whole runners high thing!
Where is your most enjoyable place to run? I love any trails. You can run the same trail every day for weeks and every time you do, it will be different!
If you could run in any event in the world, which event would it be? I have a little bit of a fascination with the Barkley Marathon (it just seems so unique and I like the quirkiness of it!)…or the Northern Traverse which is the coast to coast trail in northern England. I've always wanted to hike it but why hike it when you can run it?
Do you have any recommended resources to share? When in doubt ask Chris! Or google…
Who inspires you to run? Anyone who I see that has gotten up off the couch and gone out and is having a go.
What was the best advice you were ever given? I think it was an old Gymnastics Coach said to me "Smile. It will make the hard things easier"
Is there anything else you'd like to share: Twelve months ago I struggled to run 5km. Who knew I would end up catching the running bug!  
Kathy Fuller & Narelle Pell
A New Year, A New Goal and away we go!
Let's do it!
2018 Kathy Fuller & Narelle Pell have set the goal to complete 12 marathons in 12 months. In the quest to raise awareness and help prevent child sexual abuse.
Together with community support from GV Health, GV Health Foundation and GV CASA, working together in partnership to reduce the statistics of 1 in 3 girls and 1 in 6 boys sexually abused by the age of 18 years.
Our 2018 journey starts now 
👣
👣
Running the first marathon in Hobart on Sunday
🏃🏽‍♀️
🏃🏻‍♀️
We would love your support. All fundraising money will be going to GVCASA (centre against sexual assault).
You can donate to the account below:
BSB : 663 000
Account No : 143 139 863
Reference: Marathon18
AUSTRALIAN RECORD HOLDER AND DUAL OLYMPIAN TO RUN AT MURRAY RUNNING FESTIVAL
Australian 10,000m record holder Ben St Lawrence, who represented Australia in the 2012 and 2016 Olympics, will compete in the 12km race at the Murray Running Festival in March, event director Sean Greenhill announced today.
"Ben is one of Australia's all time great athletes and it's an honour for him to come to Albury Wodonga to compete," said Mr Greenhill, the Event Development Ranger at Parklands Albury Wodonga, the organisation for which the Festival is raising funds. "As this is an inaugural event, we greatly appreciate him coming to run."
The Murray Running Festival will be held on March 25, connecting both Albury and Wodonga in a series of races, from a full 42km marathon to a 6km fun run and 2km children's race.
Parklands Albury Wodonga has been organising the Riverina Trails series of bush running races for some years, but the Festival will be a larger event using only sealed, traffic free paths along the Murray River. Parklands maintains hundreds of kilometres of nature trails in the Riverina and performs extensive bushcare work, for which the Murray Running Festival has been set up to help fund.
Ben, 36, manages an athletics coaching business, Run Crew, and has represented Australia at two Olympic Games, two World Championships and two Commonwealth Games. No Australian has run ten kilometres faster than his time of 27 minutes and 24 seconds. Sponsored by The North Face, he ran his debut marathon in 2017.
If you want to run with Ben- or try any of the other races on offer on March 25- you can read up on and enter using the website www.murrayrunningfestival.com.au, or email Sean Greenhill at events@parklands-alburywodonga.org.au
https://sheppartonrunnersclub.com.au/wp-content/uploads/2018/01/26168847_10159818931360173_8039271326096910778_n.jpg
480
720
admin
https://sheppartonrunnersclub.com.au/wp-content/uploads/2017/06/SRC-Logo-300x221.png
admin
2018-01-11 11:16:52
2018-01-11 11:16:52
Shepparton Runners Club E-news, January 12