Shepparton Parkrun News
Here is this weeks news on our big 4th anniversary celebrations.
We look at the year of 2017, results, stats and milestones and everything that happened in Event #205
http://www.parkrun.com.au/shepparton/news/
Shepparton Runners Club training sessions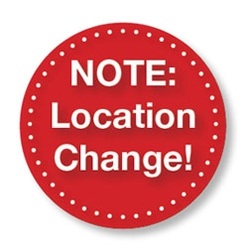 Tuesday, January 23 & 30
Training will be held at the Athletics track from 6 pm for an hour. A gold coin admittance fee by every runner is required to cover the cost. 
February handicap Sunday 4th 
The handicap will be held at the Athletics track starting at 9 am 
Fee TBA, with Chris working out the handicap over 1200 mtrs or 1600 mtrs
March 4
The Shepparton Runners Club will have an event at the athletics track as part of COGS precinct promotion. More information to come
Two bays
Provisional results 56k…
Majell 4:15:56
Ash Bennett 4:30
Kay Bretz 4:36
Lucy Bartholomew 4:33:58 (new record by 9 minutes)
Tash 4:49
Griffo 5:10
Lucy Bartholomew was 3rd overall across the line. I have only just found her on Facebook. If you want to follow someone who is a trail running champion and very positive and inspirational, check out Lucy on Facebook and also Instagram.
Report by Grant Hicks – My Two Bays 56km journey started right after completing my 3rd Two Bays 28km last year. I actually started to believe that I might be able to run over and back! Before that, I really hadn't considered the 56km a possibility for me and was in absolute awe of those brave boys and girls who did. Completing nearly 52km at Surfcoast Century further solidified that belief, and I started visualising myself doing the long run. Skip the boring bit about the hours of training and fast forward to race morning. I was quite confident I'd be under the 6 hours, but knew it would be a struggle after 45km. I had a good race plan, mainly just to be conservative over the first 28km and walk all of the steep side of Arthurs Seat, and stuck to it well. Taking a bit of extra time on the first leg obviously ment i would have something left in the tank for later on and also gave me a chance to soak up the magnificent trails/views and enjoy the comradery of the other runners. Running down the hill into Droman, about 2km with that stunning ocean right there, and ringing the bell at the turn was a real highlight. My body held up pretty well and I managed to fight off some niggly cramps in my left hammy. After finishing I felt great for about 10 minutes and then fell in a bit of a heap. We got down to the ocean and freshened up a bit. Nat was 10 minutes faster than last year and has pulled up well. Trev smashed it and is already asking about sign ups for next year. A bloody good/tough day of running!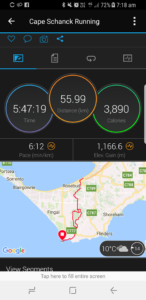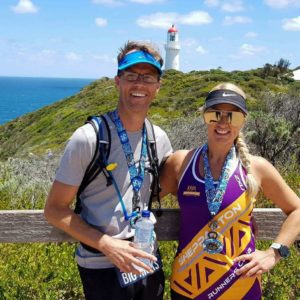 Two Bays report by Natalie Hicks
Two Bays Take 2 for me at the 28km distance. I had a crack at this one for the first time last year and loved the run but was a bit disappointed with my time which was about 3 hours 32 even though I'd never run hills like that before. So when deciding to enter again for the 2018 Two Bays I tackled the training a bit differently. I stuck to the same training program and had interval sessions, pace ones, tempo runs, hill sessions and a long run each week. But this year my long training runs included between 10-15km of hills in it. Surely I was going to be better prepared for those hills. I was feeling really strong and ready 2 weeks before the run when I'd started to taper but had been feeling ill in the week leading up and was really worried about being able to start the run let alone complete it. I just didnt want to let that training go to waste so Grant gave me a kick up the butt and told to at least try and I could pull the pin if needed.
10 km in and a lot of the hard hills and climb up Arthurs Seat had been done and I was feeling strong. By 11km I was struggling mentally thinking of the next 17km and it was too much. I wanted to quit.
I resorted back to my training at the tip and my 1km hill loops. I usually do 5 laps before changing up my route so I broke the run down that way. I imagined myself doing the 1km loops and just got 5 done. Did it again and by then I really only had a 5km "cool down" lap to go. The training saved me!
Big chugg of water from my pack and headed off for last 6km of Two Bays. Seeing the ocean spurred me on. Some terrible stairs in there as a nice surprise with 4km to go. There was a sign at the start of the stairs naming them the 'Stairs of Spontaneous Poetry'. After a short giggle of understanding I started to add my own poetry of expletives to everyone elses. Those stairs are just nasty.
I FINISHED.  Such a wonderful feeling of relief and with a better time than last year about 9 minutes quicker.
A few deep breaths when I finished and a bit emotional. Caught up with Trevor Dainton and got to hear about his wonderful run while we waited for Grant to finish the 56km. What a champion.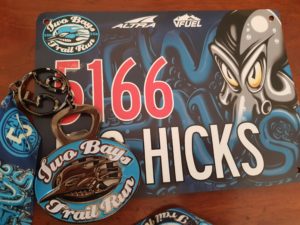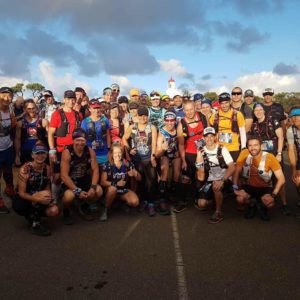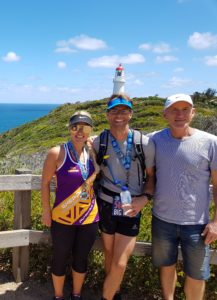 Q & A with Justin Scholz on Two Bays.
I approached two bays this year with a bit of nervousness as I'm far from recovered from C2K (2nd week in December) and from glute / hammy / ITB injuries which have plagued me through most of 2017.  I only intended to run gently to try and keep the pain and suffering to a minimum.  At 56km I regard two bays as a "sprint" ultra, and I don't mean to be flippant, but when you've completed events of 100km or longer on 30 occasions, 56km really does seem short for a race.  My PB from five times at two bays is something around 4:50 and I knew that in my current state a "full" effort would reap rewards no better than somewhere in the 5:10 – 5:20 range.  But pushing to that level would undoubtedly lead to a level of suffering during the event and in recover that I wasn't mentally prepared to bear.  So why do it at all?  Well, my sister lives on Cape Schanck Rd about 2.5km from the start, so it's a really good way for us to catch up with family for a few days each year.  And I like the medal.  😊  Anyway, I trotted out at a very sedentary pace and hit the Dromana turn point at 5:58 pace average.  I felt OK and decided to see if I could keep the pace under 6:00 average for the event.  This blew out early in the second half with the big climb up Arthurs Seat and so I pushed a bit harder from there to try and bring it back.  I managed that too effectively and saw 5:59 average with more than 10km to go.  I'd also been consistently passing people and that always feels nice, so I kept a fair bit of the pace on and actually enjoyed the higher cardio effort and tempo as I haven't had any of that even in training in recent months.
What was your over all time. ?
5:30:10
What was your time first half and second half.?
2:48:05 first 28km, 2:42:05 second 28km
What was your pace min/km?
5:53 per km average.
How many have you done?
6 entries, with two bays in 2008 being my first ever ultra attempt.  I pulled out at 28km with a sore knee in a time of 3:16.  This was back when it started and finished at Dromana and I think there were less than 30 starters.  Since then I've completed the 56km journey each time I've started with varying levels of commitment and success.
What's your fastest time?
4:50:40 (12th) in 2015.  Just 2 minutes off a negative split that year too.
On average how many km have you training per week in the last month?
Only about 30km or 40km as I did the 240km Coast to Kosciuszko at the start of that period and hence have been in recovery mode.  In 2017 I averaged 120km per week by foot – i.e. running and racewalking.  I always like to get to 100km minimum if it makes sense to do so.
Hobart Cadbury marathon – Kathy Fuller & Narelle Pell
What a great way to start 2018, with the Cadbury Marathon in Hobart.  This was our kick off marathon for Narelle and my "12in12 Challenge" to continue to raise awareness to prevent sexual assault on children.
We meet at 5:00am to catch the bus to transport us out to the start line at the Cadbury Factory –  approx. 20 min drive away from the heart of Hobart. The early morning queue for the bus was congested with many excited and nervous runners.
We had perfect weather conditions for the run with a fresh 10 degrees at the start with slight breeze and clear skies.  It was a small field with only 283 marathon runners lining up for the 6.00am start.
The course was scenic but lumpy with a nasty steep incline on the last km back up to the Cadbury Factory.   Not sure Narelle has forgiven me after telling her it was generally flat except the end and the climb onto the Bowen Bridge which we had to do twice – oops!
We didn't have a lot of preparation time leading into this marathon as we had only locked in our 12in 12 challenge in late November.  Narelle went in with a calf strain that became problematic for her during the run but as always she dug deep and finished strong.  However, her calf did blow up the next morning and the bruising is now starting to come out.   We have six weeks to the next run in Wangaratta so will need this time to rest and get ourselves ready to go again for #2.
We are looking forward to the Wangaratta Marathon as we will no doubt have a few local faces participating as well – we are just keeping our fingers crossed that the weather is kind and stays cool!
See the bottom of the page to for the tane of marathons for Kathy and Narelle
Runner Profile – I have been caught out by Lisa Cathrina from Wangartta Runners. The questions for the runner profile last Friday and this Friday were copied from them. 🙁 They do get changed from time to time. But not this week. Well spotted Lisa and thanks for reading.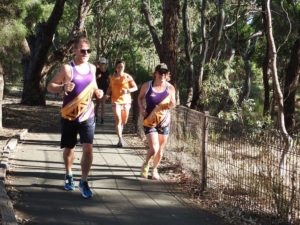 So here it is again Runner Profile – Sam Daniel
Name: Sam Daniel
Age: 43
Current PB's: 5km 22.11 10km 48:30 21km TBD
What inspired you to start running? Getting fit.
What does a typical training week look like for you? SRC Intervals on Tuesday's and SRC slow run on Thursday's. An hour on the bike on Wednesday's. Park run Saturday and attempting to fit long runs in on a Sunday.
What are your running goals for the next 6 months? To finish a road and a trail half. Also to do more trails
What is your biggest challenge and what do you do to manage that challenge?Preventing and dealing with a knee injury.
Have you had a breakthrough in your running, if so, what was it? Understanding the long slow runs and the importance of a rest day.
Where is your most enjoyable place to run? The lake.
If you could run in any event in the world, which event would it be? The Great Wall Marathon.
Do you have any recommended resources to share? Chris Armstrong.
Who inspires you to run? Chris Nicholson, Steven Trevaskis and Chris Armstrong. 
What was the best advice you were ever given? Run the flats walk the hills (Grant Hicks)
Is there anything else you'd like to share? Trail running is awesome!
CALENDAR OF EVENTS
Please check details before travelling.
January 7 – SRC Handicap Princess Park
February 4 – SRC  Handicap, Princess Park
February 25 – Wangaratta Marathon Website
March 3 – Mad Cow Mud Run Website
March 4 –  Session at the Athletics track (more info to come)
March 19 – Numurkah Fun Run Links
March 25 –  NEW Murray River Running Festival Albury Website
May  6 – Bright Fun Run
August 26 – Shepparton Running Festival (more info to come)
Bright Parkrun Launch.
We can not wait to bring parkrun to Bright! Launching January 27th 2018. FREE, Weekly, Timed 5km run or walk, everyone is welcome. Here is a sneak peek of our course and beautiful location.
You may need to download Relive to see this video
https://www.relive.cc/view/1316545762
Following Kathy and Narells progress here
or
You can follow our journey over the 12 marathons on our FB Page – Imagine, Believe Achieve  https://www.facebook.com/Imagine-Believe-Achieve-939749999451295/
| Date | Marathon | Kathy Fuller's time | Narelle Pell's time |
| --- | --- | --- | --- |
| January 14 | Hobart | 3:59:21 | 4:06:11 |
| February 25 | Wangaratta | 4:01:07 | 4:09:36 |
| March 25 | Albury | 4:08:28 | 4:12:30 |
| April 22 | Okeefe trail Bendigo to Heathcote | 4:15:37 | 4:20:58 |
| May 27 | Adelaide | 3:58:26 | 4:00:46 |
| June 4 | Traralgon | 3:58:15 | 4:05:10 |
| July 1 | Gold Coast | 4:18:39 | 4:08:42 |
| August 26 | Shepparton | 3:55:43 | 4:0054 |
| September 16 | Sydney | 3:55:08 | 3:55:07 |
| October 16 | Melbourne | | |
| November 18 | Queenstown NZ | | |
| December | TBC | | |
IN THE NEWS – 
Jess Trengove tells The Australian's Nicole Jeffery what will spur her on during the Gold Coast 2018 marathon.
When times get tough during a marathon, Jess Trengove summons the spirit of the last woman to win a Commonwealth Games marathon gold medal on Australian soil, Kerryn McCann.
More http://www.theaustralian.com.au/sport/olympics/kerryn-mccanns-triumph-spurs-on-young-marathoner/news-story/6095bf54c0bf6de8d3d53dbdc902d8ee
Expressions of Pye – blog by Sarah Pye, QLD triathlete and former SRC member.
https://expressionofpye.wordpress.com/
https://sheppartonrunnersclub.com.au/wp-content/uploads/2018/01/20180114_143803.jpg
3024
2185
admin
https://sheppartonrunnersclub.com.au/wp-content/uploads/2017/06/SRC-Logo-300x221.png
admin
2018-01-18 11:46:39
2018-01-18 11:46:39
Shepparton Runners Club E-news January 19