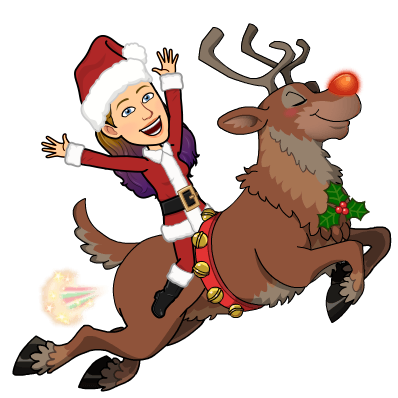 And in the blink of an eye we are at the end of the year…. In some respect that was quick, but then in other ways, wow….what a long year. With the reduction in events to keep our interests it might have felt like this year was an eternity, but here's hoping that we get a few runs on the board over the next few months.
Please remember that if you have something you would like in the newsletter please send me a message on cknicholson75@live.com or inbox me on facebook and we can see what we can do about getting something in print for you.
This is the last edition of the SRC Newsletter for 2020. We hope that you have a very Merry Christmas and a safe and Happy New Year.
Keep Running 😉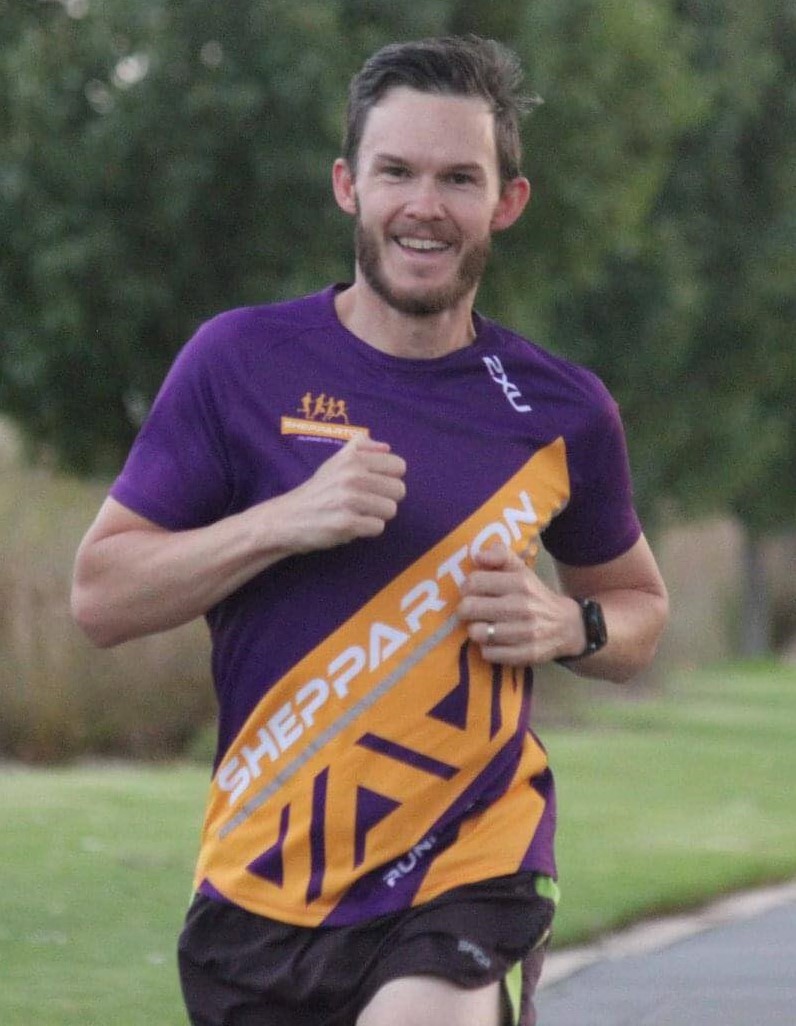 And just like that we are at the end of the year. We have had a last committee meeting on Monday, where we wrapped up for the year. To finish on a positive note, after a very difficult year was a blessing. 
We have now confirmed that all of the 2020 sponsors have come back on board. A massive thank you to McDonalds, Willprint, Dataparts, Freer's and Intersport. We would  also like to welcome back our supporters who offer their services to our members at a discount. FixMP, Lakeside Podiatry both offer 10% off consultations, and Intersport offer 10% off merchandise. It is great to support our sponsors, who support us. I encourage our members to support our local businesses. 
With the success of the bunnings BBQ, we are looking at purchasing a new timing clock. Our current clock has been with the club for a very long time, and we are grateful that it has lasted this long. But now it has one side no longer working and we are not sure how much time it has left. The new clock should be significantly lighter and easer for members to transport. We are also looking at fixing the water filtration in the water cooler, to avoid using bottled water as this is not very sustainable for the environment.  
We originally looked at an event for the end of the year, however this had snuck up on us. We will look an event early in the New year to celebrate the New Year and New Motivations. It was great to see many members at the Michigan on Sunday and was even better to see everyone stay around and enjoy the company… and a sausage in bread. 
Our 2021 membership is now open. You can register via https://sheppartonrunnersclub.com.au/join-us/. We have had a small increase to our family memberships from $180 to $200. Family memberships will cover five people from one household. Our members will enjoy the benefits from our supporters as mentioned above, as well as free entry to our handicap sessions which run monthly over various distances with prizes donated from Intersport Shepparton, and also catered for. Members also get coaching session every Tuesday and Thursday ran by Coach Chris. Tuesday being focused on speed and strength, and Thursday being recovery.  
The committee would like to thank all our members who have donated their time during 2020 and expertise this year to help the club run. Also, to Coach Chris, for his knowledge and leadership in with the training sessions, and keeping everyone motivated during lockdown, and the handicaps at the start of the year.  
I would like to wish all of our members a merry Christmas and a happy new year. We have survived 2020 and are looking forward to running normal (even if it is COVID normal) in 2021. Stay safe and keep running. 
Mathieu Ryan
SRC Committee President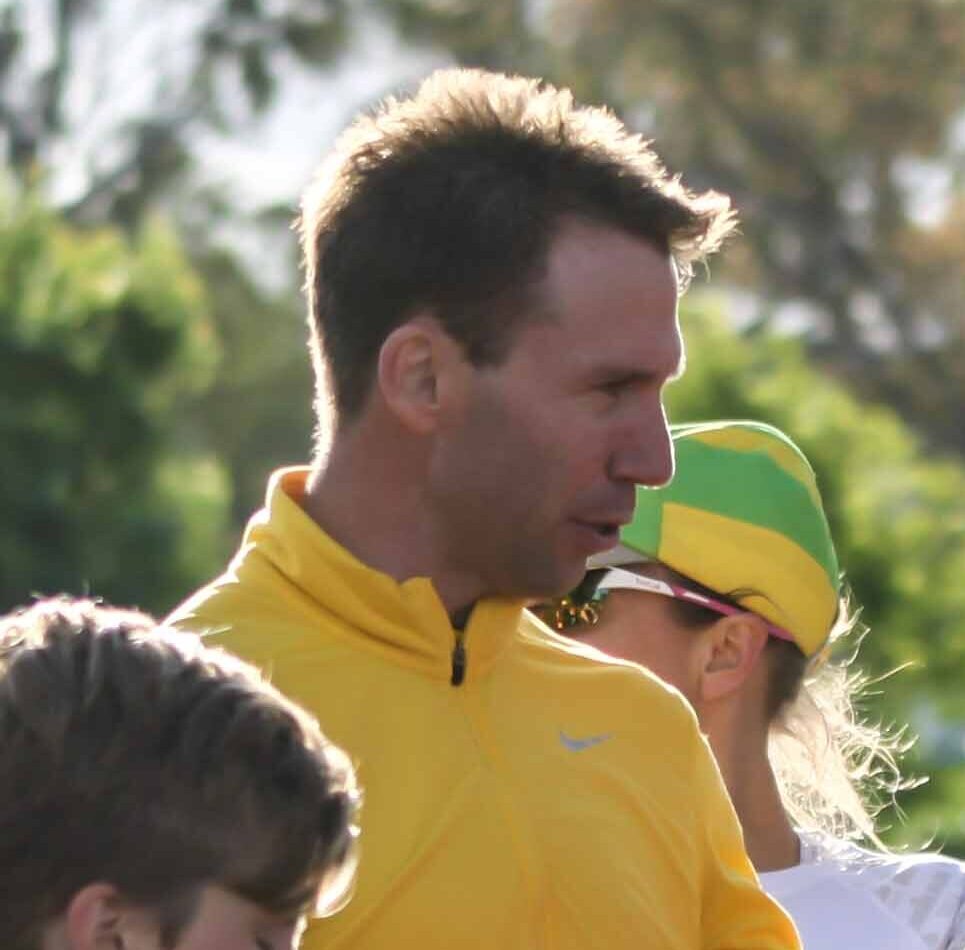 Hello Team….
I just wanted to take this opportunity to say thank you to our members and committee for making the return to training and our annual Pre Christmas Michigan event so successful. The enthusiasm, encouragement and spirit you have continue to make SRC a fantastic place to be.
We have some exciting times coming up in 2021 with a return to club handicaps, different training sessions as well as a few surprises that are currently being worked on. I look forward to helping you chase your goals and providing the support you need and want for your running
Chris A
On the 20 December around 40 eager participants (and several spectators and volunteers) lined up at the Princess Park Oval for the annual Michigan Run. This event has been run within the club for the last 2 years and is growing in popularity with every running.
This was the first event we have been able to run since March and there was a little excitement in the air as people caught up with each other for the first time in months.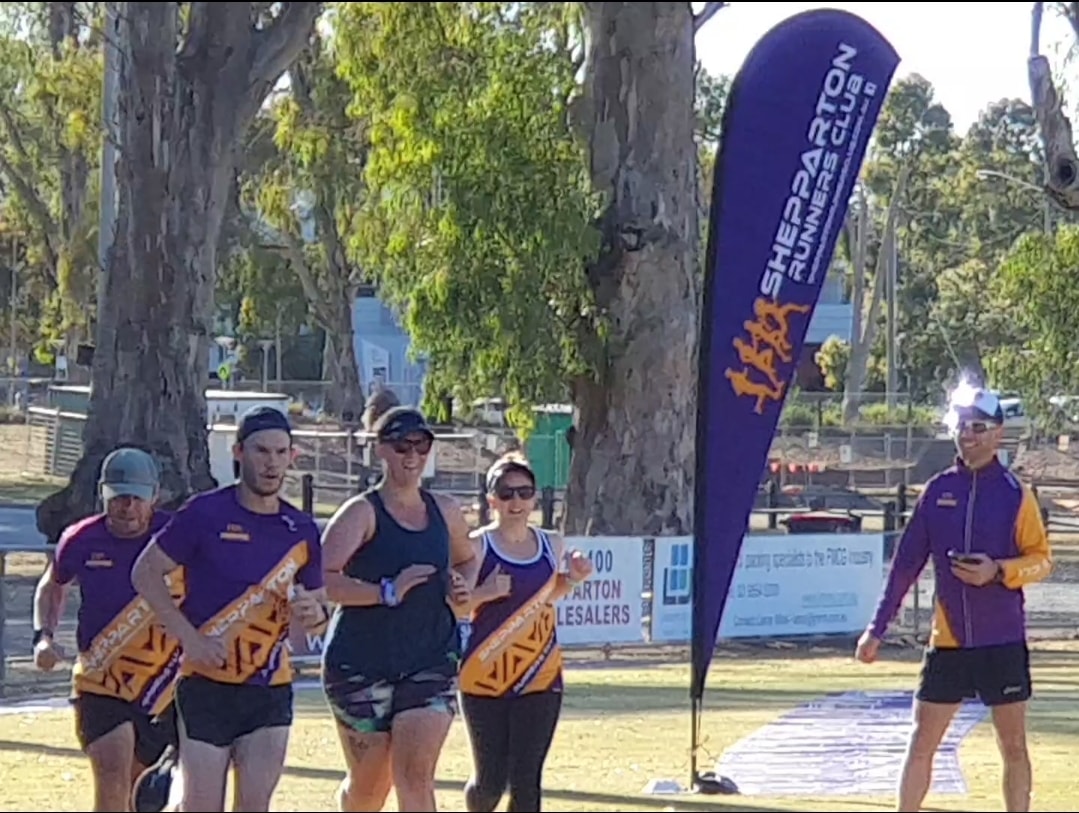 For those that don't know what the Michigan is, it is essentially a 10km interval run that includes the following:
* 1600m at 10k effort
* 2km float/jog/walk recovery
* 1200m at 5k effort
* 2km float/jog/walk recovery
* 800m at 3k effort
* 2km float/jog/walk recovery
* 400m strong to finish
In all most people had an enjoyable day and some even smashed out 10km PBs, while others enjoyed the run with friends and enjoyed the scenery.
Probably the most entertaining part of the whole run is the finish line and the traditions "No Reps Left" poses many make after completing the event. (see photos below)
Thank you to all who were involved in organising the event, especially Coach Chris Armstrong, and everyone who helped set up, pack up and cook the awesome breakfast BBQ.
What a fabulous effort by all!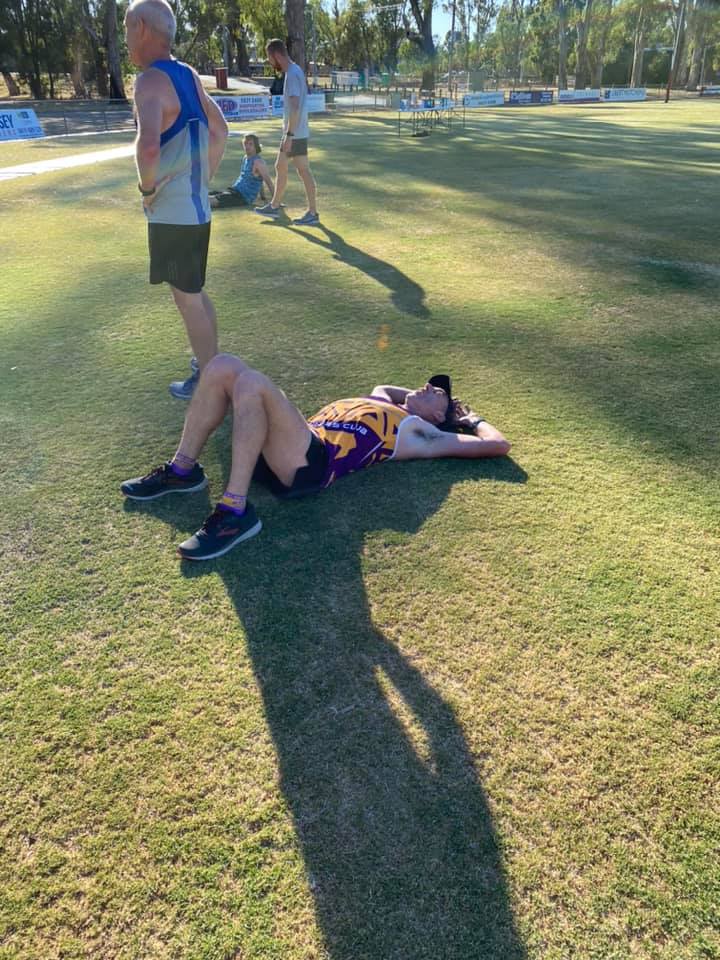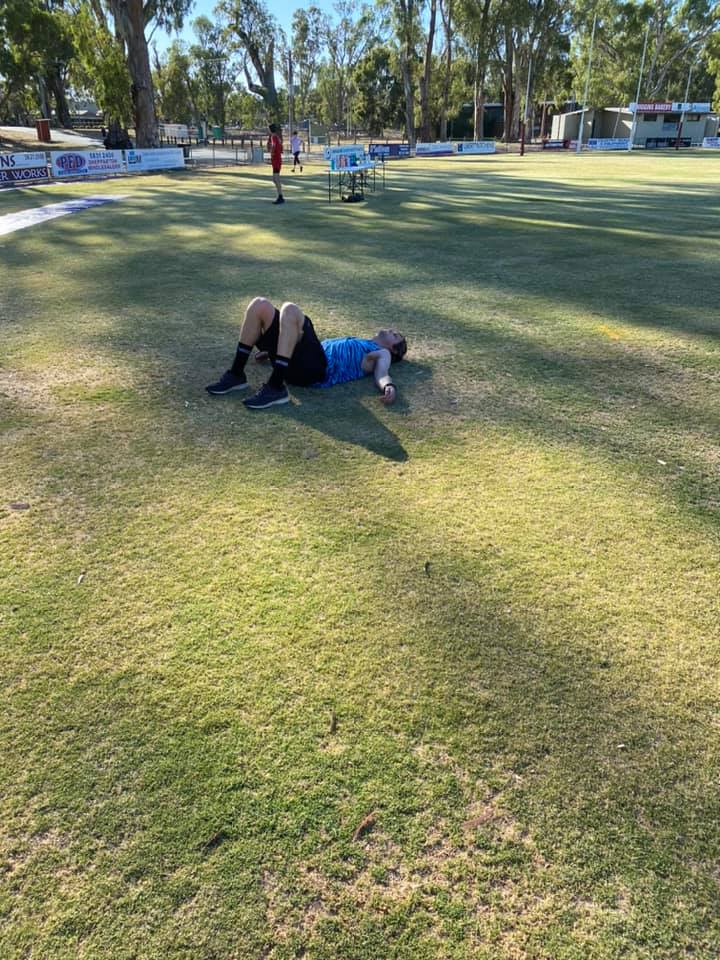 Surf Coast Adventures Part II
Surf Coast Century 2020
One of my most vivid memories of Surf Coast Century 2020 is standing at the start line with James Bodycoat and Cameron Wood, 30 minutes before go time, and the surreal feeling that we all shared. The feeling that this was now very real, but we still couldn't quite believe it. We discussed how enjoyable the journey had been and that the uncertainty around the event going ahead (or not) hadn't deterred us from hitting some other major goals in training .
The night before, the team around me was abuzz with excitement as I tried to "Keep a lid on it". I knew I would need all of that energy for a long day of running, but I was quietly jumping out of my skin! I knew that team was going to be vital throughout the day too and their support was invaluable. I'd done everything in training that i initially planned and was really comfortable with my plans around eating, drinking, running and walking throughout the day. I still wasn't sure how my body would respond once I got past that 60km point, but the plan was to get there (60km) in reasonable shape and find out.
The run: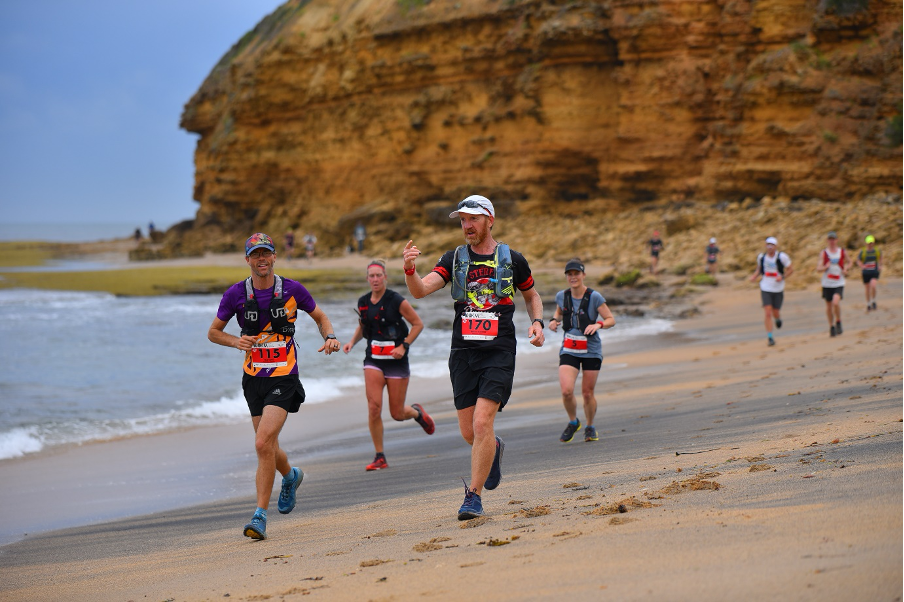 Leg 1: Anglesea to Torquay had been changed and the usual run along the base of the cliffs was diverted to the trails above. A couple of cliff faces had collapsed two weeks before and the area was still unstable. We made it back to the beach just before the 10km mark at Point Addis and ran along the beach to Torquay. Things got very wet and slippery in the rockpools as we neared the checkpoint, but I had dry socks and shoes waiting for me there. This was my first check in with my support team too. Their words of encouragement and "Hoots and Hollars" really spurred me on. Nat without fail askes the question "How are you feeling?" I always answer "Yeah, good", but she knows me well enough to see through my words to how I'm actually feeling. But that was the truth at this point.
Leg 2: Torquay back to Anglesea through the bush. I was still feeling fresh and now had dry feet and bouncy shoes on. Felt like a million bucks actually! I formed an alliance with some VUR boys and we chatted about all things running, family, Covid and work for 28km of magnificent coastal bushland. My target time for this leg was 3 hours and I started to feel the pinch a bit half way through the leg. I was under hydrating and the humidity was much more sapping than what I'd experienced during training. As I was running I was already changing my planned water consumption, but that would have to wait until the 50km check point as I ran out of water after about 23 km of the 28km leg. Not ideal, and the first mental battle of the day. Being out of water is always quite stressful, even with a relatively short distance until the check point.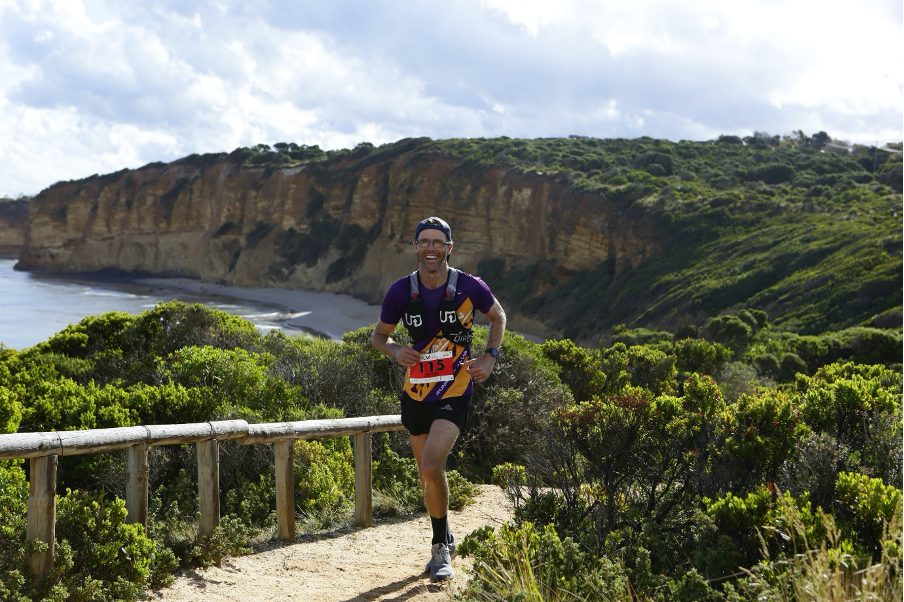 My first lie of the day… With 3km to the checkpoint I passed the support team at the Shack. "How are you feeling?" Nat Said. "Yeah, good" I replied… If I was being truthful, like Nat would have been with me, I should have said "Nah, shithouse". Seeing Nat, Matt and Tara did perk me up a bit, but a s I entered the half way check point, I was struggling. Even the effervescent and incredibly positive Rosemary Webb couldn't put a smile on my face. That's never happened before! This would be my longest stop for the day. Roughly 7 minutes. The plan was to eat a reasonably substantial meal that would set me up (energy wise) for the rest of the run. I drank about 500ml of SIS, that was great, but I just couldn't eat! More stress! I can pinpoint those 7 or so minutes as easily the worst of the nearly 12 hour run.
Leg 3: Anglesea to Moggs Creek Picnic Area. Righto. Nut up or shut up time! Tara Daniel. Rosemary Webb. Natalie Hicks. I was channelling their positivity as I walked out of the checkpoint. I didn't feel like running. I knew that there were three very large hills in this leg and they would eat me alive if I
didn't change my attitude. And I had a secret weapon! Don't tell anyone, but in this leg I walked A LOT! I had worked hard in training to become a powerful walker and the plan all along was to walk uphill, then run the flat and downhill. The mindshift came at the very first hill. I walked up that big beast and started to feel really capable again. I also started drinking nearly twice as much water as what I had for the first 50km and smashed a gel at the top of each hill to celebrate.
This leg felt quite solitary compared to the first two legs. Not only were entries fewer in this Covid year, but by now the field was spread across the course and I went for kms at a time without seeing anyone. The pink tape was my guide. This is where my experience on the course became really valuable. If I was a first timer I would have second guessed myself, but I was confident that I knew where to go. Being able to freely run/walk with virtually no congestion on the course turned out to be a huge advantage too and I enjoy running by myself.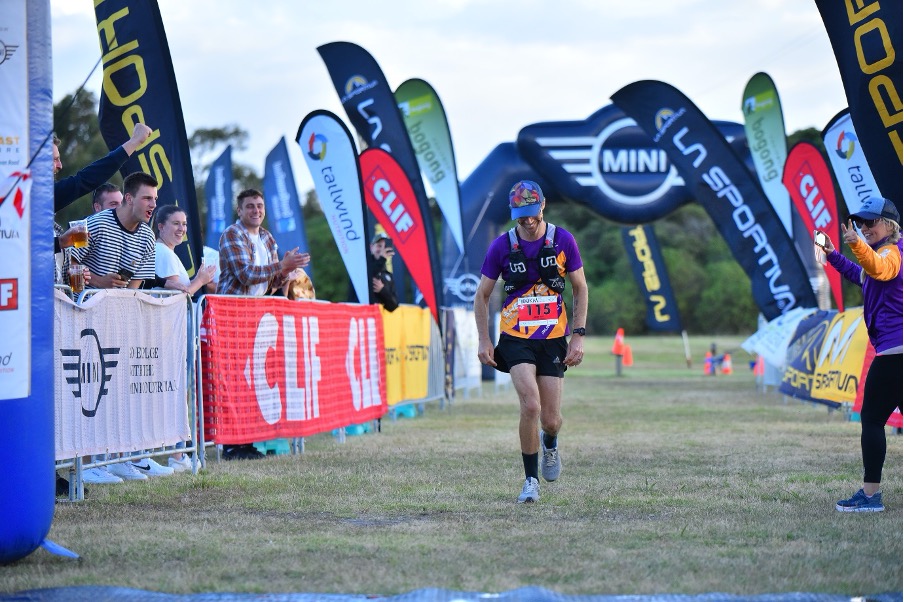 Leg 4: Moggs Creek Picnic Area to Anglesea/finish line! I met Nat, Matt and Tara at Moggs Creek and I was tired, but relaxed and positive. I was also really happy to have those BIG hills behind me. I stopped and chatted with the team for a few minutes and ate some delicious chicken chips! I grabbed a banana and a couple of gels to eat later on and hit the trail. Then it rained. The most beautiful rain. Enough to freshen me up, but not enough to make the course slippery. Perfect! And as I descended out of the hills into Aireys Inlet, a stunning rainbow encircled the lighthouse! The team greeted me at the foot of the lighthouse hill. Kate and Sam had now joined them after their own epic 50km run. Bloody legends! "How are you feeling?" "Yeah, good".
86km down and one last mental battle to overcome. Urquhart's Bluff. The bush had sheltered me from some pretty serious and blustery winds. But I knew that once I hit the beach again, I'd cop the full brunt of it. I also had memories of the last time I ran along there, toward the end of a 50km run, and thinking that this beach would never end! Nat bobbed up again just as I set foot on the sand. Hot chicks on the beach always make me run a little fast. You know, puff the chest out, don't show them you're tired. All that bravado. And that fierce and gusty wind was at my back, pushing me along the beach! Not quite an armchair ride home, but a million times better than toiling against it!
By this time I had calculated that I could afford to walk a few km and still be well under that magical 12 hour mark. So I did. And loved it! The part of the course that I had dreaded the most ended up being the most enjoyable, and it was all set up by covering that initial 50km in 5 hours. When I was struggling I'd remind myself "Everything is going to plan. Keep moving!" That's the thing about that run that I couldn't quite believe. It all went to plan, even if the plan did change a few times during the run, and I didn't eat all of my food. The major things went right on the day.
Coming down off that last clifftop into Anglesea was so satisfying. Across the piece of sand that we had started on that morning, and through the last bit of bushy trail to the finish line! Well.. What I thought was the finish line. I pulled up under the first arch and saluted the small crowd. Little did I know that the second archway was the official finish line! You might see in some of my finish line pics that I'm laughing. That's not me filled with the joy of crossing the line. It's me thinking "what a dickhead". But that was a moment to savour, for sure. To cross that line and accept my medal and big stein, and the biggest hug from Nat was the most fantastic climax to my 2020 running journey.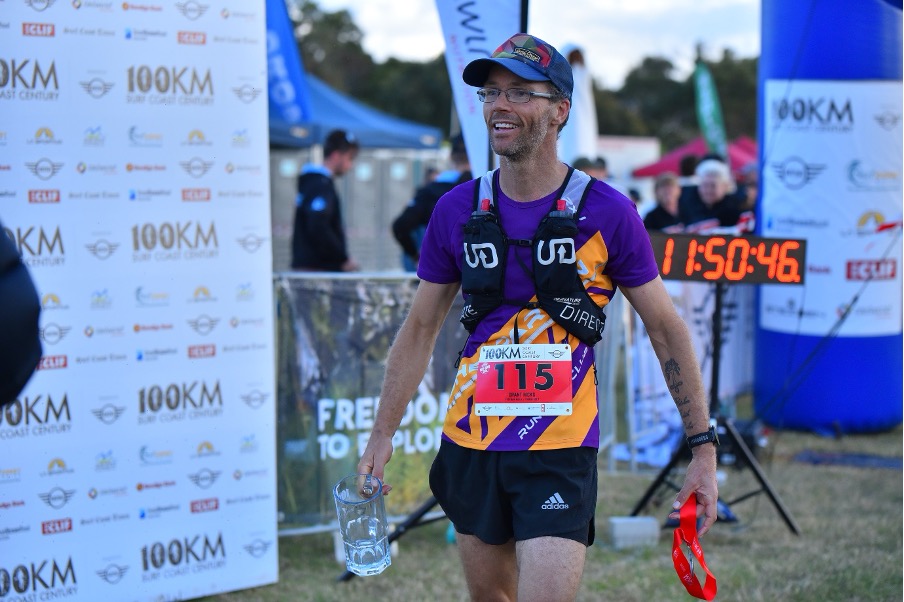 Post run was pretty special too! I sat at the finish line with that big stein full of the local brew, a Sweet Tate pizza from the Captain of Aireys and the banter of my support team fussing over me. How could it get any better than this? And then it did! Lucy Bartholomew, one of my running idols, just wanders over to have a chat with me! We chatted for the best part of ten minutes about the run and the course and how she was running in a team the next day. Amazing!
~Hicksy
Runner Profile
Natalie Hicks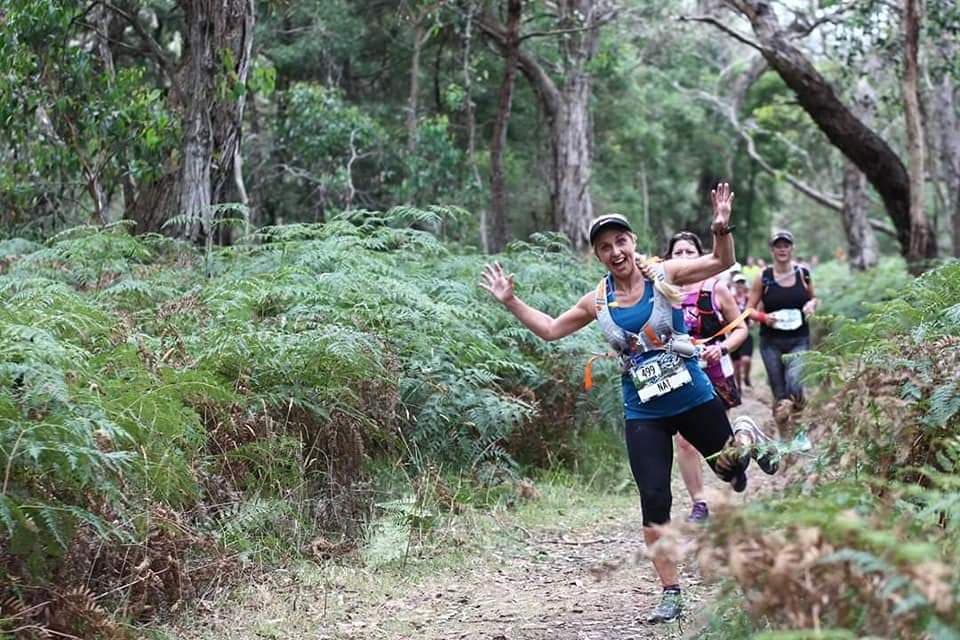 Age 41
PBs
5km 22:05
10km 48:50
21km 1:52:07
42km 4:42:30
How long have you been running and with the SRC?
I dabbled with running on a treadmill while playing netball and wasn't a fan. It wasn't until I was finishing up with netball that I decided to try running and found I enjoyed the challenge of running outside. Grant encouraged me to try Parkrun and train for a 10km fun run and I was hooked.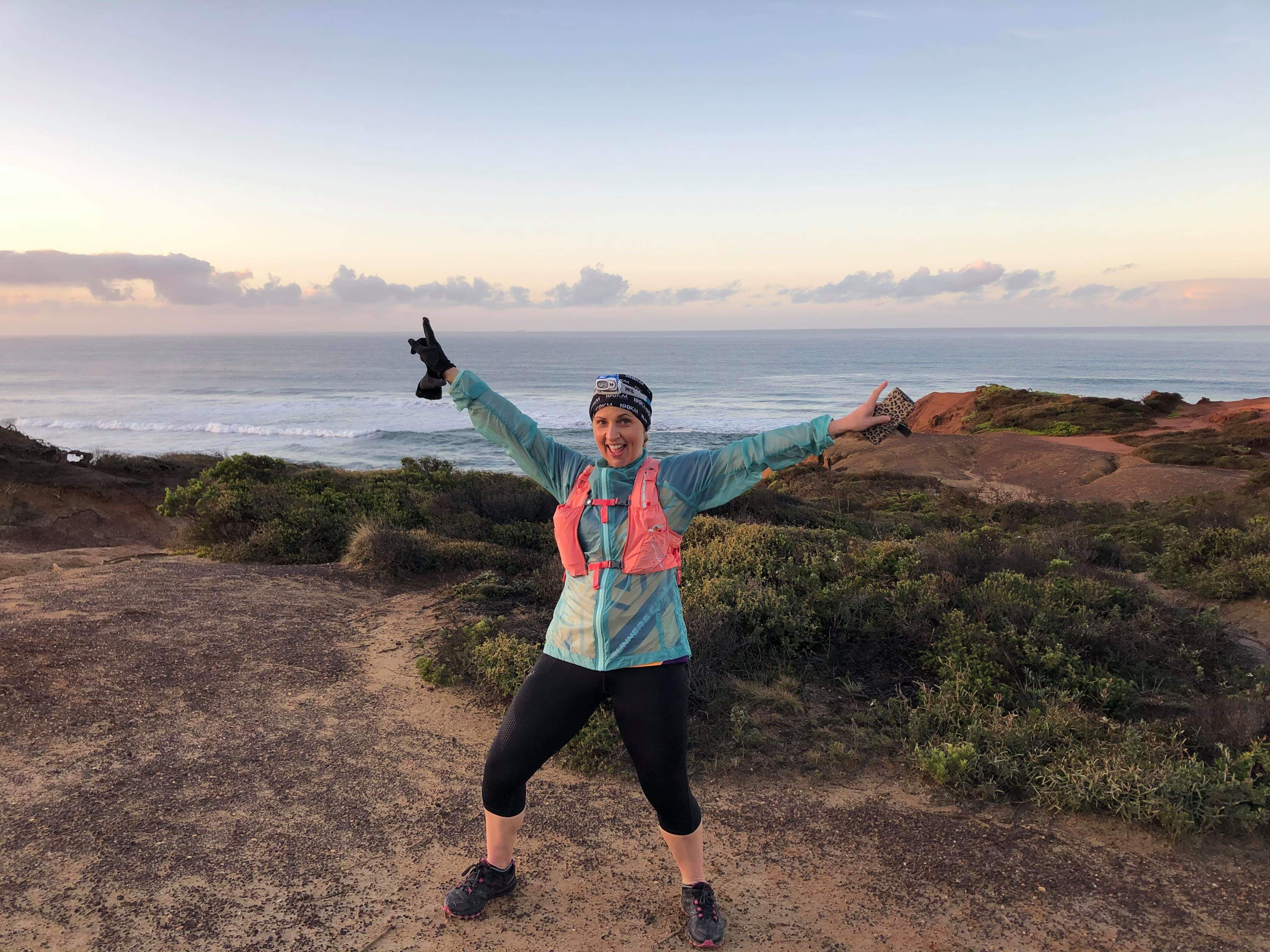 Particular event or style of event do you prefer?
Trails trails and more trails. I like to do both road and trail events, but the trails take me to places I love to run. By the beach is my favourite. I love running down a hill and coming across a vista of ocean views. Lifts my spirits and I find it exhilarating. Surf Coast Century and Two Bays Trail Run are my two favourite events. Surf Coast Century as part of a team is extra special, watching and contributing to everyone's success is very rewarding.
Plus awesome pizza at The Captains at Aireys to celebrate helps too. The Sweet Tate and The Gorgz pizzas there are a bit spesh. Paired with a sparkling white and happy days are had!
What running tips have helped you?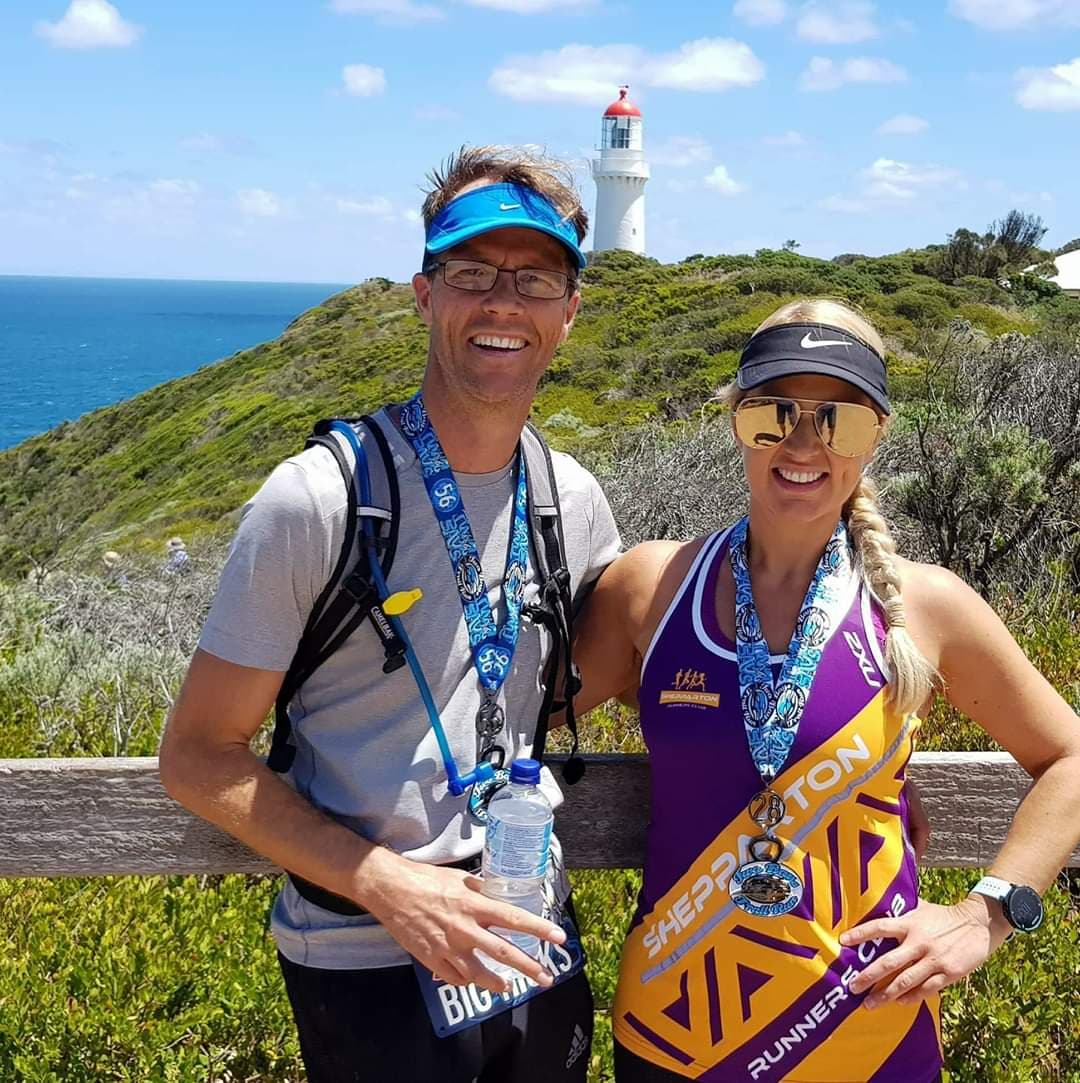 Running tips that have helped me incorporate strength training and don't overrun! Well I learnt this the hard way and got a stress fracture in my foot in June this year. Moon Boot and isolation with 3 kids was tough. I had to focus on something other than running for awhile which gave me my happy pills, so I found another challenge of getting on board with a trainer that helped me train in other ways. I needed the focus and challenge that running usually gave me so had to find it another way. This has certainly helped balance my focus with running and my rehab with the foot has gone really well.
Future running goals: Next is Two Bays 28km on Jan 17th so coming up pretty quick. Really want to try another marathon and try an ultra on the trails too. Sounds daunting already but love the challenge!
Bunnings BBQ Fundraiser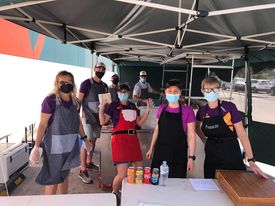 Thank you to everyone that helped with the recent bunnings BBQ fundraiser in Shepparton. It was last minute but well worth the effort (and the clothes that now smell like chopped onions). Thanks to Sharleen for getting the ball rolling and organising members into a roster to get this task completed.
Many thanks to all the members who gave up time on their weekend to take a time on the roster and prepare, cook or hand out sausages. Many hands make light work…. and hopefully we can put the funds raised towards something really useful for the club.
SOCIAL EVENTS FOR 2021
As we live in hope for a better 2021 we are looking at creating a social event calendar for next year. 
If you would like to contribute your time or ideas please let Sharleen or Mel know VIA messenger or in person ASAP so we can start organising things.
Thanks everyone and CHEERS .