SRC NEWS
Hello all SRC Members,
The Shepparton Runners Club will be holding their Annual General Meeting on Thursday 15th October at 7pm. Under the current restrictions, we will be holding our AGM virtually via zoom. A link will be sent out closer to the date to all members.
A copy of the previous AGM minutes was sent out yesterday via email, as well as role descriptions, nomination, and proxy forms. The forms are interactive, if you wish to nominate someone prior to the night, please fill this out and return to this email address.
This is a great opportunity for any current members who wish to join the committee and be a part of shaping the club for 2021.
If any member has any queries, please do not hesitate to contact us.
Runner Profile – Mairead McDougal
Mairead Macdougall Age 57.
PB's
5km – 24:21 at Shepparton parkrun in 2015
10k 58:16 at Wangaratta 2016
Half Marathon – 01:59:32 at Wangaratta 2015
Marathon 05:11:51 at Berlin 2015
How did it start?
When my dad died in 2012, I found myself somewhat adrift, having, within the space of 48 hours, given up my job and returned to live in Scotland, thinking what now? My long time friend Anna MacConnell, had by this time, ticked off a Marathon before 50 on her bucket list and on a week-end trip to Glasgow, promptly signed me up for the Great Scottish Run in Glasgow when she happened upon a poster for it (She did the half, I did the 10k).
parkrun
Another friend, Hilary Mackay told me about parkrun and after about 3 false starts, once because I couldn't read the map without my glasses and missed the start, I eventually did Edinburgh parkrun in 2013, including in the snow. When I came back to Shepp later that year, I pitched up at an SRC Handicap. The first person I saw was Helen Reynolds and I asked if I could run. No-one I spoke to had heard of parkrun. Then I bumped into Kerry Connelly in Coles at Riverside and she asked me if I'd heard of parkrun because Allan was starting one up. I was rapt. Allan asked me to the pre-launch trial and we spent a good few months with early starts, travelling around the country, visiting other parkruns to check them out, while poor Kerry mostly held the fort in Shepp. I am now hooked on the various unofficial parkrun clubs: Staying Alive, Compass Club, Cowell Club, Alphabeteer etc. I reckon volunteering at a parkrun beginning with each letter of the alphabet would be a good one (Alpha-volunteer?).
Covid
Gutted that I had timed my 250th parkrun to be at Shepp at Easter (currently sitting on 248 parkruns at 86 locations with 41, registered, times volunteering). Missed out on GC half and Shepp Running Festival this year. Got to run with both Helen Reynolds and Melanie McAuliffe and Andrew and Glenda Vibert on their trips to QLD as well as Chris Trevaskis before the lockdown but I reckon there would have been more visitors if times had been different. Finding it really difficult to remain motivated without events to look forward to and train for. Matt Ryan's bingo has been a great motivator and I think events are starting back up here but now I have another freakin' knee injury.
Pizza
Anything spicy with a thin, crusty GF base and plenty of cheese.
Future
Eat better (less), be consistent (put the work in), drink less, lose weight, run better. usual stuff! Looking forward to parkrun coming back and more touristing, Bushy someday. Doing the ones I missed out on this year, GC and Shepp. Bought a pair of trail shoes for White Rock Trail but it was cancelled so maybe get to run an event in these shoes! Overall, keep running to feel less stabby. 
Run2PB Facebook live
Yesterday Run2PB streamed a Facebook live hour
Nutrition for all runners w/ Guest Jessica Rothwell
Join Jessica Rothwell . Accredited Sports Dietitian, BHumanNutr, MDiet, and Run2PB Coaches Matt Davy and Zac Newman as they discuss essential nutrition advice for fuelling and refuelling as a runner.
The event will cover:
✅ What runners should look to be eating before training?
✅ When to eat after training and what foods to look for to aid recovery.
✅ The role carbs, fat and protein in the diet of runners.
✅ Hydration, how much should we be drinking, before, during and after runs.
✅ Advice for fuelling before and during a race.
🗣 Q+A
You should be able to watch it again once Run2PB set it up on Facebook.
Are you after more sessions.?
Over the last 2 weeks I have been doing a session on Tuesday and Thursday with Alice.
On Thursday 24th I scheduled a 3 km time trial in. I do this every few months to see how the training is going. Being somewhat quicker than Alice I decided to have a pacer each. I invited Sam and Tara to help out. I gave Alice 2 minutes head start with Tara pacing her. Sam had to help me chase them down. My aim was 5:30 – 5:40 min/km. I thought Alice would run 6:00 – 6:15.
The result – Alice hit her target and I was a tad slower than planned. Alice 18:38 mins, 6:11min/km and I ended up with 17:30 mins 5:48 min/km .
Here are my last few weeks with the Tuesday and Thursday sessions. I recently missed a Tuesday session. Saturday and Sunday are longer or social runs.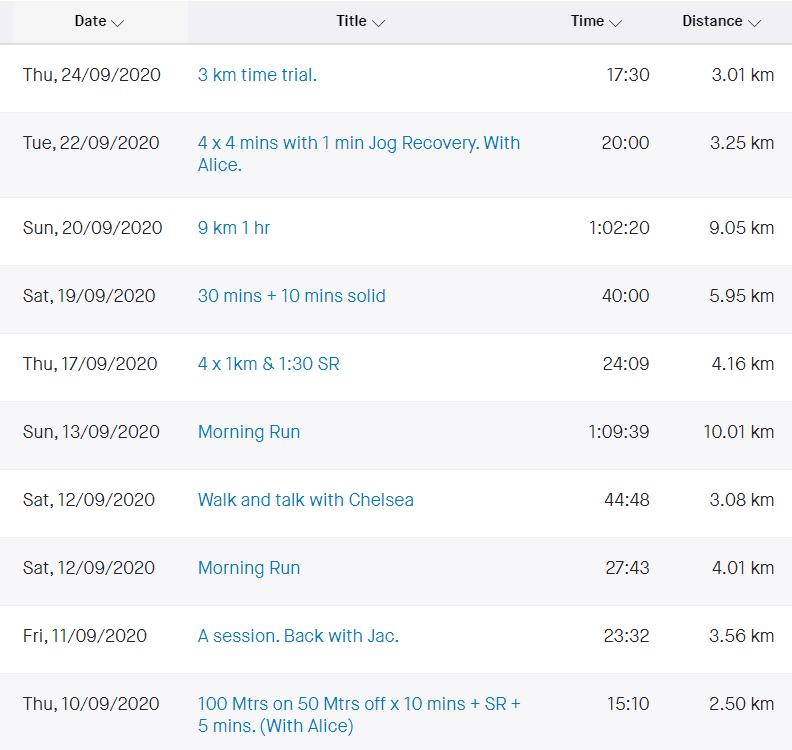 Interesting articles
How to improve your uphill running and speed
Shaving off time uphill does not just benefit the climbs, but also makes you more efficient so you have more energy on the flats and the downhills too. Check out these tips, which start with "hiking is not shameful".
5 key yoga poses for the time poor runner
Yoga or stretching routines are extremely useful for runners of all abilities and ages. Runners Tribe has compiled a list (with photos) of 5 useful yoga poses for runners.
6 core-strengthening moves to ease lower back pain
Runners may experience lower back pain from weak hip and glutes that can cause the lower back to become strained during a run, and Runners World has 6 core strengthening, stretching, and aerobic exercises to help relieve lower back pain.
Apple and Cinnamon slice
Ingredients
3 cups rolled oats
1 Granny Smith apple, grated (excess water removed)
2 tsp baking powder
2 tsp ground cinnamon
1 cup apple puree
1 cup milk
2 eggs, whisked
¼ cup honey
2 tbsp butter, melted
2 tsp vanilla extract
Method
Pre-heat oven to 180°C and line a 15cm x 30 cm rectangular pan with baking paper
Mix together the rolled oats, grated apple, baking powder and cinnamon in a large bowl until combined. In a medium jug, whisk together remaining wet ingredients
Pour wet ingredients into the bowl and combine with the dry ingredients. Mix well
Pour mixture into prepared pan and bake for 30 minutes or until firm to touch. Allow to cool before slicing into nine pieces
Until next time. Have a great running week or 2. Hopefully, soon we will be back to a running normal.
https://sheppartonrunnersclub.com.au/wp-content/uploads/2017/06/SRC-Logo-300x221.png
0
0
admin
https://sheppartonrunnersclub.com.au/wp-content/uploads/2017/06/SRC-Logo-300x221.png
admin
2020-09-24 11:57:28
2020-11-17 11:38:40
SRC E-News Sept 25