From the president's desk
Lockdown 2.0
So, there is not much to report on. We are still in lockdown 2.0 and eager to resume training. When we are in a state to return to training, we will let our members know when where and any other restrictions we have. But for the meantime, it is great to see many members still out there with their feet on the ground, getting some km in. Coach Chris' Tuesday interval sessions, as well as the bingo card, seems to provide some fun for members, and motivation to run.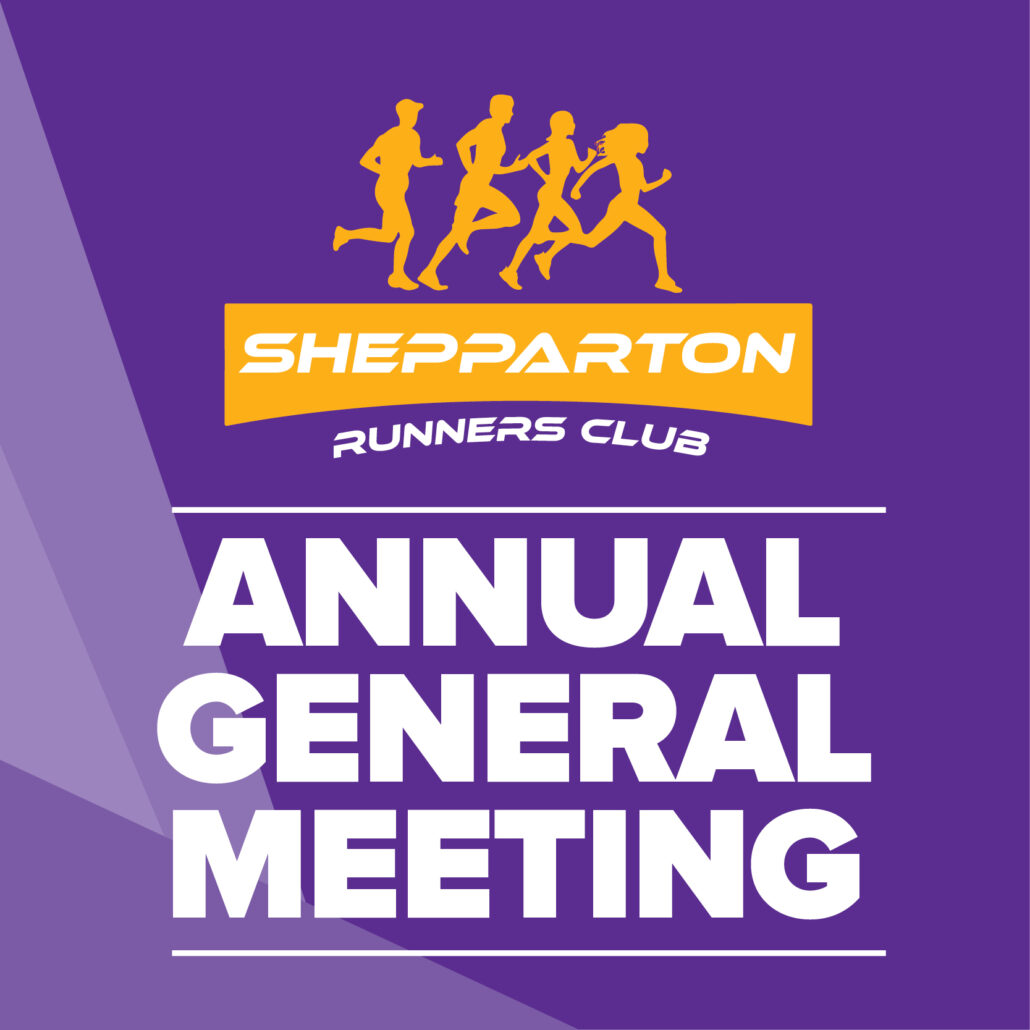 Notice of Annual General Meeting
We will be presenting the AGM virtually this year due to COVID restrictions. This will be held on Thursday 15th October at 7pm. We are still working out the nuts and bolts to ensure that we can provide the best experience and can tick all the boxes to hold our AGM. There will be an event created on Facebook, as well as updates via our website to keep everyone up-to-date. We will also upload the nomination forms and position descriptions for anyone who wishes to put their hand-up for a role.
We hope that everyone is staying safe and well during the pandemic. Keep sharing your running journeys/goals via social media as we enjoy reading all about them.
Thanks,
Mathieu Ryan
SRC Committee President
Runner Profile
Brady Threlfall, coach and founder of Run 2 PB.
32 years old.
5km: 14.09
10km: 29:34
HM: 66:16
Marathon: 2.19.53
At what point in your running career did you realise you could go from a recreation runner to an elite runner?
In Bendigo where I grew up we didn't have a lot of running depth at the time so initially when I started I had goals of becoming one of the fastest in town and trying to make state teams. The depth in Australian isn't huge so I get to be on most elite start lines but still I teach and coach for living so am far from the professional/elite runner out there. Standing on the elite start line at the Berlin Marathon in 2018 was pretty special to be a few metres back from Kipchoge.
What are some of your favourite local and international events?
Gold Coast Marathon festival, Berlin Marathon and Echuca/Moama parkrun.
Do you have a go-to mantra that helps you stay on track with your training?
'You've just gotta keep stringing them together', this quote highlights the importance of consistency and not chasing the super session.
Tell us what your favourite pizza is.
BBQ Chicken
With Covid-19 shutting down so many events, which would you like to see happen first?
I think it's a good opportunity to see some elite/sub elite road races. Given mass participation road races will be a long way off returning here in Victoria, it would be great to showcase some of our local elite/sub elite athletes and still give them the opportunity to compete.
– Brady can be followed on strava, Instagram -@bradytrell or contacted for coaching at brady@run2pb.co
Follow us on instagram.com/run2pb
Follow us on facebook.com/run2pbcoaching
Do you need more running sessions? Here are a few.
Remember to add in an easy week every 4 – 6 weeks so your body can absorb the harder training sessions. Here are a few that I have been doing and the first week circled in blue is my easy week.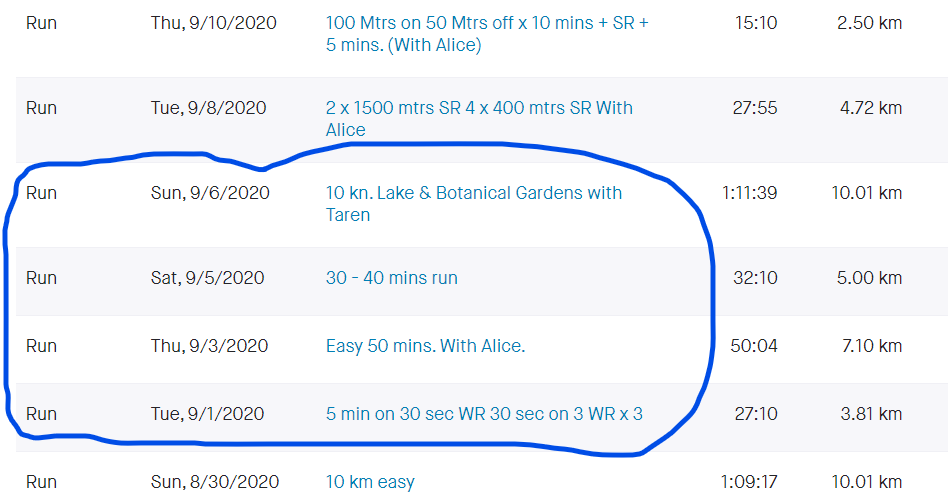 Run Calendar and interesting articles.
If anyone is stuck in the Northern Territory I have some good news for you. Parkrun starts up on September 19.
THE 2020 MELBOURNE MARATHON HAS BEEN CANCELLED
In light of continued Victorian restrictions as well as ongoing health concerns and uncertainty surrounding COVID-19 (Coronavirus), we are saddened to share the 2020 Melbourne Marathon Festival scheduled for Sunday, October 4 has been cancelled.
We are sincerely disappointed, but unfortunately the circumstances and our ongoing commitment to the health and safety of our participants, staff, volunteers and the community has made it impossible for us to deliver this year's event.
We are however pleased to share that the 2021 Melbourne Marathon Festival is confirmed to take place on Sunday, October 10. We are looking forward to returning in 2021 and thank all of our participants, Spartans, spectators and partners for their patience, support and understanding.
And although we can't physically bring everyone together next month, we will be staging a Virtual Melbourne Marathon on December 5 – 13 to help our running community maintain their goals, stay inspired and keep fit.
Returning to Fun Runs in COVID-19
RegisterNow did a survey about returning to fun runs in Australia in July (results from that survey here); the are following up again in August with a similar survey here.
Are you fuelling your body enough?
Dietitian Georgie Buckely has written a guest post of the Run Rabbit Coaching Blog about the importance of food and running, especially for beginners. Read it here.
How to start your hydration plan
And on a similar theme, Training Peaks takes a look at how the key to a good hydration plan is to start off (and stay) hydrated. Read their article here.How does running with a mask impact your performance?
Runners World takes a look at how running with a mask impacts performance, whether it counts as hypoxic training, and how you can make running in a mask easier
R U OK
R U OK?Day 2020 might be coming to an end but the conversations shouldn't stop. Any day you're concerned someone's struggling, trust your gut and ask, "are you OK?" Because a conversation could change a life. If you or a loved one need immediate support contact Lifeline on 13 11 14 for a confidential chat any time of day or night. You can find other support services at www.ruok.org.au/findhelp These services are for everyone – whether you need a listening ear or are concerned about someone else.
https://sheppartonrunnersclub.com.au/wp-content/uploads/2017/06/SRC-Logo-300x221.png
0
0
admin
https://sheppartonrunnersclub.com.au/wp-content/uploads/2017/06/SRC-Logo-300x221.png
admin
2020-09-10 11:15:55
2020-11-17 11:38:45
SRC E-News Sept 11