December & Christmas/New Year Schedule – Important, please read
Saturday December 7th – Presentation Night @ WB Hunter Rooms – Princess Park, 5pm start.
*Friday 13th December – The last newsletter for 2019 *
Sunday December 15th – The Michigan @ Princess Park 8am start, BBQ afterwards. You can choose to run the Michigan, do an easy 10km or come down and watch and enjoy the BBQ. More details on what the Michigan is in future post, or ask Coach Chris
Tuesday December 17th – Purple and Gold Night @ the lake 💜💛 This will be our last Tuesday night training for the year. We will try and beat our attendance record of 61, and also get a photo together, please wear your club colours to training tonight
Thursday December 19th – last Thursday training for 2019 @ Princess Park, leave for run at 6pm
Training resumes Tuesday January 7th at the lake at our current meeting spot at the north end of the lake
Runner Profile – Jacqui Noonan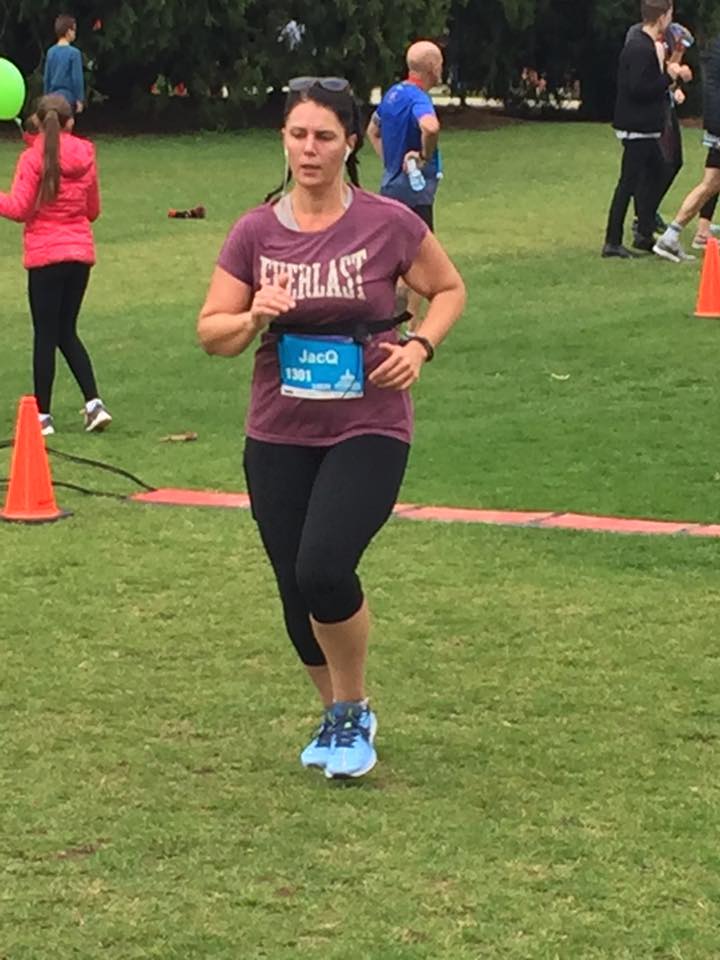 Pb's
5km – one of my first park runs this year, straight off the back of my first ever triathlon, running with a fellow triathlete – 28:40. Still chasing this time.
10km PB was my first ever 10km run, Werribee Mansion Run, May 2019, 1:03. I had never run 10kms before but was about to have surgery and just wanted to give it a go before I was laid up for a month.
I used to give running a go in small spurts, 3 or 4kms here and there but in 2012 I was involved in a traffic incident and had to give it up. I've had multiple spinal surgeries, had to learn to walk agin, have one numb leg and still need ongoing surgeries but its not going to stop me…. yet.
Last November was my first attempt at getting back into it. I entered the corporate Triathlon with work and had to start training. I couldn't even run 500metres. Within 3 months I was up to 3kms and then managed the mini tri in March of 2019, including a 4km run.
Tara (and Sam) have given me an amazing gift this year with their My 5K training program. It was a reminder on how to love running. Not every run has to hurt or be hard, but just to get out there and enjoy.
Pizza has to be home made. Freshly made pizza base that's had time to rest. Covered in fresh tomato, olive oil, prosciutto and mozzarella and roasted in a super hot oven.
Currently run almost every day, think I'm addicted and hate having a day off. Min of 5kms most days and even now it doesn't feel like enough. I'm all for distance over speed, this body was not built to break records.

My goals for 2020 are a half marathon and Olympic Triathlon. It's a big jump from the 10km I'm currently doing but I've got a plan.
Half at run Melbourne and Olympic at Challenge Shepparton. In both I just want to survive and make it to the finish line.
I enjoy running with others over running alone. Time goes faster when you're chatting and laughing. Especially when your running pals are a little clumsy (sorry Steve)
Strava is my worst enemy, I just want to beat my previous months times and distances, but I do love seeing what everyone else is doing.
Only tip I have for long runs when your not feeling great is…. Run as far from home as possible so when you've given up you still have run home.
What a weekend of running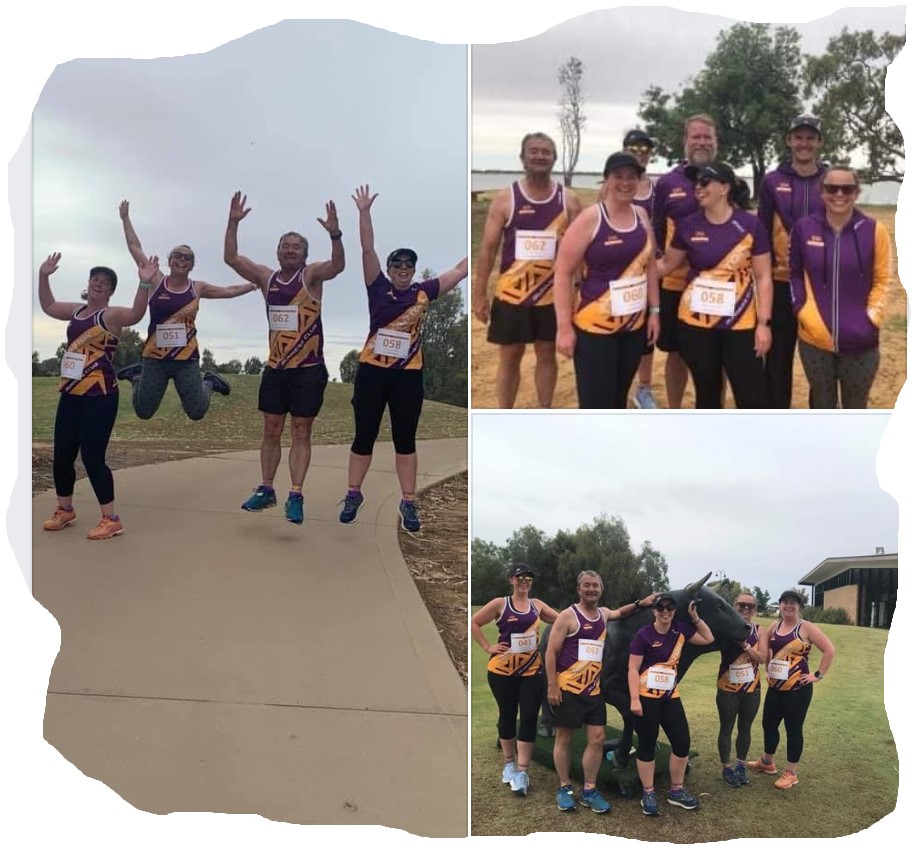 Taken from Tara's blog
Sunday was the running of the black bull at Yarrawonga. I did the Quarter marathon with Justine, Steve, Taren and Jacqui. It was a huge amount of fun and it really was the reason why I love being a member of the SRC. We laughed, talked and supported each other through the 10.55km. It was the epitome of the great culture we have. It was freezing, but a lot of fun. We enjoyed many photos with the bulls! ….Seriously…first day of summer and it felt like ice brandishing my skin.
Mathieu Ryan and Sam Daniel also ran in the 1/4 marathon. They ran too quick for the camera.
Tara completed her 100th parkrun.
In January 2017 Sam dragged me to parkrun at an attempt to get fit again following a food frenzy after hiking mountains in Nepal…For a [long] period I hated it, I hated him every Saturday morning, I hated the perky people who were chatty and bubbly and skipped along the 5 km effortlessly…
Fast forward nearly 3 years and I am a full blown member of the cult. Today I ran my 100th parkrun. I have partaken in international trips just to complete a different parkrun; I secretly enjoy going to parkrun and have a new found love of running. I'm not fast, nor do I skip effortlessly around the course, but I enjoy the camaraderie everyone shows.
If you haven't been to parkrun…you should. Join the cult. Be one of us! I promise it will be amazing…*
*thats fact. You don't get an opinion.
Sub 30 mins parkrun
Jacqui Noonan, second time under 30 mins clocking 29:15 Steven Trevaskis, best time since April 2019 clocking 29:27, Taren Kirby first time under 30 mins clocking 29:46
Chelsea smashes it at Carman's Women's fun run
With a 10 km Pb and a negative split 33:39 & 32:17
OTHERS RUNNING THERE WERE
Cate Aiken, Debbie Harvey, Bron Cole, Kylie and Laura Smithers Ran the half.
Parkrun
Shepparton parkrunners were spotted: Chris Banning at Benalla Botanical Gardens parkrun and Sue Olley at Wyndham Vale parkrun.
Congratulations to this weeks milestone achievers
: Grant Hicks: 250 Club:  234 at Shepparton parkrun, 3 at Kennington Reservoir parkrun, 2 at Cairns parkrun, and 11 at 11 other locations. Since his first parkrun he has improved his time by 2:21, has had 12 personal bests and has volunteered 9 times.
Tara Daniel: 100 Club: 78 at Shepparton parkrun, 2 each at Cobram parkrun, Euroa park run, and Echuca Moama parkrun, and 16 at 16 other locations. Since her first parkrun she has reduced her time by 8:27, has had 15 personal bests and has volunteered 18 times.
Have a great running week and see you at presentation night.
*Friday 13th December – The last newsletter for 2019 *
AN ACCOUNTABILITY BLOG FOR ME TO ACTUALLY TRAIN FOR THE NAGOYA WOMENS MARATHON 2020. YOU CAN'T REALLY WING A MARATHON!

https://sheppartonrunnersclub.com.au/wp-content/uploads/2017/06/SRC-Logo-300x221.png
0
0
admin
https://sheppartonrunnersclub.com.au/wp-content/uploads/2017/06/SRC-Logo-300x221.png
admin
2019-12-05 11:52:11
2019-12-05 11:52:14
SRC E-News Dec 6