Runner Profile – Kirsten Arthur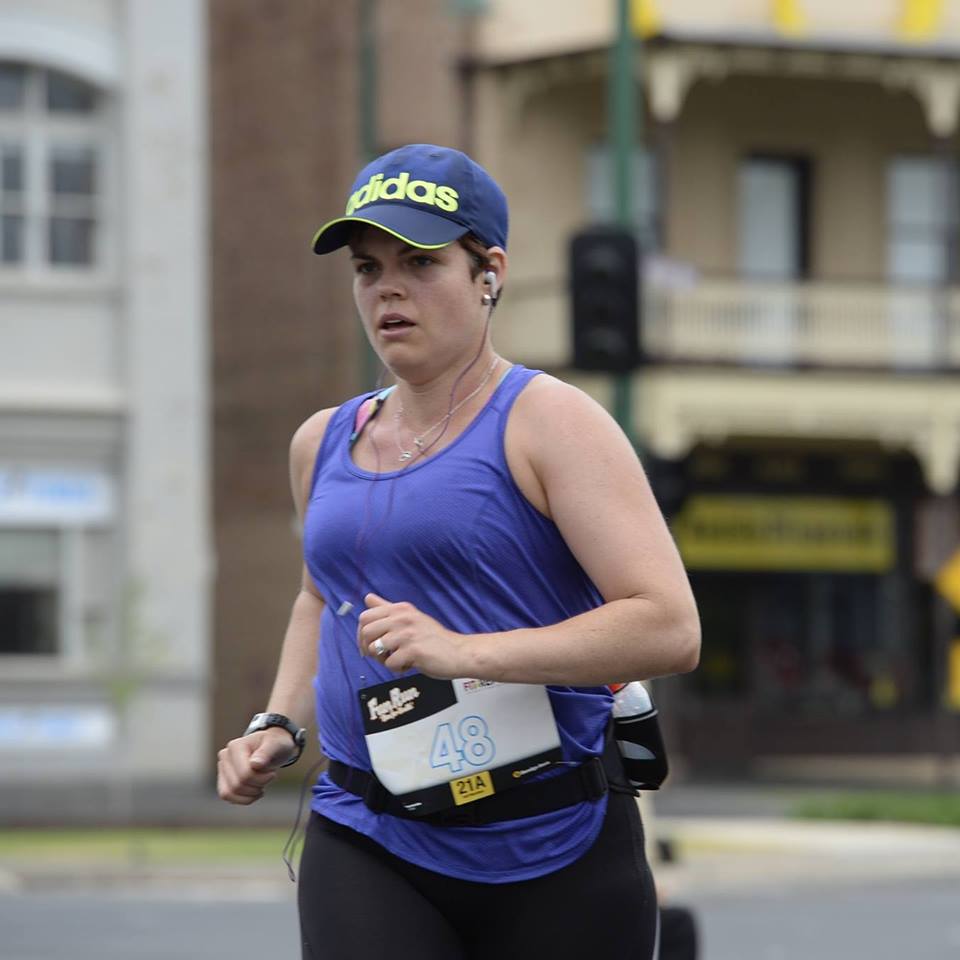 Why do I run?
I run for me. I run for my own headspace and me time. Running makes me happy and keeps me sane. I love race day, the comradery, the adrenaline at the finish line and the sense of achievement, but I never race to beat anyone except myself.
What other physical stuff do you do?
Other than running I do weight sessions at the gym and compete in Triathlons. To date I've done three half ironman's, it was to be four until I had an altercation with a sting ray in my warm up swim so didn't even make it to the start line. Doh!
Will you ever attempt a marathon/ ironman?
I'd like to think one day I'll compete in a marathon. The Boston marathon is on my bucket list though the qualifying times are insane so will have to get my but in to gear if I'm going to make that one happen lol! Will I complete a full IM….. I doubt it but never say never.
What kind of event is your favourite?
My favourite events are Olympic distance triathlons and 10k running races. I'm definitely not a sprinter and just find both distances are fun but don't require hours and hours of training.
Got a funny story about running/ an event?
To be honest I think my biggest what the moment in sport is definitely the aforementioned sting ray altercation. I mean who would have thought out of the 100s of other athletes entering the water that day I would be the numpty that stood on the stupid thing. Funnily enough it didn't enjoy it's morning wake up call.
What's coming up for you race wise?
Race wise I have the Melbourne half ahead of me which is my main focus atm. I have a time that I'm looking to crack though will all depend on how I feel on race day. After that I have signed up for the four vines race just for a bit of fun. I mean who doesn't love a glass of wine at the end of a race. Enough incentive for me to enter 😉
Can you tell us about your coach?
My coach at the moment is my amazing Dad. Dad was an international rugby referee in his younger years then took up coaching afterwards. He's probably a bit old school in some of his training methods but he has always gotten the best out of me. And bonus he probably knows me better than anyone including how hard he can push me and when to back off. I'm really looking forward to toeing the start line in Melbourne in a couple of weeks as this one is for him.
Well done to everyone who ran today, by my count we had 28 participate today which is a fantastic effort. It was great being able to stand together in the village and cheer everyone home. There were many PBs and lots of good memories made today, it's a credit to you all for the hard work you put in! If i've missed anyone, please let me know and i'll make amends. Also big thanks to Lesley Ryan and Kasey Scoble for your work as support crew, it was greatly appreciated!!
SRC Melbourne results
Marathon
Nathan Stoate – 2:46:11
Vic Bovalino – 3:17:26
Stuart Shaw – 3:26:26
Trevor Dainton – 3:33:07
Kate Dainton – 3:42:37
Anna Turnbull – 3:52:32
Laura Smithers-Shaw – 4:09:28
Hamish Reid – 4:11:33
Jodie Redfern – 4:39:24
Felicity Hall – 4:48:31
Grant Hicks – 4:49:18
Natalie Hicks – 4:49:19
Phillip Healey – 5:07:09
Special mention to former member Stacey Barrot who ran 2:57:25 and was the 10th female overall. In 2015 Stacey ran her first marathon in a time of 4:17:53. Over the last 4 years Stacey has worked hard on the training and diet. Well done Stacey!
Half Marathon
Chris Armstrong – 1:28:50
Chris Banning – 1:39:29
Kirsten Arthur – 1:46:56
Amanda Heard – 1:49:21
Kathryn Obrien – 1:51:43
Norah Armstrong – 1:54:27
Robert Ryan – 1:54:28
Rob Hearn – 2:00:55
Helen Reynolds – 2:11:07
Steve Hicks – 2:37:43
10km
Hannah Torres – 53:25
Chris Harvey – 56:06
Debbie Harvey – 57:49
Rosalie Smith – 58:22
Cate Aitken – 65:44
Norah Armstrong – Melbourne Half
2019 was my fourth half at Melbourne. The goal was to go under 2 hours officially as 2018 result was (2.00.28). The plan was to run with Rob Ryan and see how it went.
The SRC crew was well represented across all events and I looked forward to see how Nat, Felicity, Jodie, Stacey and Vic went doing their first marathons.
I did leg 4 at Surfcoast Century 3 weeks earlier and pulled up well from 24km.
We got to the start line to see Kate, Laura, Felicity, Trevor, Hamish and Anna before they started the marathon at 7am. Back to the toilet line before heading to the start at 8am. Sell out in all events bar the 5km this year and 12k in the half (about 3k more than 2018). It was cool, sunny with a light breeze. Conditions were perfect.
The start was congested and I took it steady as we made our way past Flinders St station onto St Kilda Road at about 5.20 pace. We saw a girl running in Blundstone boots. It was great to see Kirsten Arthur at 3.5km, Amanda 6km, Chris Banning 9km and plenty of go shepp's along the way. Gel at 12km sweet sweet lemon drizzle.
I kept the pace best I could and watched the marathoners pass on the right as we ran up the left side of the road and it became congested. A left turn at 17km downhill to Sturt St then an up hill section under the tunnel to Linlithgow Ave. The pace slowed and had to work to not loose time. The footbridge to go. I really dislike this part as it kills the momentum. "Come on Norzy let's do this". Go time past the SRC crew on Brunton Ave (thanks everyone that really helped). I gave it all I had left to the finish line into the MCG and crossed in 1.54.33 and a PB by 2 minutes for the half.
Congratulations to all the SRC members who ran at Melbourne. I was really proud to see everyone get those results after much hard training.
Thanks to Rob Ryan for pacing today such a great day and I hope you had fun out there.
Regards
Norah Armstrong
My First Half Marathon! – Amanda Heard
A short 6 weeks of training and I was ready for my first half marathon! I was definitely feeling nervous and anxious leading into the race a few days prior. I wanted everything to go perfectly, down to when I would be consuming water, gels, picking up the pace and placement at the starting line (yes sometimes I am a little OCD). We left the hotel around 6:45am and missed the last tram into the city from our hotel, so we had a brisk 2km walk to the starting line. My aim was to keep an eye on the 1 Hour 50 pacer which I could see about 30m ahead in the line up. The gun started and it was chaotic and my heart was pumping. I got through the first 8km pretty quickly and I was feeling good, I saw another Purple and Yellow member and I was pleased to see Norah looking so strong. I hit a physical wall around the 12km mark with my Heart Rate a little too high around Albert Park Lake, wondering why I am doing this and whether I should continue!? I eased up the paced slightly and refocused on getting to the 16km mark and having my next gel. The 12km to 16km was definitely the section I found the hardest. Once I made it to 16km, its only PARKRUN to go! It was great to see and hear more Purple and Yellow on the side lines cheering with about 500m to go, running into the MCG is as magical as it was 14 years ago. Happy with the overall time of 1:49:26.
Salomon Road Trip – Albury – Wodonga
Co-hosted by Lucy Bartholomew
Come and be a part of this great event, try on some new Salomon Speed Cross 5's, sweat up a storm in the gym, enjoy the local trails on a group run then have a well-deserved snack or two.
Lucy Bartholomew, Majell Backhausen and Mathieu Doré are inviting you to join them for a specially curated day to learn about all things running, strength and conditioning.
Come and be a part of this great event, try on some new Salomon Speed Cross 5's, sweat up a storm in the gym, enjoy the local trails on a group run then have a well deserved snack or two.
MEETING LOCATION: Vice Fitness Albury | 299 Townsend Street, South Albury 2640
S&C SESSION: 45mins
RUN SESSION: 60mins | 8-12KM
11:30am: That's a WRAP
8:30am: Meet + Sign Up + Shoe Fitting
9:00am: Welcome + Introductions
9:15am: S&C Session Lead by Mathieu D. @VICE Fitness Albury (45min)
10am: Group run (1hr)
11am: Q&A Session + Prizes
11:30am: Thats a WRAP

Further reading
The road to Nagoya – blog by Tara Daniel
Eliud Kipchoge – Sub 2 hour marathon
Brigid Kosgei – New women's marathon record
AN ACCOUNTABILITY BLOG FOR ME TO ACTUALLY TRAIN FOR THE NAGOYA WOMENS MARATHON 2020. YOU CAN'T REALLY WING A MARATHON!
Part Eight – 21 weeks to go, a holiday and a stomach bug…
Eliud Kipchoge the fastest marathoner in history.
As most of you now know Eliud Kipchoge was the first person to run a sub 2 hr marathon.
So what does he eat.?
The diet of the athletes in Kaptagat was quite a surprise to us. Like many aspects characterising the life of an athlete in rural Kenya, it was simple, frugal and repetitive.
It seems as though so many Western athletes obsess over macros, supplements and exorbitant protein consumption, tailoring their diets to facilitate peak performance in training and rapid recovery.
Not so in Kenya. During our stay we ate with the athletes on multiple occasions; what we observed may surprise you as well. Their diet is predominantly a whole food plant-based diet. Most of the food is locally grown, organic, direct from the surrounding farms.
The protein consumption of the athletes is also quite low. Most athletes rarely eat meat more than once a fortnight; it is considered an expensive luxury, especially by the athletes who aren't under management. So, what is it that they are mainly eating?
There are several staples that most meals seem to revolve around:
Ugali: made from maize meal, it is cooked in water to form a sort of corn cake. This staple is very high in starch and is very bland, lacking much in the way of flavour. Many meals in the farm-stay were served with an almost insurmountable pile of ugali on the side.
Managu: a dark leafy green, somewhat like spinach. This is normally eaten after being sautéed in water and some oil, however some athletes we spoke to even cooked the leaves in milk!
Cabbage: prepared in a similar way to managu.
Beans: generally a type of red bean, probably the most protein-rich food we frequently saw athletes eating (other than milk, eggs and occasional meat).
Bread: the athletes seemed to eat bread quite often, as well as chapati (an Indian style flat bread similar to naan). They would frequently eat plain white bread for breakfast, including immediately after finishing the weekly long run (30/40km).
Rice: frequently combined with beans.
Eggs: often fried and eaten alongside a dish of managu and ugali. Potato: boiled and eaten alongside ugali.
Snacks: the most frequently consumed snacks were fruits, such as bananas. Many athletes also had a daily rendezvous at 5pm to drink a cup of porridge (millet, water and sugar) and hang out as the day concluded.
Drinks: lots of chai! Sweet milky tea that the runners seemed to drink all day. For most of the athletes, the amount of sugar consumed purely through chai would be over ten to fifteen teaspoons per day! There were very few electrolyte containing sports drinks consumed, most just had water. Some athletes would also drink sodas during the day.
In an average day, the athletes we lived in close proximity to would rarely consume foods outside the above list. A couple of the athletes in Eliud's group would consume electrolyte powders following long runs, however other than this we did not see anyone consuming supplements, protein powders or recovery products.
It could be argued that the reason a lot of the runners ate this way is because they cannot afford to buy more expensive foods; many of them live on only a couple of dollars per day. However, when we discussed the topic they insisted the combination of ugali and managu is one of the secret weapons of the Kenyan athletes.
Many people would be alarmed by the simplicity of the dietary regime followed by the athletes, how low the protein content is, and how little meat is consumed by the athletes. However, with such a large number of elite long-distance athletes subsisting on a very similar formula, it's hard to argue with the results.
The lack of variety in the diet was something that really surprised us. Another thing that I was continually struggling to understand was the lack of flavour in most meals. In markets that we visited there was a plenitude of spices and flavourful foods, yet these seemed to be completely absent in the diet of the athletes, and what we were served in our accommodation.
The diet was almost purely unprocessed fruits, vegetables, legumes and cereals. This alimentary regime is not unique to the athletes we spent time with, it is the diet adhered to by most people in Kenya. This same array of food is on offer in most local restaurants. The mountains of ugali served with each meal take a little while to adjust to, but by the end of our stay, the starch-laden fare that we were served in the farm-stay was something I looked forward to with great anticipation.
Something else that piqued our interest was that the athletes completed most workouts – including forty-kilometre tempo runs (averaging around 3:15min/km) – in a fasted state. Some may have had some chai or a small morsel of food prior to commencing, but the runs are completed without assistance from coaching staff – and there are no pauses during the workouts – meaning that athletes aren't drinking during these long runs and most of the time the first calories consumed are after they get back to camp.
— — —The above is an excerpt from the new book we just released.Eliud Kipchoge. History's fastest marathoner. An insight into the Kenyan life that shapes legends.
Women's marathon world record shattered by Kenya's Brigid Kosgei
Eliud Kipchoge stunned the world by running 42.2km in less than two hours on Sunday — but a day later came a "more astounding" feat.
Kenya's Brigid Kosgei shattered Paula Radcliffe's 16-year-old world record Sunday, winning the Chicago Marathon in two hours, 14 minutes and four seconds.
Kosgei broke the mark of 2:15:25 set by Radcliffe in the London Marathon on April 13, 2003 as she won in Chicago for the second straight year.
The 25-year-old's performance continued a remarkable weekend in the punishing event, coming a day after fellow Kenyan Eliud Kipchoge became the first man to break two hours at the distance when he clocked 1hr 59min 40.2 sec on a specially prepared course in a Vienna park.
Many rated Kosgei's effort as the superior run.
https://sheppartonrunnersclub.com.au/wp-content/uploads/2017/06/SRC-Logo-300x221.png
0
0
admin
https://sheppartonrunnersclub.com.au/wp-content/uploads/2017/06/SRC-Logo-300x221.png
admin
2019-10-17 11:33:24
2019-10-17 11:33:27
SRC E-News Oct 18 post Melbourne.