---
Shepparton Runners Club 40th
This year the Shepparton Runners Club celebrates 40 years of running as a club.
Saturday, July 13 the Shepparton Runners Club will be hosting a Gala dinner with Steve Monagetti as the guest speaker.
More information can be found on the Facebook page by searching for Shepparton Runners Club 40th Anniversary
---
NEW TRAINING SESSION
Hills training at the Botanical Gardens (Old Tip) at 5pm on Wednesdays. Meet at gate at 5pm for a social run with the main focus on hills.
For more information see Sue Olley or Nadine Edwards.
---
Runner Profile
Name: LeeAnne Kirschner
Age: 46
Occupation:  Aged Care
 –
Recent pbs: None of late
5K: parkrun pb of 23.28
10k: 56.37 (my aim is to reduce this one hopefully this year)
Half: 2.11.54 (done only one in race conditions)
Marathon: Nil attempt
What inspired?  – When I attempted my first parkrun and saw all the runners with 50 and 100 Shirts and moving to Shepparton away from the dreary weather of Melbourne
Years running?  –   6 ½ years
Typical training week?    –  1 tempo run(parkrun) 1 interval run( SRC training usually), 1x 30-40 min easy run (SRC Thursdays ), 1 long run 10ks or over, 1 run of choice for 30-60mins of either trail, cross country, hills or road running and 1 x 30-45 mins walk and 1 rest day
What training apart from running?   –  Core training, Strength with home weights, Rolling and stretches
Running goals?   –  Reduce my 10k time and be more consistent running the longer distances.
Biggest challenge in running?   –  Finding the time while working full time  and running at times when your body and mind are not in sync
Biggest breakthrough?   –  Was in my 4th year of running when i was injury free and improving all the time with both the short and longer distances
Most enjoyable run?   –  When I was race ready for my first half marathon at the Ned Kelly Chase in Wangaratta
Run in any event?   –  Walt Disney World Marathon
Who inspires me?  –   Everyone at parkrun and Shepparton Runners Club participants
Best advice would of been:   –   For longevity: Running is a journey, don't rush the process and always run your own race and do it with a smile
Funny and notable moments:   –   It's not really funny at the time but I have been known to go into the bushes for numerous toilet needs on numerous runs, luckily I haven't been caught yet.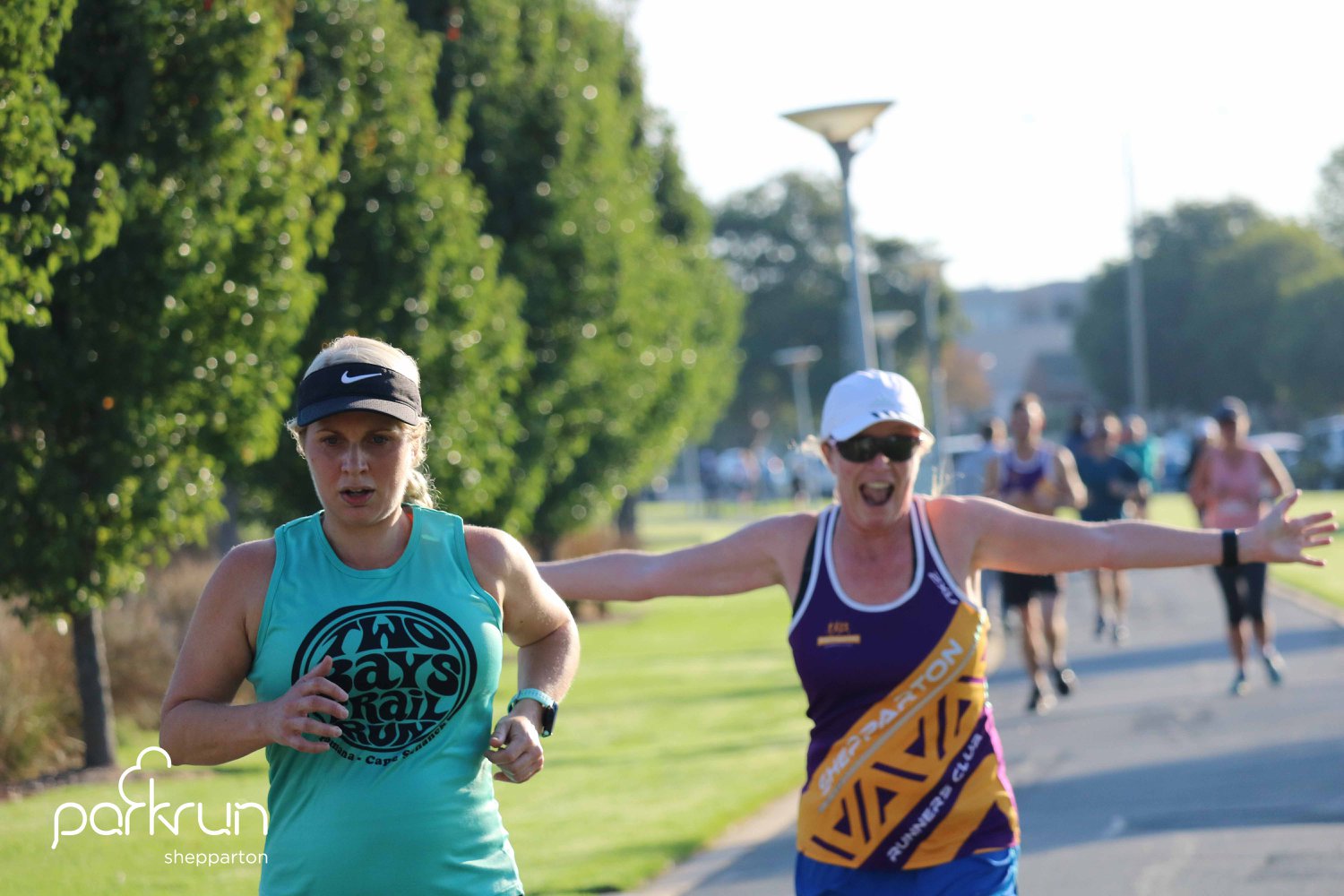 ---
It's a boy
A huge congratulations from everyone at the Shepparton Runners Club goes to Jarrod & Meg Minogue on the birth of Jack Peter Minogue.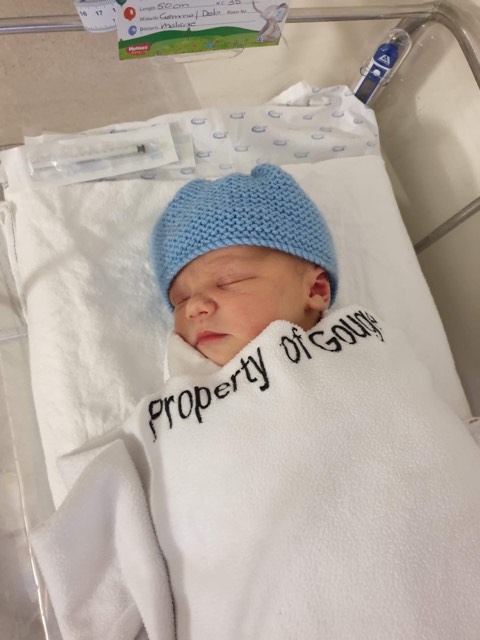 ---
A small group of runners communicate via a Facebook messenger. Topics are not restricted to running. Actually, running topics are few and far between. The following is one such topic that is on topic. The posters name is listed first.
Q & A
Chris Nicholson
Ok serious running question (I know how dare I post a question about running on a chat group that has Runners in the title!). The long run and nutrition is it worth taking a gel on runs 25 kms and over? I know ideally i should get up earlier and eat something but 5:30 am is hard enough on a Sunday without getting up earlier still. On my run today I started to see my Heart rate climb just slightly after 25 kms and I had to back off a little bit to keep it around 140. I put this down to burning up what ever glycogen I had in store by then. Thoughts?
Sam
I would have thought the gel would assist in the overall training regardless. As an overall training routine that is.
@Steven? Coach Armstrong?
Steven 
There is no harm in starting with a gel. Take one on time, not distance. E.g. every 45 mins.
Kate Dainton
Uncanny I was just getting on here to ask a nutrition question too.. let's fix this one first though. I just had a black coffee and some sultanas (coach Chris suggested this it's a goodie) on 22km I don't think I would want to go any further without fuel. Meg wood would say your recovery will be harder if you don't get in fuel on your runs. Would have to agree especially if your like me and can't eat after for a while. My memory I would take 1 gel out with me and have that on my 25km..sometimes a protein ball or lollies depending on how I feel. the long long runs i used fuel like race days. Teaches the tummy to handle the sugary gels too in theory.
Chris A
I suppose I'm just conscious of not training myself to look for "sugar hits" but at the same time there comes a point where I need something.
Sam
I don't know if heartrate is affected by nutrition though…?
Coach Chris 
It's up to you @Christopher I tend to keep gels for race specific long runs so you can see how the body reacts to them at that intensity. Unless it's hot I don't tend to take gels or drinks on the long run to try and teach the body to become better at burning fat and becoming less reliant on glycogen as the glycogen tank typically lasts 80 minutes at threshold effort.
Ways to mitigate it: long story condensed
Saturday is carbs day – eat healthy carbs and decent amounts of them, drink plenty of water to make sure you're hydrated to recover from the Saturday session but to also prepare for the Sunday long run.
Sunday morning – a handful of sultanas and some water before you go out, or maybe some toast with honey and banana before you go out can be handy – would want a good hour for the toast to begin to digest, otherwise sultanas can be taken literally as you walk out the door if you want.
Once you finish you need to start recovery – you have about 20 minutes maximum to get food in to speed up recovery, once you go over this the body starts to shut down to preserve what's there, get the food in and the body will use that to start actively repairing.
Your heart rate will climb once you've exhausted the glycogen, it's the first stages of your body wanting to shut down.
In summary
Gels for long runs – personal choice… but it's a no for me, race specific effort long runs = yes
If no nutrition on long runs, you need to be smart about how you fuel the day before, and recovery immediately after
Chelsea
Given that the hearts role is to move glucose/glycogen and oxygen to cells for cellular respiration (energy production) I would assume that if either of these things were in low levels in the blood stream then the heart would be stimulated to pump faster to meet the demands of cells in your muscles….. even though your breathing rate is regulated by carbon dioxide levels in the blood and not oxygen
And then Kate took the topic off track to a new feature that is tracked by Garmin. LOL. 
---
This is a must-read.
In the cyberspace world with trolls and keyboard warriors, it is easy to criticise people and let them know what you think of them.  What is difficult is to say nice things about people.
Chris Armstrong wanted to create some content to pay respect to people he looks up to. Originally posted on his blog and then shared to Norah's Facebook page Chris shares his thoughts on 5 people in his life. In this well-written piece, Chris grabs a thought/mantra from the 5 influential people in his life.
I am not sure how Chris stopped at 5 people but he somehow did. The person most of us will know best in this list is Kate Dainton. Kate is one of the most thoughtful, caring, considerate, & generous people I know. Thanks for sharing Chris.
Fighting against the trolls – by Chris Armstrong.
Click on the link here to read it.
---

https://sheppartonrunnersclub.com.au/wp-content/uploads/2019/05/56601004_2148009835278713_8909455295256723456_n.jpg
960
960
admin
https://sheppartonrunnersclub.com.au/wp-content/uploads/2017/06/SRC-Logo-300x221.png
admin
2019-05-23 12:46:02
2019-05-23 12:46:02
SRC E-News May 24