Club News
May Handicap
Next Sunday May 5th, we will have our second cross country handicap for the season at Princess Park. First runner will leave at 8am. There will be a BBQ on afterwards, $30 vouchers for our top 2 male and female runners from Intersport Shepparton and lots of fun – please register here to assist with catering for the BBQ and handicapping: https://docs.google.com/…/1FAIpQLSdmKRdzoEEbqCFp1T…/viewform
40th Gala Dinner
We are super excited to announce that tickets for the 40th Gala Dinner are now available for purchase.
Tickets MUST be pre purchased and ticket sales will close on the 30th of June 2019 (for catering purposes).
If you would like to sit with certain people or have dietary requirements please enter them in the Comments section when purchasing.
So get in quick and grab your ticket or table as it will be a great night out for one and all.
ALSO if you would like to help promote the event by placing a poster in your work window please see or message Mel. THANKS J
Mothers Day Classic.
We'd like you to meet the amazing and inspirational Kylie Jones 💖 A couple of weeks after last year's MDC this already two times BC survivor was diagnosed for the third time! Kylie had also already signed up to do an Ironman Event in Busselton in the December… this "event" involves swimming nearly 4km, jumping on her bike and riding 180km and then running a full marathon 42.2km!! Nothing stops this chick, she has an inner strength that is unstoppable. So she kept training whilst she got the BC "sorted" and we are super happy to say Kylie was cleared for the third time and went on and completed and smashed out the Ironman (Woman) just 7 months later! Kylie is a reminder on why the MDC event is so special .. we honour, we support, we celebrate. So let's keep going till we smash out BC for good.
#pinkpeaks #inspirational
Please share Kylie's story and join us on Sunday 12 May at Victoria Park Lake #cancersucks 💓

---
---
O'Keefe Challenge in Bendigo
By Tara Daniel
This year we had a group of 7 (including me) awesome ladies taking on the Ekiden relay at the O'Keefe Challenge in Bendigo. Ekiden relays (for anyone who cares) is actually a Japanese term which involves taking on a long distance event in multistages and its based on how the Japanese used to convey messages hundreds of years ago. The O'Keefe is also only one of two Ekiden relays in Australia. In our case 31 teams of seven people conveyed a sash from the start line at Junortoun to the finish line at Heathcote where we got to cross the line as a team of Seven! (thanks to Debbie for pretending to be Chelsea!)
We had an early start, leaving home at 5:45 am to make it to the start line in time for Chelsea to nervous wee and line up with the marathoners for the start, unfortunately this was delayed by 45 minutes due to unforeseen bus issues! But we eventually got underway and with much car shuffling and driving between legs team Sheppresent completed the event in a respectable time of 4:11:48. The legs and team members in order were
Chelsea Nicholson – 7.4 km – 48:49;
Natalie Hicks – 8.9 km – 45:57;
Regan Flanagan (not a runner, but she will be) – 9.5 km – about 48 minutes, she's not on strava so it didn't happen;
Justine Ryan – 3.4 – 25:13;
Tara Daniel – 4.3 km – 23:48;
Julz Mulcahy – 2.9 km – 23:25;
Melanie McAullife -6.1 km – 36:33.
Although it was a long day, it was an absolute blast and I loved (cheating) running a marathon with such an awesome bunch of chicks. I hope we can do it all again next year, uninjured and in full health!!
Having now (cheated) completed three team marathons, I have to comment on how much fun they are. I enjoy the camaraderie and support you get by running as a group. If you have never done a team's event, I urge you to give it a try…don't forget the Shepparton Running Festival has one!!!!
And the half by Sam Daniel
Chris Nick and I headed straight to to the start line on Sunday morning for the O'Keefe half marathon starting in Knowsley. We got there a little early, so the ports-potties were clean and fresh. After a quick warm up, we set off in the opposite direction of the finish line for 2 kms to the turn around. That gave us a clear 19 km run straight to Heathcote along the rail trail. There was a bit of elevation in this run, and I certainly felt it at times. At the finish line, it was great to chat and compare runs with all the other runners. SRC is a great club, I love the support we give each other.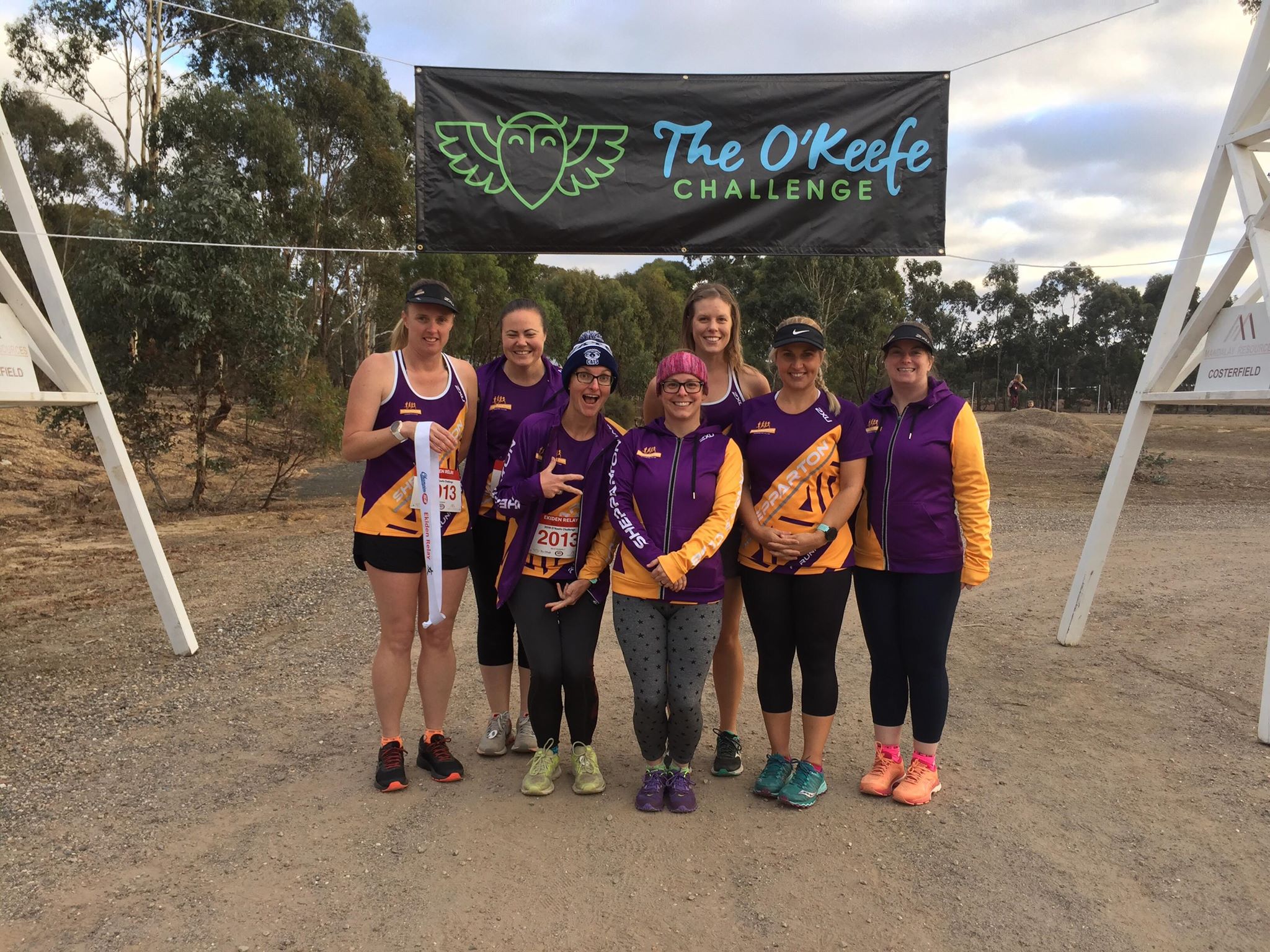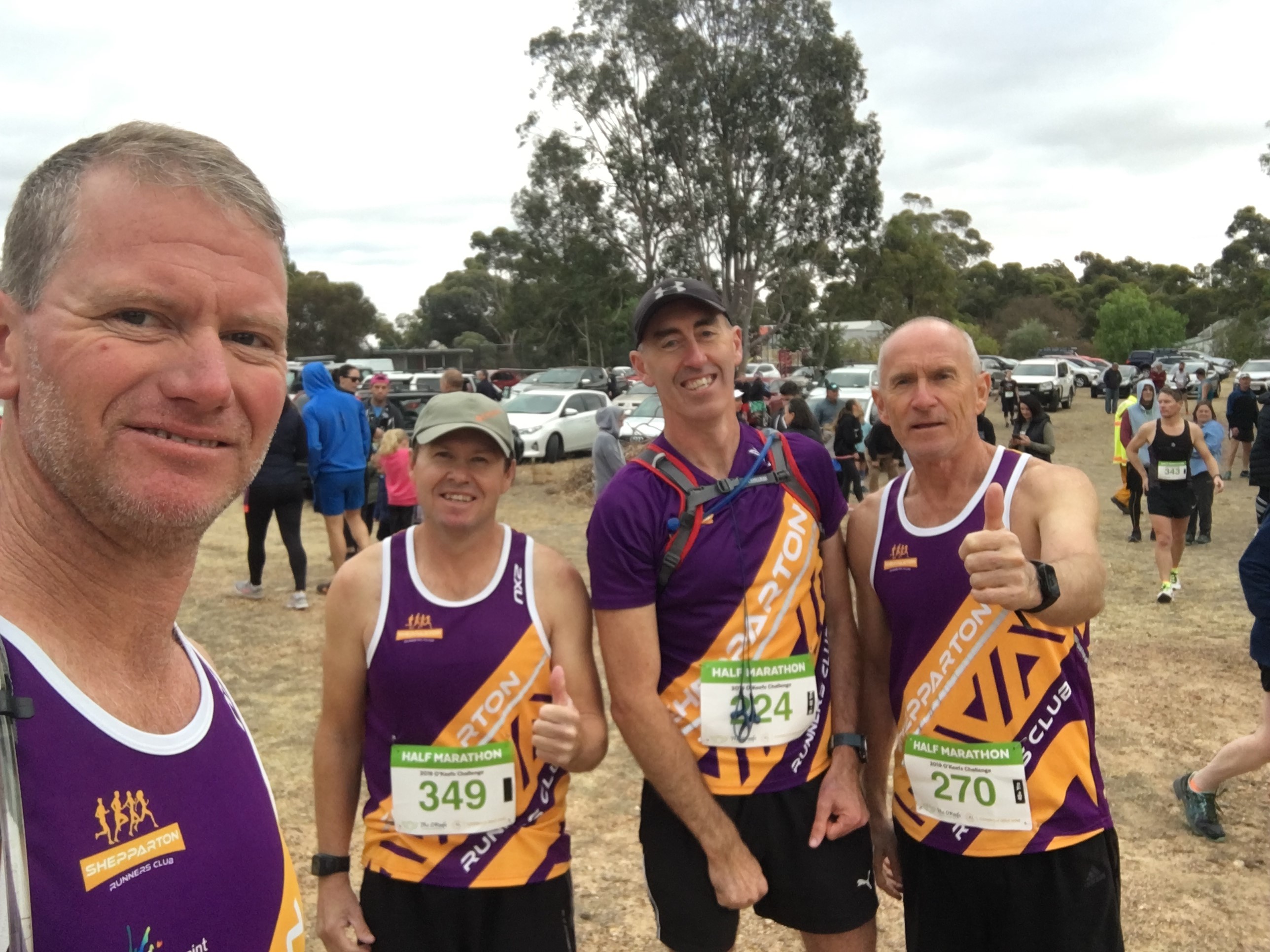 ---
---
Shepparton parkrun stats
As we come into winter here are some interesting stats on Shepparton parkrun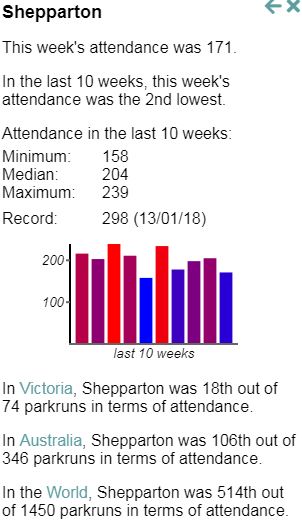 ---
The O'keefe con't
A record 800 runners and riders have raced their way to Heathcote over this weekend in the biggest – and fastest – O'Keefe Challenge yet.
From as short as 500 metres through to the 42.195 kilometre marathon, the eight different races on offer provide challenges for people of all ages. It's proving to be increasingly popular, too, with participant numbers higher than ever.
"Who would have thought this event could grow to the heights it has in just four years?" Chair of the O'Keefe Rail Trail Marathon, Sandra Slatter said.
"Thanks to all our sponsors who have supported the event since its inception and a big thank you and congratulations to Event Director, Nigel Preston, and his team for their continued dedication and commitment, their outstanding efforts are to be commended!"
Four Record Breaking Performances at this year's O'Keefe Challenge:
Women's Marathon
Australian Commonwealth Games representative, Virginia McCormack, ran a stellar race to smash previous Women's Marathon time by 15 MINUTES. Virginia also receives a $750 cash bonus as the first woman to break 3 hours.
Men's Marathon
Two past race winners were locked in a titanic struggle until the last kilometre when Jamie Cooke outsprinted Leon Griffin to win by just 10 seconds. Jamie shaved 30 seconds off his own course record which he set in the inaugural event in 2016.
Men's Half Marathon
Half Marathon winner, Brady Threlfell, broke the previous Half Marathon record by 6 minutes (1:15:31). He was chased by a pack of four who were all underneath the previous record, too.
Men's Ekiden Relay:
The Run Bendigo relay team (consisting of Ben Stolz, Stephen Van Rees, Andy Buchanan, Kye Jenkin, Matthew Schepisi, Luke Millard and Nathan Meade) eclipsed the previous Ekiden Relay course record time by 45 minutes (2:21:25)
---
Save the dates.
SRC 40th – 
Facebook page
– Saturday July 13 – ticket sales will close on the 30
th
of June 2019
---

---
https://sheppartonrunnersclub.com.au/wp-content/uploads/2017/06/SRC-Logo-300x221.png
0
0
admin
https://sheppartonrunnersclub.com.au/wp-content/uploads/2017/06/SRC-Logo-300x221.png
admin
2019-05-02 12:19:23
2019-05-02 12:19:23
SRC E-NEWS May 5