This weekend
HAVE YOU REGISTERED for this years Numurkah FUN RUN 2019??
CLICK HERE: https://onlineevent.com.au/…/st-josephs-p…/numurkah-fun-run/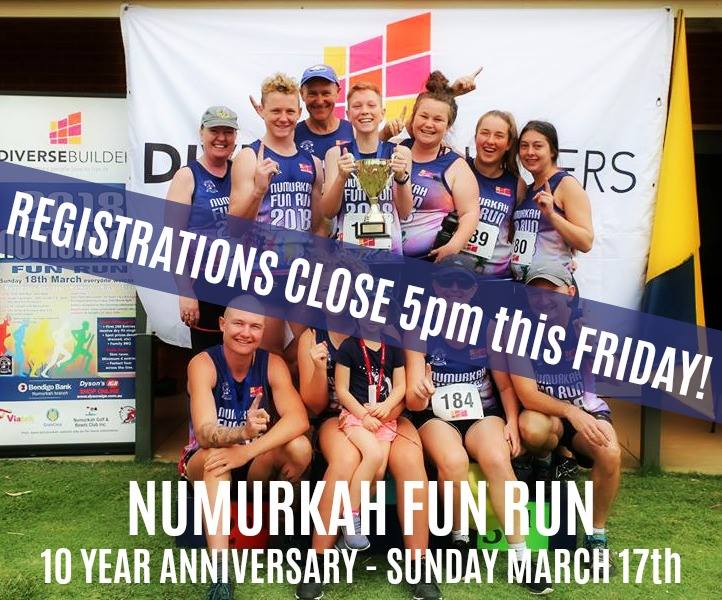 Last weekend.
Saturday
parkrun.
Perfect running conditions saw 203 people hit the track to give this weeks parkrun a go. High-5 alley was also well attended with many of our little people there to encourage and high-5 the runners as they wernt past. Just what we love to see, everyone getting involved.
Perfect running conditions saw 203 people hit the track to give this weeks parkrun a go.
Sunday
Nathan Stoate ran 42.2 km (full marathon) as a training run at Cobram. His time was 2:49:03 or 4:00 min/km pace average.
Below are the stats from Strava on this run.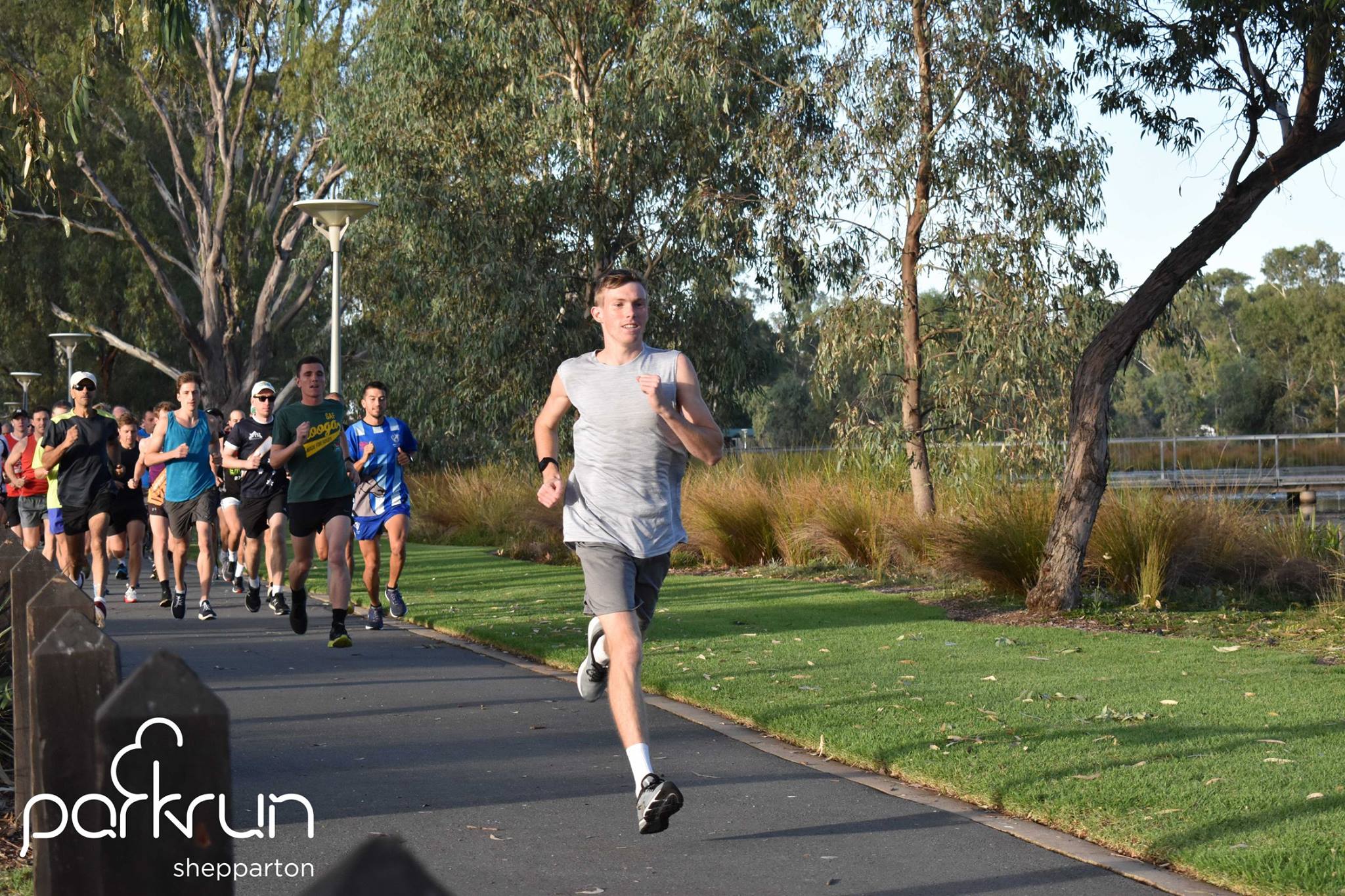 This is a massive super impressive effort for a training run. I understand Nathan will run at the Numurkah fun run and I think their is a course record waiting to be broken.
SRC Bunnings BBQ.
Sunday saw the SRC host a very successful BBQ at Bunnings raising just over $1,100.00. Thank you to everyone who helped out.  Special thanks goes to Melanie McAuliffe for organising everything and everyone for the day. Well done superstar.
But the work doesn't stop. For the month of April, the Shepparton Library will showcase a display of SRC photos and memorabilia. So come on down and check it out during the library trading hours.
Monday
Run the course, Seymour.
Below Lila Urquart age group winner at Run the course in Seymour.
Also attending Sam and Tara, Pete and Rory, and Mairead.
Congratulations Tara on second place female.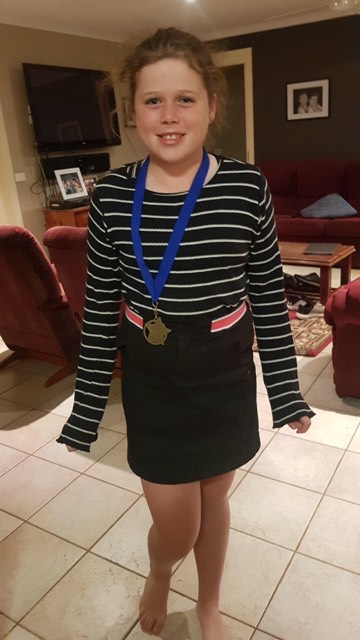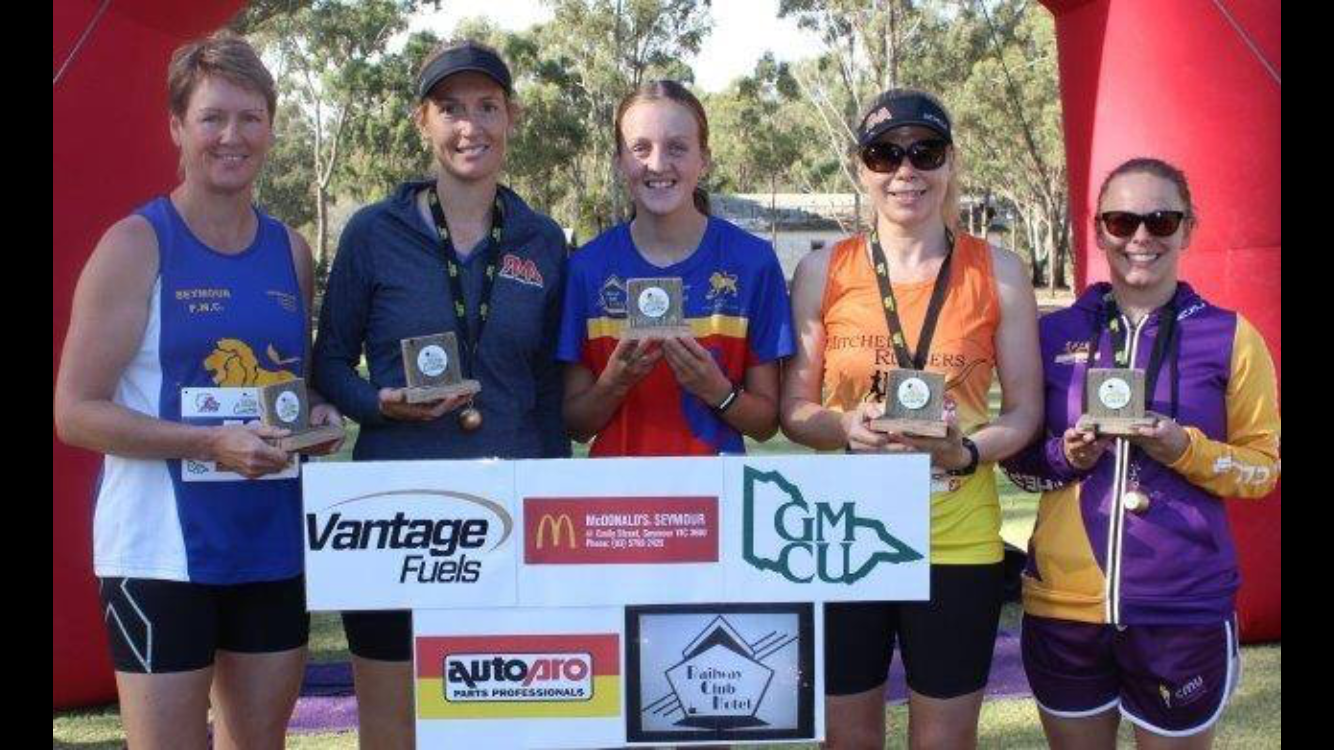 ---
2019 Victorian 5000 mtr chanps M20
2019 Coles Victorian Track & Field Championships. Saturday 9 March 2019 at Lakeside Stadium, Melbourne. Final of the Men Under 20 5000m.
Archie Reid is coached by Laurie Edmonstone in Echuca
Watch for Archie Reid in red – HERE
---
Editors Note: – Over the last few months a few people have informed me that the word parkrun had a lower-case p in it. Yes, I know! After the first time I was told, I have made every effort to get it right. I don't know if it's the late nights or I have trouble changing the name of something to start with a lower-case, or autocorrect. But I do know and I am trying to get it right all the time.
Thanks for your understanding.
---
Coming up in March
March 26 from 6pm, we will have a handicap race that night. (assuming a track booking is ok.)
Albury Murray marathon festival website is here.
---
If exercise is a regular part of your routine, helping prevent injuries is the key to helping you stay in the game. To keep on track, get yourself these simple tools to use at home.
Foam roller
The popular foam roller is reasonably new on the exercise scene and research into its benefits are still ongoing. There are studies that suggest when combined with stretching, foam rolling can help reduce muscle soreness and increase flexibility. The pressure of rolling across areas of the body can help relieve muscle tension and break up connective tissue. Aim to foam roll for 1-2 minutes before exercise and 10-20 minutes after to benefit from its effects.
Read more: 5 ways to use a foam roller, in pictures
Spiky ball
Great for releasing tightness in hard-to-reach trigger points. Wedge the spiky ball between you and a firm surface and slowly move around to create pressure on the point. You can adjust the amount of pressure by moving the position of your body. Try it out on the soles of your feet, front and back of your shoulders, glutes and hip flexors. Some points can feel tender to press against so remember to breathe through it.
Resistance band
The perfect tool for stretching, especially if you have limited flexibility and mobility. Resistance bands help to deepen your stretch while increasing your flexibility. You can lie on your back to stretch the groin, inner thigh, hips, lower back and hamstrings. To stretch your hamstrings, lie on the floor and loop the band around your foot and push it to the sky, and then gently pull on the band so your leg comes towards you until you can feel the stretch. This can also help release tension in your lower back.
Read more: 4 ways to relieve back pain
Heat bag
Having one of these can be handy if you have stiff joints or aching muscles. Applying heat stimulates blood flow and tissue elasticity to help relax the area. It's important to remember that heat is good for stiffness and aches, but not for acute pain after an injury, like a sprained ankle.
Icepack
Ice helps reduce pain and swelling in the first 48-72 hours after an injury. Applying an icepack helps slow blood flow to the area and decrease swelling. It can also help prevent stiffness later down the track. If you don't have an icepack in the freezer, frozen peas will do the trick, just make sure you wrap them in a tea towel or cloth so you don't burn your skin. Ice your injury for 15-20 minutes every couple of hours, and if there is no improvement within a week, see a doctor or physio.

https://sheppartonrunnersclub.com.au/wp-content/uploads/2017/06/SRC-Logo-300x221.png
0
0
admin
https://sheppartonrunnersclub.com.au/wp-content/uploads/2017/06/SRC-Logo-300x221.png
admin
2019-03-14 10:54:53
2019-03-14 10:54:53
SRC E-news March 15