SRC Handicap.
Spring has sprung and the warmer weather has returned, it's getting towards the business end of the AFL and NRL, come and race in your favorite team colours.
Registrations on the day from 7:45am at Princess Park, can register in advance by replying to event or confirming with facebook page.
Cost – SRC Members – Free, Non-Members $5
Sunday 23rd
Registrations from 7:30 am Race brief 8:00am , First runner 8:15am
Introducing Parker Lewis Hicks!
Born at 12:08 Sept 18. –  3.88kg, 35cm. Natalie Hicks having a long overdue rest and recovering well (enough). Little bloke loves the boob. Thank you all for putting up with us! Should be right for Parkrun on Saturday…
Bunnings BBQ
A massive congratulations and well done to Melanie McAuliffe for organising the SRC Bunnings BBQ, food and volunteers. A great day was had by all (including Rob Hearn).
Nothing is more Aussie than a Bunnings BBQ, and on Sunday the 16th the Runners Club Hosted this iconic event. It was a crazy day with some random moments including:
A gentle man placing $2 on the table and walking away, when asked what he would like he replied "Nothing. That's for the smell"
Another customer requested RAW onion on his order, and the second sausage was for his dog (onion free of course)
Later in the day a lady made a purchase for her two kids. One sausage and bread only, the other onion and bread only (one kid eats meat the other doesn't, LOL)
The were numerous requests for well cooked sausages and onion, and by well cooked they wanted charcoal!!
A number of romantic gentlemen used the occasion to take their wives out for lunch.
And a few who came,  bought a sausage with out even stepping inside of Bunnings.
We also had a few repeat customers including the lovely Chis O'Halloran,  and the dynamic duo (Tara and Sam)who came back for a second, third and possibly forth serve.
There were lots of laughs to be had and I must say a HUGE thank you to all who volunteered their time to make the day possible. It was wonderful spending the day with you all.
The day was very successful due to, not only the weather and volunteers but, the generous support of Woolworth's Seymour and Woolworth's Archer Street. 1000 thank yous to Anthony and Jenny for all of your amazing organizing leading up to the BBQ and for all your help on the day.
Its events like these that make me proud to be part of such an amazing club. It was a great opportunity for people to hear about the club in a new environment and spread the word that there is a family friendly club available to all in the GV. And I look forward to being part of the upcoming 40th Celebratory Year.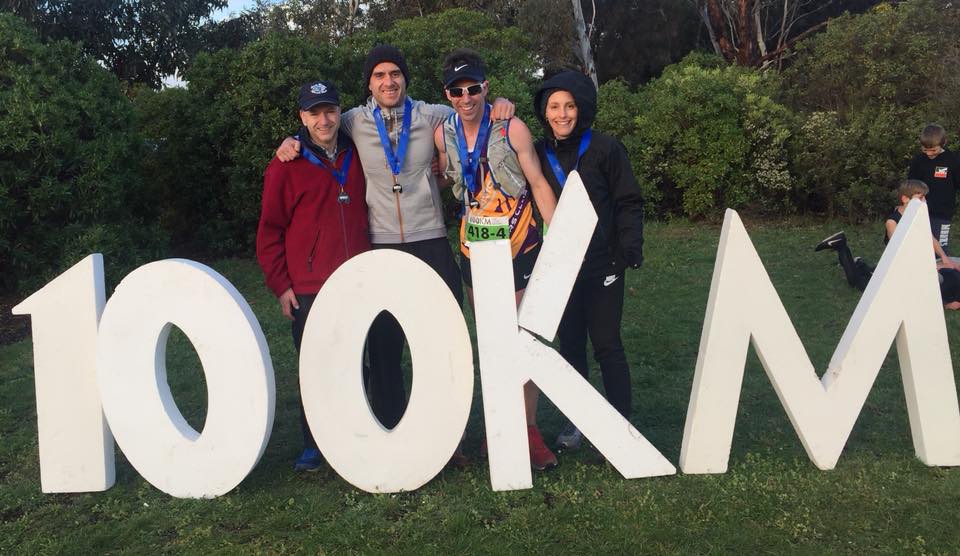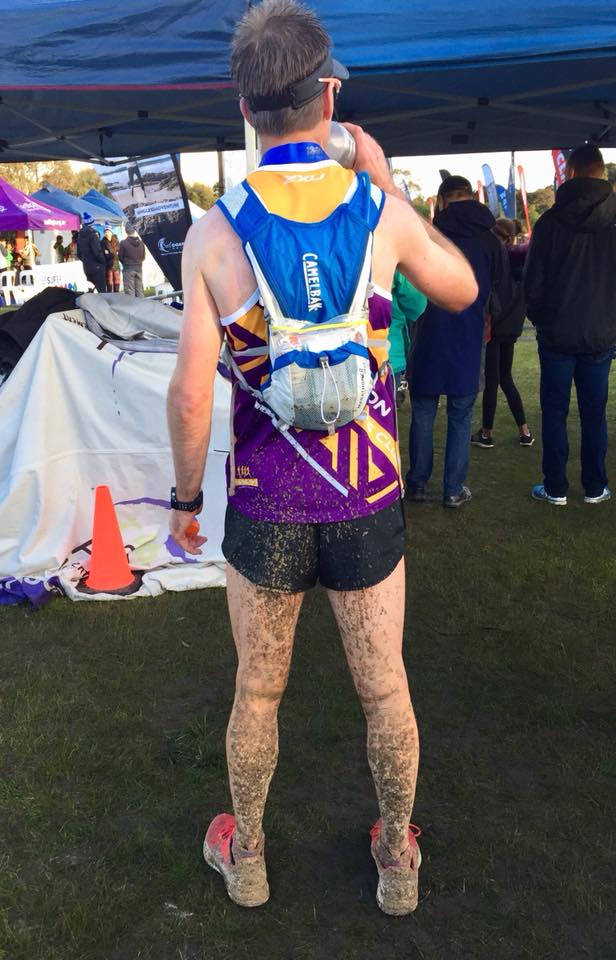 Team Burning Sensation were ready to go but unbeknown to us little Parker Lewis Hicks had other ideas. The plan a few weeks ago was this; Leg 1 Chris, Leg 2 Grant, Leg 3 Kim and Leg 4 Tim. I was going as support. On the Tuesday before Grant messaged to say he was a late scratching and to find another runner. That runner was me. I checked the weather – No good (rain, 40 km/h winds, and hail 13 degrees). Well at least it started at 7.30am instead of 5.30am. We updated the race order to be Leg 1 Norah, Leg 2 Tim, Leg 3 Kim and Leg 4 Chris.
We picked up Tim and headed to Anglesea on Friday night after work. Up nice and early Saturday, for breakfast then headed to the start line to meet Kim and collect our race bibs. One last nervous wee, check the first aid kit, phone, jacket on then off to the start line on the beach. On Friday, the race organiser sent an update to ensure all runners wore a thermal top for the conditions expected. After few quick photos, it was go time and I set off down the beach. This leg is stunning with the sunrise, cliffs and beaches. I un-zipped and zipped my jacket up and down about 100 times in-between showers. At one point, the sun came out and a rainbow crossed the ocean behind us. The vollies on course were awesome. I ran with a group doing the 100km, and we help each other up the rocks, and chatted at stopping points. These people are amazing and in those conditions. Luckily, I did not have any falls and the rocks were better this time around. I was so excited to get to the end so Tim could start. Finish time in 3 hours, which was a 20-minute improvement. Time to get dry and get back out there to see Tim at the next checkpoint.
Regards
Norah Armstrong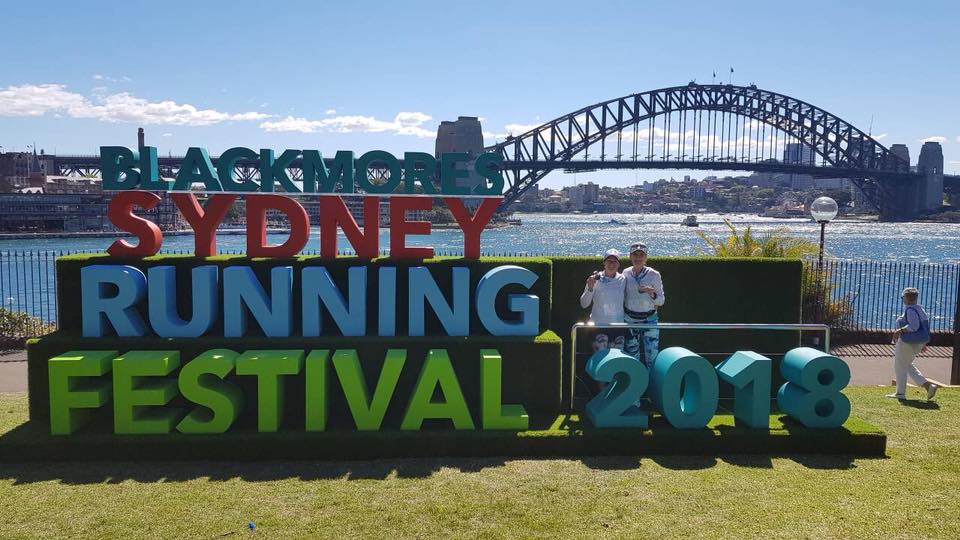 Race Report #9 – Sydney 
Race 9 saw us head to Sydney.  The Blackmore Sydney Marathon is truly one of the most scenic marathons to participate in. To run traffic free across the iconic Sydney Harbour Bridge and then finish at the Sydney Opera House is nothing short of sensational!
Along the way the run also takes in many of the amazing landmarks Sydney has to offer. This is the beauty of running big city marathons as they provide a unique way to see a city and get access to areas that you would not normally be allowed anywhere near.
We had such a fantastic run together, supporting and pushing each other all the way. The weather on the day was perfect, slight wind, clear blue skies and a top temp of 17 degrees, perfect running weather – considering the day before was 31 degrees we super thankful the weathers gods were on our side once again!
The Sydney course is undulating and some of the inclines were constantly testing our body's endurance as its pushes your knees, quads, hamstrings and calves to the limit. It is also tested our strength of the mind to persevere to the end.
We ran side by side through the course, crossing the finish line together which made this another truly sensational and special adventure together.
If you have ever wanted to run a marathon, sign up for Sydney. It is my all-time favourite marathon.
We are now well over the 'hump' and heading for the home straight with #10 being Melbourne. We look forward to once again having some of our running buddies out on course with a few doing their very first marathon.
Remember – Protecting kids is everyone's business.
#voice4kidz #showyourvoice #shepprunningclub #thankyou4yoursupport
Narelle and Kathy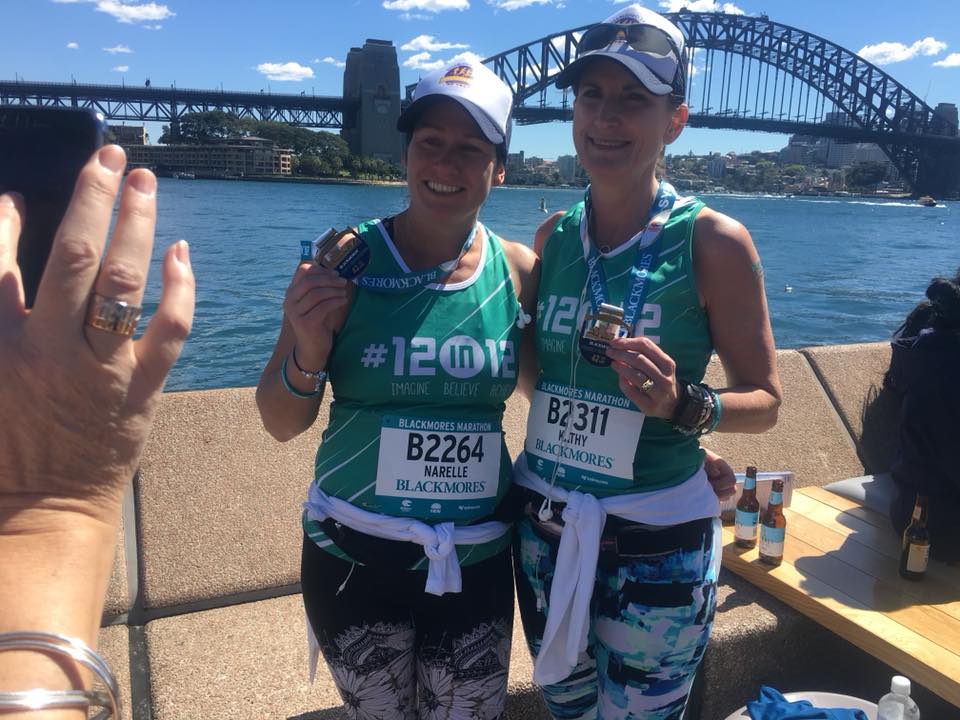 Shepparton parkrun 100 club
This week we have a personal milestone of 100 parkruns to celebrate.
We would like to congratulate Melanie McAuliffe
Melanie has run 92 parkruns at Shepparton and 8 parkruns at 7 different parkruns. Melanie, since starting off, has had 11 PB's and has reduced her time by 12:34.
Melanie has also volunteered 13 times
Congratulations Melanie and we look forward to see you joining the 250 club
| Date | Marathon | Kathy Fuller's time | Narelle Pell's time |
| --- | --- | --- | --- |
| January 14 | Hobart | 3:59:21 | 4:06:11 |
| February 25 | Wangaratta | 4:01:07 | 4:09:36 |
| March 25 | Albury | 4:08:28 | 4:12:30 |
| April 22 | Okeefe trail Bendigo to Heathcote | 4:15:37 | 4:20:58 |
| May 27 | Adelaide | 3:58:26 | 4:00:46 |
| June 4 | Traralgon | 3:58:15 | 4:05:10 |
| July 1 | Gold Coast | 4:18:39 | 4:08:42 |
| August 26 | Shepparton | 3:55:43 | 4:0054 |
| September 16 | Sydney | 3:55:08 | 3:55:07 |
| October 16 | Melbourne | | |
| November 18 | Queenstown NZ | | |
| December | TBC | | |
World News – Berlin Marathon
How did Kipchoge break 2:02? The same was Kimetto broke 2:03; the same way Geb broke 2:04. The same way Tergat broke 2:05. Negative split.
There's something in that for all of us.

In a stunning display of distance running, Olympic champion Eliud Kipchoge broke the world record* at the BMW Berlin Marathon on Sunday (16), winning the IAAF Gold Label road race in 2:01:39.
From the early stages of the race, the 33-year-old Kenyan had just a handful of pacemakers for company as they passed through five kilometres in 14:24 and 10 kilometres in 29:21. But shortly after 15 kilometres, which was reached in 43:38, two of the three pacemakers were unable to continue and withdrew from the race.
The final pacemaker, Josphat Boit, led Kipchoge through the half-way point in 1:01:06 before dropping out at 25 kilometres, covered in 1:12:24.
Running alone with 17 kilometres left, Kipchoge then sped up.
He passed the 35-kilometre checkpoint just a shade outside 1:41:00, suggesting a finishing time inside 2:02 was possible. By 40 kilometres, reached in 1:55:32, a world record looked a certainty.
Kipchoge maintained his form well in the closing stages and crossed the finish line in 2:01:39, taking one minute and 18 seconds off the previous world record set four years ago by Dennis Kimetto. It is the largest single improvement on the marathon world record since Derek Clayton improved the mark by two minutes and 23 seconds in 1967.
"I lack the words to describe how I feel," said Kipchoge. "It was really hard [during the last 17 kilometres] but I was truly prepared to run my own race. I had to focus on the work I had put in in Kenya and that is what helped push me. I'm really grateful to my coaching team, my management, the organisation."
Amos Kipruto finished a distant second in 2:06:23 while former world record-holder Wilson Kipsang was third in 2:06:48.
neurofibromatosis (NF)
Copied from the Shepp news – For more information contact Kerry or Allan Connelly.
People are being invited to put their general knowledge to the test at a trivia night.
Organisers Kerry and Allan Connolly said the the event aimed to provide a fun environment for people to gather with friends and more importantly raise funds and awareness for a medical condition neurofibromatosis (NF).
Ms Connolly said the money raised through the event would go to the Children's Tumour Foundation where it would be used to continue research.
Ms Connolly said she wished to include a video about NF and a guest speaker who would be able to educate people on the night.
She believed there was a lack of awareness of the condition in the Goulburn Valley and she hoped the night would help to change that.
The #ConquerNF Trivia Night will be held at Shepparton's Goulburn Valley Hotel on Friday, October 12, from 6.30 pm.
The event cost is $35 each with buffet dinner included. Bookings are essential and can be made by phoning Kerry on 0439 711 157