Shepparton Running Festival – Massive success
By Nadine Edwards  Event manager.
The weather gods were on our side this year with near perfect conditions for running.  Months of training and commitment saw many PBs especially within in our own Shepparton Runners Club…congratulations all.
We  saw record entry numbers reach 842 including 6 teams who competed in the inaugural teams event.  We saw the introduction of event shirts and didn't they look great.  A number of event shirts in various sizes are still available for sale.   We also had naming rights for each event which were kindly sponsored by one our wonderful local sponsors.  We also saw a new, fresh look logo and motto for the event  "Now is the Time" and of course those most impressive medals. The medals included the naming right sponsors of each event on each medal.  It was also great seeing our sponsors and VIPs participate in speeches, presentations and awarding finisher medals to runners.
Last but certainly not least, a huge thanks to everyone involved in the SRF whether that be a SRC member, runner, sponsor, marshal, volunteer or supporter, you all made a huge impact on our event this year and this event would not exist without your support….until next year…
See you all in 2019!!!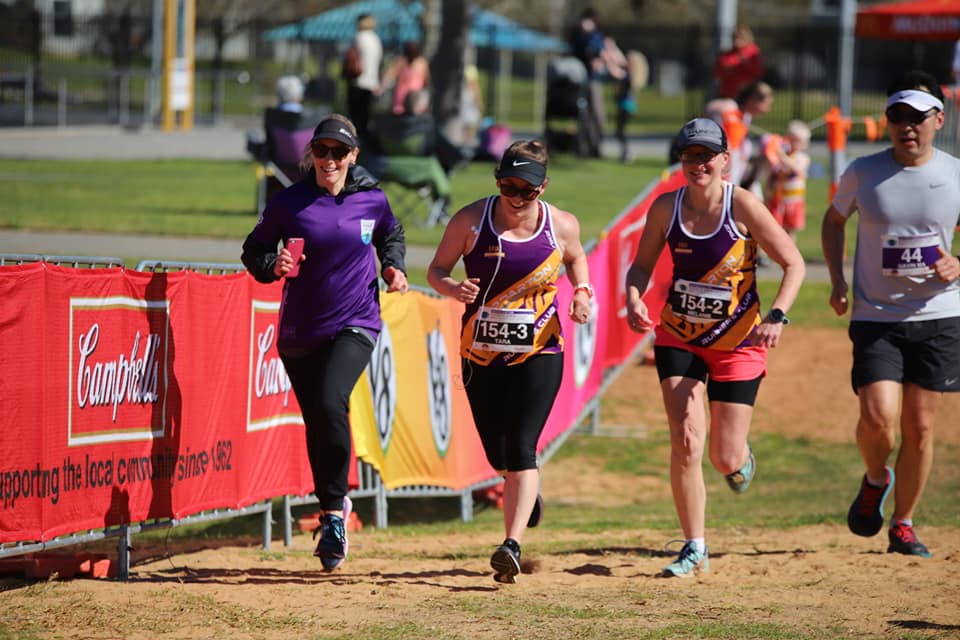 Marathon teams
In about May this year (2018)Tara suggested Mel and I do the team event at the SRF in August. In March Mel and Tara had completed the Albury Half Marathon in where Tara finished in front of Mel. So when Tara suggested we form a team Mel thought it would be a chance to redeem herself.
We would run 14km each or one lap of the marathon course. I thought it would be a great event to race in the lead up to the Melbourne half marathon as I usually do the 10km at Shepp.
Leg 1- Norah (start 7am)
Leg 2- Mel (start around 8.15am)
Leg 3 – Tara (start around 9.45am)
Perfect race conditions cool but sunny reaching 19 degrees unlike 2017 conditions. I arrived to see Tara first then saw the SRC crew feeling good and ready to go. Warm up then headed to the start line. It was great to see Trevor, Grant, Kathy & Narelle to wish them well.
I ran with Kathy as we round the bends along the Goulburn River path towards Kialla and first turnaround point. The sunlight was beautiful coming through the trees with yellow wattle blossoms. Back to the lake I spotted Chris at 7km. Over the bridge then head to Princes Park/Boulevard. High five from Kim Harrold doing his warm up. Through the 10km mark then under the causeway to Princes Park. I started seeing the marathon front runners at this stage looking good. Along the levy bank I started to feel it and wondered where the turn around was. A marshall sat at the half turn around yelling keep going 500m more. Back along the levy and a quick drink then time for home. Kathy and Narelle caught up with me at about 12km and we ran together back to the lake. I rounded the lake bend and saw the McDonalds tent. Yay not long now. I thanked Kathy and Narelle for a great run and wished them well. It was time for Mel to do her magic.
Fantastic event and amazing day overall. So good to see so many people and groups running. Will defiantly do it next year.
---
I ran exactly one third of a marathon on Sunday as part of the inaugural teams relay with Norah and Mel and it was fantastic fun! I drew the short straw and got the third (LAST) leg, so had the unfortunate preparation of waiting for 2.5 hours which included much nervous toilet visiting! When it finally came time to warm up, I was running along the gravel path at the side of the lake and thought I spotted Mel….After a small heart attack I realised it wasn't her but didn't stray too far from the transition point after that! I was nervous and ready to go with time for another last minute nervous wee. Then spotted Mel coming down the side of aquamoves….I grabbed the ankle bracelet (not the kind that stops me from leaving the house) and set off then realising I hadn't turned my watch on…so…after a bit of a kerfuffle I got into a rhythm. I felt good and quite comfortable, sitting just under 6:10/km and it was a struggle to not push it and go any faster. By the time I took off, the track was pretty quiet so I got to zone out and just enjoy the surroundings. At the 7 km mark I saw Norah which was a nice boost and I felt a million dollars heading up to the bridge. At this point the sun was also warming up and as time slowly ticked on so did my desire to finish! Running along the levy bank I saw a bollard and was too excited that this was the final turn around point but it lied and I still had a bit to go until the official turn around point. Once I hit there I got my second wind, a great song for prancercising came on and I made my way back to the lake. As I came around past aquamoves I was looking keenly for the purple and gold of Mel and Norah and couldn't see them….I had in my head that I would have to stop and call Mel so we could cross together but then I spotted them so that saved me a phone call! I have to say doing the teams event was perfect for me, 14km is a great distance and it was fantastic to be able to do it with Norah and Mel. I even got to beat Mel again! Rematch 2019??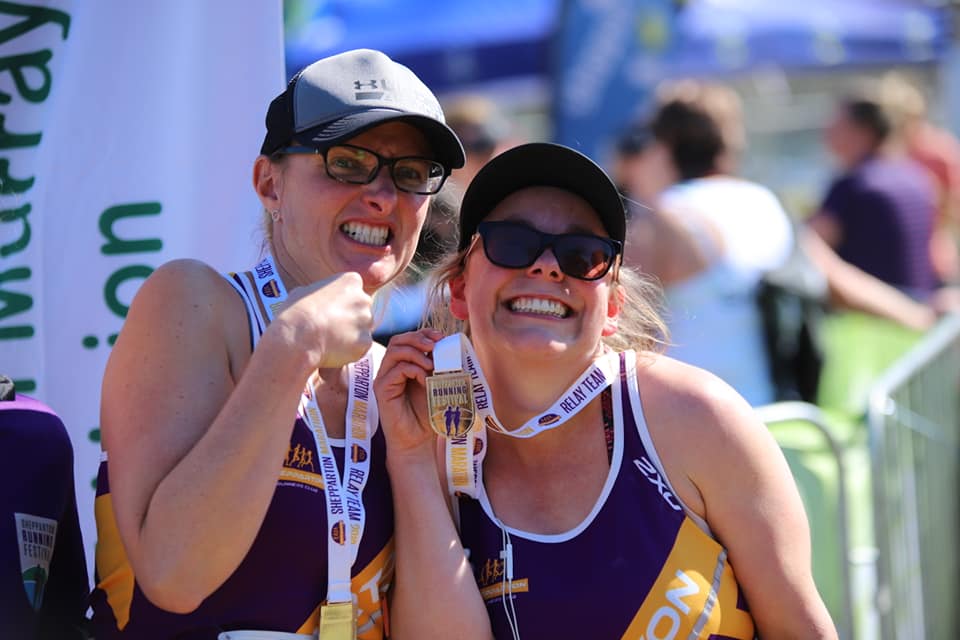 Mathieu's PB and a half
As we lined up for the half marathon, I had a quick reflection on how the road had been to get here. Training had been great up until late July when commitments got in the way. Still feeling like I had done enough to manage a PB, I got my head in the game. My goal was to keep my pace consistent, don't go out hard. Keep it controlled.
The horn went off and we began. The buzz in the field with everything starting had people laughing and talking. The first few kms felt good, i kept pace with the likes of Steve Monk and Chris Nicholson. The legs were fresh and the air felt great in the lungs.
I managed to sneak past Steve as we headed towards Kialla. Things were more serious now. Less people were talking now and it was more serious. I kept Chris in my sight as I knew we were both aiming for similar times.
Mid race I somehow managed to pass Chris. This wasn't the plan, but the legs were still feeling great and the pace was still consistent, so I ran with it (pardon the pun).
At around the 15km mark i felt the dreaded niggle in my hips (this played up the previous year in Wangaratta and it caused me serious pain). I slowed the pace down to help reduce the pain. The average pace was still within margin for a PB, so I wasn't to stressed yet. Not long after this, Chris had caught and passed me, not far behind him was Steve. My spirit began to deflate, looking down at the watch I realised i was moving slower than I thought. With 2km to go I put in everything I had left. I was going to get that PB. I had worked hard enough, the finish was in sight, and I was determined.
I crossed the line at 1:40:12, shaving 2 minutes off my PB. I was stoked! It wasn't the time I was aiming for, but I was happy with my efforts.
I had a quick breather, then it was off to the 2km kids dash with William which was the perfect cool down as we walked 1.5km.
I now have an appointment with an Osteo to discuss my hips and see where we go from there.
VOLUNTEERS: Our event would not be the same without our valuable volunteers. Thank you, thank you, thank you. Each year you continue to amaze us!
Shepparton Runners Club and all the participants appreciate you giving up your time to make our event memorable. #volliesareawesome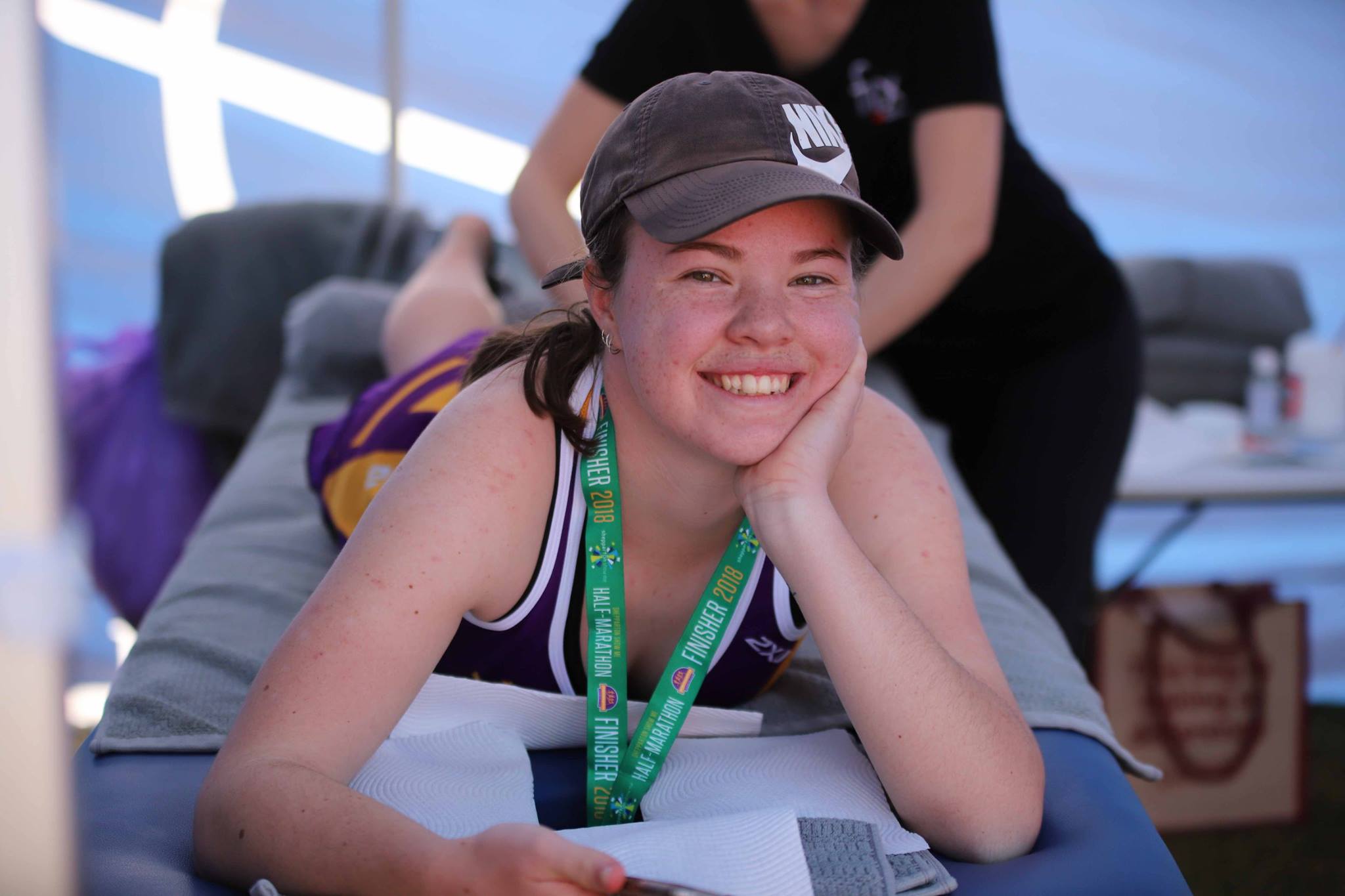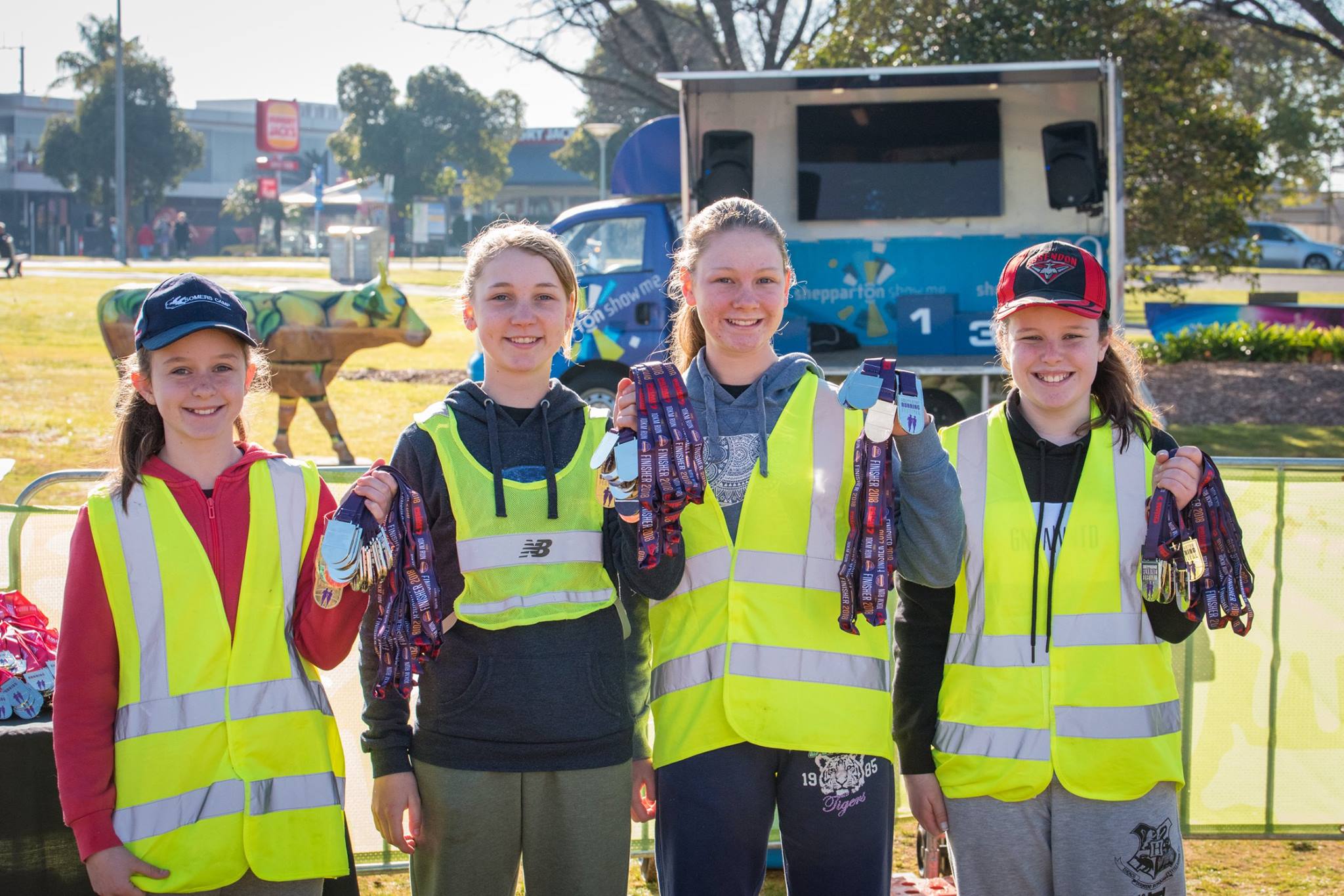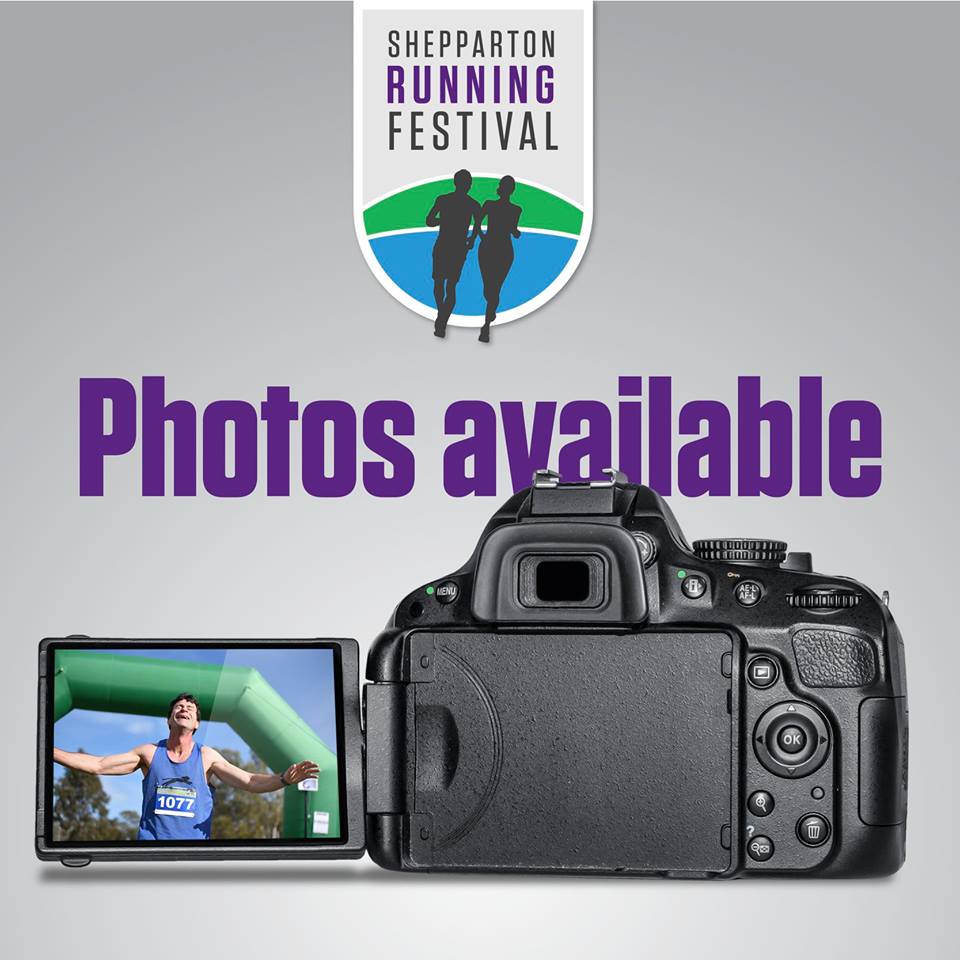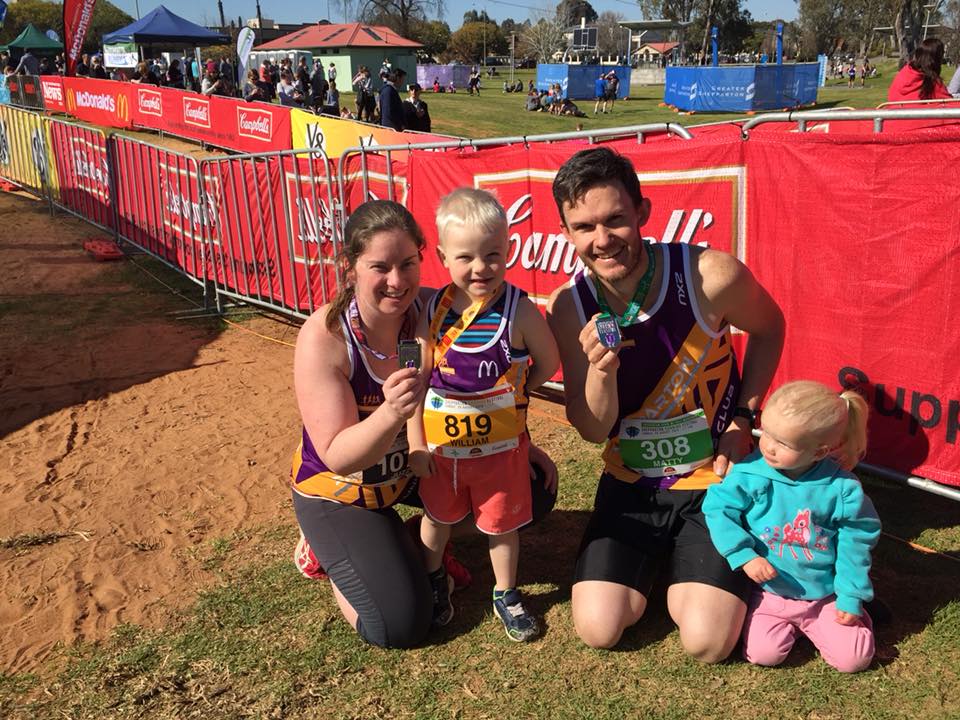 Fellow Running Club members are like family. It was so great to meet and see the Lalor Running Club members having such an awesome time in Shepp! Make sure you get in touch if you're coming next year.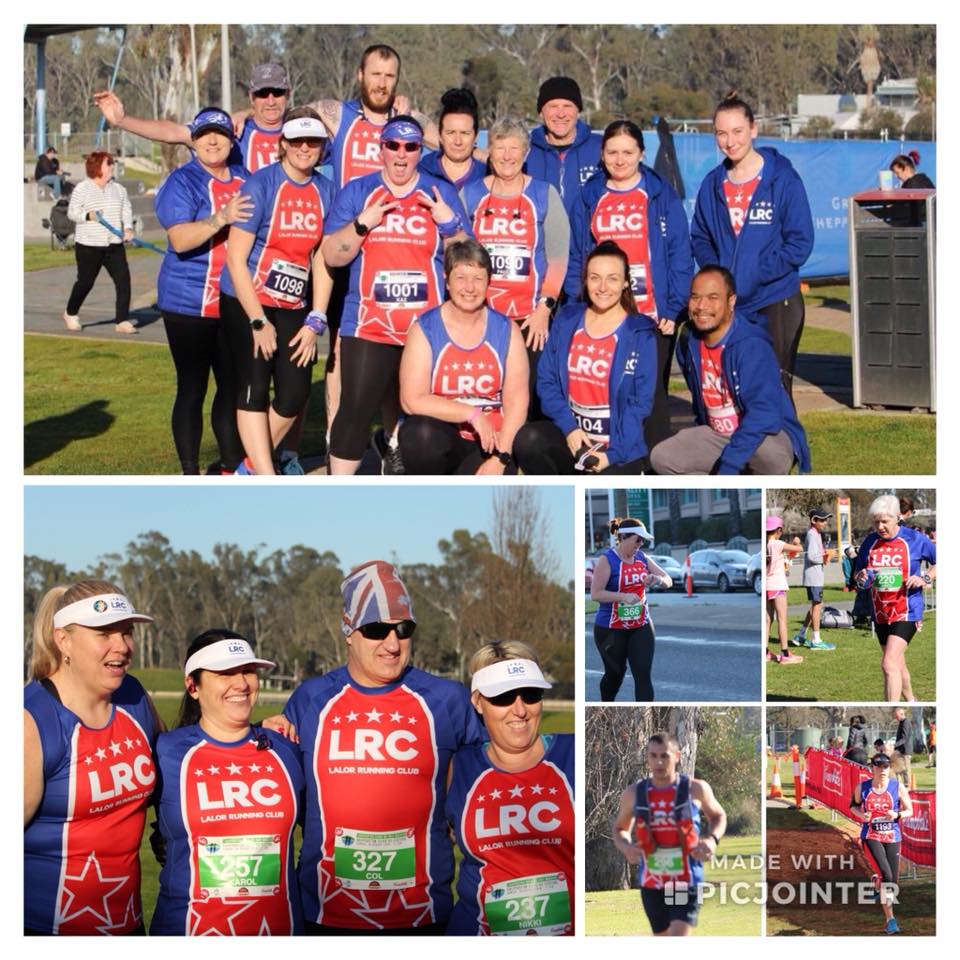 Click on the link below to see SRC members results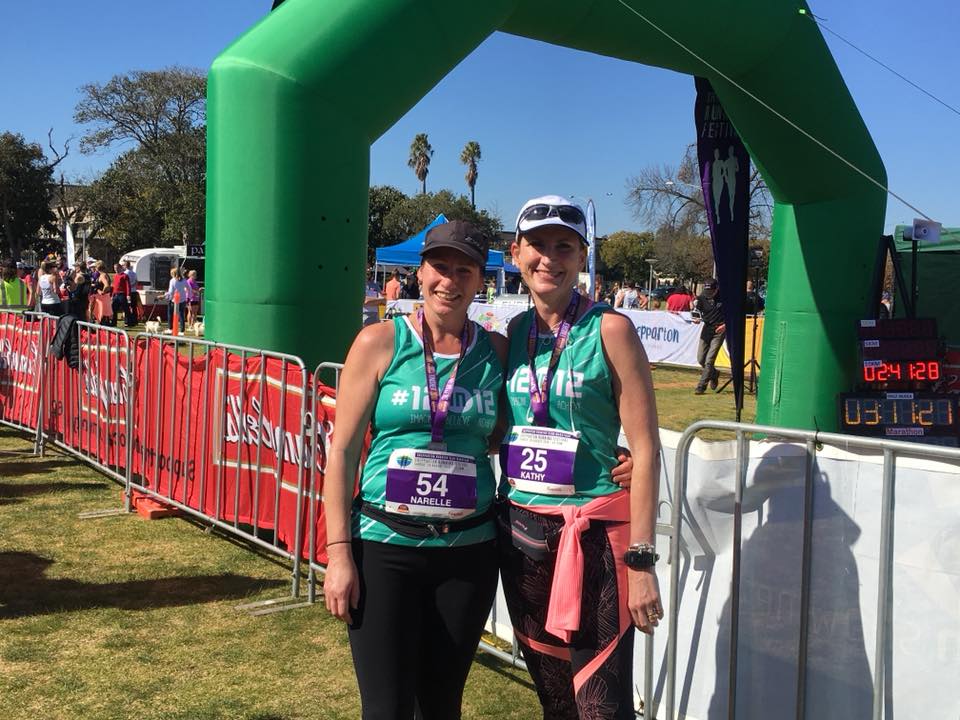 | Date | Marathon | Kathy Fuller's time | Narelle Pell's time |
| --- | --- | --- | --- |
| January 14 | Hobart | 3:59:21 | 4:06:11 |
| February 25 | Wangaratta | 4:01:07 | 4:09:36 |
| March 25 | Albury | 4:08:28 | 4:12:30 |
| April 22 | Okeefe trail Bendigo to Heathcote | 4:15:37 | 4:20:58 |
| May 27 | Adelaide | 3:58:26 | 4:00:46 |
| June 4 | Traralgon | 3:58:15 | 4:05:10 |
| July 1 | Gold Coast | 4:18:39 | 4:08:42 |
| August 26 | Shepparton | 3:55:43 | 4:0054 |
| September 16 | Sydney | 3:55:08 | 3:55:07 |
| October 16 | Melbourne | | |
| November 18 | Queenstown NZ | | |
| December | TBC | | |
Parkrun Adventures.
The early reviews are in and they're all positive so make sure you don't miss episode 127 of the pod.
Featuring Australian legend Rob de Castella and roving reports from Weipa parkrun and Wimmera River parkrun, Horsham
Now available on Spotify and all the usual places.