Countdown
Shepparton Running Festival 7 weeks to go
Melbourne Marathon 14 weeks to go
The Shepparton Running Festival charity partners
Shepparton News Pink Ribbon brunch
and GVCASA #voice4kidz
Club news
Sunday, July 8,
Our 3rd and final cross country handicap for 2018 will be on Sunday 8th of July. First runner will leave at 8:15am, registrations can be taken on the day from 7:30am or preferably, you can register on facebook by either accepting the invite or replying to this message. Everyone is welcome to attend and participate!
Cost:
SRC Members – Free
Non Members – $5
$30 Sportsmans Warehouse vouchers to first female, male, junior male and female along with a complimentary BBQ afterwards of bacon and eggs. Come join in the fun!
THIS WEEK
Tuesday, July 10 – Training as per normal at Victoria Park Lake south end from 5:45 pm
Thursday, July 12 – Yoga at Shepparton Osteopath 103 Nixon St. This will be followed by Pot Luck at the Shepparton Runners Club rooms.
A potluck is a communal gathering where each guest contributes a different and hopefully unique, and often homemade, dish of food to be shared. This will be held in the clubrooms after YOGA. Approximately 7:00 – 7:15 pm start.
SAVE THE DATE
SAVE THE DATE….SRC has been given the approval to host a Bunnings BBQ on Sunday, September 16th. We will be looking for volunteers to give 2 to 3 hours of their time on the day. More details to come but for now, mark it on your calendar
Gold Coast 2018
Sunday, July 1 several Shepparton Runners Club members must have been trying to crash the Facebook website. From tracking Kathy and Narelle every 5 km to reporting on PBs smashed by Norah & Kate. We had Chris pulling back the pace by half an hour to pace Kate. We marvelled in super quick times of Dylan, Trevor, and  Paul. We felt proud of Louise running a fantastic time coming back after a car crash. We had Lesley running all the way, while Rob coasted through the half. We were wrapped in all the reports, stories and times coming in from all 11 of our runners. It was great to see all of the kudos being sent back to our runners via cyberspace. And then after runners crossed the line and finished, we had to check Strava and send more comments and kudos.
All results as per the Gold Coast website. Some may be gun times thus being a few minutes out.
Shepparton Runners Club Results
11 runners from the Shepparton Runners Club
Marathon.
Narelle Pell 4:13:33
Kathy Fuller 4:23:26
Half Marathon
Trevor Dainton 1:31:45
Paul Dainton 1:41:21
Chris Armstrong 1:50:38 Chris is the Shepparton Runners Club  coach and he was pacing Kate Dainton
Kate Dainton 1:50:39 personal best time
Louise Secomb 2:06:26
Norah Armstrong 2:13:32 Personal Best time
Rob Ryan 2:13:32
10km
Dylan Scoble 43.48 personal best time (12 – 14 year old age group. )
5 km
Lesley Ryan 42.47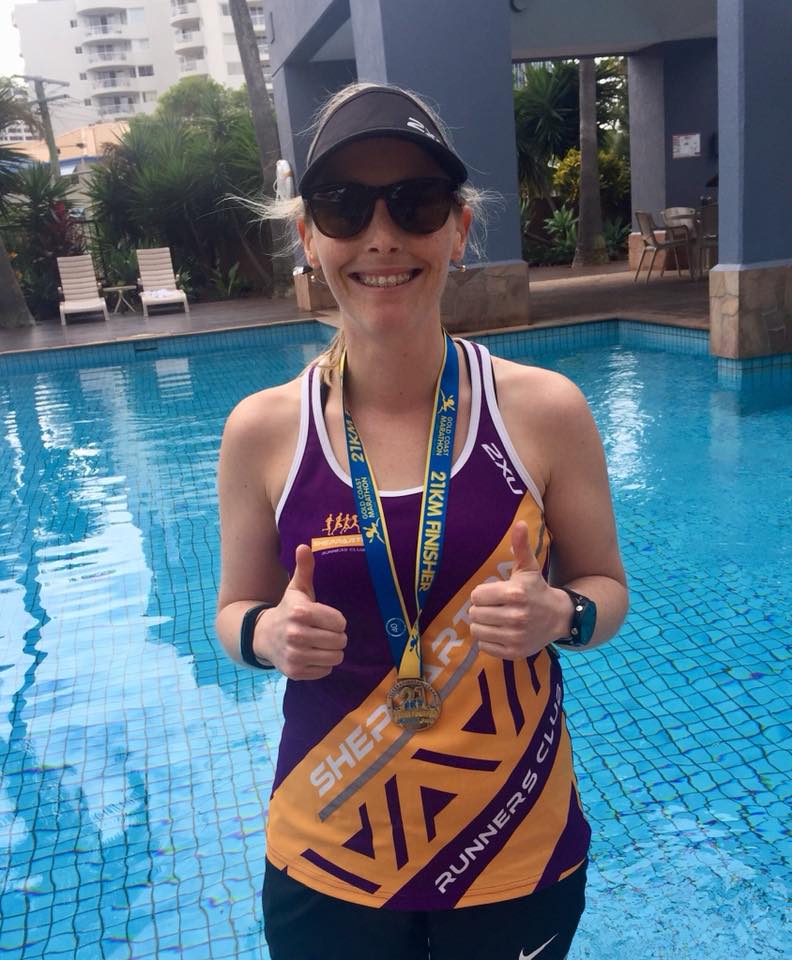 Gold Coast Half by Norah Armstrong.
This year was my third Gold Coast Half Marathon. I missed it last year due to injury so was keen to make up for that on Sunday.
My alarm went off at 3.30am but I had been awake since 2.30am thinking. I was looking forward to having a go and to see how the other SRC members would go.
Breakfast, shower, stretch and bib on ready to catch the tram to the start at 4.30am. We missed the first tram that had space but another came along shortly. We squeezed in under each others arm pits like the Japanese railway to the start line. Once we got to Southport at 5am the doors opened and oxygen flooded in. We walked up the mall passed the dedicated local traders cheering on from their shop fronts. Bag drop off, toilet then a quick warm up and Rob and I made it to the start line.
The gun went off and we walked for a bit until there was enough space to run. It took 8 minutes to cross the start line and I found it quite congested. Rob made a good decision early to go out on the right side as we settled into a steady pace. It felt like I couldn't get into a good rhythm until about 2km mark and the first drink station. Just after the 6km mark we took a left past the Runaway Bay shopping centre as the sun came up. At the 7km mark the elite athletes and timing car came along the other side of the road. This was a good distraction as I started to watch out for people I knew. Brady, Trevor, Paul, Kate, Chris, Hannah and Louise all going strong. Through to the 10km mark in 1 hour and at Paradise Point main street and up to the turn around point feeling good. On the way home now and I concentrated on holding pace to 16km. So many people yelled out along the way 'Go Shepp", "Go Rob" which was great to see as it kept me going. We met people from Wodonga and Swan Hill and "Sheppresent" was working. I picked up the pace towards the end and enjoyed the crowds and music. From 20km onwards the supporter tents and crowds were loud but much appreciated. I turned left with 250m to go and tried to weave around everyone with a sprint to the finish. I crossed the line and stopped my watch 2.05.57 and a 12 minute PB. Thank you Rob fantastic pacing. Time for some ice cream.
cheers
Norah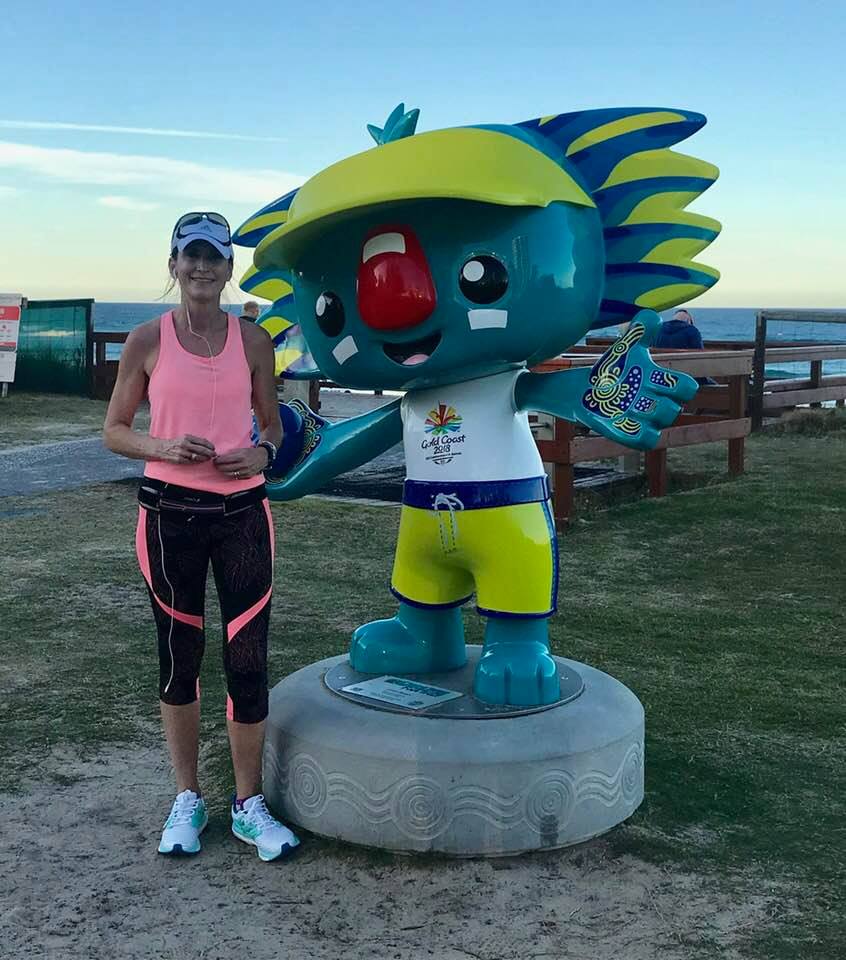 Kathy Fuller and Narelle Pells race report will be in next week. You can see their time comparison below

Above – Some of the crew at the Gold Coast
Paul Dainton Gold Coast Half
It was a still, balmy, overcast morning. All the SRC crew met up just after 5 under the big screen. We headed off to our prospective 1/2 marathon starting waves with the droves of others. When the go ahead was given, the morning light was just peaking over the eastern horizon through the clouds.
The first 5 km was low pace, jostling and weaving for a clear piece of tarmac. With the increasing light hitting my retinas, and slowly working my way through the field, my pace, energy and confidence also increased.
The crowds were chanting and cheering runners using their names adorned on their race bibs. It was a festive feeling, and at the 10.5 turn around I was feeling great, so as planned sought to increase my speed.
Also as predicted, at around 16km the sun was up and my energy levels were on the way down. However, the closer to the finish line I got the louder the cheering was, so was able to draw on this energy. Coming down the main straight the crowds were uplifting, and turning into the finishing area, with 250m to go, I put the foot down and crossed the line with not much left in the tank.  I was satisfied with my run and set a new PB.
Afterwards, we watched the elite marathon runners come through, on the big screen, then headed back to Kate's brother's crew's marquee to cheer him and all the others that needed encouragement. Such a mass of human positivity and support.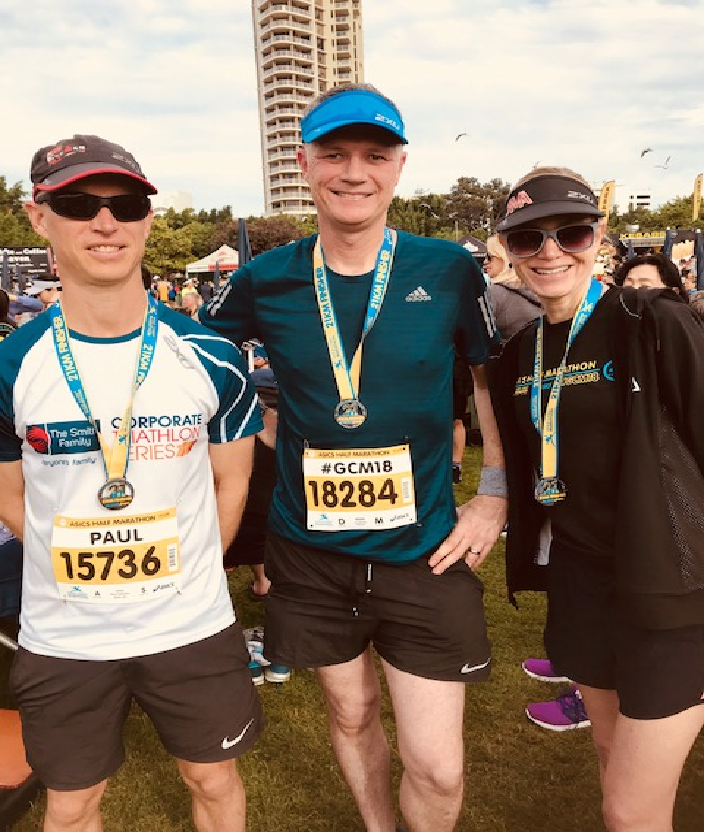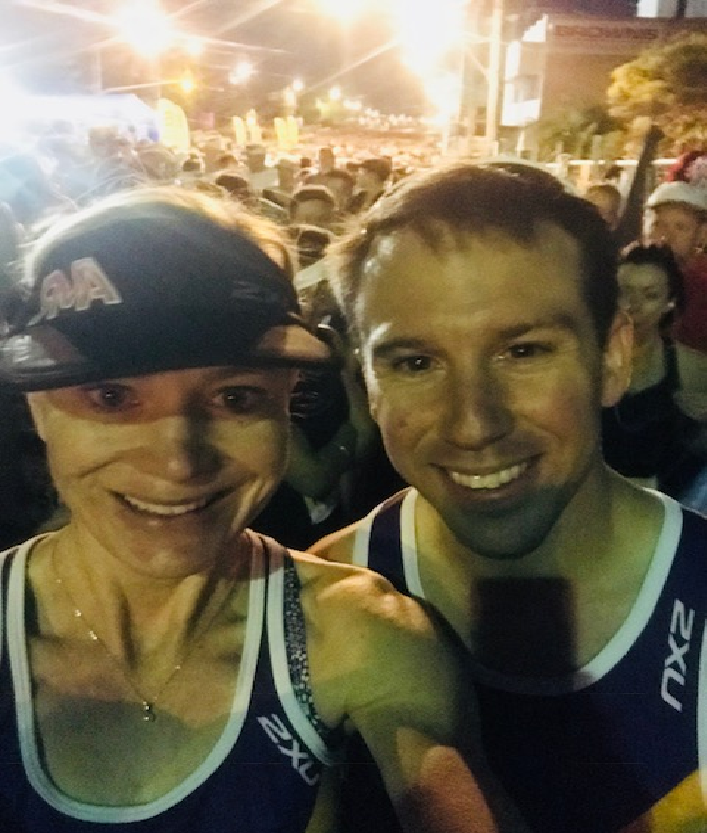 Kate Dainton Gold Coast half
Friday we met Chris & Norah and sat in the elite media room where I sat next to Celia Sullohearn. She said "Hi" and I'm sure I blushed. On Saturday we watched family in the 2km dash which was super cute.  On race day, Paul, brother Joe and I warmed up by running to our meeting spot. The toilet line was too long so we found some bushes! We met Chris, Norah and other SRC members and were all pretty chilled and excited.  The conditions were mild, with no wind and overcast – as ideal conditions as you could hope for on the Gold Coast.
The first couple of kilometres were congested and slow but Chris told me not to stress just go with it. We were cruzing along feeling good. Chris would grab drinks and meet me at the end of drink stations.  I wish I had taken a photo as it was pretty funny watching him run and juggle 2 cups. Without warning he would pour water over my head and back, and at one stage I yelled out in shock. At 10km, Chris told me I got a 10km PB (happy dance)!  We felt like Mario Brothers and were collecting stars as we passed people. Shortly after we caught the 1:50 pacer, I gave him a smile and was feeling really good. It felt like a Sunday run but with heaps of people!
At the 16km mark my chatting reduced. Yep.. there are my legs!  I just kept repeating 'be strong' in my head (only one naughty word got out). Chris coached me along – " head up, be strong, we are at the shepp skate park now, think of all those cold training runs".  I knew we were going faster at this stage and we could see the 1:45 pacer ahead. We passed family with high fives at 1km to go, and Chris said " we are at Aquamoves now" and then we accelerated! I was too excited and went out too fast and with about 100metres to go (whoops) and from then I felt I was in slow mode."Where are my legs?"  Damn, I totally tried to smile for photo finish, but nope, it was a grimace!
We were through.  Chris gave me a big hug. The training and having a great buddy next to me meant I slashed 4mins off my time and felt comfy & strong.
I ran 2:20 for my first half two years ago; Goldy I ran 1:47:13 (I'll take those Mario stars).  Chris looked a million bucks throughout, and to sacrifice a solid run for himself and pace me is amazing.  What an ace coach we have and I could not have got all these stars on my own.
We spent the next few hours cheering Shepp runners and family through and I got to run my brother home in the marathon.
Goldy has the best running festival atmosphere I have experienced (second to Shepp of course).  I received so many great comments from other people about Shepp runners on the course. What an awesome community we have!
Happy dance, Kate Dainton
Lesley Ryan Gold Coast 5 km
After a very early start and tram ride, we arrived at the Gold Coast run. Chris found us thanks to the runners club colours. I ran at 8 o'clock and it was a lovely time of the day. My event was a fun run so I enjoyed myself and did a lot of chatting and laughing with other runners. When we crossed the finish line we got our t-shirt, medal and delicious fruit. Dylan and I didn't do much for the rest of the day. We headed to the beach and relaxed. We had to get up at 4am the next day to support the half and full marathon runners.

South Coast Marathon – Teams
First half by Tara Callingham.
Waking up to the gentle pitter patter of rain on the roof of the hotel room made me question my life choice of running the Surf Coast Trail Marathon with Sam. However, I pulled on my big girl panties and got ready to run…mainly because the rain had stopped! We were staying only about 1.5km from the start line so we wandered down together a bit before 8 for the briefing. As the briefing started…so did the rain and the wind. With a lot of nervous energy and in my usual fashion I was busy talking to someone when the gun sounded so I totally missed the start and was completely not ready! But off I went…I was expecting the first beach section to be about 300 m…1.6km later I turned onto a lovely semi sealed path which took me back past Sam at about the 3 km mark. The lovely flat semi sealed path lasted around 9km and took me past some spectacular views of beaches and headlands. The sun came out briefly and the wind stopped and I felt great. I came across the aid station just as the rain came and grabbed a couple of semi soaked pringles before dropping down into Bells Beach. After a selfie, I continued wading through the sand for a thankfully brief period of time before reaching the stairs which took me to what felt like the longest ever climb. At this point I was again questioning my life choices and sent Sam a text of my progress including some descriptions Kate would be proud of, but I got over it and got my groove back and completely fell in love with the stunning Otway National Forest. Coming up to the road at Point Addis was a happy moment, until I saw another bloody hill….I saw Sam waiting at the top which was a really lovely sight (The finish more than Sam!!). I arrived after 20.6km of stunning trail, soaked through, with wet and sandy feet and a massive grin on my face in 2h 33 mins. We high fived, had an encouraging smooch and off Sam went….I met him again with about 200m to go, by this stage I was warm and dry with sore tight legs so less than enthused about the soft sand and stairs at the end! Who puts stairs at the end of a race?! But with finished together and it was worth it! It was such a great event, I'm keen to go back!
Second half by Sam Daniel.
Last Saturday, while most sensible folk were warm in bed, or warm on the Gold Coast, Tara and I were tackling the Surf Coast Marathon as a team, half each. Tara took on the first 20.6, so I was left on the start line holding her jacket with 2 hours to kill until I could take over the second half for Team Easy on the Eye. The car heater was utilised extensively while Tara battled the conditions and the hills, I also took advantage of the porta-pottys at the aid station. After our high-five and an encouraging kiss, I headed to the first beach to start chasing the half marathoners who started a few minutes before me. The churned up sand was a real killer, but it simply continued onto hills, single track, and boardwalks through the coastal heath. Tara met me just 200 metres before the finish line, so we ascended the finish staircase together (yes, a freaking staircase). I finished in 2hrs 27mins, it was a great run, thanks for joining me Tara.
Kathy and Narelle
| Date | Marathon | Kathy Fuller's time | Narelle Pell's time |
| --- | --- | --- | --- |
| January 14 | Hobart | 3:59:21 | 4:06:11 |
| February 25 | Wangaratta | 4:01:07 | 4:09:36 |
| March 25 | Albury | 4:08:28 | 4:12:30 |
| April 22 | Okeefe trail Bendigo to Heathcote | 4:15:37 | 4:20:58 |
| May 27 | Adelaide | 3:58:26 | 4:00:46 |
| June 4 | Traralgon | 3:58:15 | 4:05:10 |
| July 1 | Gold Coast | 4:18:39 | 4:08:42 |
| August 26 | Shepparton | 3:55:43 | 4:0054 |
| September 16 | Sydney | 3:55:08 | 3:55:07 |
| October 16 | Melbourne | | |
| November 18 | Queenstown NZ | | |
| December | TBC | | |
Gold Coast extras
Aussie marathon sensation Jess Trengove ran brilliantly, taking second place in a 32-second personal best of 2:26:31. She had a perfectly-timed run, crossing the halfway mark at 1:12:18, and was rewarded for her gusty efforts. By breaking the 2:28 barrier, she also takes home a once-only $40,000 Australian athlete incentive offered by organisers.
Read on: https://www.runnerstribe.com/…/aussies-impress-on-the-gold…/
Extra extra
Lucy Bartholomew experiences life in a day
Aussie ultra runner Lucy Bartholomew came 3rd in the recent Western States 100 miler; Sarah Cotton followed her race in this article at Tempo Journal. And be sure to check out the finishing photo.
Meriem Daoni
Introducing 19 year old Meriem Daoui from Hobart. Daoui will be one of this years Ambassadors for the 7 Sunshine Coast Marathon. It's not just her times that are catching the attention of the Australian public. Daoui, a Muslim of Moroccan heritage, competes in full length clothes and a hijab.
Check out this awesome article from Tempo Media about Meriem Daoui and her running success thus far.
Imagin, Beleive, Achieve #voice4kidz
Kathy & Narelle, are so excited to announce one of our events for our #voice4kidzcampaign.
Heather Hawkins is a remarkable and inspiring woman. She is a mother of two, battled Ovarian Cancer with an unknown future, to an international adventurer, conquering the world of extreme marathons in some of the world's most inhospitable locations.
We would love for you to come and be inspired. Heather's "Adventurous Spirit" will certainly leave you feeling uplifted and inspired. 
❤
Book your tickets today and support #voice4kidz. 
🏃🏽‍♀️
🏃🏽‍♀️
For those of you who listen to podcasts and audiobooks while you commute, run, walk, drive, relax… I have just the thing:
Adventurous Spirit is available online via Audible… and if you believe the reviews, it's really good listening (and I'm pretty happy about that, because it was me who read it! 
🙂 ) H xx
https://www.audible.com.au/…/Adventurous-Spirit-…/B074XF4TG1
https://sheppartonrunnersclub.com.au/wp-content/uploads/2018/07/36515846_10155475777136630_519137275502657536_n.jpg
720
960
admin
https://sheppartonrunnersclub.com.au/wp-content/uploads/2017/06/SRC-Logo-300x221.png
admin
2018-07-05 11:24:49
2018-07-05 11:24:49
SRC E-NEWS Post Gold Coast Marathon