Club News
Save The Date
The Shepparton Runners Club will be having a social night after training on Thursday, July 12. Called Pot-luck
A potluck is a  gathering where each guest contributes a different and hopefully unique, and often homemade, dish of food to be shared.
Quiche, Lasagna, or Casserole just to name a few suggestions. Bring your own, it's potluck.
Please note the following events and dates
Next yoga session June 14
Next Handicap July 8
June Handicap results
SRC June 2018 Handicap Cross Country
| Name | Gun Time (min) | Net time (min) |
| --- | --- | --- |
| Lydia Monk | 29.30 | 23.45 CR |
| Debbie Harvey | 29.54 | 29.54 |
| Jason Hunter | 29.57 | 22.47 |
| Liza Hoffman | 30.07 | 29.07 |
| Chris Banning | 30.20 | 19.35 |
| Cadel Nicholson | 30.22 | 23.27 |
| Hayden Reynolds | 30.22 | 21.37 |
| Mathieu Ryan | 30.40 | 20.40 |
| Allan Connolly | 30.44 | 20.34 |
| Nadine Edwards | 30.52 | 24.22 |
| Steve Monk | 31.12 | 21.07 |
| Dylan Scoble | 31.15 | 20.45 |
| Chris Armstrong | 31.16 | 18.21 CR |
| Max Carrol | 31.23 | 23.53 |
| Shane Colbert | 31.33 | 25.58 |
| Mel McAuliffe | 31.52 | 27.17 |
| Adrian Jones | 32.01 | 24.21 |
| Helen Reynolds | 32.18 | 27.33 |
| Anthony Nicolaci | 32.24 | 19.59 |
| Tom Avram | 32.26 | 20.31 |
| Sao-Mai Tyler | 32.30 | 30.25 |
| Patrick Tyler | 32.30 | 24.53 |
| Kate Dainton | 32.42 | 24.27 |
| Trevor Dainton | 34.10 | 22.50 |
| Dave Frizzell | 34.50 | 22.15 |
| Norah Armstrong | 34.50 | 28.50 |
Winners are grinners! June Handicap winners. First Female and first across the line Lydia Monk, first male Jason Hunter, and a dead heat for first Junior Hayden Reynolds & Cadel Nicholson. Well done everyone and thanks once again to Sportsmans Warehouse Shepparton for sponsoring the event.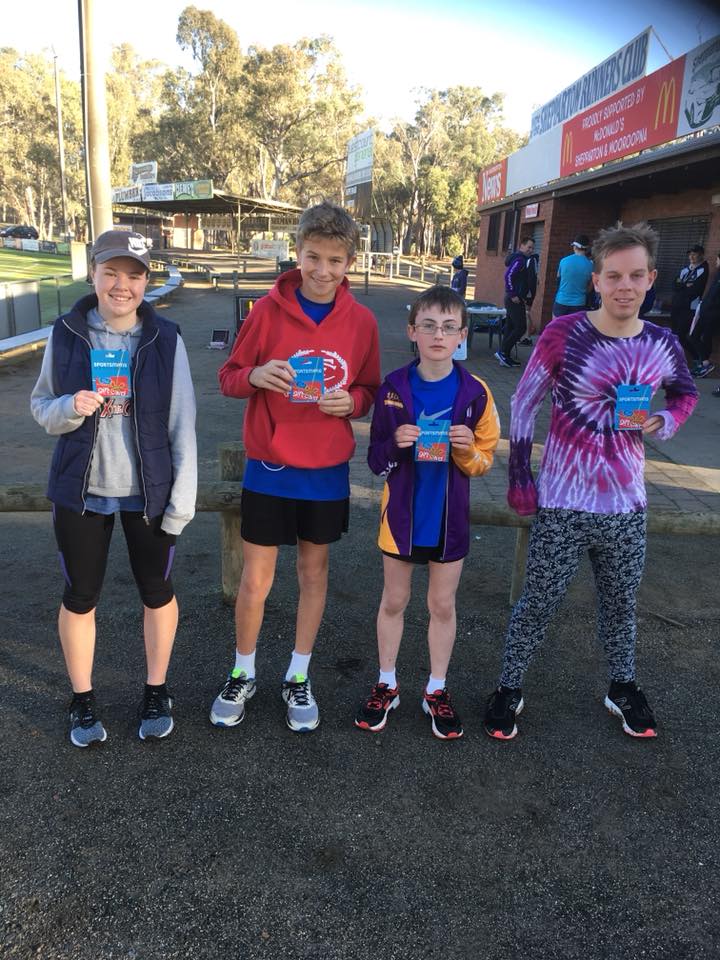 Runner Profile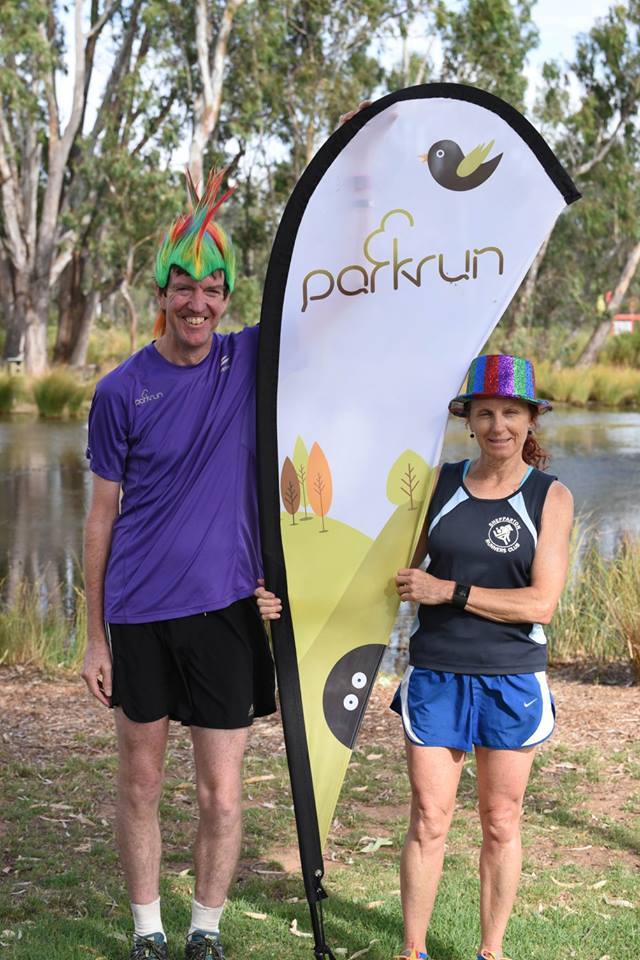 Name Allan Connolly
Age 49
Occupation Process worker at Campbell Soups
Recent PBs
5k – 19:27,
10k – 41:54,
Half – 1:34,
Marathon : PB 2:55 ( Have not run a marathon for a long time)
What inspired you to start running? I have always enjoyed running from a young age
How many years have you been running? 30+ years
Typical training week Normally it would be a 3 day week of running, Club training nights and parkrun but has increased to 4 or 5 days recently
What training to you do apart from running? none
What are your running goals  – My next goal is to complete a marathon at the age of 50
Biggest challenge in running –  trying to keep ahead of old age
Biggest breakthrough in running At an athletics meet in Melbourne racing against much better runners. I found out I could run much faster than I knew I could. I improved 30sec in an 800m
Most enjoyable run would – be a run that I could talk to people and at the end of it realised we had just run a huge distance
If you could run in any event where would it be – The Comrades marathon in South Africa. They alternate each year with an up run one year and a down run another year. I have run the up run but would love to do the down run.
Who inspires you – No single person inspires me but along the journey many people have
Best advice would have been – absorb inspiration from others achievements
Any funny or notable moments -Too many to mention. I love having fun when I run
Up Coming Races
Shepparton Runners Club Facebook event page is here. This is where we list all the races that SRC members are interested in. This page is updated regularly.
Come November the bare vines of Mitchelton will make for a beautiful place to enjoy during your Shepparton Travel and Cruise Four Vines Marathon or Nokkon Half Marathon
https://www.fourvinesrunningfestival.com.au/
Fou Vines Running Festival Facebook page
What's next after the Murray Running Festival?
After running along traffic free, riverside paths at the Athlete's Foot Albury Murray Running Festival…. what's next?
What about running along traffic free, scenic nature trails?
As well as the MRF, Parklands Albury Wodonga also puts on the Riverina Endurance trail running series over winter to raise funds for their conservation works and to show off the best hills and terrain the border region has to offer.
Curious about local trail running? Have a look at the series website by clicking HERE. The Facebook page also has regular updates and news.
The next race is on June 24 at McFarlane's Hill, Wodonga, followed by an off road half marathon and 10K over Nail Can Hill and other hills behind Albury on July 29, and the resurrected Fed Hill Challenge on September 2. All events have short and longer options for the beginner and for the serious trail athlete.
If you're curious about running trails on a marked course and in good company and raise some money for the environment at the same time, give the Riverina Endurance series a thought. There's a whole other running world out there….
And as another bonus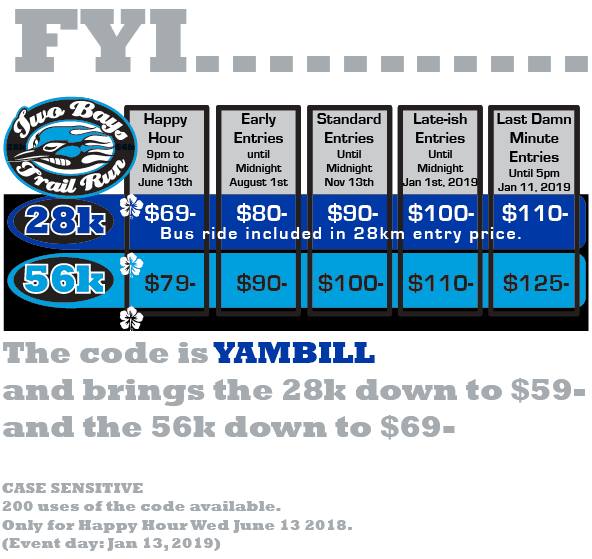 Narelle and Kathy
Race Report
Race #6 saw Narelle and I head to Traralgon…six days after Adelaide #5.  We also had to factor in the long drive down on the Saturday and then noting we would be driving all the way back home after the race so it all adds up in your pre and post-race recovery.
Narelle had gotten crook again the week leading in so she coughed up a lung or two but still got to the start line.  You will be pleased to know that I didn't put her in the boot for the drive down, and we still shared a room – race buddies through thick and thin J
It was a cold start to the morning with patches of fog around and we both didn't layer down till the 30km mark which is pretty unusual for a marathon.  The course was pretty enough and strangely the first half went quickly for us both – The original plan was to slow it down but in the end we just decided to let our 'legs' do the talking.  Narelle plan was to also keep running without stopping as far as she could so she didn't get into a coughing fit.  The course was flat and the majority of it was through the countryside on a long straight dirt/stone path, crossing over the old little bridge.
In the end, we both surprised ourselves with good times,  which were pretty happy about considering this was our back:back marathon.  I was super proud of Narelle being able to back it up – but she was never not going to do it….  our motto #run #walk #crawl… just get  to the finish line J
The Traralgon hospitality was terrific and post-race the ladies had made up pots of homemade soup, sandwiches and cakes ready for the runners – and it was all free!!  It was definitely the first time we've been offered a spread like this after any run and we were very grateful!  – with the footy game in play as well – we did wonder if we had just run a marathon or come to a footy game??
Race #7 sees us on the Gold Coast   – see you there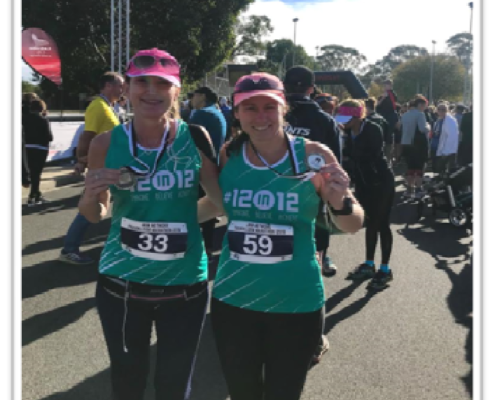 P.S.
Kathy & I stopped for a coffee in a lovely little town called Yarragon. We started to talk with 2 lovely ladies who had ran the 1/2 marathon today. We told them our story of why we are running 12 in 12. As we went to leave the cafe (lovely little cafe, with great coffee) one of the ladies handed Kathy & I some money to go towards our fundraiser. We were so grateful to meet the ladies. Random acts of kindness are certainly heartwarming 
❤
❤
6 Marathon medals for 2018 so far… just need to add another 6 =12 for the year!
* 25 Marathons for Kathy Fuller
⭐
* 22 Marathons for Narelle Pell 
🙏
But it's not about the medals or the marathons. Shepparton's marathon mums have set a new challenge of running 12 marathons in 12 months in different locations. To raise awareness of child sexual assault.
The aim to raise $100,000 this year. If you want to support them you can donate into the following bank account. 633 000 ac No 143 139 863
Further reading
I know a lot of people have Facebook mainly as a read-only and post very little themselves. I can recommend you adding Lucy Bartholomew to your read list. Lucy is an ultramarathoner who works for Salomon. The Salomon Group is a sports equipment manufacturing company that originated in France. And I think you will see Grant Hicks in a Team Lucy T-shirt every now and then. The Team Lucy was some T-shirts made to support Lucy's journey to western states. I don't know of anyone who comes across as effervescent in their personality more than Lucy Bartholomew. Her posts are informative positive and entertaining. Lucy has a 5 km pb of 17:36, and Great Alpine Road Marathon 3:32:36 and earlier this year Two Bays 56km 4:33:57
Lucy Bartholomew primed for Western States 100
Diamond Creek's Lucy Bartholomew is primed for the Western States 100 in the USA after her recent win at the 22km event at Ultra-Trail Australia, posted a time of 1:49:54 – she had aimed to complete the journey in two hours – and eclipsed the previous record by 15 minutes! Find out more in this article at the Herald Sun.
New gym equipment
BRAND NEW gym equipment launches at Western Park today!
The equipment is completely free to use and will officially launch at 9.30am and 12.30pm on Friday 8 June.
An Aquamoves gym and group fitness instructor will be on hand at the above times, providing demonstrations on how to safely use the equipment, get the most out of your workout and answer any questions.
There will also be free giveaways and musical entertainment – everyone is welcome!
Photo of the month
Nadine Edwards getting over the locked gate at Princess Park during the monthly SRC handicap.
Kate Dainton doing the happy dance
Chris Armstrong concentrating on his technique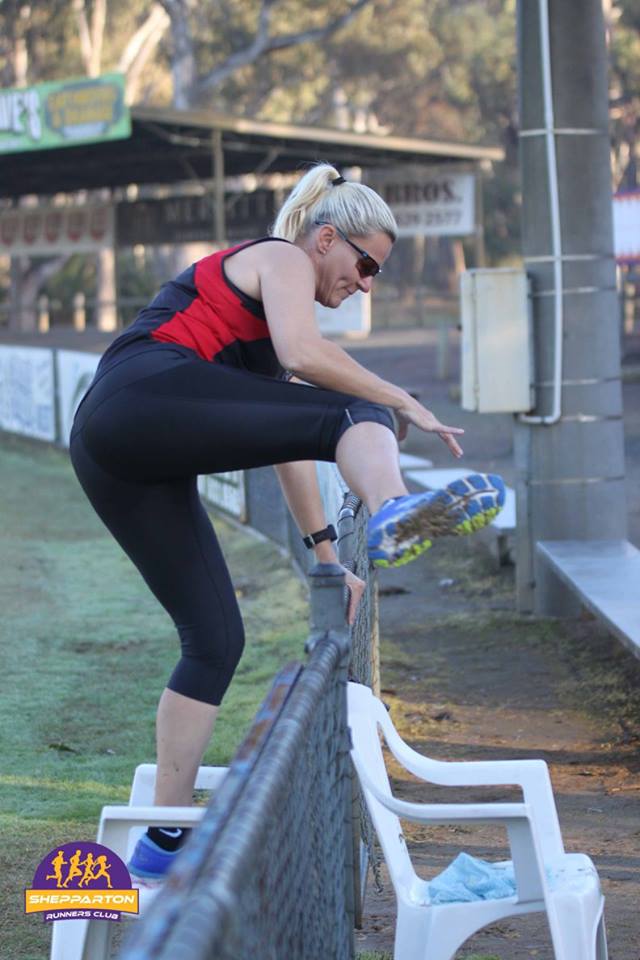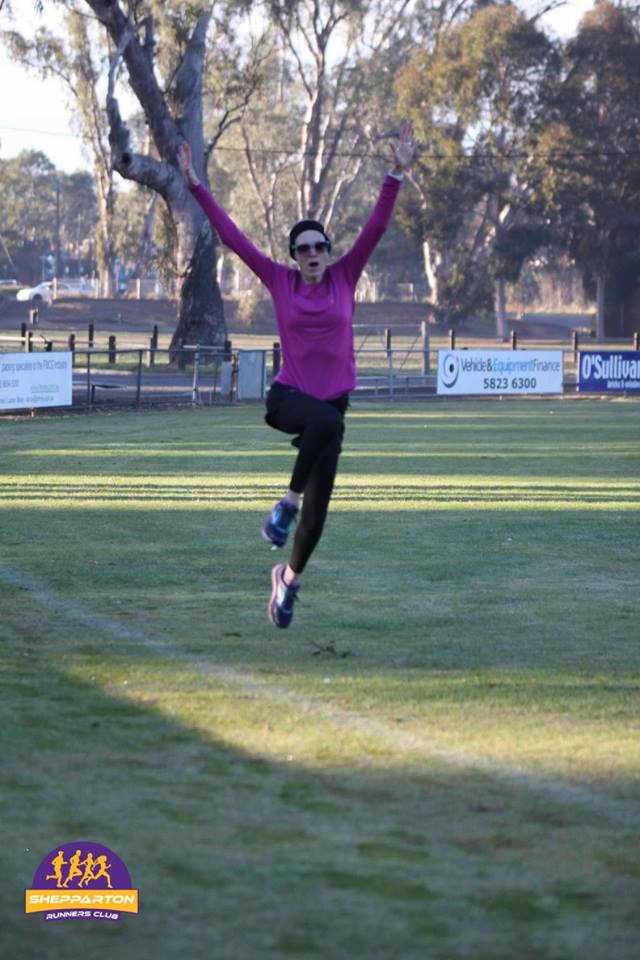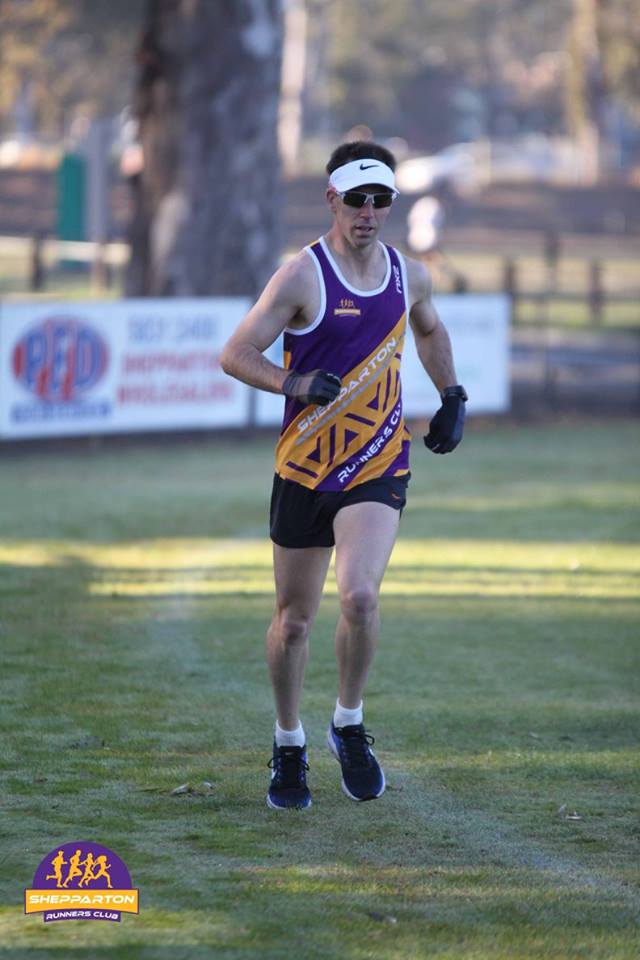 https://sheppartonrunnersclub.com.au/wp-content/uploads/2018/06/33867783_1573006522828171_3922723309384368128_n.jpg
960
960
admin
https://sheppartonrunnersclub.com.au/wp-content/uploads/2017/06/SRC-Logo-300x221.png
admin
2018-06-07 12:17:48
2018-06-07 12:17:48
SRC E-news June 8