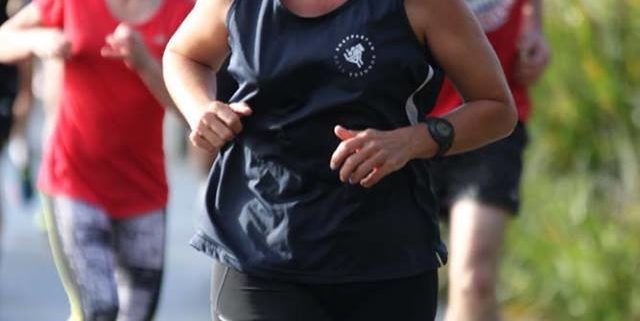 Club News
This will be our first handicapped cross country event for 2018, the course is 4.9kms and is mostly grass and gravel, is quite flat and will have an obstacle or two to mix it up. Everyone is welcome to join in the fun.
Registrations from 8:00am with the first runner leaving at 8:15am. You can also reply to the event to register.
The actual course is displayed in the photo,onthe SRC FB page
Members – $0
Non-Members – $5
Athletics Track training.
Weekly Tuesday training at the athletics track has stopped for now. Tuesday's training is back at the lake from 5:45 pm weekly.
The Shepparton Runners Club has organised future training at the track on the following dates.
Tuesday May 22nd
Tuesday June 19th
Tuesday July 24th
Calendar of events 
I want to try to promote the idea of using Facebook events tab that is on our official SRC Facebook page here 
I will try to keep this updated. If you see a race that you are SERIOUSLY interested in going to, click on the GOING  tab. This may encourage others to go and assist with carpooling and accommodation sharing.
So again it's as simple as clicking on the Offical SRC Facebook page.  then click on the Events tab on the left-hand side. Then click on the events you ate likely to attend.
Message from Coach Chris 
If you are unable to turn up to training on Tuesday or Thursday can you please let him know. A text message or a Facebook message via Norah is fine.
We have done this in the past and it was of great benefit to Chris. Also, remember Thursday's sessions are set out as an easy social run. A great chance to chat with other runners and have a social chat while running. All training plans will have a mid-week easier run in them, So come along and join in on the fun.
O'keefe rail trail Marathon Race report
By Narelle Pell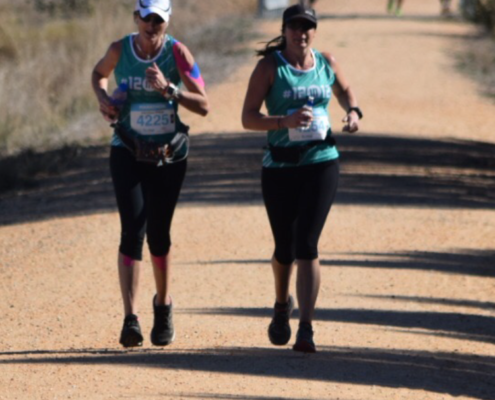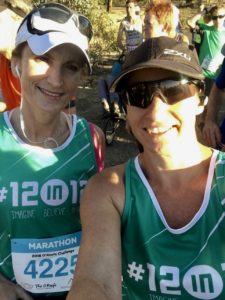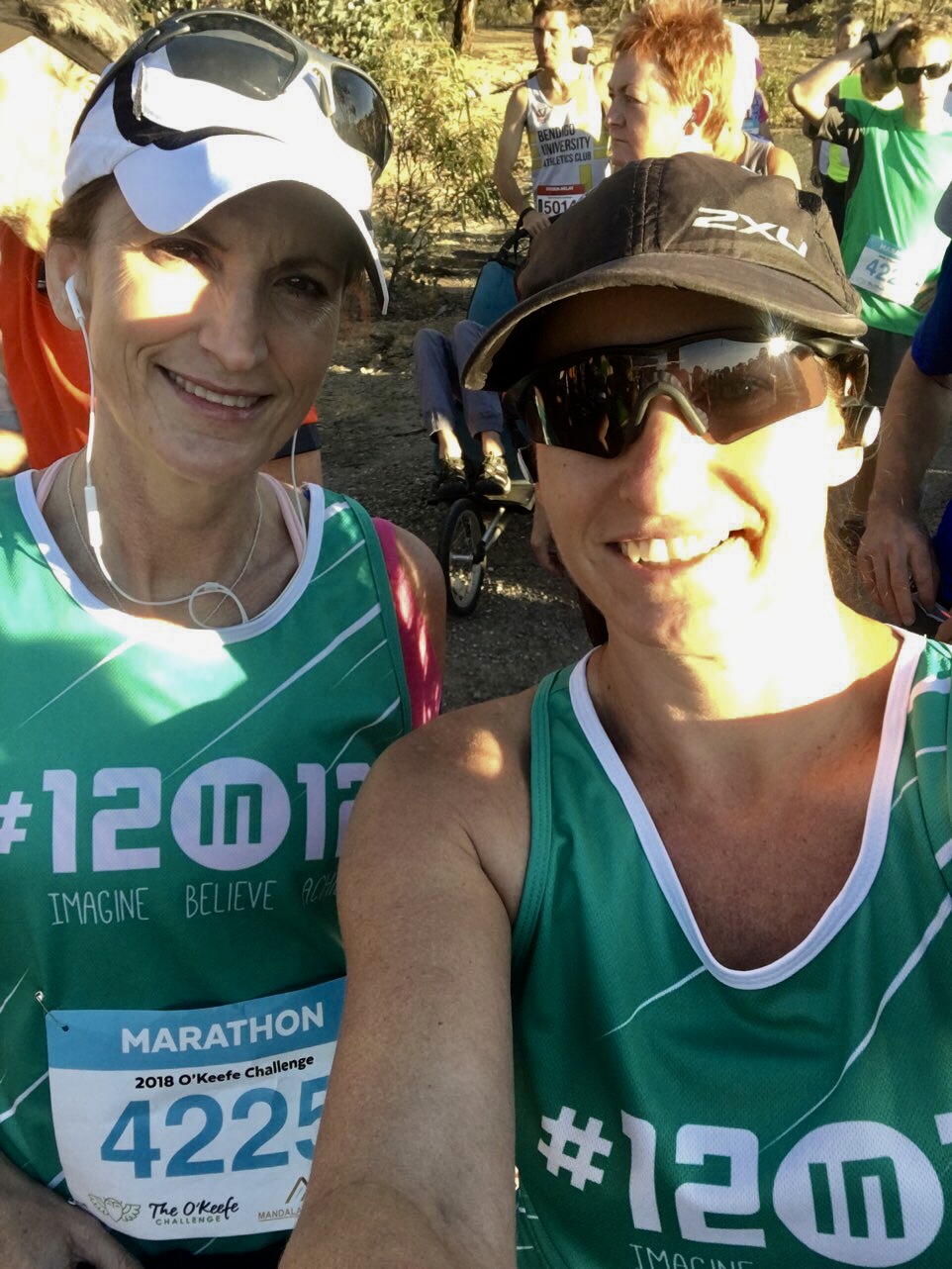 O'Keefe Challenge – #4 marathon
The O'Keefe Challenge marked marathon number 4 for Kathy & I for 2018. The O'Keefe rail trail started from the outskirts of Bendigo in Junortoun and followed the trail passing through Axedale, Knowsley and finishing on the Heathcote oval.
There were 130 other marathon starters on the day all eager to enjoy the scenery of the Campaspe River, Lake Eppalock and the surrounding bushlands.
I had a fantastic first half run, up until the 25km for me. I was enjoying the scenery, the rivers, bushland and the cheering spectators, I was taking it all in. I even didn't mind the challenging hills at this stage. Then things began to change around 25km mark. I struggled with the constant uphill or do I call it one very long incline. There was no relief in a rolling downhill. The constant climb began to wear me down both physically and mentally. The heat of the scorching sun also began to play with my mindset. I remember thinking to myself at the 27km point that this is going to be a bloody long way to the finish line. It was too early in the run to be feeling this way and I had to try and change my mindset to get through. My quads were burning and I had begun to feel nauseous. I was not going to stop I pushed through, knowing that my temporary pain and discomfort will soon pass, when I get to the finish line.
I stopped and walked a lot of this run, and that is ok.  For this is not a year of PBs it is a year for change. When Kathy & I run each of our marathons we run for the 1 in 5 children that are sexually abused each year. We run to educate kids about personal safety. It is our mantra that if you Imagine with all your mind, Believe with all your heart and Achieve with all your might, change will happen!
By Narelle Pell
Bright Parkrun plus Bright fun run. 
Last weekend Tara and I completed the 13.3 km trail run at the Bright Fun Run. We popped down on Friday night to squeeze in a tourist Parkrun on Saturday morning as well. The 14 th Bright Parkrun had about 45 runners participating, about half of those were tourists. It's a pretty run along a gurgling creek, out and back, and mostly flat. The trail run on Sunday was anything but flat. The two main features were the Hill of Death, a section that felt almost vertical, and Higgins Lookout, reached by switchbacks to climb the hill overlooking town. The last few kilometres were downhill single track through a beautiful pine forest. Tara said this was the best trail run she's ever done, and I agree completely.
By Sam Daniel.
Runner Profile
 
Name          Nadine Edwards
Age          47
Recent PBs 5k, 10k, Half, Marathon :         5km – 22:52, 10km 49:39, half – 1:55
What inspired you to start running? To not let age defy me.  I reached 40 and wanted to change my ways.  I have always enjoyed running, but wanted to be more committed and consistent (running 12 months of the year).  I wanted to enjoy trying to keep up with my family and their lifestyle.  I do enjoy the feeling of being fit.
How many years have you been running? Since mid 2012.  I had ran on and off, but 2012 was where I made it part of my lifestyle.
Typical training week – At present 4 – 5 times a week.
Goals –  To run a marathon, probably London Marathon as I lived in London for a number of years and this would be a great opportunity to go back.
Biggest challenge in running – completing a 25km leg of the Ned Kelly Chase.  It is still the furtherest I have ran to date.
Biggest breakthrough in running.   Running my first Half was very memorable and being under 2 hours made even more sweeter.  I guess it was a distance I had never considered doing as I have always been a 5km runner.
https://sheppartonrunnersclub.com.au/wp-content/uploads/2018/05/31870802_10217270042487577_1318642096168501248_n.jpg
960
640
admin
https://sheppartonrunnersclub.com.au/wp-content/uploads/2017/06/SRC-Logo-300x221.png
admin
2018-05-03 12:08:05
2018-05-03 12:08:05
SRC E-News May 4