Welcome to the Shepparton Runners Club newsletter for Friday, December 8, 2017.
Carman's Women's Fun Run
A friend, Tanya and I headed to Melbourne after parkrun on Saturday to run in the Carman's Women's Fun Run.  We arrived at St Kilda about lunchtime and had planned to take a swim at the beach.  That didn't happen.  It was cold and extremely wet and windy!  We sat in our hotel room willing the weather to improve before the next morning.  Our run (10 km) started at 7.30am Sunday morning along  St. Kilda Esplanade.  It was still blowing a gale but the rain had eased with only a couple of light showers during the run.  The run is a Breast Cancer fund raiser so there was a great atmosphere.  I met and had a photo with Raylene Boyle – what a thrill.
I run a PW (personal worst) of 1.05.26 but considering the hammering from the wind, I was pleased.
Debbie Harvey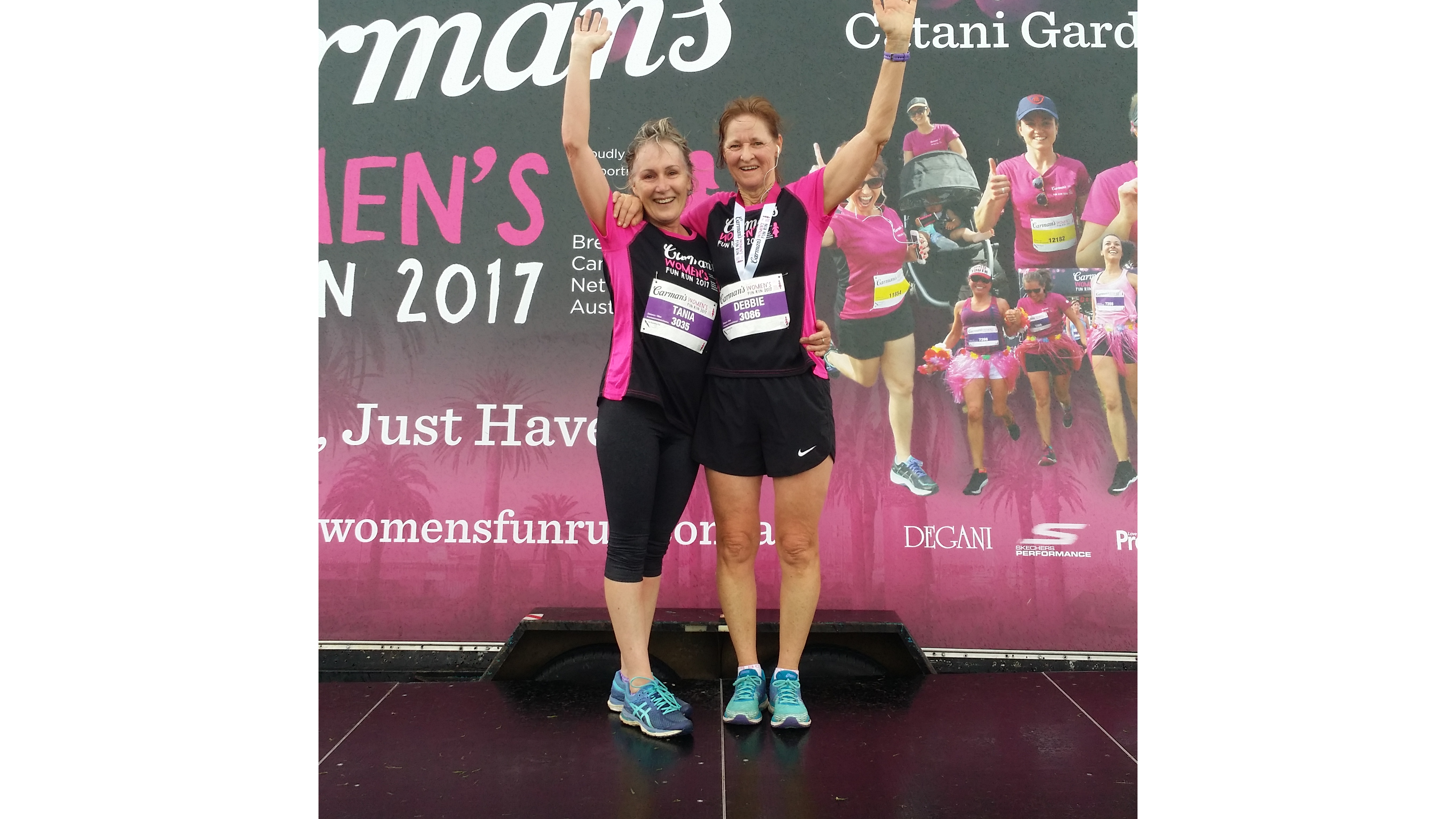 Bendigo Trail Run Festival
On Sunday,November 26th,  Tara and I did our first trail run at the Bendigo Trail Run Festival. The 11 km course was around the picturesque Crusoe Reservoir in beautiful Aussie bushland. The track was mostly fire trail style, with a bit of bush running thrown in for good measure. Following Grant's well honed advice to "walk the hills, run the flats", it felt a little like intervals in the bush. Tara was pleased with her time, and I came in first in my category (I was the only one…). We can't wait to do more!
Sam and Tara.
CALENDAR OF EVENTS
November 12 – Challenge Shepparton Website 
November 18 – SRC Presentation Night SOLD OUT
November 25 – Parkrun White Ribbon Event Facebook page
December 3 – SRC Guestermator 5 km Princess Park
January 7 – SRC Handicap TBA
February 25 – Wangaratta Maraton Website 
March 19 – Numurkah Fun Run Links 
March 25 –  NEW Murray River Running Festival Albury Website
WIN WIN WIN
During the 2017 Presentation Night, we announced our raffle, which will be drawn at the January Handicap in 2018.
1st prize is 1x 2018 Shepparton Runners Club Family Membership
2nd Prize is 1x 2018 Shepparton Running Festival Entry (up to half marathon)
3rd prize is a mystery box…
Tickets are $5 will be available at our training nights, parkrun and December handicap from Danny Selva, Mathieu Ryan or Melanie McAuliffe.
If you have any questions, please email sheppartonrunnersclub@gmail.com
Survey reveals healthcare professionals prescribing parkrun to boost the nation's health
Since the beginning of time, or maybe since the beginning of Parkrun Shepparton I have been sprooking the benefits of Parkrun.
Fron the physical and mental health benefits to the social connections and benefits business receive from Parkrun tourism.
"There is increasing awareness that physical inactivity is a major risk factor for many of the long-term physical and mental health problems GPs and their teams see daily, and parkrun is a fantastic, free and widely available opportunity that is accessible to much of the Australian population.
Before racing and pacing Cadel, my challenger was Mairead. Because Mairead liked Parkrun in Scotland as well as Australia our challenges were not as notable as the challenge with Cadel. I have thoroughly enjoyed challenging and helping Cadel.  And if your challenge is not with another runner you can have the alphabet challenge where you run a parkrun that starts with every letter of the alphabet. Or their is the bingo challenge. This challenge requires you having a finishing time ending in every second of the minute. Eg 25:01, 25:02,& 25:03 etc.
Every time I do parkrun tourism I always try to have breakfast with the event organisers. Those who are great parkrun tourism ambassadors are Allan & Kerry, Sue, & Leanne.
You have all seen the benifits Shepparton Parkrun has had on the Shepparton Runners Club. And then the benifits Shepparton Runners Club has to other runners.
Shepparton parkrun started on 11th January 2014.So we are coming up to our 4th birthday and we are starting to see runners click over 200 parkruns in Shepparton.
Parkrun offers a fantastic volunteering component where you are asked to help out abot 3 times per year. And why wouldn't you?
To read about what is happening in the U.K. with G.P.s prescribing parkrun for their patients mental and physical health, read more here.
Shepparton Parkrun
Check out all the news from this weeks parkrun.
http://www.parkrun.com.au/shepparton/?p=1040
It was great to see the heavy rain event predicted for last weekend did not stop people from coming down and starting their weekend off right with parkrun. We look forward to seeing everyone this Saturday for Shepparton parkruns 200th event!!!!
Retro Run
Do you remember the 70s? Yep, we have forgotten too.
Come along in your favorite running gear from yesteryear and enjoy a social run with the Shepparton Runners Club on the Thursday before Christmas. Free Zooper Dooper's for all participants. Plenty of fun to be had, see you all there!
Personalised Drink Bottles
Do you want to personalise your old SRC drink bottles?
Kasey Scoble is offering to create labels for SRC bottles for members. We have some spare bottles at the clubrooms if anyone is interested.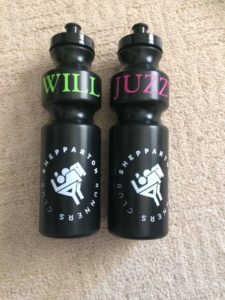 Guestimator
What a great turn out this morning with 21 runners at todays Guestimator.
In the end, the conditions were perfect with cloud coverage and little wind. A couple of puddles here and there, but nothing of great concern.
Max Carroll was closest to his estimated time, with 1 second difference, followed by Jason Hunter and Tom Avram with 2 seconds difference from their estimated times. All the runners had a great estimate with most being 1 minute from their estimated time.
A big shout out to Sportsmans Warehouse for sponsoring the prizes.
Thanks to Kevin Bell for being our time keeper.
The next handicap will be on Sunday, January 7. We will be drawing our raffle prize, please remember to purchase a ticket.
Results are below.
Name                    Guess      Actual      Difference
Max Carroll         0:24:11    0:24:10    00:01
Jason Hunter     0:23:16    0:23:18    00:02
Tom Avram        0:20:00    0:19:58     00:02
Jarrod Minogue 0:18:40    0:18:36     00:04
Sue Olley             0:25:01    0:25:06    00:05
Adrian Jones     0:24:00    0:24:06      00:06
Shane Colbert    0:26:30    0:26:44    00:14
Allan Connolly  0:22:08    0:22:32     00:24
Scott McAuliffe 0:22:17     0:21:51      00:26
Cadel Nicholson 0:24:10   0:24:41     00:31
Danny Selva      0:25:50     0:25:15     00:35
Jack O'Mahony 0:25:48    0:25:13     00:35
Steven Hicks     0:26:20    0:27:07      00:47
Norah Armstrong 0:28:15  0:29:04    00:49
Melanie McAuliffe 0:28:00   0:27:01  00:59
Trevor Dainton 0:52:00     0:51:00     01:00
Kate Dainton     0:26:10     0:24:50    01:20
Rob Hearn        0:26:07      0:24:46     01:21
Steven Trevaskis 0:30:00  0:28:36      01:24
Liz Connick          0:31:00   0:29:07     01:53
Mathieu Ryan    0:30:00    0:27:00      03:00