Hi everyone, and welcome to the Shepparton Runners Club newsletter for December 1, 2017
A significant rain event
Hi Everyone,
It is predicted that North East Victoria is about to be hit by a significant rain event which will see rainfall totals of between 100mm and 300mm of rain over Friday, Saturday & Sunday.
If you haven't already done so, NOW is the time to prepare!!
Clean you gutters, put toys and loose items away in your yard and consider whether any travel is necessary!
And remember, don't drive through, enter or play in flood waters.
Message from Parkrun
With the extreme weather event that is predicted this weekend. Please note that parkrun will go ahead this weekend but as always our parkrunners safety is most important.
We will keep you posted on Facebook.
SRC Raffle
WIN WIN WIN!!!
During the 2017 Presentation Night, we announced our raffle, which will be drawn at the January Handicap in 2018.
1st prize is 1x 2018 Shepparton Runners Club Family Membership
2nd Prize is 1x 2018 Shepparton Running Festival Entry (up to half marathon)
3rd prize is a mystery box…
Tickets are $5 will be available at our training nights, parkrun and December handicap from Danny Selva, Mathieu Ryan or Melanie McAuliffe.
If you have any questions, please email sheppartonrunnersclub@gmail.com
The Shepparton Runners Club (SRC) will be hosting their 5km Handicap on Sunday, DEC 3, 2017, at Shepparton Runners Clubrooms at Princess Park Oval in Shepparton at 8am.
There will be prizes for winners of the handicap, as well as a barbeque breakfast after the run.
Entry is free for members!
NOTE
NO TIMING DEVICES ARE ALLOWED
THE AIM IS TO GUESS YOUR FINISHING TIME
THE CLOSEST GUESS IS THE WINNER
Prizes courtesy of Sportmans Warehouse Shepparton.
It would be appreciated if you let us know if your intend on running
Feature Race
Wangaratta Marathon and Fun Runs.
Hi Nadine,
Thanks for managing a Wangaratta Marathon & Fun Runs community team in previous years. A 2018 community team has been created for you as "Shepparton Runners Club", and entrants need only to select this when prompted during the entry process to join your team.  If any team or coordinator details need to be changed, please let me know.
All additional event details are available on the website at www.wangarattamarathon.com.au
If I can help in any way, please feel free to give me a call Race Director Sharon on 0407 081 070 or send an email.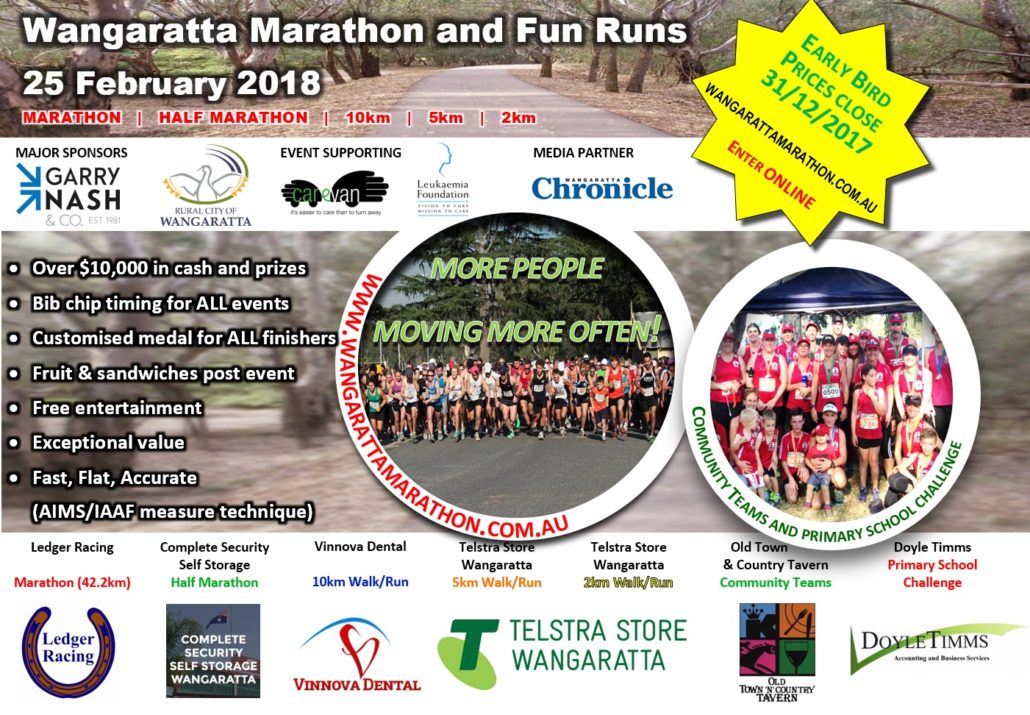 Runner Profile
Name: Cadel Nicholson aka the Pokémon aka Steve's nightmare
Age 9
Current PBs
5km: 23.27   10kms: 49.37
1/2 Marathon/Marathon: Mum and Dad and race officials won't let me run this distance
What inspired you to start running?
I saw Dad running and I thought it looked like fun
How many years have you been running?
Dad said I ran before I walked. I ran a lap around Cussen Park (2km) in Tatura without stopping when I was 3. I did my first race 5.5 kms just after I turned 6.
What does a typical training week look like for you?  
Lots of running around at school, Runners Club training on Tuesday, sometimes some short interval training on Thursdays (when I was training for inter school sports) and then parkrun on Saturday.
What are your running goals for the next 6 months?
My goal was to lap Steve Trevaskis at parkrun but I did that a month ago so now it's to improve my 5km PB.  A longer term goal is to get to 250 parkruns when I am 11.
What is your biggest challenge and what do you do to manage that challenge? 
People that stand in front of me at the start of a parkrun because they think I will be slower than them.  I usually pass them within the first km.
Have you had a breakthrough in your running, if so, what was it?
Doing interval training has helped me cut over a minute of my 5km PB this year.
Where is your most enjoyable place to run?
Shepparton parkrun
What was the best advice you were ever given?
Stick to the inside of the curve or corner in races as it is the shortest distance home and don't drink milk before a run!
Planning races throughout the year.
Now is a good time for you to be thinking about race planning. Do you schedule enough post race recovery time to ensure you will stay in one piece and be able to turn up to the next race injury-free?
Make sure you plan your annual race diary very carefully, leaving enough time between A Races to fully recover.
As a rough guide you should schedule:
4 – 6 weeks of easy aerobic training following any event of marathon length or longer
3 – 4 weeks of easy aerobic training following any event of half marathon to 30km length
2 – 3 weeks of easy aerobic training following any event shorter than a half marathon
NB: These are the recovery times, not an indication of when you should race again. e.g. if you run a marathon you should have 6 weeks of very easy training before you start to build up again for another A race – and that might be a 12 week build, meaning there will be 18 weeks between races.
If you are planning on racing more frequently than this, then some of your events will need to be "B" races, where you treat them like a hard training run and put in about 80% – 85% effort. "B" races require less time to fully recover.
Overtraining, burnout and chronic fatigue syndrome effects even the worlds best runners. It isn't something you can afford to ignore and say "that won't happen to me". You are ultimately the only one who can control it, by listening to your body, recognising the early symptoms, and managing your training accordingly.
Some of our girls enjoying a coffee after running at Mt Major.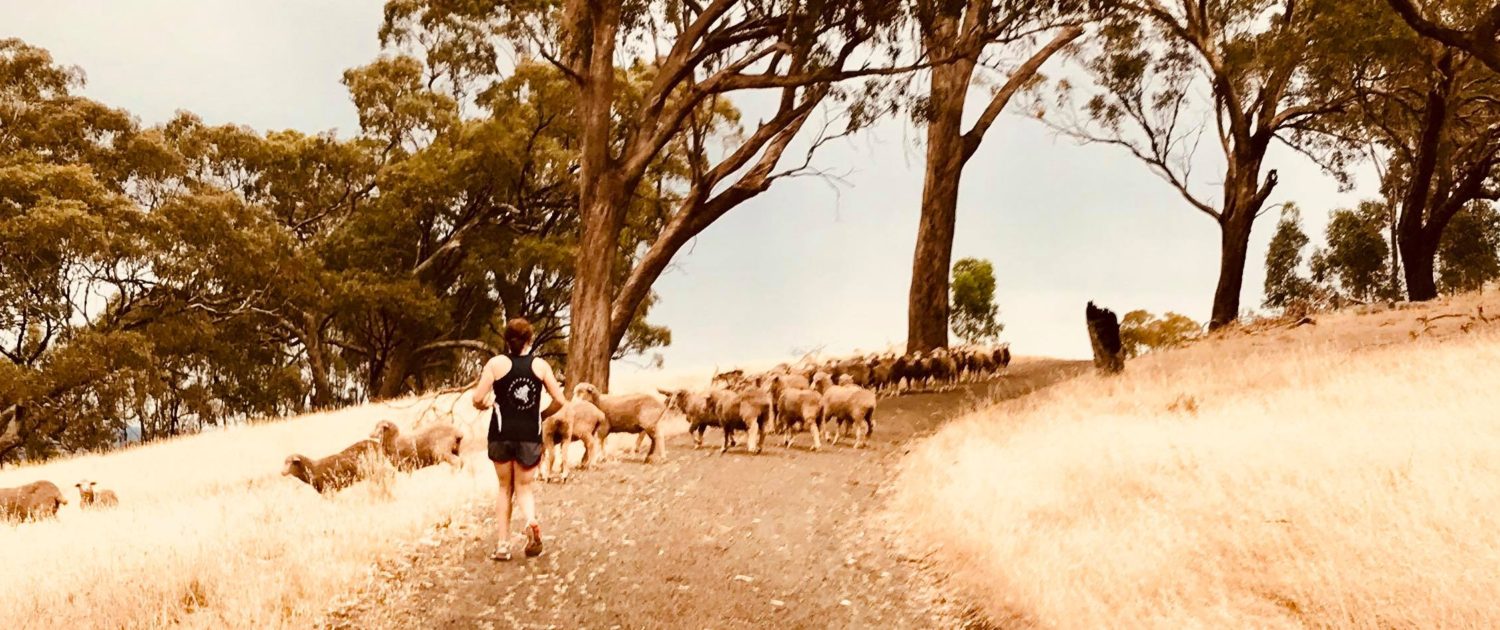 Off the running track
For those that don't know, Liam is the son of former SRC President Nadine Edwards. Apparently, sport runs in the family. The following are statements from Liam parents Nadine then Travis talking about Liam's latest success.
Congratulations to Liam for being awarded the "Tim Decker Rider of the Year" at last night's "RACE – VMG Accounting" presentation night. This has capped off a stellar year for Liam and most certainly his biggest week to date with his inclusion into the National Road Series team mobius BridgeLane. Thanks to this wonderful team of sponsors, mentors and supporters giving country kids like Liam opportunities and support. Forever grateful.
Has signed with NRS team based out of Sydney named mobuis Bridge Lane and they have a continental race licence. The team will race all over Australia in the National Road series but will also race in America and possibly Asia and Europe. Liam will find it tough to get a ride overseas in his first year but you never know if he has good form?The squad has 19 elite riders and the young fella is wrapped to be part of the team and will learn heaps.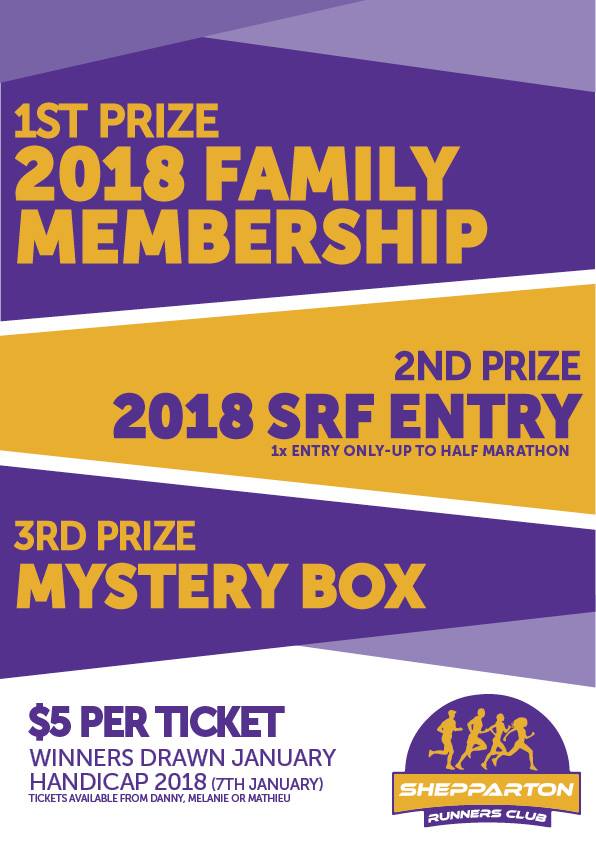 100
SRC Membership towards 100.
Will we get there by the end of the year.?