Emailed directly to your inbox each Friday, this newsletter will keep you up to speed with Shepparton Runners Club News and our website as well as the latest event information.
For more running news as it happens, visit us on FACEBOOK
CALENDAR OF EVENTS
November 12 – Challenge Shepparton Website 
November 18 – SRC Presentation Night SOLD OUT
November 25 – Parkrun White Ribbon Event Facebook page
November 26 – Rochester Fun Run 3/6.5/10 km community fun run around the Campaspe river  Website 
December 3 – SRC Guestermator 5 km Princess Park
January 7 – SRC Handicap TBA
February 25 – Wangaratta Maraton Website 
March 19 – Numurkah Fun Run Links 
March 25 –  NEW Murray River Running Festival Albury Website
The Murray Running Festival
The MURRAY RUNNING FESTIVAL is a new event organised by Sean for Parklands Albury Wodonga. Running on Sunday March 25, 2018. A run on quiet, traffic free, sealed paths alongside the Murray River, it will be AIMS certified and starts and finishes in the splendid, family friendly Norieul Park. If you feel like a road marathon (or half, 12km or 6km) in a pleasant country setting, this event is well worth considering. Look HERE for more details or to enter.
Two Bays Trail Run is Filling up Fast!
Two Bays Trail Run is on Sunday 14th January 2018 but entries are already filling up. The 56k event is the AURA champs so will be kept open but the 28km is getting very full with a sellout imminent. Don't wait!
Come and join the Greater Shepparton Family Violence Prevention Network as we start Greater Shepparton's 16 days of Activism on the right foot.
This year we have partnered with Park Run Shepparton and will hold our first White Ribbon Run.
The event commences at 7:45am on the 25th of November and with the run, walk or skip commencing at the regular Park Run time of 8am, with a free breakfast and race singlets available on the day.
So come down and put your best foot forward and take a stand against Family Violence.
For Park Run registration go to http://www.parkrun.com.au/register/
and don't forget your barcode on the 25th.
Where did you run last weekend?
Race reports from around the state.
Challenge Shepparton Run4Us 8km Fun Run
by Chris Nicholson
I'll be straight up, I'm never been a fan of "Colour Runs" in fact I'll admit I've been the first to pour scorn on the idea of running around whilst letting others cover you in water and chalk, it's not exactly something a "serious runner" would be caught dead doing!  So when I discovered that this years Fun Run as part of Challenge Shepparton was a colour run I thought "Well count me out", however I had to run this past my 9 year old running partner, after all we had run the same event (when it was not a colour run) for the last two years, and he had loved the thrill of running down the official triathlon finishing shoot.   To my shock, despite my best efforts of talking up how horrible these types of runs were, Cadel said he wanted to run with me.  So my fate was sealed I was going to run a 8km "Colour Run"!!!
6 PM Saturday night we lined up with all the other runners most, unlike me, were looking forward to getting covered in chalk and had worn white shirts accordingly, I on the other hand was wearing all black. There were kids through to three or four Challenge Ambassador Triathletes who were out for a run to stretch there legs in preparation for their Triathlon the next day.
The starters horn was sounded and we were off. After the first 300m the field stretched out and Cadel and I found ourselves running within the first 1/2 dozen, alongside two triathletes, one which happened to be the current Australian womens Ironman Champion Laura Siddall.  Laura struck up a conversation with Cadel giving him encouragement and was surprised to hear he was running the 8kms rather than the 4km option.
As we neared the completion of the first lap of 4 of the lake we were squirted with hoses and water pistols, given it was close to 30 degrees I actually slowed down to give them a better target.  We then rounded the skate park to find about half a dozen people lying in wait armed with blue chalk powder.  I took a deep breath and disappeared into a cloud of blue.  On emerging out the other side looking like a mutant smurf I turned to see how Cadel had faired. Cadel was smiling but looked like he was auditioning for William Wallace in Braveheart, with one side of his face completely blue
Three more laps, and three more chalkings, I was covered in blue, being taller I wore most of it across the waist to chest, Cadel on the other hand was now running purely by sound as he glasses were nothing more than dark blue disks.  We turned and ran down the finishing shoot crossing the line together.  Our official time was 37.38, a surprisingly quick time given the heat and the amount of chalk we had inhaled.
So there you go I ran in a Colour Run.  Did I hate it? Surprisingly no!  Did I have fun? Even more surprisingly, yes!  Would I do it again?  Let me get back to you on that one once my skin returns to its normal colour!
Challenge Shepparton – Teams
Run leg by Scott McAuliffe
The DOS and DON'TS
Thanks to Grant Hicks and the gastro bug for allowing me to run my first half marathon as Grant's replacement. Looking back I am saying I thoroughly enjoyed it which is ridiculous because I had the exact opposite feeling at the 17km mark! I can now say I was part of the Aquamoves "elite" relay team and I dragged the boys into third place, well sort of…. my 2 team mates got us into first place and gave me a huge lead going into the run only to be mowed down by some unknown, I think his name was Brady something, Threlfall I think. Anyway another one must have slipped past me at some stage and the team ended up third. (Hoping there was more than 3 teams in our section??).
If anyone is ever in the position of emergency replacement runner, a few tips
DON'TS
1/ DON'T assume that you will not be called on.
2/ DON'T run Parkrun as hard as you can the day before
3/ DON'T break open a six pack and then enjoy a feed of Fish & Chips the night before
DOS
1/ DO listen to your significant other when they say "Do you think that is wise? You could be running 21km tomorrow"
2/ DO remember to wear sunscreen so it doesn't look like you are wearing your runners club singlet 24/7
And yes you can assume I made all of these mistakes and still managed a PB! Can you say that after running your first? I think so.
Tara and Sam went to Cobram Parkrun
Tara and I went to Cobram for their Parkrun on Saturday. It's a gravel course along the picturesque Murray, with a couple of ups and downs we don't have in Shepp. There were a few SRC singlets there on the day, Sheppresent!
Sam.
Mount Beauty Park Run
Steven Trevaskis
About 20 parkrunners (mainly SRC members) took the early bus to Mount Beauty Parkrun. The course was an out and back course around a picturesque vista of a lake surrounded by mountains.
Afterwards, we headed to the Alpine Gate Cafe' in Myrtleford for breakfast.
And on the 11th hour of the 11th day of the 11 month, we walked over to the local monument to pay our respect for one-minute silence, before heading home.
Echuca Parkrun
By Mathieu Ryan
Members from SRC made the journey over to Echuca for a glorious parkrun. The weather was great with minimal wind and 0 snakes. It is always good for the soul to get away and run somewhere different. Justine, Kasey, Max and Lesley achieved a new PB at Echuca, and Scott, Steve, Danny, Jarrod, Rob H and Chelsea experienced running along the Campaspe for the first time.
| | | |
| --- | --- | --- |
| 1 | Jarrod MINOGUE | 19:19 |
| 3 | Scott MCAULIFFE | 19:24 |
| 9 | Mathieu RYAN | 21:49 |
| 20 | Robert HEARN | 23:01 |
| 24 | Max CARROLL | 24:02 |
| 25 | Robert RYAN | 24:03 |
| 28 | Cadel NICHOLSON | 24:26 |
| 29 | Chris NICHOLSON | 24:27 |
| 38 | Steven HICKS | 26:25 |
| 47 | Danny SELVA | 27:09 |
| 74 | Kasey SCOBLE | 32:23 |
| 75 | Chelsea NICHOLSON | 32:26 |
| 80 | Justine RYAN | 34:06 |
| 81 | Lesley RYAN | 34:29 |
| 92 | Julie MULCAHY | 37:16 |
City2surf
On Sunday pa (Rob) and I completed the 15km city2surf. We had to leave from where we were staying at 6:00 am so we could get there in time before the bag drop closes. The event started at the MCG and started at 8:20. Two other colours (waves) went first then it was time for the blue wave.
The first kilometre was mostly down hill with a couple of little up hills. The rest of the course was pretty flat. People on the side of the road were really encouraging, there was also lots of music and water stations.
Thanks to the runners club singlets a guy said to me when I was running that " you're smashing your pa is all the way back there."
We also saw Adrien and Seb. In the end I ran 1:05:42 and pa ran 1:06:36. I was the 294th runner across the line and pa was the 348th runner across the line. I got 6th in my age group(13-15m) and pa got 15th (50-59m). There was 5,496 entrants and only 4,685 completed the 15km course.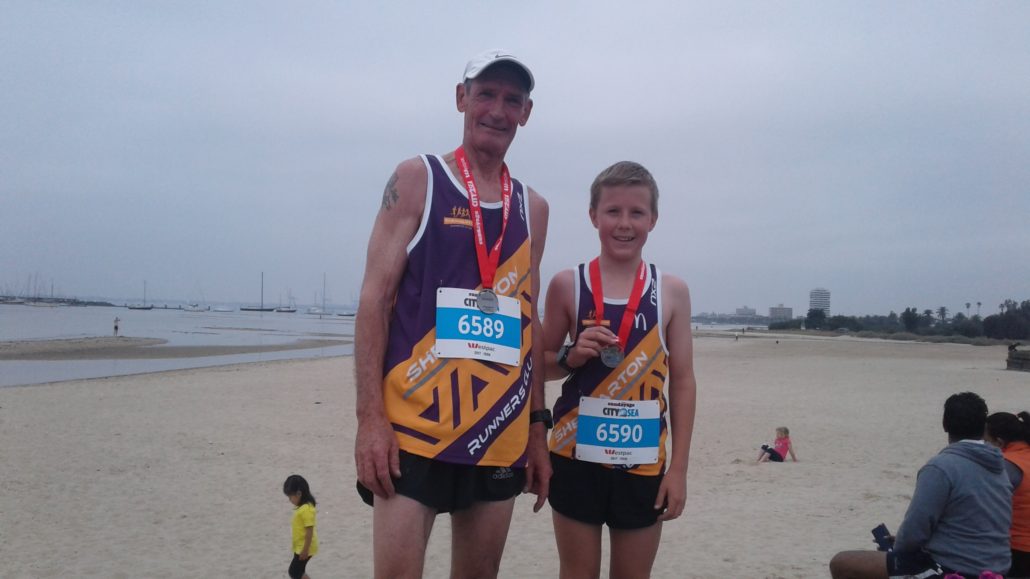 Sarah Pye
It was great to see Sarah Pye back in Shepparton for a visit. Chris (hubby) was in Shepparton for Challenge Shepparton. Sarah came down for 2 training sessions and parkrun. After a week in Shepparton they will head back home to Mooroochydore.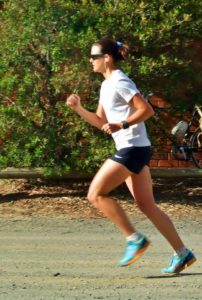 Developed in partnership by Miele Home Economist Loughlin Hunter & Claire Saundry, APD, AccSD
Makes 20 bars | Prep time 12 minutes | Cooking time 20-30 minutes
Ingredients:
1 cup chia seeds
1½ cups water
½ cup dried cranberries
1/3 cup dried blueberries
½ cup coconut oil
½ cup maple syrup
1 teaspoon vanilla paste
1 cup quinoa flakes
½ cup pepita seeds
½ cup chopped nuts
1 cup shredded coconut
¼ cup sesame seeds
1 teaspoon cinnamon
Method:
Pre-heat oven on Fan Plus at 180°C.
Place chia seeds, water, dried cranberries, dried blueberries, coconut oil, maple syrup and vanilla paste in the steam oven. Steam at 100˚C for 8 minutes. Stir ingredients until mixed well. Leave to cool.
Add the dry ingredients – quinoa, pepitas, nuts, coconut, sesame seeds and cinnamon. Stir to bind ingredients. Add a little extra water if mixture is a little dry, if the recipe is too wet, add extra chia seeds.
Place into a 20cm x 30cm tin, lined with baking paper. Wet the back of a spoon to smooth out the mix and to spread it out evenly.
Bake in the oven for 20-30 minutes. 20 minutes will give you a chewy bar and any longer will provide a crunchier consistency.
Leave to cool and cut into bars.