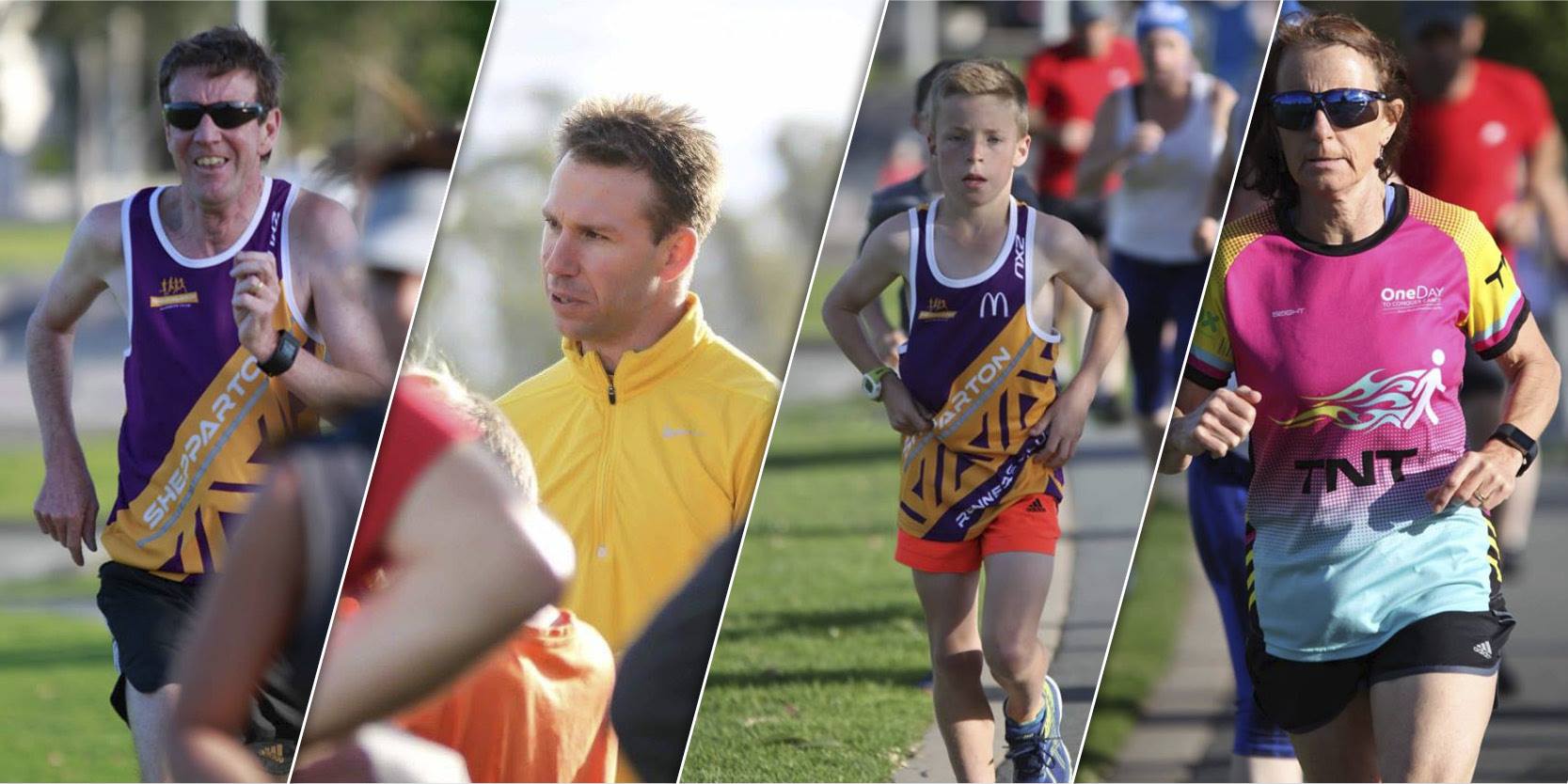 Bendigo Bank Fun Run
By Tara Callingham 
On Sunday, Sam and I ran the 10km at the Bendigo Fun Run. I am not a morning person, so getting up and across to "the Go" for 730 nearly killed me and was possibly the hardest part of the day (Probably even harder than the hills!) But we made it and finished in good spirits, I even became one of those cheerful runners everyone hates!! The purple and gold stood out which meant finding other sheppresenters to support amongst the many people there was easy! In regards to the run itself, it was really well organised, I can't even imagine the logistics associated with shutting down central Bendigo, and the Lions Club bacon and egg sandwich was probably the highlight for me! The only downside to the day was another orange medal…which added to my growing collection of pink and orange medals! I think I need to branch out!
10km & 5km Bendigo Bank Fun Run
by Cadel Nicholson
On Sunday morning Dad (Chris), Mum (Chelsea) and I ran in the Bendigo Bank Fun Run in Bendigo.  Dad and I ran together in the 10km run while mum ran in the 5km event.  The 10km event started at 7.30 am which meant that we all (even Caitlin who was our photographer) had to get up really early and travel across to Bendigo in the dark.
When we got there we ran into Sam and Tara who were also running in the 10km and Kate and Louise who were running in the 15km Run supporting Michelle Cameron who was running her longest run yet.
All of the roads in the middle of Bendigo had been closed to make a 5km loop which started at the fountain in the middle of Bendigo's Main Street.  The 15km and 10km runners started together, about 350 runners, and we all had to run 500m up View Street which is a steep hill.
At first it was very crowded up the hill so Dad and I just ran with everyone at about 5.40 minute pace.  Luckily at the top of View Street we turned and ran down a long steep road behind the Queen Elizabeth Oval this allowed the crowd to spread out.  Running down the hill felt really good after running up View Street and I looked at my watch and saw we were running at 4.25 minute/km, I told dad and he said whilst we were going down hill to keep it up and that I was doing well.  The course then flattened out as we ran around Bendigo and we dropped back into a 5.10 minute pace.  There were lots of Marshals around the course and they all gave lots of encouragement as we ran past and we realised that there mustn't have been too many younger runners ahead of us.
The second time up the hill was harder than the first because it wasn't as crowded so we had to make our own pace and my legs were starting to feel the climb.  In the final 2km we ran with a group of about 6 runners and with about 200m from the finish Dad and I picked up the pace and sprinted to the finishing line.   My time was 52.24 and 3rd in the 16 and under age group and Dad was just behind in 52.25.
Mum was next to run.  There were over 700 people entered in the 5km run so it was very crowded at the start.  We saw mum run past with about 1 km to go and she was smiling, we yelled out encouragement to her.  She ran really fast at the end and finished in 32.26.
We all enjoyed the Fun Run and will all have a go next year.
Shepparton Runners Club & Activities In The Park
Looking to go for a run and have a chat with others?
Shepparton Runners Club promotes a fit, healthy lifestyle for all, in a positive and encouraging social environment. Join us for a relaxed running session, with an out and back run as a group every thursday from 5:45pm starting at our club rooms at Princess Park.
Remember to wear comfortable clothing, bring a drink bottle and remember to be sun smart. All levels welcome.
Lynette-Anne 100 parkruns
It was a very special day for the founder of of Cobram parkrun, Lyn Hewson who completed her 100th parkrun. Lyn started her parkrun journey in Shepparton in 2014 and loved it so much she bought it to Cobram to share with the community.
Lyn did a lot of planning and hard work which has seen Cobram parkrun thrive by many locals and has bought many visitors. Cobram parkrun now averages around 60-70 people a week. A big part of running parkrun is the volunteers, without volunteers parkrun wouldn't exist. Along with Lyn participating in running/walking she has volunteered 79 times.
parkrun is a free 5km timed event available to everyone. Cobram parkrun starts from Thompson beach around Quinn Island and finishes back at Thompson beach. All you need to do is register and bring the barcode with you to receive your time. We welcome everyone and you can run, jog, walk; it's up to you.
Congratulations Lyn Hewson, you are an amazing person, a leader and we are very privileged to have parkrun in Cobram
CALENDAR OF EVENTS
November 12 – Challenge Shepparton Website 
November 18 – SRC Presentation Night SOLD OUT
November 25 – Parkrun White Ribbon Event Facebook page
December 3 – SRC Guestermator 5 km Princess Park
January 7 – SRC Handicap TBA
February 25 – Wangaratta Maraton Website 
March 19 – Numurkah Fun Run Links 
March 25 –  NEW Murray River Running Festival Albury Website
Changes in access to Aquamoves this weekend
Due to the Challenge Shepparton Triathlon Festival this Saturday 11 and Sunday 12 November, the following changes will apply when visiting us here at Aquamoves.
Saturday 11 November
Vehicles will be unable to enter or exit Tom Collins Drive Aquamoves from 3.30pm to 4.30pm.
Outdoor 50m Pool: will be unavailable to the public from 2.30pm to 3.30pm and 4.30pm to 5.30pm.
Sunday 12 November
There will be no road access to Aquamoves on Sunday 12 November until after 3pm.  All Aquamoves members, guests and staff will be required to park outside of the lake precinct and walk into the Aquamoves facility.
Please follow the directions of Traffic Marshals and be mindful of the safety of others.
Parking Options
Parking within close proximity to Aquamoves will be very difficult throughout the weekend. We can only suggest you leave with plenty of extra time, find the closest park possible and then walk to the centre.
Group Fitness Classes
All group fitness classes will run as normal this weekend. Please ensure you leave with plenty of extra time so you don't miss the start of your class.
Swimming Lessons
All swimming lessons will run as normal this weekend. Please ensure you leave with plenty of extra time so you don't miss the start of your lesson.
The Aquamoves Team thank you for your cooperation and apologise for any inconvenience caused.
Below are some of our runners at the Bendigo Bank Fun Run.
Please note when sending in photos for the newsletter it is appreciated if they are sent as a Jpeg attachment and not in the body of the email. It saves a lot of dramas at 10:30 pm.  – Thanks.