Presidents Report
– By Nadine Edwards
After a two year term as President I thought it would be fitting to reflect on my two years.  It has been a very challenging two years and I have learned a lot, but most importantly I was supported by some pretty amazing people along the journey.
I would like to thank the committees over those two years for both the runners club and running festival for their ongoing support and extremely hard work. A lot of behind the scenes work was achieved unbeknown to many.
We have achieved a lot together:
We now have a committed coach (thanks Chris for coming on board)
We now have structured training sessions (to suit all capabilities)
Our membership has more than tripled and we are retaining our valued members
We are giving more bang for buck to our members – value for money
We have a new club logo and uniform (rebranding)
We have a new website
We are utilising our clubrooms more
We have some amazing sponsors and supporters onboard who are so important to our club
Our numbers for handicaps have risen significantly
We welcome the Scholz's (Justin & Sharon) as part of our delivery for the running festival
We found networks and guidance especially from Tim Crosbie from Athletics Victoria and Steve Ayton
We now have 15 accredited run leaders at the club
We are community focused: promotions at Kidsfest, Shepparton Running Festival, Challenge Shepparton, Activities in the Park, and support Parkrun and many local fun runs and events
The future is exciting for the runners club and thanks to you the members that make the club what it is…."Teamwork makes the Dream work"!!!!
It has been an absolute honour to be the President of this amazing club over the last two years. Thanks again and all the very best to the incoming committee.
SRC AGM 
SHEPPARTON RUNNERS CLUB WILL HOLD THEIR ANNUAL GENERAL MEETING ON THURSDAY 12TH OCTOBER AT THE SHEPPARTON RUNNERS CLUBROOMS, PRINCESS PARK, SHEPPARTON.
AT THE MEETING, MEMBERS WILL HAVE THE OPPORTUNITY TO:
• FIND OUT ABOUT SHEPPARTON RUNNERS CLUBS OPERATIONS AND FINANCES
• ASK QUESTIONS ABOUT THE OPERATIONS AND FINANCES
• SPEAK ABOUT ANY ITEMS ON THE AGENDA (TBC)
• VOTE ON ANY RESOLUTIONS PROPOSED.
AT THE MEETING, MEMBERS WILL BE ASKED TO VOTE TO:
• ACCEPT THE MINUTES OF THE LAST ANNUAL GENERAL MEETING (ATTACHED)
• ACCEPT THE ANNUAL REPORT
• ACCEPT THE FINANCIAL REPORT
• ACCEPT THE ANNUAL FINANCIAL STATEMENTS
• ELECT DIRECTORS. (FORMS ATTACHED)
CATERING TO BE CONFIRMED.
Coaches corner
Chris Armstrong.
Diet the week before Melbourne Marathon and on race morning
The Melbourne marathon is coming up and the week before I will be doing some carbohydrate loading to try and boost my glycogen levels before the big day.
Carb loading is useful for events longer than 80 minutes. Typically the body stores about 80 minutes of glycogen, so anything less than this and carb loading becomes performance decreasing due to the bit of extra weight you can put on.
From the Sunday before to the Wednesday night I won't eat much carbs at all, diet will be what I eat mostly which is plenty of fruit, vegetables (no potatoes though for this bit) and lean meats eg – salmon, steak, and chicken and plenty of water to stay hydrated. From Thursday through to Saturday night, most of what I eat will be carbs. Breakfast will be toast and honey, lunch and dinner will involve things like stir fry, rice or potatoes, or a light pasta (not really much meat or cheese with the pasta). I'll be aiming for close to 700g of carbs a day, so to avoid the bloated feeling along the way to reduce the amount of food I need to eat, I'll drink a bit of sports drink during the day and top up the glucose levels with some jelly beans.
Race morning I'll get up 3 hours before the race and have a couple of bits of honey on white bread, sip on some sports drink, and about 30 minutes before the race I'll eat a gel. I usually get some caffeine into the system about 90 minutes before the race to help get the body moving. Once I'm racing I'll have a gel approximately every 45-50 minutes which should work out to be at 12, 24 and 36kms.
Activities In The Park
The Shepparton Runners Club will be involved in the Activities in The Park in November. All our training sessions will be Activities in The Park.
The Activities in the Park program was developed by Greater Shepparton City Council's Active Living Department, as part of the Get Mooving Greater Shepparton Initiative. The program provides a range of free and low cost activities for Greater Shepparton residents and visitors, encouraging people to be outdoors, physically active and engaging with their community.
Download the 2017/2018 brochure here:
 Activities in the Park Calendar – September to October 2017 (1 MB)
80
SRC membership has just passed 80 financial members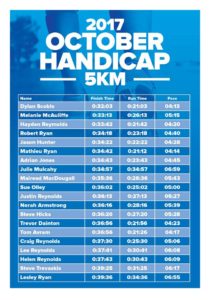 Check out all the news from this weeks parkrun.
http://www.parkrun.com.au/shepparton/?p=1022
it was great to see so many people wearing their footy colours for the grand final weekend and we also welcomed back our pacers who assisted 22 people to new PB's! We hope to see you all again this Saturday for event 192 and what could be a big day of celebrations with 6 special people joining their respective parkrun clubs.