| Date: | Sunday 24th September |
| --- | --- |
| Time | 12 pm |
| Venue | Near railway line |
| Distance | 1km (2 loops) |
| Volunteers so far | Sue, Grant & Matt |
| Cost | Free |
| Other | As a promotion, we will offer a 16 month SRC membership deal (expiring Dec 2018 |
Surf Coast Century
The Surf Coast Century on Saturday, 9 September 2017 is an annual 100km trail run in Anglesea, Victoria which can be run solo or in a relay team of up to 4 members.
Chris Armstrong, & Natalie Hicks will run approximately 25 km each with Grant Hicks running approximately 50 km. Supported by Norah Armstrong posting to Facebook.
The event leads competitors through an incredibly diverse range of beautiful landscapes across the complete 100km… from running below towering ocean sea cliffs to weaving between towering tree ferns, competitors will run past lighthouses, waterfalls, scenic lookouts, renowned surf beaches, surf life saving clubs, remote wilderness and almost everything in between.
Activities In The Park
The Shepparton Runners Club will be involved in Activities in the park. "This program is proudly supported by Greater Shepparton City Council's Activities in the Park program"
See the website for a full program
http://greatershepparton.com.au/…/catego…/get_mooving/page/5
All the Shepparton Running Club training sessions for Activities in the Park are listed here 
Please note Melbourne Cup day training will be at 8 am at Victoria Park Lake. For more information please contact Nadine, Chris, or Steven.
Pacing Roman at Parkrun for a Pb.
A group of about 10 of us paced Roman as his aim was to run sub 27 mins and get a new PB  at parkrun. We did it comfortable thanks to Chris who could multitask doing the split calculations while running. #loveparkrun #parkrunfamily
Tara Trewhella This is superb
Kate Dainton Well done Guys!
Rosalie Smith From the side lines, it was a wonderful sight to see. Congrats Roman and best of luck in your future endeavors xx
Swooping Magpie advice from
Dr Chris Brown.
It turns out those spiky helmets and drawn-on eyes aren't the answer to the spring-time tradition of magpie swooping. The key to peace on our streets is actually diplomacy. Let's hope our world leaders are listening…
You see while many cyclists, walkers and even woofers are currently collecting battle scars, magpie behaviour expert Gisela Kaplan from UNE has revealed that showing your face and your honourable intentions will ultimately save you from further swooping. Why? Well, the fact is when male magpies launch themselves like a missile, they're simply trying to protect their nest from an unknown threat. But aside from their beak, magpies are also armed with an even more impressive weapon – their brain. They can remember the faces of hundreds of people and whether they're friends or foes. Continue to run, ride-by or worse still, fend them off with a stick or umbrella and you'll only inflame the political situation here. The man of the magpie house will continue to flex his mini muscles.
So take a positive step towards peace with your local 'pie by standing your ground, taking off your hat and showing them your friendly face before moving on. This simple act should take you off their swoop list for years to come…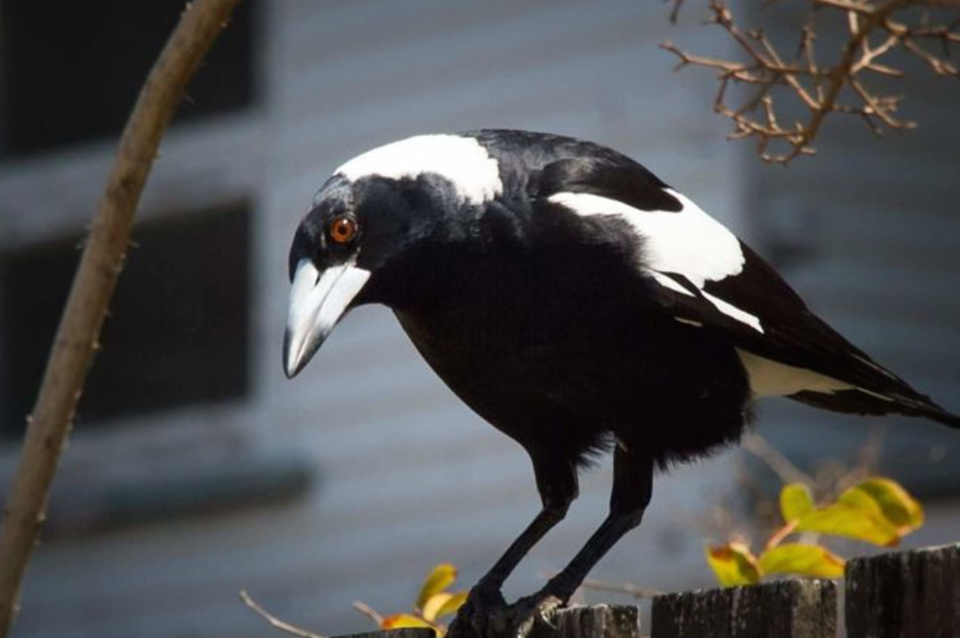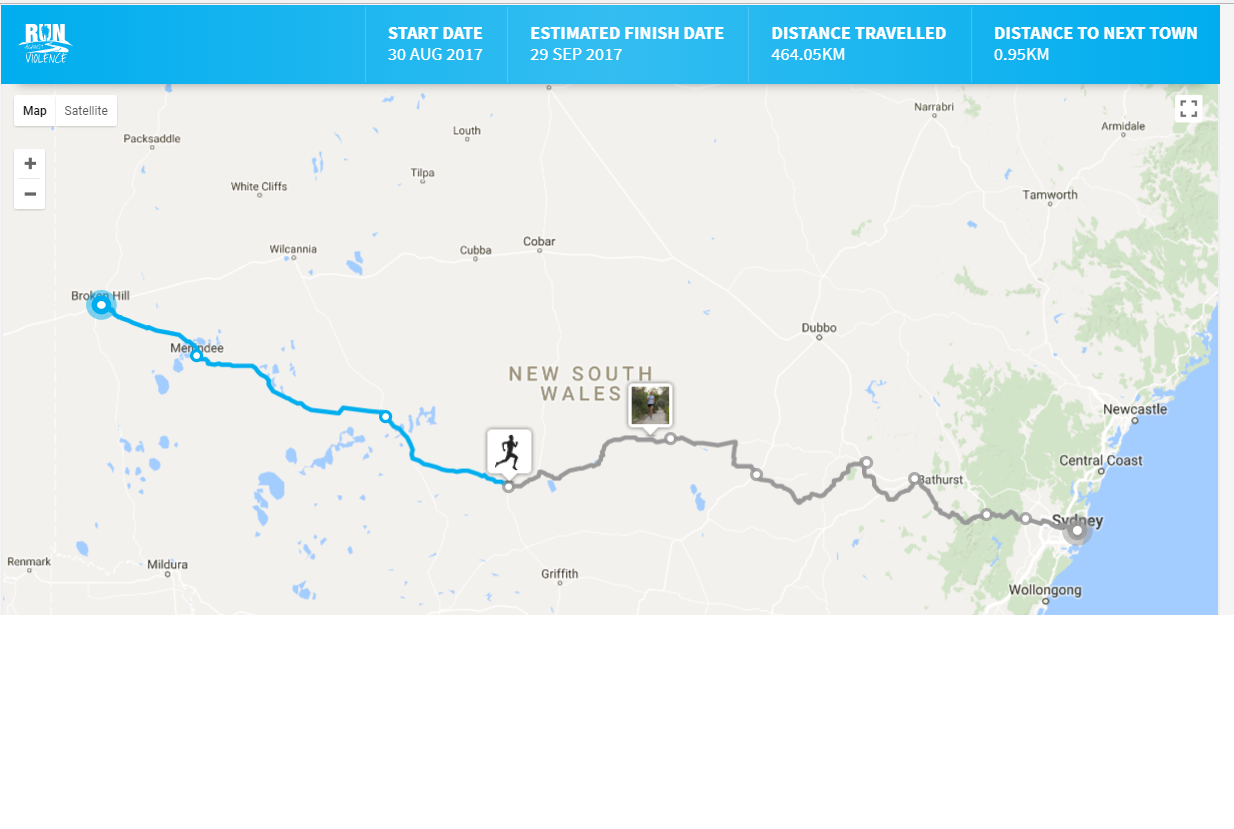 How is the team going in the Run Against Violence virtual ultra marathon?
The short answer is we are struggling to keep up with Kirrily. She is powering along with 70 km per day aiming to reach Sydney by September 15, the day of Sydney Marathon. At the pace the 10 of us are running we will make Sydney by Sept 30. With a few of our team running in Sydney marathon we will clock a few 42 km in one day, and that should help us.
But remember it's all for a good cause
STEPS TOGETHER ULTRA MARATHON VIRTUAL CHALLENGE
RUN AGAINST VIOLENCE
The Virtual Challenge begins when Kirrily leaves Broken Hill at 7am AEST on Wednesday 30 August 2017 and finishes when she arrives at the Sydney Opera House at 10am AEST on Sunday 17 September 2017.  That's 18 days and 3 hours for you and your amazing team to complete 1300 kms!  Are you up for the Challenge?
Your Team:                  RAV RUNNERS
Team Captain:             Julie Thomas
Virtual Runner 1:         Julie Thomas
Virtual Runner 2:         Tracey Waterfall
Virtual Runner 3:         Mairead MacDougall
Virtual Runner 4:         Steven Trevaskis
Virtual Runner 5:         Megan Wood
Virtual Runner 6:         Kerri Comer
Virtual Runner 7:         Louise Secomb
Virtual Runner 8:         Kate Daintain
Virtual Runner 9:         Kelly O'Malley
Virtual Runner 10:       Nathan O'Malley