SHEPPARTON RUNNERS CLUB MEETING DATES
Thursday, October 12, AGM and BBQ at 7pm
For more information please see Nadine Edwards
PRESENTATION NIGHT
The Shepparton Runners Club committee is planning the annual SRC presentation night. This night is set to be bigger and better than ever as a lot of exciting new ideas have been discussed.
Two dates have been discussed, and we need to know what date suits you the best.
We need to know if November 18 or November 25 suits you the best.
We also need to know many people will be attending
Members
Partners
Children
Please RSVP by Sept 20, 2017, to Melanie at
It is important that you RSVP as that will determine the venue
.
Surf Coast Century
Team Burning Sensation competed the Surf Coast Century for their 3rd year. Consisting of Nat Hicks, Chris Armstrong and Grant Hicks (Norah Armstrong – support crew). They had all been training hard but Norah had to pull out due to injury which meant Grant would did legs 3&4. Weather was good for running- cloudy 13
Nat Hicks ran the first leg between Anglesea and Torquay (21km). The course was along the beach and inter tidal zone the whole way with some technical terrain over reefs and rocks. On the beach we all huddled for the 5.30am start. Nat was pumped and excited as Grant and Norah had done this leg previously and now it was her turn. After few quick photos it was go time and Nat set off down the beach. We watched as the head torches snaked their way up the hill to the Anglesea Surf Life Saving Club and then back along in the beach past the start line at the 4km mark and then onto the remaining 17km to Torquay to see Grant and Norah and tag Chris off for leg 2. Nat said "that was extremely awesome!" and this is my favorite leg. The sunrise, cliffs and beaches were stunning. At one point whilst rock hopping, I slipped and took a dive into a rock pool. Luckily unscathed, I washed my knee in the ocean and kept going. I was so excited to get to the end but when I did my crew were not there! Whopps!!! I rang Norah who was lost and managed to get there a few minutes later for Chris to start.
Chris ran leg 2 between Torquay and Anglesea (28km). The course is a mixture of gravel footpaths and narrow single track through the bush. After that hiccup Chris sucked down a gel and got going to make up for lost time. At the 16km he managed to trip over a tree root, thankfully his head and shoulder helped take most of the impact and saved the legs… nothing broken so he kept going. He kept the pace relaxed and in control as this was a training run for Melbourne Marathon. He got back to Angelsea to see Nat, Norah & to tagged Grant for Leg 3&4.
Grant ran leg 3 & 4 from Anglesea to Moggs Creek (28km) then from Moggs Creek to Anglesea (23km). The course is a mixture of 2WD, 4WD and single tracks through more remote sections of the coastal bushland (with extensive wildflowers all around). This is the hilliest leg of the race. At 10am the 50km competitors started from the Angelsea beach. Once Chris arrived we grabbed the first aid kit and put it Grant's camelback then off he went. This was the longest run Grant had done and was using it as a training run for next years Two Bays 56km event. Nat, Chris & I meet Grant at the leg 3 check point. Nestled in the bush Grant came through looking strong although he too took a tumble at the 35km mark. We had a quick chat, filled his water and got some photos. Time for the last leg 23km to go.
We headed to the lighthouse at Airleys Inlet (37km pt for 50km) (from the tv series Round the Twist). The sun came out and tourists we enjoying the view from the top. It wasn't long before Grant was there too. Chris jogged with him for a bit. Grant said he was feeling pretty stuffed at that point but kept going. We made our way to Urqharts Beach which is 3.4km from the finish along the beach to Angelsea. Chris and Nat met Grant on Angelsea Beach to jog to the finish line! 50km completed for Grant and 100km for team Burning Sensation.
Goodbye Zoe & Jacob
I received the following message from Zoe and I thought I would share it with you, as I don't know who else received a goodbye message.
Hi Steve
We'd like to say thanks and goodbye from us to club members. We're off to Mackay region in Queensland. Thanks for the friendship and support during our time in Shepparton – it made our time here easy and fun. You're a great bunch of people. We'll be happy to host visitors once we're settled.
With love,
Jacob, Zoe & Ruaridh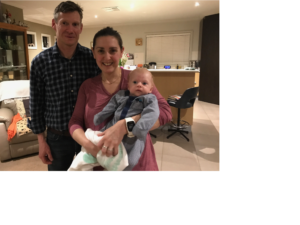 On Tuesday, Sept 12, I posted on Facebook the following. 
On August 31, 10 of us set out to virtually run from Broken hill to Sydney racing against Kirrily Dear.
For 19 days in 2017, solo ultra marathon runner, Kirrily Dear, will run 1300km from Broken Hill to Sydney to give a voice to the often silent victims of family violence.
The 10 of us have struggled to keep up. A week ago our predicted finish date slipped to October 2nd. Because of our own determination, we have got the predicted finish date back to Sept 18.
Still behind, I am confident we can do this. And complete the virtual ultra-marathon by the due date.
Family and domestic violence is increasingly being recognised as the social challenge of our time. Public conversation around the issue is building; however, we often overlook the children – those who hear and see the violence or are directly targeted. Too often, these children don't have the chance to tell their own story. In 2017 we will ask the nation to stop and listen to these young people.
Fast forward to Friday morning – Friday 15.
We are relieved that we have just caught Kirilly and our predicted finish date is Sunday September 17. Sept 17 is the date of the Sydney Marathon and the Date Kirrily is expected to finish her run from Broken Hill and finish with the Sydney Marathon.
We have 218 km to go, and 3 days to do it in. Those of us that are not running in Sydney with be running at Shepparton Parkrun wearing the RAV top or a white top.
Assuming we make it, and we will. I'd like to thanks Julie for the work she put into team captain. She kept us motivated when we were days behind.
I'd also like to say well done to every team member as I saw experienced marathoners having a well-earned break on the Monday after a big weekend of running. By a well-earned break, I mean walking 5 km on sore and tired legs.
Team Captain:             Julie Thomas
Virtual Runner 1:         Julie Thomas
Virtual Runner 2:         Tracey Waterfall
Virtual Runner 3:         Mairead MacDougall
Virtual Runner 4:         Steven Trevaskis
Virtual Runner 5:         Megan Wood
Virtual Runner 6:         Kerri Comer
Virtual Runner 7:         Louise Secomb
Virtual Runner 8:         Kate Dainton
Virtual Runner 9:         Kelly O'Malley
Virtual Runner 10:       Nathieu Ryan
Runner Brady Threlfall leaves this week for Germany and the BERLIN-MARATHON where he will attempt to break the Australian Commonwealth Games qualifying time of 2.19 for the marathon.