Welcome to the April edition of the SRC Newsletter.
Isn't it weird the weather these days? Not that long ago we were sweating it out in the heat, needing to get up super early to get a run out of the way so that we didn't give ourselves heat exhaustion, and now, only two or three weeks later…. its chilly and we are rugging up to run and racing home for a hot shower as soon as we can.
It's been fantastic to see so many faces out and about getting in some training, we have a few events coming up, but there are also many getting out and just enjoying the opportunity to grab some fitness or just spend time with friends while they run. It's been wonderful even just at parkrun to see all the new people giving it a go, and especially giving volunteering a go. What a fabulous community we have. 😁
And the last thing I want to say, is that we made the decision to move the newsletter release day to a Sunday, to make it a little easier to get sorted and sent out. Now you can enjoy reading it after your Sunday Long run…..with that well deserved coffee.
As always, if you have something that you would like to see in the newsletter, please make sure that you get in contact at cknicholson75@live.com. The next newsletter is due out late May.
Happy reading and……..  Keep Running 😉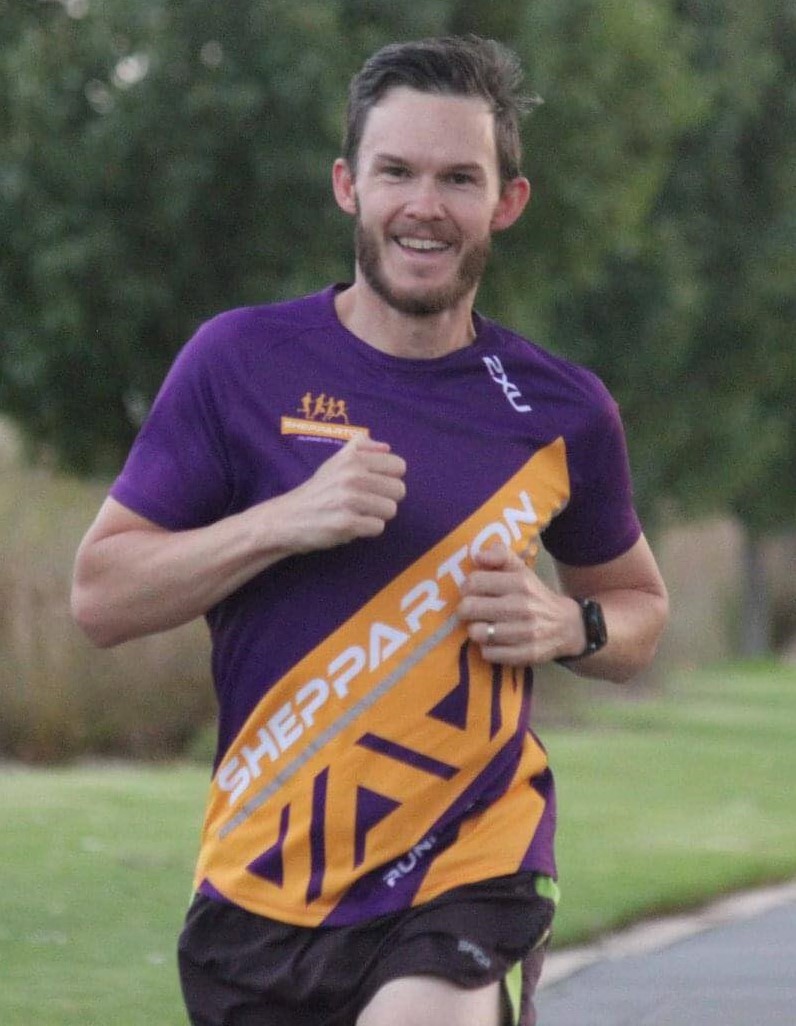 Brrrrr. how the mornings are getting colder, but the fresh air does feel great in the lungs.
The committee met on Monday and here is the update
Water! The hot water system in the rooms has been replaced as it was the source of the water contamination. Since then, the water now runs clean and is drinkable!
MD Classic: Organiser of the Mothers Day Classic in Shepparton, Kath Fuller, has asked if there are any club members who would be happy to pace, and be a tail sweeper at the end of the event to make sure no one is left behind. If you are interested, please let me know and I will pass on your name to Kathy.
Visors have been ordered and are on their way. The wait shouldnt be too long.
Donation: Thank you to all the superstars who volunteered their time to help at Challenge Shepparton. Because of your superstar effort, the organisers are donating $400 to the club.
Pizza Night next Thursday: Our first social event for 2021. The committee will be organising pizza for after training next thursday! Bring your family and partners, it will be great to meet and socialise with all our members.
Memberships: At our last meeting the club had 117 members. Out of the 117, there are 58 male and 59 female.
Shepparton Running Festival: The committee locked in key items to allow us to open registrations for the 2021 Shepparton Running Festival by Friday next week. Save the date for the 21st and 22nd August. We are now looking for a person(s) to help coordinate volunteers, someone to assist Liz with sponsorships, and someone to shadow Steve Ayton closer towards the event. If you have a passion for any of these roles, please let me know.
That's it from me, I hope everyone has finished off their Easter treats and are back into running form.
Pizza night Thursday April 29th after training, we will order a stack of pizza and we might even settle the pineapple or no pineapple debate 😉
Shepparton Multi-Sport Weekend
Saturday 6 and Sunday 7 March saw the inaugural Shepparton Multi-Sport Weekend held at Victoria Park Lake and surrounds.  Saturday consisted of several Aquathlon events hosted by the Shepparton Triathlon Club as well as the Run 4 GV Kids 2km event, supported by Mr D's.  We had approx. 50 young champions come along for the run and feedback was great.
Sunday saw the Goulburn River Fun Run comprising of The Athletes Foot Shepparton 21km, the Furphy 14km and the Mint Digital 7km Fun Runs.  Over the course of the weekend we had over 250 runners competing.  Whilst this is significantly lower than our cap of 500, it still gave us some great insights into how to run a COVID safe event, and provides us with many learnings we can take forward to the Shepparton Running Festival in August.
I would like to take the opportunity to acknowledge the Shepparton Runners Club for the outstanding support and commitment to Liz and myself in enabling us to deliver a great new event in Shepparton.  From the initial concept, through to a heap of work along the way, to the critical assistance over the course of the weekend with set up, marshalling, volunteering and then pack down when everyone just wants to go home! Your support has been invaluable and Liz and I couldn't have done it without every one of you.
To that point, it would be remiss of me not to specifically send a shout out to your President Mathieu Ryan.  Matt has been a crucial link between Liz and myself to the committee and club to ensure that we were always on the same page.  He did an absolute power of work in the weeks leading up to the event – everything from completing all course maps (and patiently updating them with my pedantic requests over and over) through to running the course for accuracy, marking the course with both chalk and signage and then being front and centre to volunteer wherever he was required.  Matt's enthusiasm is never-ending, so personally from both myself and Liz, thank you so much Matt – we seriously could not have done it without you.
Finally, to my event partner Liz.  We had not worked together previously but what we achieved in a small amount of time just proves we are a force to be reckoned with. We had a divide and conquer attitude and it was great to able to support and trust each other through the challenges that were thrown at us. We have just delivered a high quality, professional event that Tim from Athletics Victoria could not fault. To show that events in the GV can be delivered in a "COVID Safe" environment and how to push through the complexities and frustrations that drained time and energy, and yet, we always found something to laugh about. I know you feel proud of what we have done for the event community in Shepparton and the broader Goulburn Valley, and I am proud of you and what we have achieved.  Well done.
Thanks to everyone who supported by running, volunteering, or just your words of encouragement. We look forward to getting into the Shepparton Running Festival shortly………but for now I might take a couple of days off event management!!
---
Nathan Stoate.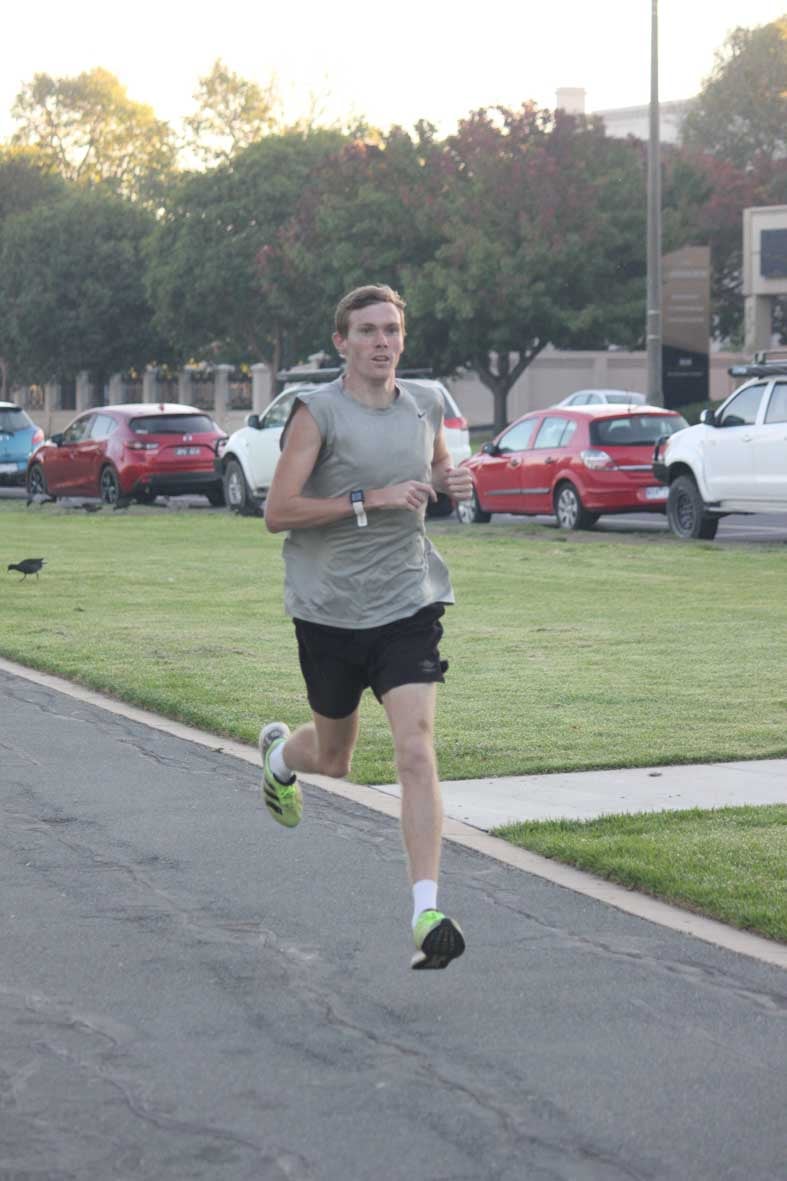 Age: 21
PBs:
5k 14:48;

10k 30:14;
Half 1:06:49;
Full 2:36:28.
What made you choose running over so many other options for a sport?
I enjoy running the most.
Which distance is the one that you really feel is yours?
Half Marathon because I can hold a good pace for a long time.
Got a favourite event?
Melbourne Marathon is a great event.
What's your favourite pizza toppings?
Ham and cheese.
How far do you think you could take running? Nationals? Olympics?
Nationals maybe.
What are your goals for this year?
Run a PB in all events especially the marathon.
The Canberra Times Marathon Festival.
Recently, Sam Daniels travelled to Canberra to compete in the Canberra Times Marathon. Here are a few words from him about the experience:
While I was carrying some good fitness levels from the SCC 50 in December and Two Bays 28 in January, my next event was based on timing. Ca
nberra was 12 weeks away, perfect to nail my training and adjust my thinking back to a road race. The 3 month schedule went well, with just a couple of fun events thrown in: Warburton Trail, Numurkah, some hiking and bikepacking trips.
As my long runs grew up to the 30k mark, I used to opportunity to run from home in Tatura to Shepparton. I'm sure I looked a bit of a dill, drenched in sweat, carrying a pack, and usually running late at parkrun or a handicap at Princess Park.
The hard work training paid off, my second marathon ended up around 15 minutes quicker than my first, and a feeling of actually racing the event, not merely finishing it like a trail run. No time to rest, next up is Surf Coast Trail Marathon team event, then The Guzzler 50 in Brisbane, and SCC team later in the year.
April Handicap…… the Hills are Alive!
What a challenge the April Handicap was on Sunday the 18th of April. In what was ideal running conditions and barely a breath of wind at the BoTan (highly unusual) 55 runners came along and gave it a go. The course trailed over the hills at the Botanical Gardens twice, which provided a massive test of participants calf muscles and quads dealing with the slopes. Many were relieved for the flatter trail through the bushland in preparation for the second lap.
Overall the feedback has really positive so will definitely be looking to head out to the "Bo Tan" again for a couple more races before the year is out. Thanks for the effort you all went to in supporting each other out on course and for getting away at your correct handicap time.
Events like this cannot happen without our volunteers and it is with much gratitude that we thank Janka, Peter, Glenys, Norah, Helen, Libby, Bernie, Sam, Karisha, Kelly, Christopher, Chelsea, Chris and Debbie who all helped with set up, pack up, marshals, photos, finish tokens and results. To make things happen smoothly and give the best experience for our runners it takes a small army. Extra special thanks to Coach Chris and Norah for the work and effort they put in behind the scenes getting these events organised. They are very definitely a very special part of this club.
The handicapper did a fabulous job with 43 of 55 participants within 60 seconds of handicap and 31 of 55 within 30 seconds.
Big congratulations to Adrian, Justine, Mathieu and Tara who filled finished top 2 and scored themselves a $30 voucher from our Sponsors, Intersport Shepparton