Its an amazing run world we currently live in with so many options to keep us motivated and engaged.
Now more than ever we need to dig deeper to find motivation and inspiration to run. Our races have been cancelled, we cant run in groups with our Run – Buddies, and for many of us we cant get out and run our favourite loop, course or track ….. its a very different running world we are living in.

Every week there seems to be a new virtual challenge that pops up around the world for us to attempt or be part of – and this is awesome. In a strange way it seems like there is more motivation for us to get out and run …albeit solo.
Hopefully on May 11th some of the social distancing restrictions will be lifted or eased. What have you been doing to keep yourself fit and entertained.
Jacqui, Taren and I socially distant from Sam and Tara have a few races planned or completed.
Last weekend from Friday May 1. at 6pm we set out to run 42.2 km in 42 hours. We would finish mid-day Sunday May 3.
We also have a Covid-19 Battle virtual half marathon planned. It has to be done in one run between March 26th and June 26th . If you download the app JomRun you will find this event and many others. You will need to click on the Malaysia tab to get entry details.
Of course both these runs have bling
Chelsea, Cate, Chris H. and I are running around Australia. Starting at Canberra heading anti-clockwise towards Sydney before running to Brisbane and continuing. At every capital city you receive a stubby holder. This is done through the Run The World App.
This is where we are up to starting this year. Chris is actually in W.A. as he started a few years ago. The rest of us started in 2020 the year of lock down.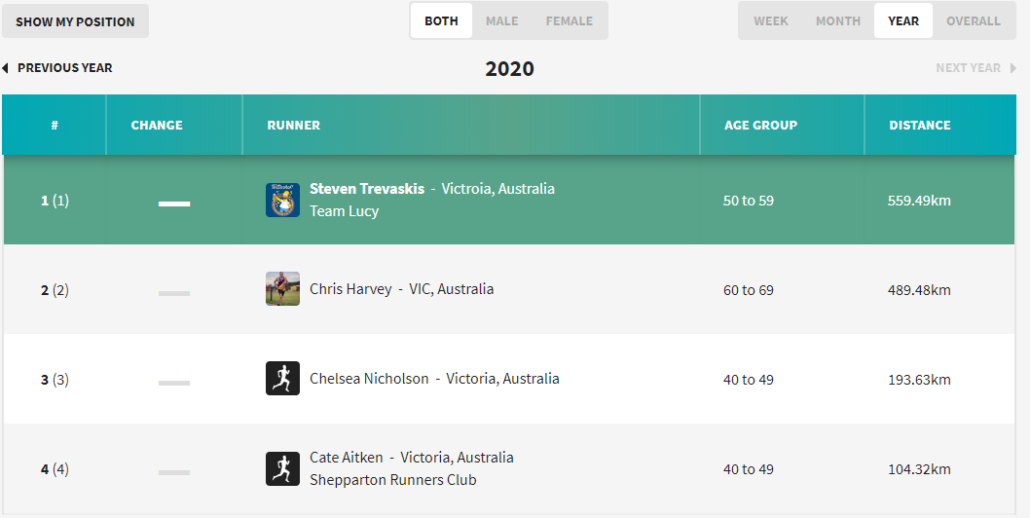 What the club has planned.
After a successful Ask The Coach Q & A and create your own running event and report on it we have more on offer. Today (May 8) Get your thinking caps on so you can challenge yourself and have a laugh with the first ever VIRTUAL SRC TRIVIA NIGHT brought to you via Zoom straight to the comfort of your Loungeroom.
Hope to see all of you there.
Topic: Shepparton Runners Club Trivia Night
Time: May 8, 2020 07:00 PM Canberra, Melbourne, SydneyJoin Zoom Meeting
https://us02web.zoom.us/j/84635396841
Meeting ID: 846 3539 6841
*Disclaimer: This trivia night has been created as a bit of fun and lighthearted entertainment, it has been done is such a way to be very achievable and provide us all with an excuse to get together as best we can and foster the spirit of togetherness that makes this club so incredible
Runner Profile – Cate Aitkin
Age: 48
PB's: 5K – 28:29
10K – 1hr 3 mins
Half – hopefully next year
Full – Does Ekiden count?
Married with 2 children, Liam 20 and Georgia 18 who have both ran with me over the years.
I first started running in 2009, signing up to the Mother's Day Classic for my mum who was battling breast cancer. I have done every MDC since.
In 2013, after a significant event in my life, I started running regularly mostly on the treadmill or with my close friends, Tim and Shelley Bennett, doing local fun runs.
We entered and won the team event at Sweat V's Steam in 2015 (my only podium finish!), but unfortunately, I tore my right meniscus during that run.
After a year off, I started back running by doing my first Parkrun at Shepparton in October 2016.
In 2017 I entered my first 10k at Wangaratta, where I met the lovely Kate D and Louise, who talked about the running club and that I should join.
In Nov that year, I met Chelsea during a photography gig and she talked about her running and the Shepp runners club too.
In Dec the same year, I ran into Sam and Tara at Hobart Parkrun who again spoke about joining SRC. So I thought I better join!
(FACT: I have ran in 3 states with Sam)
In 2018 I joined SRC and finally learnt how to run without aggravating my old knee injury. I also began incorporating strength training into my routine in 2019.
My biggest highlights all fall in the last 6-8 months:
I have beaten every one of my PB's: 5K, 10K, Fastest Mile, Fastest K and Echuca Parkrun
I have ran with my brother, daughter and son at various events (my brother is so much more talented at running then me!)
I surprisingly won the Tom O'Halloran Veterans Award at SRC last year.
The plaque hangs on the wall next to my medals and I feel very honoured.
J J J
My goals for 2020 – keep running!
Best Pizza – Roast vegies and feta J
Best advice: Not every run is a race.
I will never be a fast runner or get a podium finish, but I keep running to beat my own times, be part of a running family and have a chat with my running buddy, which makes me feel better when I'm finished so I can say "I did that". J
Our sponsor is still opened
Intersport Shepparton is now taking pre-orders for Fight MND Big Freeze Beanies!
Orders yours today and get behind a great cause!
All proceeds of sales goes to @fightmnd 💙
#intersportshepparton #theheartofsport #fightmnd #bigfreeze6
Mothers Day Classic – Shepparton
The Mother's Day Classic in Shepparton, Victoria is one of many fun runs throughout Australia on Mother's Day on Sunday, 10 May 2020.
The Mother's Day Classic will be a 4km or 8km Virtual Run or Walk in 2020 due to the COVID-19 Coronavirus. Please refer to the event website for further details.
The course follows the walking paths around the scenic Victoria Park Lake and Yanha Gurtji River Paths.
The Mother's Day Classic remembers those who have been affected by or who are living with breast cancer and raising money for breast cancer research.
Race Calendar
| Name of Event | Date of Event | Location of Event | Event Website | Facebook Page |
| --- | --- | --- | --- | --- |
| Make it Your Own | Wednesday, 1 January 2020 to Thursday, 31 December 2020 | Anywhere in Australia | Event Website | Facebook Page |
| Pop! Challenge | Wednesday, 1 January 2020 to Thursday, 31 December 2020 | Anywhere in Australia | Event Website | Facebook Page |
| I Survived 2020 5km Virtual Run | Thursday, 1 October 2020 to Sunday, 31 January 2021 | Anywhere | Event Website | Facebook Page |
| Legacy Remembrance Walk | 6th November to 11th November | Anywhere | Event Website | |
Have a great running weekend while observing social distancing. And remember to support our sponsors.

https://sheppartonrunnersclub.com.au/wp-content/uploads/2017/06/SRC-Logo-300x221.png
0
0
admin
https://sheppartonrunnersclub.com.au/wp-content/uploads/2017/06/SRC-Logo-300x221.png
admin
2020-05-07 12:18:05
2020-05-07 12:18:06
SRC E-news, Light at the end of the tunnel.