Wangaratta Marathon & Fun-runs. February 23!
SRC entrants list below. Good luck to everyone who is running on Sunday. The club will have a gazebo set up near the finish line. We also have a esky to store your cold drinks in. This is always a great social event and this Sunday shouldn't be any different.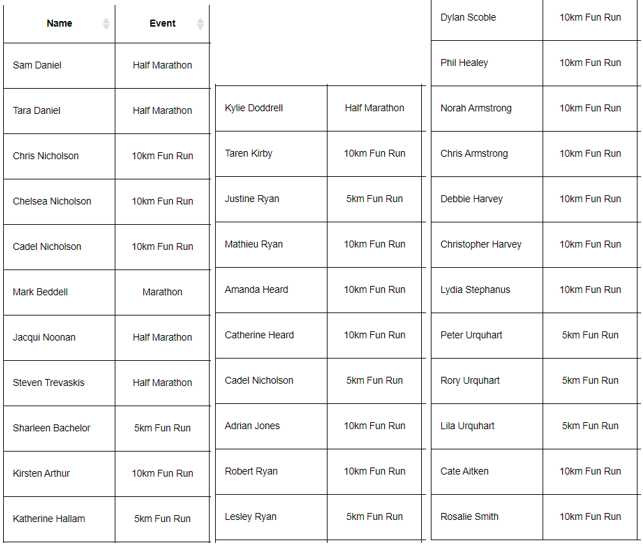 For those that have followed and run the Wangaratta marathon and fun run over the years you may be interested to know the following from Race Director Justin and Sharon.
They have hosted the event for 10 years come this Sunday. They will be handing the event over to the Wangaratta Chronical after this Sundays event.
In 2021 Justin and Sharon will assist the Wangaratta Chronical deliver the event.
Justin and Sharons other races, the Ned Kelly Chase & the Beer mile will continue to be hosted by Justin and Sharon.
Runner Profile
Andrew Sait
Age: 26
PB's:
Mile- 4.57
5km- 18.03
10km- 38.11
Half marathon – 1.28
Marathon- 4.16
At what age did you start running?
I've been running for as long as I can remember. As soon as I was old enough, I started to compete at Little Athletics. I then started to travel to Bendigo for their cross-country season in the Winter.
I went away from running from ages 19-24 while I was studying at university. During this time, I mainly kept busy playing football for Huntly and Shepparton United.
Can you tell us about the VAL running you participate in?
In 2011-12 I first ran with the VAL in the shorter events from 70m- 550m. This year I return to the Victorian Athletics League competing in the mile and two-mile events. Since New Year's Day, its taken over most weekends racing in towns such as Maryborough, Daylesford, Wangaratta, Ballarat and Melbourne.
What routines/habits do you follow before an important race?
I don't have too much of a routine before I race. I try not to eat 3-4 hours beforehand, I normally have a black coffee and depending on the event usually do 4-5km warm up.
What upcoming events do you have in the pipeline?
I have a few races lined up for this year. Running with the VAL will keep me busy most weekends up until Easter where I'll be racing in the mile and two-mile events at Stawell.
After that, I'll increase my weekly km's in preparation for the Gold Coast Marathon later this year.
What does a typical training week look like for you?
At the moment most of my harder sessions have been at the athletics track.
Monday- Track interval session
Tuesday- Morning run/run with SRC
Wednesday- Rest day
Thursday- Track interval session
Friday- Easy run/ rest day
Saturday- Park Run
Sunday- Long run
What is your biggest challenge and what do you do to manage that challenge?
My biggest challenge has been training consistently. Over the past few years I would get a few solid months of training in and see some good progress before developing an injury. Its taught me that rest days and having easy weeks are equally as important as the tough sessions to remain injury free!
What was the best advice you were ever given? –
Not sure if this is the best or worst advice I've been given "go out hard, then hold on".
Note that Andrew chooses not to make controversial comments on pizza.
Run Calendar
This run calendar is created by and edited by Sharleen. It is a work in progress and we will continue working on it until we are happy with the format. We are still playing with the format and content.
| Name of Event | Date of Event | Location of Event | Event Website | Facebook Page |
| --- | --- | --- | --- | --- |
| Make it Your Own | Wednesday, 1 January 2020 to Thursday, 31 December 2020 | Anywhere in Australia | Event Website | Facebook Page |
| Pop! Challenge | Wednesday, 1 January 2020 to Thursday, 31 December 2020 | Anywhere in Australia | Event Website | Facebook Page |
| I Survived 2020 5km Virtual Run | Thursday, 1 October 2020 to Sunday, 31 January 2021 | Anywhere | Event Website | Facebook Page |
| Legacy Remembrance Walk | 6th November to 11th November | Anywhere | Event Website | |
The Road to Nagoya
By Tara Daniel
Last full week of training and now for the taper for Tara.

https://sheppartonrunnersclub.com.au/wp-content/uploads/2017/06/SRC-Logo-300x221.png
0
0
admin
https://sheppartonrunnersclub.com.au/wp-content/uploads/2017/06/SRC-Logo-300x221.png
admin
2020-02-20 10:26:37
2020-11-17 11:39:56
SRC E-News Feb 21