Club News
SRC Uniform
Soon we will be ordering new uniform, keep your eyes out for some new additions to the range. More info on that later
We currently have the following stock, do you need anything in these sizes?
Junior Warm Up Tops $50
4XS – 3
3XS – 2
2XS – 3
Senior Warm Up Tops $60
3XL – 2
2XL – 2
XL – 2
XS – 1
Junior Girls Race Singlets $20
3XS – 2
2XS – 4
Junior Boys Race Singlets $20
2XS – 3
Women's Race Singlets $30
3XL – 2
2XL – 3
XL – 2
L – 1
M – 1
XS – 2
Men's Race Singlets $30
3XL – 2
M – 2
S – 3
If you would like some uniform and we have your current size, let us know and we will get you sorted out. For those who need new uniform and we know there's been stacks of requests! Stay tuned for more information shortly.
Regards, Chris & Norah
Upcoming Events & Races
On our Facebook page under the events tab
Cathedrals Challenge
ENTRIES OPEN 1st AUGUST! (That's only two weeks!)
Challenge yourself!
A true trail running experience. 10k or 21k. Spectacular terrain.
9th December 2018.
http://www.cathedralschallenge.com.au/
Melbourne Marathon
It's just over 12 weeks to the Medibank Melbourne Marathon Festival 
😍Now is the perfect time to register & start your 12 week Training!
Choose your plan now: https://bit.ly/2xC4mDG
Heather Hawkins
Kathy & Narelle, are so excited to announce one of our events for our #voice4kidz campaign.
Heather Hawkins is a remarkable and inspiring woman. She is a mother of two, battled Ovarian Cancer with an unknown future, to an international adventurer, conquering the world of extreme marathons in some of the world's most inhospitable locations.
We would love for you to come and be inspired. Heather's "Adventurous Spirit" will certainly leave you feeling uplifted and inspired. 
❤️
Book your tickets today and support #voice4kidz. 
🏃🏽‍♀️
🏃🏽‍♀️
https://www.trybooking.com/WTCL
#voice4kidz, Imagine, Believe, Achieve Are both supported by the Shepparton Runners Club and are a charity partner of the Shepparton Running Festival. 
Runner Profile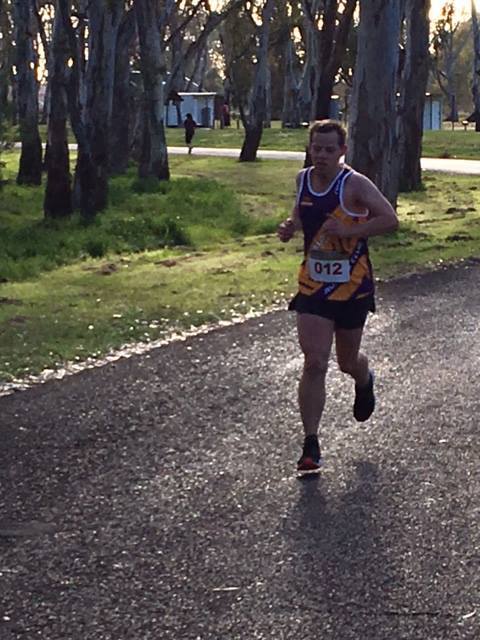 Name: Jason Hunter
Age: 27
Recent PBs
5k, 22:12
10k, 47: 52
21.1k 1:59:47
42.2k 5:40:51
Shepparton Parkrun
Congratulations on achieving the most personal best times in 2016
15 PB's.
What inspired you to start running?
Who inspired me throughout my running was watching Dog Soldiers 2002 horror at its best when you see werewolf's hunting you down and running at you. Whats your move? years back when I was 8 years old
focusing on Alec Trevelyan running speed through the cradle was amazing achieving 2:26 sec record was something that I am proud of. Gaming for years what made me run so fast.
How many years have you been running?
2 Years
Typical training week
I don't have one. What I do is sometimes you have to force yourself maintain self control. I train with the runners club on Tuesday/Thursday/ and parkrun Saturday. Sunday to lazy and cold to get up out of bed.
What training to you do apart from running
I trained for Ruccis circus back years until the night of 2010. I wanted to focus on doing tumbling training but the mini tramp was the the last thing I saw and ended my career with doing my fastest front flip and landed on one foot causing a snap sound of the ankle with 2 screws in place for 8 years. I trained for Shepparton jets gymnastics and learnt my first back flip without using tramp until adult classes discontinued a lack of money like its was a lost talent. I trained very hard on doing handstand to cartwheeling. I do want to thank Anna my coach throughout my years. Other then that I trained on the PS2 until it broke down so I saved my money to buy a Gigabyte desktop perfect for gaming not missing out on the chances of old technology.
What are your running goals
I want to achieve the time for the Shepparton Marathon in at least under 4 hours without the screws in my ankle that's what slowed me down the most and very painful. I can do a lot better if I didn't break my ankle and getting back to parkrun time of 22:58 instead of 25 minutes. Last year I was the fittest and very amazed of 22:12 extremely fast paced runner that time will prove it.
Biggest challenge in running
Doing the 3rd lap of the Shepparton Marathon 28km is were I stopped and thought to myself just 1 lap to go I was about to pullout. My ankle was really in pain. Getting to the last north drink station the final push I saw Trevor Dainton he wanted to give me a hand to say its OK to pull out he wanted to help me but for some reason I just didn't want to give up I wanted to keep going I wanted to reach for those 2 running festival flags and showed the strength of doing a handstand on the finish line to achieve my victory.
Most enjoyable run would.
I really like doing the handicap runs at princess park straight to the boulevard track all the way through felt good to run on. I really like doing Mona Fartlek on a Tuesday nights.
If you could run in any event where would it be
Shepparton Running Festival
Who inspires you
Damien Walters. Mark Edward Fischbach, known online as Markiplier, is an American YouTube personality. and Steam Gaming
Any funny or notable moments
I had a few but not much jumping over the biggest hurdle I could see and landing down with my Ipod attached to my ears. My knee hit the hurdle as hard as it could 1 runner lady herd something but I got up so quick and really felt embarrassed of what I done. She turned her head pretty quick to see what the sound was 15 minutes later I can't walk. I can really feel it. This was at athletics track at Melbourne. I have learnt my lesson.
Click here to add your own text
Click here to add your own text